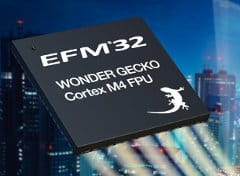 After having announced EFM32 Wonder Gecko MCU family in February, Energy Micro has just officially launched their new family of high performance, low power MCUs. These micro-controllers come with an ARM Cortex-M4 CPU with floating-point unit (FPU) and DSP instruction set that helps reduce the processing time of your application in active mode. All MCUs come with 32KB SRAM, and between 64 to 256KB flash.
Energy Micro expects their new chips to be used in applications such as gas metering, energy metering, water metering, smart metering, alarm and security systems, health and fitness applications, and industrial and home automation. One key advantage of this new MCU family is the implementation of TSMC's eLL (Extreme Low Leakage) technology that dramatically reduces power consumption at high temperatures.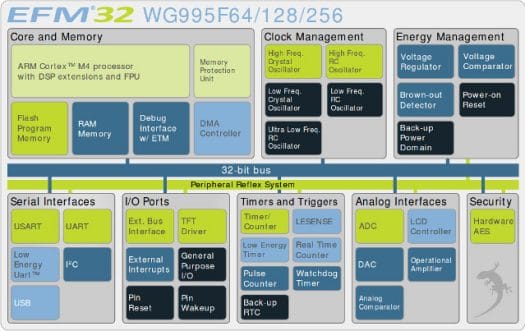 There top of range MCUs (EFM32WG995FXXX) feature the following specifications:
ARM Cortex-M4 CPU platform @ up to 48 MHz with DSP instruction support and floating-point unit, and memory protection unit
Memory – 32KB RAM, 64/128/256KB Flash
Flexible Energy Management System:

20 nA @ 3 V Shutoff Mode
0.4μA @ 3 V Shufoff Mode with RTC
0.65 μA @ 3 V Stop Mode, including Power-on Reset, Brown-out Detector, RAM and CPU retention
0.95 μA @ 3 V Deep Sleep Mode, including RTC with 32.768 kHz oscillator, Power-on Reset, Brown-out Detector, RAM and CPU retention
67 μA/MHz @ 3 V Sleep Mode
230 μA/MHz @ 3 V Run Mode, with code executed from flash

93 General Purpose I/O pins
12 Channel DMA Controller
12 Channel Peripheral Reflex System (PRS) for autonomous inter-peripheral signaling
Hardware AES with 128/256-bit keys in 54/75 cycles
Timers/Counters – 4× 16-bit Timer/Counter, 4×3 Compare/Capture/PWM channels, Dead-Time Insertion on TIMER0, 16-bit Low Energy Timer, 1× 24-bit Real-Time Counter,  1× 32-bit Real-Time Counter, 3× 16/8-bit Pulse Counter, and Watchdog Timer with dedicated RC oscillator @ 50 nA
Integrated LCD Controller for up to 8×36 segments
Backup Power Domain
External Bus Interface for up to 4× 4×256 MB of external memory mapped space
Communication interfaces:

3× Universal Synchronous/Asynchronous Receiver/Transmitter (UART/SPI/SmartCard (ISO 7816)/IrDA/I2S)
2× Universal Asynchronous Receiver/Transmitter
2×Low Energy UART
2×I2C Interface with SMBus support
Universal Serial Bus (USB) with Host & OTG support

Ultra low power precision analog peripherals

12-bit 1 Msamples/s Analog to Digital Converter
12-bit 500 ksamples/s Digital to Analog Converter
2× Analog Comparator
3× Operational Amplifier (6.1 MHz GBW, Rail-to-rail, Programmable Gain)
Supply Voltage Comparator

Low Energy Sensor Interface (LESENSE)
Power-on Reset and Brown-Out Detector
Debug Interfaces

2-pin Serial Wire Debug interface (1-pin Serial Wire Viewer)
Embedded Trace Module v3.5 (ETM)

Pre-Programmed Serial Bootloader
Temperature range – -40 to 85 ºC
Single power supply – 1.85 to 3.8 V
BGA120 package (for EFM32WG995FXXX), other members of Wonder Gecko family comes in BGA112, QFP100, QFP64, and QFN64 packages
You can watch the promo video below for a short introduction of EFM32 Wonder Gecko MCUs, particularly showing the low power consumption at high temperature compared to standard solutions, and the better processing performance thanks to DSP instructions and FPU unit.
The company also provides a starter kit (EFM32WG-STK3800) featuring EFM32WG990F256 MCU (256 KB Flash/32 KB RAM) with the following key features:
Advanced Energy Monitoring v2
Real-time energy and power profiling
Backup Capacitor for RTC mode
USB interface for Host/Device/OTG
LESENSE demo ready
Light, LC and touch sensors
SEGGER J-Link debugger
As with other EFM32 Gecko MCUs development can be done with Simplicity Studio, a small program working in both Windows, and with some limitations, Linux, that downloads documentation, datasheets, and sample code, and install debugging tools helping measuring power consumption, uploading firmware to the target, and diverse design tools to help with code creation.
Both the Wonder MCUs and the Starter Kit ($84) are available now, and can be purchased from DigiKey. You can get up to 2 BGA or QFP samples free of charge for your evaluation (company address only). Further information is available on Energy Micro's Wonder Gecko page.

Jean-Luc started CNX Software in 2010 as a part-time endeavor, before quitting his job as a software engineering manager, and starting to write daily news, and reviews full time later in 2011.