We already knew Mediatek was working on MT6592, an Octa-core Cortex A7 processor for smartphones, and MT8135, a quad core bit.LITTLE processor for tablets, but in the last few days, the company revealed a bit more information about its two new application processors, mainly to show how better there are compared to the competition.
Mediatek MT6592 Octa-core Cortex A7
With Exynos Octa (5410), Samsung was the first company to release an ARM powered Octa-core application processor, but Meditak explains their solution is better because MT6592 can use all 8 cores simultaneously whereas Exynos 5410 is limited to 4 at at time, and the claim is true because Samsung big.LITTLE implementation choice.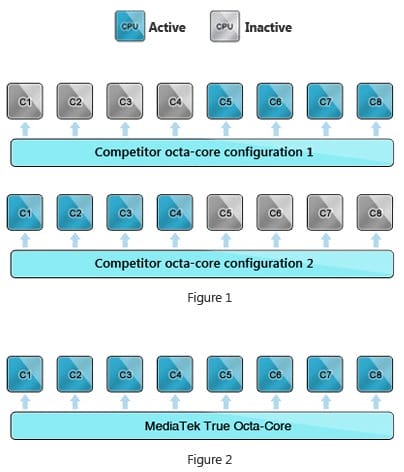 Exynos 5420 will change that however, as soon as this month, but Mediatek obviously did not feel necessary to mention this details.
The company expected those 8 cores to improve current applications such as :
Advanced web browsing – Ability to allocate individual browser tabs to CPU cores to improve loading times.
Smoother user interfaces – Ability to delegate user inputs to individual cores and render 3D effects more smoothly, the functionality and appearance of user interfaces in both applications and operating systems are significantly enhanced. (Cnxsoft: Google has also added multicore rendering in Android 4.3, so the latest version of Android should do better with more cores than older versions.)
Improved gaming experiences – Multi-threaded programming deployed in the MediaTek True Octa-Core SoC, enables different sequences to be allocated to different cores, delivering enhanced video frame-rate processing and low-latency gaming experiences. (cnxsoft: I have yet to see a game using more than core… but I haven't tried that many games…)
The company provided a somewhat interested chart showing desktop application were only supporting single core operating in 2010, moving to support dual, quad and even octa cores support in 2013, and that many mobile applications are expected to support up to 8 or more cores in 2014 and beyond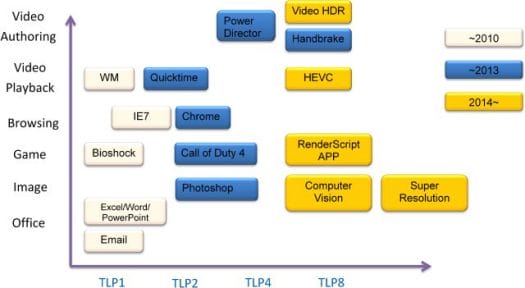 MT6592 eight cores will be clocked at 2.0 GHz, be combined with PowerVR Series 6 GPU (SGX6XX) and 3G modem. The SoC will also support 1080p video playback and displays, 13MP cameras, and become available in Q4 2013 for about $20 in quantities.
Mediatek MT8135 Quad Core big.LITTLE SoC
Mediatek appears to take another stab Samsung, with the latter botched big.LITTLE implementation in Exynos 5410 that only supports Cluster migration, as Mediatek MT8135 will feature 2x Cortex A15, 2x Cortex A7 supporting Heterogeneous Multi-Processing (HMP), now renamed to Global Task Scheduling (GTS) by ARM.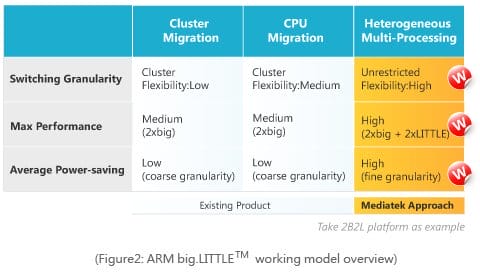 Contrary to cluster migration or CPU migration, GTS implementation allows all cores in big.LITTLE SoCs to be used simultaneously. The simple tasks are sent to individual LITTLE core(s) (Cortex A7 here), whereas more demanding tasks are sent to individual big core(s) (e.g. Cortex A15), or if maximum power is required all cores can be fired up.
The company compared their MT8135 reference tablet with competing tablets.
| | | | |
| --- | --- | --- | --- |
| | MT8135 Reference Tablet | Nexus 10 (Exynos 5 Dual, 1.7GHz dual A15) | ASUS tablet (Tegra 3, 1.4GHz quad-A9) |
| Geekbench v2.4.3 | 2895 | 2530 | 1295 |
| GLBenchmark 2.5 Egypt On-screen / Off-screen (fps) | 47 / 46 | 28 / 40 | 14 / 10 |
| Vellamo | 2755 | 1757 | 1295 |
| AnTuTu v3.0.1 | 23557 | 12915 | 11352 |
Table Source: Engadget
Geekbench probably only used the 2 Cortex A15 cores, as the difference with Exynos 5 Dual can just be explained with the CPU clock difference (2.0 GHz vs 1.7Ghz), so in this test, I assume the Cortex A7 were not used.
Mediatek reference tablet is smaller than the other tablet tested, which is fine, but if the resolution is different the results cannot actually be used to compare anything… GLBenchmark 2.5 offscreen, is always using 1080p (AFAIK), so it may provide a reliable comparison, and shows PowerVR SG6200 GPU provide slightly better results than Mali T-604 GPU (About 15%). Vellamo and Antutu 3.0.1 scores are much better for Mediatek tablet, but I believe it may be due to the lower resolution in the reference tablet, and the actual CPU/GPU performance gain is likely to be just around 20%, not the nearly 100% shown in Antutu. If Mediatek had provided the resolution of their tablet, we would not have to guess… Rookie mistake, if you ask me 😉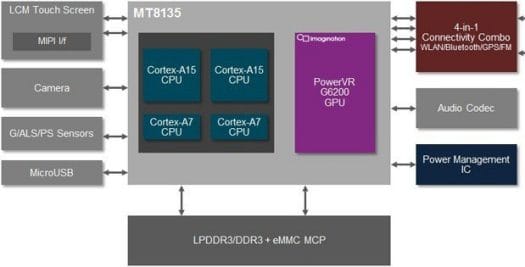 MT8135 CPU cores will be clocked at 1.5 to 2.0 GHz, and be paired with PowerVR G6200 GPU, without modem, and become available in Q3 2013 for $15 or more in quantities.
Thanks to David for the tip.

Jean-Luc started CNX Software in 2010 as a part-time endeavor, before quitting his job as a software engineering manager, and starting to write daily news, and reviews full time later in 2011.