With the revelations by Edward Snowden of NSA's large scale spying programs, people have become more and more aware that there's very little privacy online, and in 2013 several companies have tried to solve this online privacy issue, by launching services and products such as Onion Pi and Safeplug Tor Server, or even the recently announced privacy-focused Blackphone. One of the best way to get tracked is to use Google or Bing search engines, which use your search data to deliver relevant ads. Yacy, a peer-to-peer search engine, tries to solve this issue. You can install it on your computer, and you'll soon be able to run YaCyPi on your Raspberry Pi.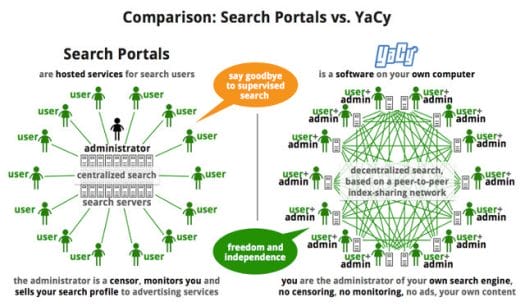 The search engine is described as follows:
YaCy is a free, as in open source, search engine that anyone can use to build a search portal for their intranet or to help search the public internet. When contributing to the world-wide peer network, the scale of YaCy is limited only by the number of users in the world and can index billions of web pages. It is fully decentralized, all users of the search engine network are equal, the network does not store user search requests and it is not possible for anyone to censor the content of the shared index. We want to achieve freedom of information through a free, distributed web search which is powered by the world's users.
You can download it for Windows, Linux and Mac OS. I've given it a try in Ubuntu 13.10. Here are the stepin a terminal, but step could just be done the same way from the Desktop environment by downloading, extracting, and running startYACY.sh script. OpenJDK 6.0 must be installed.

wget

http

:

//yacy.net/release/yacy_v1.66_20131205_9294.tar.gz

tar

xzvf

yacy_v1

.

66_20131205_9294.tar.gz

You can then go to your web browser, and type http://localhost:8090 to access your very own search engine: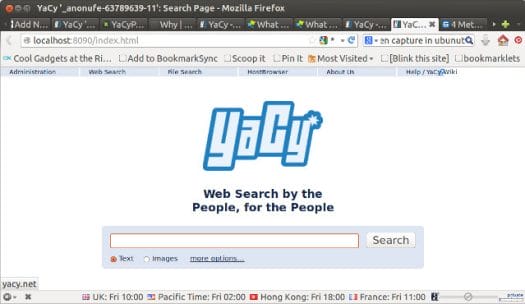 My very first search was "cnx software', and it was kind of disappointing, as this very blog was not listed at all, and results mostly  irrelevant with all links pointing a store selling "CNX" shoes. A search for "Android" did not result much better results, as the very first page strangely links to http://www.cnx-software.com/category/os/android/page/19/.
So YaCy is no Google contender for now, but keep in mind this is a P2P search engine. if you've ever used Bit-torrent, you know that if there are very few seeders, downloads are painfully slow, but with many seeders, download throughput is amazingly fast. YaCy currently has few users so search results are very poor, but as more people use it, it will hopefully improve exponentially.
[Update: Since I've written this post, "CNX Software" search now returns cnx-software.com in second position, and "Android" returns http://developer.android.com/index.html so you may have to give it at least few minutes before results become more relevant].
If you want to test it for a few days before deciding to keep it or uninstall it, you may want to add YaCy script to your start menu. For Ubuntu, follow those instructions.
If you'd like to get a 24/24h dedicated server for YaCi, and further contribute to the project, you could back for YaCyPi on Kickstarter. YaCyPi is Linux distribution running YaCy for the Raspberry Pi based on Puppy Linux, and a $25 pledge will get you an SD card pre-loaded with YaCyPi. Other pledges are also available including a full Raspberry Pi with a YaCyPi SD card, cables, and a case for $100.
Thanks to Onebir for the tip.

Jean-Luc started CNX Software in 2010 as a part-time endeavor, before quitting his job as a software engineering manager, and starting to write daily news, and reviews full time later in 2011.