A few months ago, I won a $5 coupon for DealExtreme, and decided to buy a "Portable 5V (30,000mAh) Li-ion Battery Solar Power Bank w/ Dual USB + LED – Black + White" for just over $20. For the price, solar charging was a nice bonus, and the 30,000 mAh was probably a "mistake" but it did not really matter. The SKU is gone, but 1BA-2 Solar power bank ($23.97) appears to be a very similar product. I did not plan to write about this gadget, but a few things happened that made me change my mind.
First. it took over two months to reach me, instead of the usual 2 to 4 weeks. I ordered on the 9th of November 2013, and received the package on the 25th of January 2014. The reason being that the package got declined by Thai immigration (I live in Thailand). DealExtreme could not explain me why, but I assume it could be because of stricter regulations regarding batteries. They then sent the power bank via Sweden Post which usually takes an awful lot of time, as it goes to Sweden first, before coming back to Asia.
But let's check the device itself which I received in the parcel below.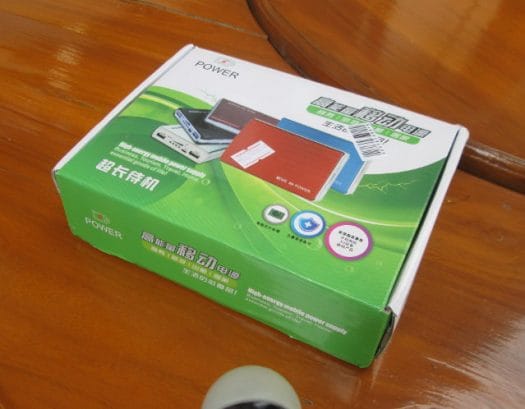 You'll find the power bank, a USB cable, adapters (mini USB, micro USB, and proprietary crap for Samsung, Nokia, and Apple devices), a user's manual entirely in Chinese mentioning the model is XHL-2000 or XHL-3000, and a pouch.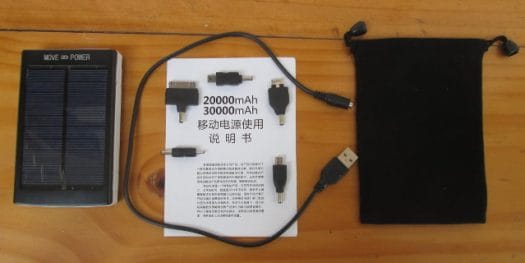 On the power bank, you'll get 2 USB output (1A and 2A), a power button to start charging, or lit up the white LED (long press), a micro USB port to charge with a power adapter, and 4 blue LEDs to indicate charging status and current charge level.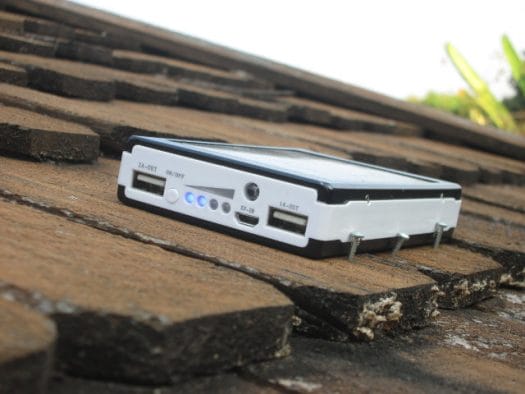 It came with a charge and I could charge my phone a couple of times. Then I decided to charge it outside, placing it on a location with good sun exposure (a roof) to see how fast it would charge, and after 6 days, the charge level showed 2 LEDs on (26% to 50% charge).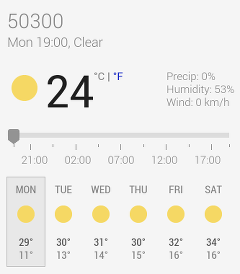 It's winter here, so it might charge faster when temperature and day length rises. It got about 7 hours direct daily sun exposure. The weather during the test is shown on the right. The power bank will also charge when it's cloudy or there are shadows, albeit probably at a slower rate.
I could charge my phone (1800 mAh battery) twice after 6 days of charge. That means a full charge would typically take between 10 and 20 days depending on conditions, and that you can't expect to charge your phone daily with this device.
I should have known this at the time of purchase based on the specifications:
Solar Panel – 1.5W
Capacity – 30,000 mAh/111wh
Input – 5V/1A
Output – 5V/1A and 5V/2.1A
Dimensions – 120x75x26mm
Weight – 350g
Temperature range – -20 to 65 C
Under ideal & theoretical conditions charging at 1.5W for 10 hours day would take over 7 days to fully charge the power bank.
If instead of charging with solar power, I use a standard 5V/2A power adapter, the power bank can be fully charged within 9h30. I can then charge my phone about four times, which means the actual capacity is closer to 8,000 or 10,000 mAh instead of the 30,000 mAh advertised. Charging my phone from the power bank takes about 2h10 from the 5V/2A output (15% to 100%), and 2h55 from the 5V/1A (9% to 100%), which is only slightly longer than using directly a power adapter.
I've also tried to open this gadget, but failed to completely dissemble it.. I could however see it's based on four 3.7V Lithium-ion batteries as found in mobile phones without being able to read the capacity. You may also want to remove the plastic protection for better efficiency.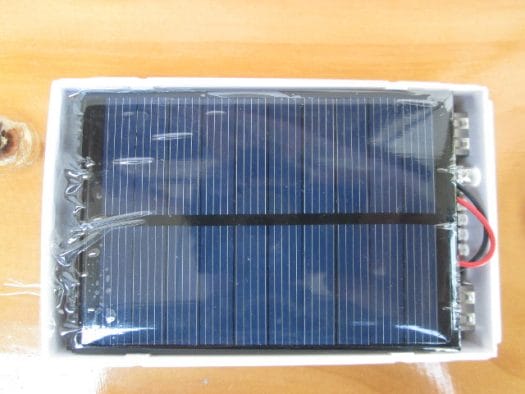 In any case, I got taught a few lessons, some of which I already knew:
Purchasing batteries overseas may be a problem with customs due to new regulations.
Specifications can be wrong or misleading (no kidding)
Some people sell products with virtually useless features (with regards to solar charging)
Sweden post can be terribly slow
I'll still use this power bank, especially when traveling, but I'll keep charging my phone the old-fashioned way, i.e. with a power adapter, for now.

Jean-Luc started CNX Software in 2010 as a part-time endeavor, before quitting his job as a software engineering manager, and starting to write daily news, and reviews full time later in 2011.