One way to play games in Android TV Box with a gamepad is to use a Sony Playstation 3 Controller with Sixaxis Controller app. It can work, but you need a device that supports Bluetooth, with the right drivers, and most games require you to do the mapping manually which is not that user-friendly. Now, they make Android compatible Bluetooth Gamepad such as G910 which seems really nice, but I've been told it's rather hit or miss, and some people have problem with the Bluetooth connection. GeekBuying instead recommends Tronsmart Mars G01, based on 2.4 GHz technology, that requires an external USB RF dongle, but which alledgly does not  have connection problems. It works with Android, Windows, and Playstation 3. The company sent me a sample, so I've taken some pictures and tried a few games with Tronsmart Vega S89 Elite TV box.
Tronsmart Mars G01 Unboxing
I've received the box in the following package.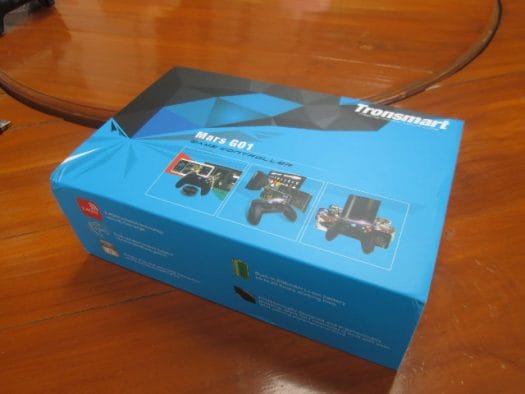 At the back, some of the technical specifications are listed:
Connecting Tech – 2.4 GHz Wireless
Battery Capacity – 600 mAh (Up to 20 hours working time)
Working Current – 11 – 20 mA
Standby Current – 33 uA
Charging Current – 300 mA
Vibration – Dual-motor vibration
Interface – USB 1.0/2.0/3.0
Plug-and-Play – Yes
Compatible System – PC/PS3/Android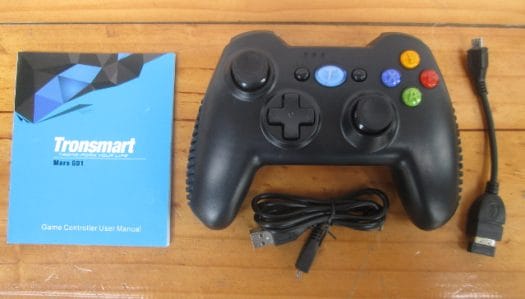 Inside the package, we'll find the game controller (very similar to an XBOX 360 Controller), a tiny RF dongle that I connected to the USB OTG adapter on the picture above, a USB to micro USB cable for charging from a power adapter or a computer's USB port, and a user's manual in English. The user's manual provides details about the layout of the controller,. how to use it with Android, Windows or PS3, and the different connection modes:
X-input – Used in Windows, and alternative method for Android.
Direct-input – Alternative mode for Windows
Android – Default mode use for Android.
PS3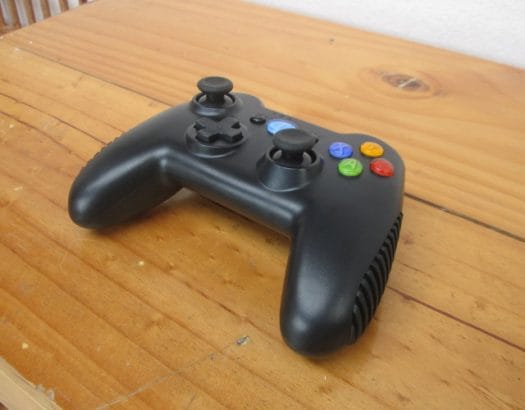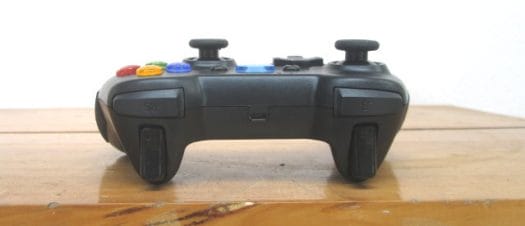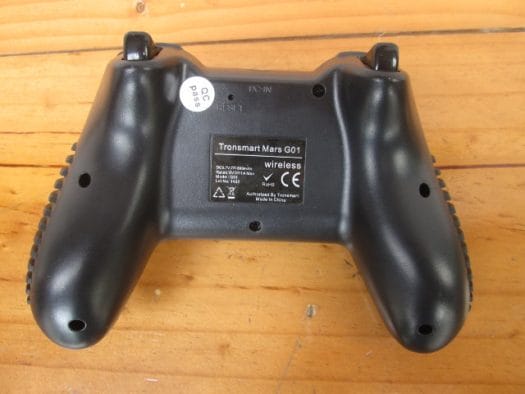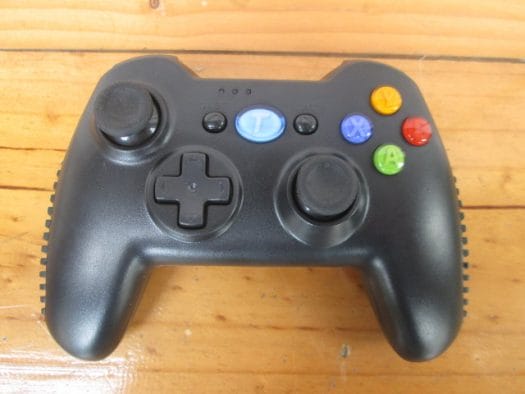 A closer look the device shows 10 buttons, on D-pad, two rockers, the micro USB port for charging, and a reset button. There's also rubber on the sides of the gamepad to a better grip.
Tronsmart Mars G01 Review
The controller was already charged, so I could use straightaway. I chose Tronsmart Vega S89 Elite, because it's a recent devide and with a Mali-450MP6 GPU it should handle games pretty well. Getting started is very easy, as you just need to insert the RF dongle in a USB port of your Android, press the T (blue) button, and it will connect immediately. As a side note, I did try the USB OTG adapter with the RF dongle on ThL W200 smartphone, but it failed to work, as this Android phone does not support USB OTG.
Back to playing on Vega S89. The first good thing is that you can use the Gamepad to navigate the Android menu. I then decided to try 3 games: Beach Buggy Blitz, Riptide GP, and DeadZone: Shadowgun, and interestingly I had three different results:
Perfect support for Riptide GP. I could exclusively use the gamepad from Android Home screen until I quit the game, and Riptide GP automatically detected the game upon the first run, and took me through a short tutorial showing how to use the gamepad. I did notice some lag in the control,. but I think it's just Tronsmart Vega S89 being not powerful enough to handle the games with full graphics quality at 1080p. Reducing the graphics settings improves playability.
Good support for Beach Buggy Blitz, but it requires another input device (mouse or air mouse) to navigate the menu. You have to go to the settings menu to select gamepad mode, and you can define your own keys. Once you start playing, the gamepad works as expected, you can turn, break, recover, pause, etc…
Failed to work for Deadzone Shadowgun. I was unable to pass the login screen. None of the gamepad buttons nor my air mouse click could let me enter the game. However, it is reported as working, but maybe you have to enter the game using a remote client (e.g. DroidMote, RKRemote, etc..), and then the gamepad works. I haven't tried.
You can watch me play the three games with Mars G01 in the video below.

For games that do not support Android mode, you can also use X-Input mode (X mode), but it's not something I had to try. You can find the documentation for X mode in Android, as well Windows XP 32- and 64-bit driver on Tronsmart download page. You'll also find a list of supported games in the X mode document. I quickly tried to insert in my Ubuntu 14.04 computer, and it's recognized as a X-Box 360 pad of you switch to X-mode by pressing the T button for a few seconds:

[

16404.342437

]

usb

1

-

2.4.3

:

Product

:

 

Gamepad

For

Windows

[

16404.342441

]

usb

1

-

2.4.3

:

SerialNumber

:

00000000

[

16404.388390

]

input

:

Microsoft

X

-

Box

360

pad

as

/

devices

/

pci0000

:

00

/

0000

:

00

:

12.2

/

usb1

/

1

-

2

/

1

-

2.4

/

1

-

2.4.3

/

1

-

2.4.3

:

1.0

/

input

/

input19

[

16404.388530

]

usbcore

:

registered

new

interface

driver

xpad

I haven't tried to play games, but it looks like it might work in Linux too (TBC).
Inside Tronsmart Mars G01
You're quite unlikely to feel the need to open a gamepad, unless you plan to convert it into a robot, or need spare parts, but I've tried anyway. There are just 7 screws to remove, including one hidden under the "QC Passed" sticker, and the back of the enclosure comes out very easily.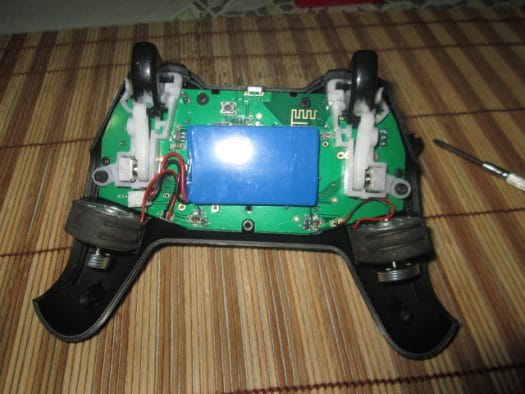 The blue battery (600 mAh) is predominant, but we can also see the two vibrating motors. By the way, the latter were not used in the Android games I tried, and it looks like it might only work with some PS3 games according the user's manual.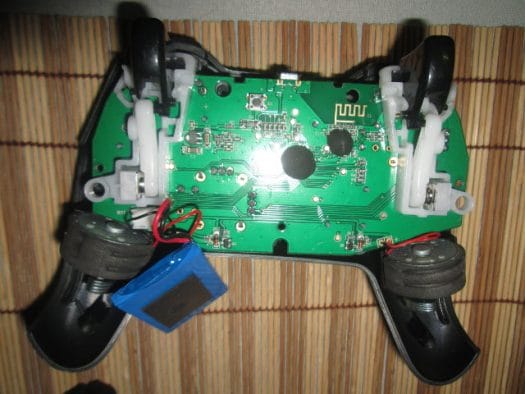 Taking the battery out reveals two chips that must be an MCU and the 2.4GHz transceiver with its pretty on-board antenna.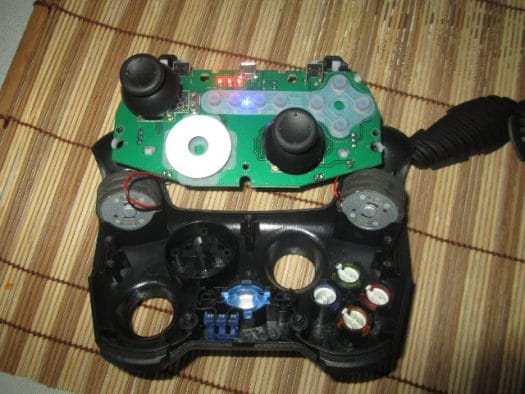 We can take the board completely out by removing to more screws, but there are just LEDs and buttons to be seen on the other side.
Conclusion
Even though Android and games support for Gamepad is still not perfect, I feel products like Tronsmart Mars G01 are a big step forward in terms of simplicity of use compared to Sixaxis solution for example. It also connects instantly, and does not require separate app/drivers for most popular games, but still provides the tools for key mappings for advanced users.
Geekbuying sells Tronsmart Mars G01 for $29.99, but you can also find it on Aliexpress or Amazon US for the same price, or you can save about $2 by purchasing it on DealExtreme for $27.97.

Jean-Luc started CNX Software in 2010 as a part-time endeavor, before quitting his job as a software engineering manager, and starting to write daily news, and reviews full time later in 2011.