There are plenty of security systems with IP cameras selling on the market, but they can be a pain to install because you need to use long power cables or use power extensions. There are battery-free such as NETGEAR VueZone Home Video Monitoring System that cost $259 with 6-month battery life for normal usage, and $50 yearly subscription fee. Immedia Semi is providing an alternative with Blink, a wire-free (wireless + battery) HD Home Monitoring & Alert System that starts at $69 with one camera, and is said to last over one year powered by two CR123 batteries, without monthly fees, and can stream live views and video recordings to your Android or iOS smartphone or tablet, or any web browser.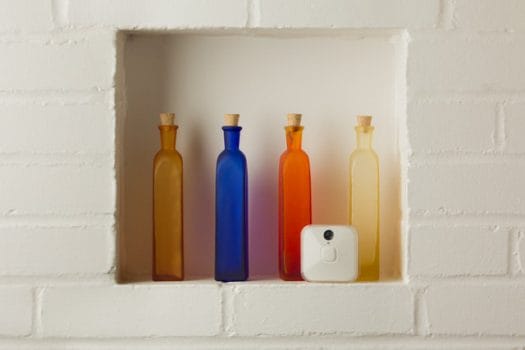 The one-year battery claim seems preposterous. How is that possible?
The first reason it's possible is because of the way typical usage is defined for home security cameras. They don't record videos all the time but use a motion sensor, and if you're not home and detect motion they record a short video clip (e.g. 5 seconds). Blink's batteries will last one year, if its record 4,000 five-second events over this period, or about 5h30 of video recording.
The second reason is because of the technology behind the camera. As its name implies, Immedia Semi is not a consumer products company, but a semiconductor company and Blink is based on their ISI-108-2 SoC specifically designed for this type of product, and not requiring external DRAM to encode video, lowering power consumption in the process. The key specifications of the SoC are as follows:
Advanced ISP w/3D Noise Reduction
noDRAM  technology
Sensor support for multiple vendors – Up to 5 Mpixel resolution, MIPI CSI I/F (2-lane)
Video encoder – H.264 up to 1080p30, MJPEG up to 5Mpixel at 15fps, 1080p at 30 fps
Still image – Up to 5Mpixel (2592×1944)
Audio interface
Audio CODEC input and output I2S I/F
Dedicated audio processor for compression support (G.7xx, AAC, etc.)
Instant On – 100ms from power on to audio/video out
Integrated Peripheral Interfaces – USB 2.0, Dual SDIO I/F, GPIOs, I2S input and output, I2C, SPI and UART
Miniature 8x8mm, 68-pin QFN package
Gigaom also reports the company managed to make batteries last longer as they integrated the lowest power Wi-Fi chip they could find,  and tweaked the firmware so that it only sends the video files when the video is done recording and is not streaming them to cut down on the time the Wi-Fi radio is used.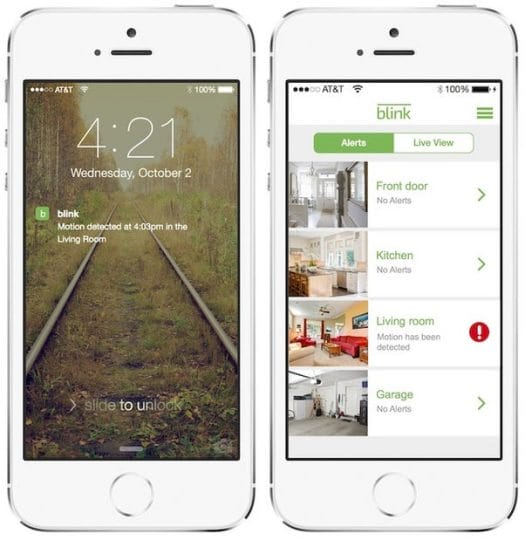 But let's get back to other features of this camera. We already know it captures HD videos using motion detection, or provide a live view, but it also features capabilities such as night vision, temperature sensing, a built-in microphone, instant and Wi-Fi/battery status alerts, instant-On (<100 ms) and privacy insurance thanks to an hardware LED lit while recording. Up to 2 hours of video will be stored in Blink's (internal?) secure server, and if this limit is reached older videos will be deleted. There's also a micro USB port to connect Blink directly to the mains, instead of using two batteries.
You can monitor or be notified of your IP camera status with Blink App for Android or iOS, which lets users arm/disarm their system, monitor temperature, customize alert settings for each camera unit and notify them when the WiFi connection is lost or battery life is low. There will also a web browser interface at launch, with a Windows app coming later.
The Blink camera(s) communicate(s) with the Sync Module, a gateway that plugs into your wall socket, facilitate set-up, and moderates the power used by your camera(s). But it's not 100% clear to me how both devices work together.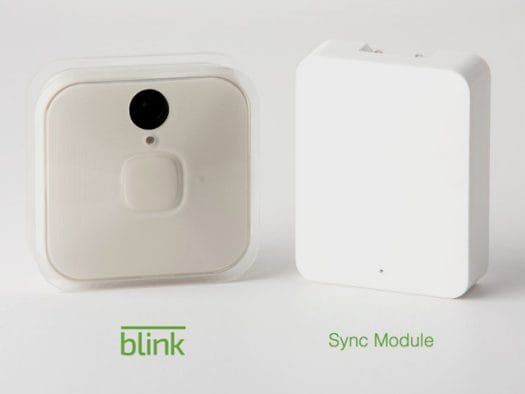 The company has already gone through several iterations of the Blink prototype, has started manufacturer more systems to enter into alpha testing, and has launched a Kickstarter campaign to gather $200,000 to complete development and for mass-production. You can currently pledge $59 for a Blink camera and sync module (early bird), after which it will cost $69, with several other perks available up to five Blinks cameras and sync module for $269. Shipping is included to the US, but you need to add between $30 and $50 to ship to the rest of the world, with expected delivery in May 2015 (9 to 10 months from now), unless for the alpha program shipped in December 2014.
Thanks to Jon for the tip.

Jean-Luc started CNX Software in 2010 as a part-time endeavor, before quitting his job as a software engineering manager, and starting to write daily news, and reviews full time later in 2011.