Mele F10 is an air mouse using 2.4GHz RF technology, that can be used as a remote, a QWERTY keyboard, and a wireless mouse. That's my favorite input device for Android TV Box, and I use it regularly for my product reviews. The company has now introduced an improved model called Mele F10 Deluxe with trick mode buttons, a gaming mode thanks to a gyroscope, and an IR learning function to use it as a universal remote. Mele sent me a sample for evaluation, so I'll start with some unboxing pictures, and compare it to the original Mele F10, before testing the remote.
Mele F10 Deluxe Unboxing
I've received the air mouse in the package below that highlights the four main features: Air mouse, Game Controller, Wireless Keyboard, and IR Learning.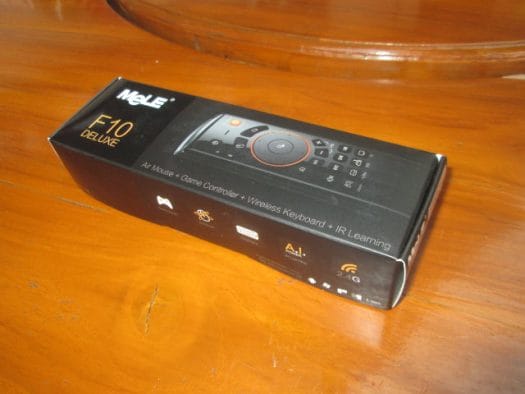 We'll find the air mouse, a tiny RF dongle, a USB cable for charging, and a user's manual describing the button, and explaining how to use it, especially the IR learning function.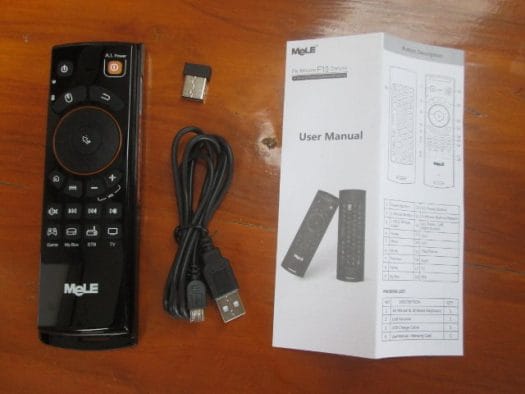 Let's compare it with the original F10 model.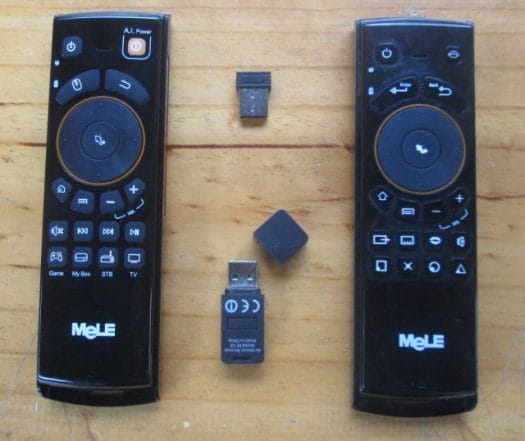 The number of buttons is the same, but they've reorganized the key mapping. It's clearly an improvement as I never used the 8 buttons key on the Mele F10, except Mute, and there are now Mute, prev and next, play/pause buttons on the first bottom row, and Game, My Box, STB, and TV on the bottom row for gaming mode, and IR functions. The only downside is that the mouse button to enable mouse mode is also left-click, so you may click when you just want to enable the mouse. The previous mouse button has been replaced with the AI Power button for IR remote controls. They have miniaturized the RF dongle even further, and although it's nice in the way, it's easier to lose, and harder to differentiate from other tiny USB dongles I have.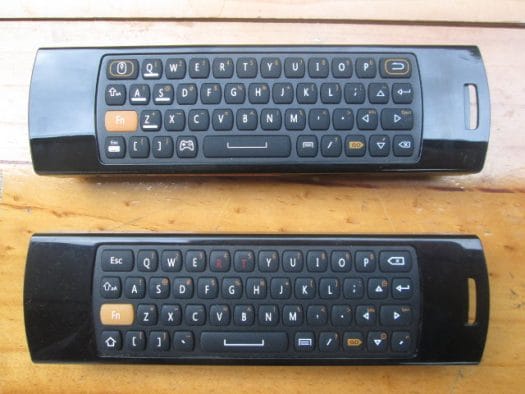 The keyboard side has also changed, as they added a mouse left and right buttons, and the game button, slightly shuffling the keys around. I'm not a big fan of having the Esc and Backspace at the bottom, but I understand choices had to be made, and it's a plus not to have to turn the remote each time you want to use the mouse mode. There's still no Tab key to switch between fields, but the down key works most of the time. Another change, not shown in the pictures, has been the replacement of the mini USB port for charging the built-in 500 mAh battery by a micro USB port.
Mele F10 Deluxe Review
The remote is supposed to work in Linux, Android, Windows, and Mac OS X, and does not require drivers. I started by plugging it to my Ubuntu 14.04 computer, and it was immediately recognized and usable. But I did most of the testing on an Android TV box, namely Tronsmart Vega S89 Elite. Again, the system had no problem recognizing the RF dongle, and I could use the air mouse straight away. One complaint I had with the original Mele F10 is that the mouse pointer alignment drift over time, and I had to recalibrate it manually, by hitting the sides of the screen. This is clearly an annoyance, but somehow I could get used to. The Mele F10 Deluxe does not have this problem anymore, either because they improve the algorithm, or they get some help from the added 6-axis gyroscope. That's definitely a plus.
I planned to test the play/pause, prev, and next keys with XBMC, but for some reason, it was gone from my box, and I had trouble installing it. So instead I tried the play/pause key in YouTube, and prev/next key to play music, both of which worked just fine. The mouse button, also acting as the left click, is used to enable the mouse, which can be problematic as you may click without meaning to. The mouse will be disabled after one minute of inactivity, and you need to press the mouse button again if you plan to use it. The keyboard works very much like the Mele F10, and I don't really have complaints, except for the missing tabulation key.
One of the new features is a "Game Controller" mode. There's only one sentence on the user's manual about this: "Press Game button to enter into game mode"…. right, it does not help, does it? I guess the remote is supposed to be used like a wheel drive, just like you would do when playing with a tablet thanks to the gyro. So I set up Riptide GP2 and Beach Buggy Games to tilt mode, confidently at least one of them would work, but tilting the remote did nothing at all. First massive failure.
The second major feature is the "IR learning function". What can go wrong here? Everything is clearly explained in the user's manual, so I started with recording the main keys of the TV remote control. All keys can be programmed on Mele F10 except Power, Game, My Box, STB, and TV buttons. After I thought I had successfully programmed the remote control, I gave it a try, and…. it did not work. Trying again with just the volume+ key, and it failed again. Then I switched to my aircon remote control. no luck. Second massive failure.
You can also watch the video review below, where I compare Mele F10 to Mele F10 Deluxe, try a few working features, and show how Game mode and IR learning functions did not work for me.
In conclusion, despite Game mode and IR learning function disasters, Mele F10 Deluxe is a better air mouse than Mele F10 thanks to improved control of the mouse pointer, and more useful keys (play/pause, prev/next) on the remote side. [Update: I've used it more, and when clicking with the OK button, the mouse pointer may jump, and this does not seem to happen with the L mouse button. This can get really annoying, and holding the remote to click the L button instead feels a little awkward]. Mele F10 Deluxe can be purchased for $34.99 on Mele's Aliexpress store, but I understand you can get $5 discount by mentioning you've been referred by CNX Software in the comment field, bringing the price down to $29.99 (Chat with them first to confirm). There are also other sellers on Aliexpress that sell it for the same price, and it can be found on DealExtreme for $31.92. For reference, the original Mele F10 now sells for $27.30 on DX and as low as $22.49 on Aliexpress.

Jean-Luc started CNX Software in 2010 as a part-time endeavor, before quitting his job as a software engineering manager, and starting to write daily news, and reviews full time later in 2011.