I use an x86 computer running Ubuntu 14.04 as desktop PC, spending most of my time working on this blog, which mostly involves reading and writing articles in web browsers (Firefox, Chrome), handling emails, communicating via Social networks, manipulating and editing pictures. But for reviews, I also need to take pictures and videos, tranfer these to my PC, and upload videos to YouTube. When I create tables, I normally type them in LibreOffice Calc, and copy/paste the results in WordPress editor. But this post side, I've put my noisy PC aside, and I'm writing from an Android 4.4 TV box, namely Probox2 EX, in order to evaluate how convenient, or not, Android may be for simple computing needs.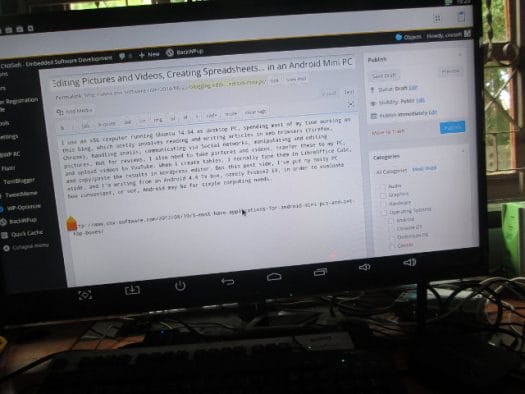 First let's indentify some applications used in desktop operating systems such as Windows and Linux (Ubuntu 14.04), and their equivalent in Android. I made the comparison table below in AndrOpen Office (AOO), and I could not selecd the cells easily with the mouse so I used Shift + arrow keys instead, using the contextual menu to copy in AOO, and Ctrl+V to paste it in Firefox. Unfortunately, this would just copy the text, not the table, and not wanting to edit the HTML manually, I did a screenshot instead, and resized it with Gimp.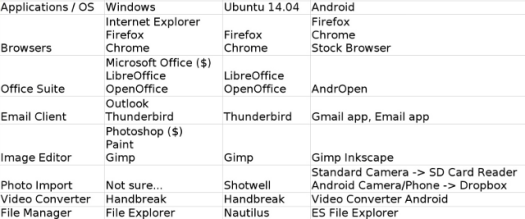 Photo import does not actually require external apps, nor removing the SD card from your camera. I've just connected my digital camera via USB, and the Gallery app automatically started listing the pictures in my camera, and I imported the ones I wanted. That part was easy and nice. Too bad it does not work for videos…
So I installed all the Android apps listed above in Probox2 EX, and it worked pretty well, but if you use Ethernet, but may need to make sure you allow large downloads when not connected to Wi-Fi. Since I'm using the device as a PC, I've connected a USB mouse and keyboard, and also installed NULL Keyboard to get rid off the annoying soft keyboard.
Gimp mostly works, but feels slow (chroot + vnc?), and in the open file window, I could not use the mouse to selected folders or files, and I had to revert to do so with the keyboard.
I also shot a short video to test video import, conversion, and YouTube upload. The Gallery won't be able to import videos, so instead I connected a USB card reader, which soon made the box hang. After a hard reset, I could copy the file with ES File Explorer, convert it with VidCon to 3GP (at 4fps instead of the 140fps on my PC…), and upload it via the YouTube app. However I could not copy the embed code, so I sent to link to my email, opened it with Firefox Android, and requested the Desktop version to copy and paste the Youtube embed code.
At first, I started to write in Firefox Android, the arrow keys won't work, and more importantly I could not create link, expect by switching to the HTML view, and typing the code manually. So instead I installed WordPress app, and everything works much better there. I also recommend setting the font to small in Android Settings->Display, or everything is really too big even when using 1080p resolution.
Finally, I'm about to finish this post, an interesting, but not that pleasant experience. The good parts are that any desktop applications are available for Android, many shortcuts are working (Alt-tab, Ctrl+V/C…), importing pictures from a digital camera works great, and it's indeed possible to use an Android TV Box as a desktop PC to create content. However, everything looks very big on the screen, almost feeling like you work on a 640×480 or 800×600 display, text selection is not user friendly at all, not everything works as expected (copy/paste of tables, mouse not always working in Gimp, …), and Android may kill your background app. I'm glad to go back to Ubuntu 14.04 for my next post, and I hope fully working, low cost ARM based box with Chrome OS and Linux will soon be available.

Jean-Luc started CNX Software in 2010 as a part-time endeavor, before quitting his job as a software engineering manager, and starting to write daily news, and reviews full time later in 2011.