W2COMP sent me a new toy to play with: Egreat H5 mini PC built around Nufront NS115 dual core Cortex A9 SoC with 1GB RAM and 4GB Flash, and (theoretically) running Android Jelly Bean (4.1). Since it's the first time I write about this device, let's start with the specifications as shown in W2COMP:
SoC – Nufront NS115 dual core Cortex A9 @ 1.0GHz + Mali-400 GPU
System Memory – 1GB DDR3
Storage – 4GB Nand Flash  (2 GB for OS, 2GB available space) + micro SD slot.
Video Output – HDMI (720p / 180p)
Video Containers- AVI, RMVB, MKV& FLV
Audio Codec – Dolby, DTS, Dolby Digital Plus, Dolby True HD, PCM (DTS-HD MA, RAW not supported), MP3, WMA, AAC, FLAC and OGG
Connectivity – Built-in WI-FI 802.11 b/g/n
USB – 1x USB host port, 1x micro USB
Misc – 1 IR port
Power – 5V/2A
Dimensions – 122 x 34 x 17 mm
Weight – 40g
It's available on W2COMP for $89 including all accessories and shipping.
As usual, I'll just show some pictures of the device and accessories, and write a review for the device.
Egreat H5 Unboxing
The device comes in the box below, where it says "H5 Full Version", whatever that means.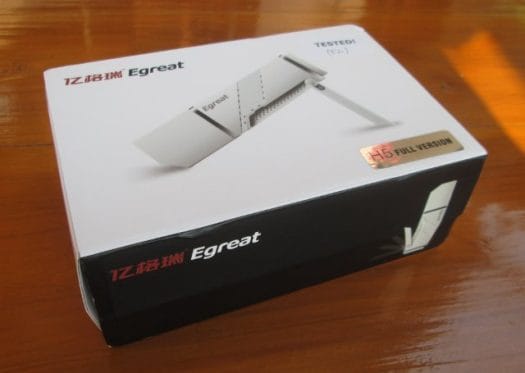 There are lots of accessories in the package: an infrared "cable", with a 3M sticker to place the IR sensor on the TV, Egreat H5 itself, an infrared remote control, a useful user manual in English, a registration card, a USB Y-cable with microUSB and USB male ports, and a power supply (Input: 110~240V, Output: 5.2V/1A).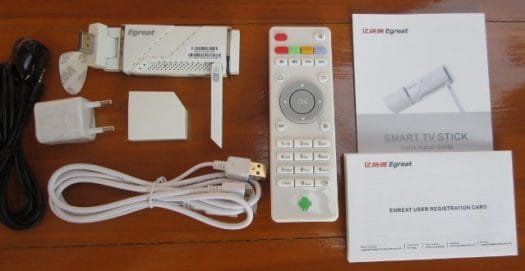 A closer look at the device shows the HDMI connector can rotate 180 degrees, so that it does not take too much place if you connect it behind the TV, as well as a Wi-Fi antenna. Other ports include the microUSB port for power, an IR jack to connect the IR sensor cable, and a full size USB 2.0 Host port. The microSD port (not shown in the picture) is located at the opposite end of the HDMI connector. I'm quite impressed by the build quality of the device, it feels stronger than the other devices that went through my hands.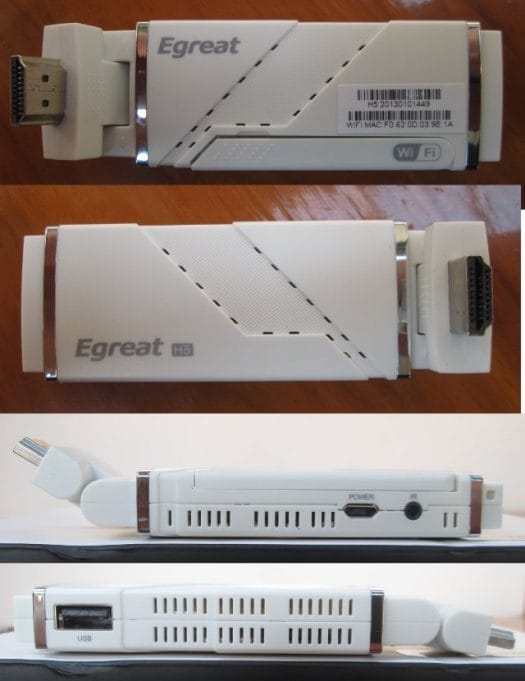 First Boot, Settings, and First Impressions
First, I placed the 3M sticker just next to my TV IR sensors, fixed the provide sensor there, and plug the other side of the IR cable into the IR jack of Egreat H5. I extended the Wi-Fi antenna, and connected the power, after about half a minute, a highly customized Android Home Screen specially designed for large screens shows up.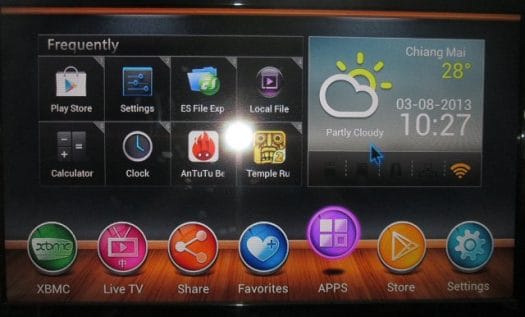 The top left of the screen shows the 8 most frequently used applications which you can select with the arrow keys, or by directly pressing a digit key (1 to 8) to start them. On the right, there's a zone to display weather information, date and time, and at the bottom there are 7 icons: XBMC (Beta from last year, useless…), Live TV (Chinese pay TV), Share (DLNA), Favorites (Favorites apps), Apps, Store (Goole Play), and Settings (Custom setting menu).
At the beginning using the IR remote control feels pretty good, you can browse the menus like in a "normal" set-top box, launch your favorite Apps quickly by pressing the corresponding digit key (1 to 8), power or reboot the device easily, and there's even a "mouse mode" button that allows you to control the mouse pointer with the arrow keys. Unfortunately after a while, this becomes really annoying, as I regularly had to switch between normal and mouse mode, and you often have to move the pointer from one side of the screen to the other at painfully slow speeds. Using the soft keyboard with the remote is equally a pain, and some input events (e.g. long touch) are just not possible with the remote. I did manage to control myself (i.e. I did not throw the remote control against the wall), and decided to connect a keyboard and mouse to preserve of what's left of  my sanity. Having said that there must be use cases where an IR remote control is suitable, but for all other cases I'd recommend wireless or USB mouse and keyboard, and possibly one of those 2.4 GHz fly mouse with a gyroscope (although I've never tried the latter).
In the customized settings menu, we have much less options than in the usual Android Settings, and it just allows you to change the language, set the time, connect to Wi-Fi, change the resolution between (720p50 and 720p60 only), view some minimal system informations and that's about it. It's still possible to go to the default Android Settings when the status bar shows up, and you get a few more options, including the developer options which only give you access to USB debugging and mockup locations. In the "System Information" section, you can access the system updates menu, and read "Android 4.1" (more on that in the benchmark section).
Google Play works fine for most applications, and I could install Antutu, ES File Explorer, MX Player, Temple Run 2, but not Angry Birds Star Wars. The firmware is not rooted, and I could not find instructions, nor firmware files, for the device.
I did not come across major issues, and everything runs smoothly, so I'm pretty satisfied with performance and stability.
Egreat H5 Video Playback (and Wi-Fi Performance)
There are 2 media players pre-installed:
ES Media Player
Video Player
I just used ES Media Player for video playback testing, and also tried with MX Player when the test failed. I played  samplemedia.linaro.org videos, as well as a few others, from a CIFS/SAMBA share in Ubuntu:
H.264 codec / MP4 container (Big Buck Bunny), 480p/720p/1080p – OK
MPEG2 codec / MPG container, 480p/720p/1080p –  Many frames are skipped, as if it was only I-frames in the video. So that's a fail to me.
MPEG4 codec, AVI container – OK
VC1 codec (WMV) – OK (sort of). It takes 10 seconds to start the 480p video, and over 60 seconds for the 1080p video.
Real Media (RMVB) – OK
MOV file from Canon camera – Video choppy and audio cuts due to Wi-Fi performance (Same issue experienced with all mini PCs).
FLV videos – OK.
WebM – 480p/720p/1080p – Failed. (Black screen)
MKV (several codecs) – Failed. The videos buffer forever. I've tried 3 videos, and waited for one minute each time, they won't start.
I've played some DTS videos with one just outputting noise, and the other making the device display "DTS not supported".
Video playback experience is quite poor compared to other devices I've tried, as it fails to play both MPEG2 and VP8 video samples, I could not play any MKV movies, and buffering may take around 1 minutes before the movies start with some videos. However, Wi-Fi performance is not the limiting factor (in most cases), and a file copy (278 MB) between the SAMBA share and the flash memory took 3m40s (1.26MB/s) which is in the same range as other mini PCs, which means the small external antenna does not help in my case.
Egreat H5 Antutu Benchmarks
I've installed both Antutu 3.1.2 and Quadrant, but the latter won't run the benchmarks.

Antutu and Quadrant both report the device to be clocked at 1GHz, so an Antutu score of 5287 looks about right and puts Egreat H5 between Amazon Kindle Fire (OMAP4430) and Samsung Galaxy S (Exynos 3312) scores, mainly because of dismal 2D and 3D performance. It seems similar to the Antutu ranking of Kimdecent T21 which also powered by Nufront NS115.
Looking into Antutu and Quadrant system information, we can find out that the device/product name is NUFRONT_NS115_STICK or full_nusmart3_stick, and that it appears to actually run Android 4.0.3 on top of Linux Kernel 3.0.0.
Egreat H5 PCB
Sorry! Nothing here this time… I miserably failed to open the enclosure, even after using 2 screwdrivers and damaging the plastic clips, it just won't open.
Conclusion
From the outside, Egreat H5 looks real nice, and sturdy, and it comes with accessories such as an external IR sensor and remote control that you don't often find in this type of devices. The HDMI port also rotates so you can save space behind the TV. The firmware is stable and runs smoothly, and the UI is designed specifically for the large screen. However, video playback is rather poor, Wi-Fi is OK, but a little disappointing as the external antenna does not help getting a better performance compared to other product, and Antutu benchmark results are not very good, even though I could not notice slowdown during normal operation. Hopefully they'll improve video playback and overall performance with an upgraded firmware. Don't expect Linux support, because the GPL source code has not been released (W2COMP asked Egreat, so wait and see), and NS115 based devices are not very popular, so developers may not be motivated working on such device.
Overall, I find it hard to justify the $89 price tag for a device with this kind of performance, even with the extra IR remote and sensor,as they should just add a few dollars to the total price.

Jean-Luc started CNX Software in 2010 as a part-time endeavor, before quitting his job as a software engineering manager, and starting to write daily news, and reviews full time later in 2011.