UyeSee SoundMate M2 Wi-Fi music streaming receiver allows you to wirelessly play audio files from your smartphone or computer to speakers connected to a 3.5mm jack or an audio receiver connected to the optical S/PDIF output of the device. The company sent me a sample for review. I'll first list the key features of the system, show pictures of the device, and test it with an Android smartphone using my TV speakers.
SoundMate M2 Features & Specifications
Listed hardware specifications and features:
Processor – Unnamed router chipset and Audio DAC
Memory & Storage – N/A
Connectivity – 802.11 b/g/n WiFi up to 150Mbps with antenna. Open (default), WPA, WPA2, WPA2 Mixed Security.
Audio Output – 3.5mm audio jack, optical S/PDIF
Streaming Standards – AirPlay, DLNA, and QPlay
Audio Formats – aac, mp3, wav, flac, and ape
USB – 1x USB 2.0 port for mass storage and/or 3G dongle, 1x micro USB for power
Misc – Wi-Fi and power LEDs, reset pin hole
Supported hardware – iOS, Android, Windows and Mac
Power Supply – 5V via micro USB port
Dimensions – 85 x 85 x 24.7 mm
Weight – 250 grams
Enclosure – Aluminum
SoundMate M2 Pictures and Unboxing Video
I've received the device together with their G1H TV Box via Fedex, and it came in the retail package shown below.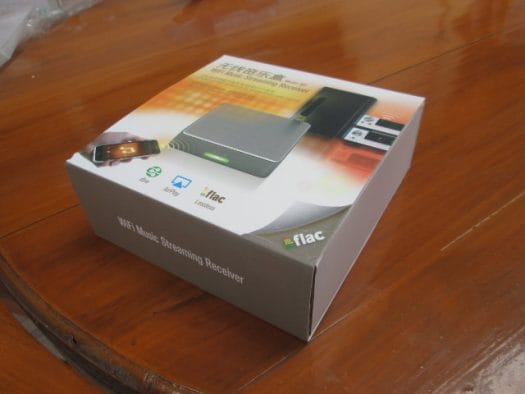 We'll find the device, a Wi-Fi antenna, a micro USB to USB cable for power, an RCA audio cable, and a user's manual in English and Chinese.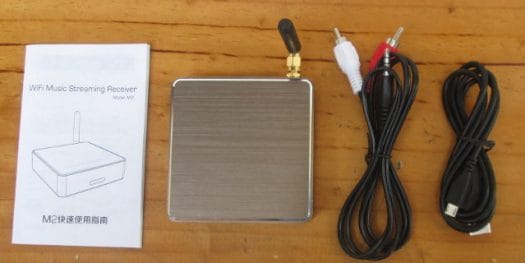 At the front of the device, there's a Wi-Fi logo, a red power LED, and green Wi-Fi LED. All other connector are at the back: Wi-Fi antenna connector, micro USB for power, reset pinhole, optical S/PDIF, audio jack, and a USB host port.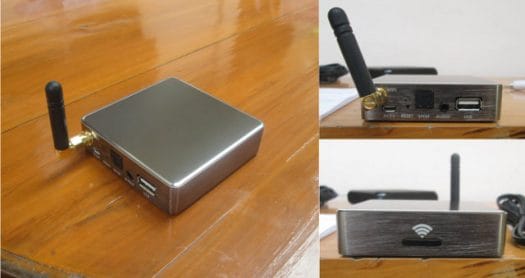 I've also tried to open the device, and there are 4 screws under rubber pads on the bottom of the enclosure, but these are firmly tightened and slightly damaged, and I did not manage to remove them.
Unboxing video just below…
SoundMate M2 Review with Android
You can control this wireless audio streamer with iOS devices using Airplay or DLNA, Android deices with DLNA with apps such as BubbleUPnP, AllCast, UPnPlay, etc…, and computers using iTunes, Windows Media Player and other programs with DLNA functions. I've only tested it with an Android smartphone. Normally you'll want to connect the device to speakers or an audio system, but I have neither, so I've just connected the audio cable to my TV for testing, and connected the power to start it.
You'll need the IP address for your device which can be found on the bottom of the enclosure. The MAC address is not needed for configuration, but it starts with 845DD7…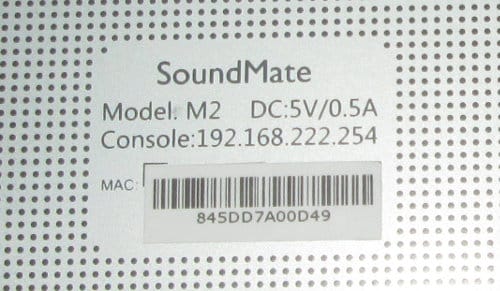 In you Android phone, go to the Wi-Fi settings to locate soundmate_XXXX ESSID and connect to it. It's using an open network by default, so there's no password. Then go to your favorite web browser in your phone, and go to http://192.168.222.254, or whatever address there may be at the back of the device.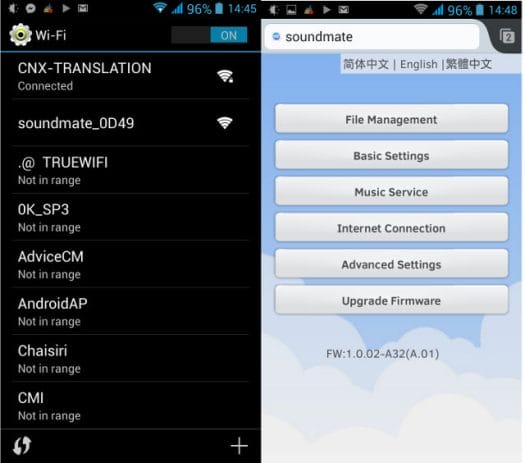 The web interface provides access to 6 submenus:
File manager for USB storage which successfully found FAT32 and NTFS partition in my hard drive
Basic settings where you can change the "device name" (ESSID), and configure network security
Music service to change the streamer name (DLNA, Airplay..)
Internet Connection to configure the connection to your Wi-Fi router or 3G USB dongle.
Advanced settings to configure SAMBA and DMS (What's that?) access. I have not tried either.
Upgrade Firmware to upgrade via USB.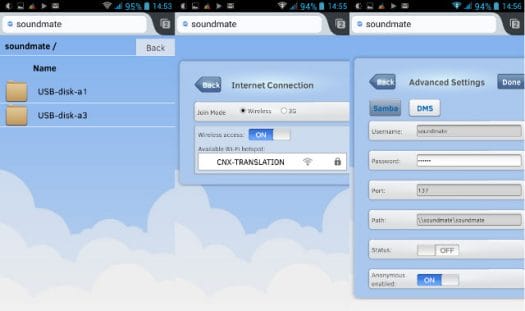 The important part is to configure the Internet Connection to get access to your router while connected to SoundMate.
When you browse the file manager, and try to open a music file it will simply download it and ask you which app you want to open. There's no way to tell the device to automatically play the audio files via the web interface, so that's not too useful… I'm not really sure how to play files from the USB drive, maybe using SAMBA can help…
The Quick Start Guide lists several DLNA apps: Air buddy, All CVast, BubbleUPnP, ShareOn, UPnPlay, iMediaShare, N7 Player, and Air Music, but they also mention any app with DLNA function should work. At first I decided to install BubbleUPnP as it's one of the most popular DLNA app. It worked at first, but after I tried to play an unsupported file, it stop working, refusing to play any audio files. So I decided to reboot the device, but it was not the culprit, as BubbleUPnP refused to play any files, even after exiting and restarting it. So instead I installed UPnPlay, and I could play most audio files from my phone, expect the first MP4 (.m4a) audio files I have as it's not supported by SoundMate M2.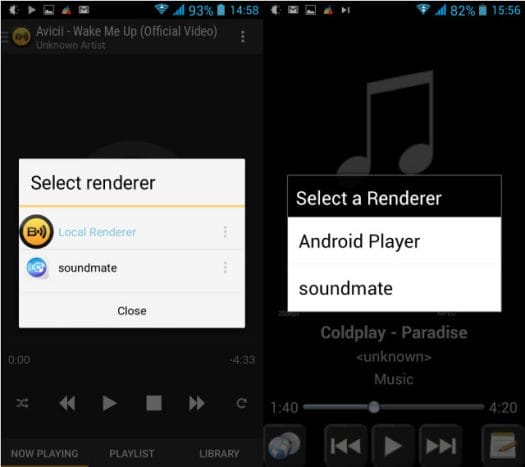 Previously, I tried to play music from my phone using EZCast dongles such as Tronsmart T1000 and WiDiCast EC-E2, and when outside, I started to have problems with a range of 6 meters or so, but SoundMate M2 is much better, as the audio plays fine as far as about 10 meters, and beyond that audio cuts are starting to show up. You can also control the volume from the phone, as with the other solutions.
UyeSee SoundMate M2 is available on Aliexpress for $55 including shipping via DHL. You may also want to check the product page on UyeSee website.

Jean-Luc started CNX Software in 2010 as a part-time endeavor, before quitting his job as a software engineering manager, and starting to write daily news, and reviews full time later in 2011.