After my review of Tronmart T1000, an EZCast / Miracast / DLNA HDMI adapter, I've received another EZCast dongle with the same features called WiDiCast EC-E2 sent to me by Shenzhen EC Technology, the manufacturer of the device. In case you are not familiar with this type of device, they allow you mirror and control your smartphone / tablet (Android, iPhone, iPad) or computer (Windows, Mac OS X) display on an HDMI TV. Today, I'll go through the specifications, show some pictures including a comparison with T1000, and try it with an Android smartphone.
WiDicast EC-E2 Specifications
Like all other EZCast adapters,WiDicast is based on Actions Semi SoC:
SoC- Action Semi AM8251 @ 600MHz (MIPS)
System memory – 128 MB DDR3 RAM
Storage – 128 MB NAND Flash
Video output – HDMI
Wi-Fi – 802.11 b/g/n Wi-Fi
Standards – Miracast, Airplay, DLNA, and EZCast
Video container formats – avi, .divx, .mkv, .ts, .dat, .vob, .mpg, .mpeg, .mov, .mp4, .rm, .rmvb, .wmv,
Audio formats / codecs – MP1/MP2,/MP3, WMA, OGG, ADPCM-WAV, PCM-WAV, AAC etc
USB – micro USB port for power
Power – 5V/0.5A
Dimensions – 94.5 x 33 x 9.9 mm. Including antenna: 94.5 x 41.2 (width) x 9.9 mm
Weight – About 20 grams
The device is said to run Linux 3.0.8. EZCast mode is supported with Android 4.0 or above, iPhones with iOS 6.0 or greater, Windows XP/7/8, and Mac OS 10.7 or greater. EZMirror (Miracast) is supported with Android 4.2.x devices with Wi-Fi direct support.
WiDicast EC-E2 Unboxing
I've received the device in the package below, which quickly summarizes what can be done with the dongle.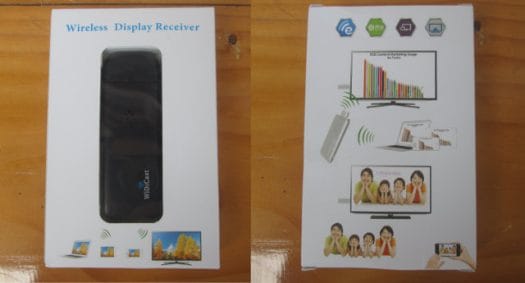 WiDicast comes with a short HDMI cable, a USB cable for power, and a user's manual in English. The device comes with an external Wi-Fi antenna, an HDMI male port, and a micro USB port for power.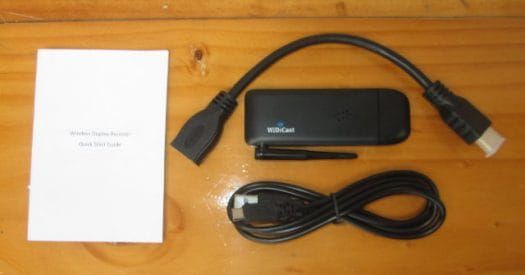 I've also taken a photo to compare Tronsmart T1000 Mirror2TV and WiDicast to show the concept and size difference.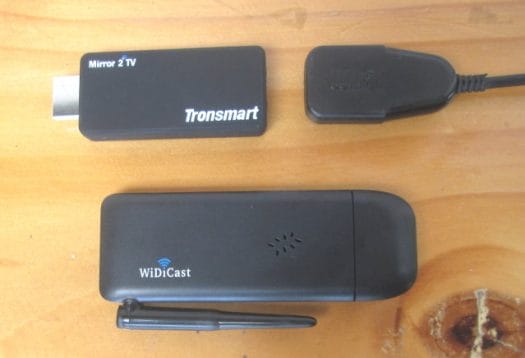 Tronsmart T1000 is shown at the top with its USB Wi-Fi module, and WiDiCast "all-in-1" dongle is shown at the bottom. If you plan to connect the dongle directly into your TV, i.e. without HDMI cable, T1000 has the advantage of being shorter, and depending on your setup it may be advantageous. T1000 Wi-Fi / USB cable is however proprietary, so in case you lose it, you'd have to buy one online again. It's just $5, but you'd still have to wait a few weeks before getting it. WiDicast on the other end uses a standard USB to micro USB cable for power.
WiDicast with ThL W200 Android Smartphone
I've tested WiDicast with ThL W200, a smartphone powered by Mediatek MT6589T running Android 4.2.1, both with EZCast and EZMirror (Miracast) mode. They could work just as well as last time I tried with Tronsmart T1000.
First you'll have to connect the dongle to your TV HDMI and USB ports with the provide cable. I did not use the HDMI cable, just inserted the dongle on the side on my TV as you'll see in the video.
You'll need to install EZCast app, and configure the dongle to connect to your Wi-Fi router to complete the setup.
In EZCast mode, you can access to your Photos, Videos, Document (Word, Excel, Powerpoint, etc…), Music, Camera, as well as specific Web pages and Cloud Video. Most services are working as expected, but Music is disappointing, as it only allows you to select individual songs, and you can't just select a playlist, or even add songs to a play queue. So for audio, I'm using EZMirror / Miracast. I can start playing music, and turn off the display, but if you stay a little far (7 meters with wall) audio cuts are frequent so it's not that enjoyable. It happened both for T1000 and WiDicast.
In any case, I'd always recommend using EZCast over EZMirror when possible as quality is usually better. YouTube is really working nicely in EZCast mode, and you can turn off the screen during playback. However, in that case, I've noticed the EZCast app may be stopped, maybe because it's killed by Android, from time to time.
Unboxing of the device and a quick T1000 comparison is done in the first two minutes of the video below, in the rest of the video (5 minutes), I show how I've connected the device, describe the different options with EZCast, and test YouTube in this mode, and finally I explain how to configure Miracast with the device.
Conclusion
WiDicast works pretty well with Android, although there are sometimes performance and stability issues, all of which I could also experience with Tronsmart T1000. In EZMirror mode, your phone can't be too far from the device, so as long as you are in the same room it should be fine,but if you have to take a break, and live the room with your phone the current video may stop. If you play music same issue, with audio cuts. EZCast mode seems more stable, except when I turn off the screen of my phone, where it may just stopped. In this time, I have not tried the device with Windows, but I fully expect the performance to be poor, just like it did with T1000.
WiDicast is available for $36 on Aliexpress, and $42 on DealExtreme both including shipping. You can get Tronsmart T1000 for $30, and based on my testing, I can't really much difference while using both devices. Beside price, I guess form factor should be the deciding factor here. If you are the type of person that easily loses cables, WiDicast may be a better option.

Jean-Luc started CNX Software in 2010 as a part-time endeavor, before quitting his job as a software engineering manager, and starting to write daily news, and reviews full time later in 2011.