A80 OptimusBoard is a development board featuring the latest AllWinner A80 SoC with 8 ARM Cortex A15/A7 cores in big.LITTLE configuration, and a PowerVR GC6230 GPU. Availability was announced about 2 weeks ago for $345, but partially thanks to reader comments on CNX Software, Merrii Technology decided to lower the price to $169 (and $50+ for shipping) to stay competitive against similar boards such as Hardkernel ODROID-XU3. I've now received a sample for evaluation. I won't go again through the specs, but today I'll take a few pictures of the board, and provide benchmark results to compare them to the ones I got with Rockchip RK3288. Normally, I would also play with the SDK provided with the board, but sadly (and amazingly), there's currently no such SDK for A80 OptimusBoard, except a leaked Linux SDK which failed to build with recent tools and operating systems.
A80 OptimusBoard Pictures
I've received the board via DHL from WITS Technology in the following package.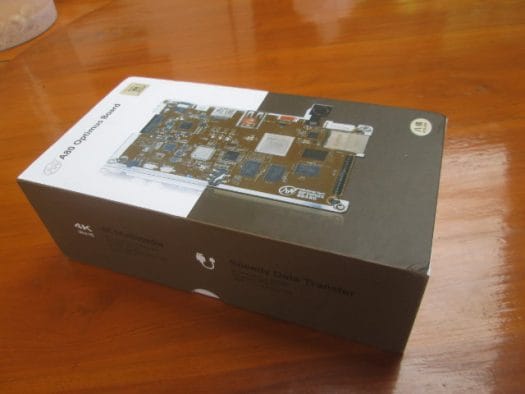 Inside the package, we've got the board itself in a transparent acrylic "enclosure", a 5V/3A power supply, and a USB to serial cable.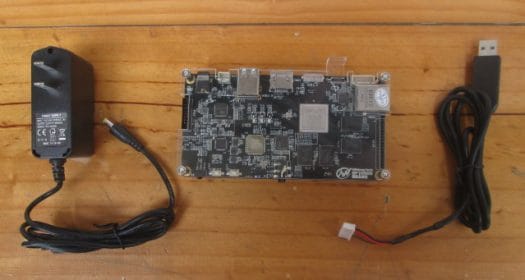 I've also taken several pictures of the board. The top view shows AllWinner A80 SoC with 4 SKHynix chips for 2GB RAM, an AP6330 Wi-Fi module, and AXP809 PMIC, as well as various header for camera, serial, GPIOs (32 pins), battery, and JTAG. There's also an IR receiver, and two small buttons for reset and power\ on this side of the board.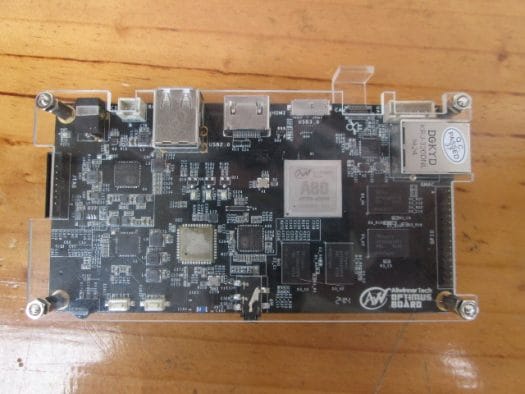 One thing that surprised me is that they did not include a heatsink with the board. Normally these kind of board comes with heatsinks and even maybe a fan small to let developers push the performance.
On the back of the board, there's mostly the 16 GB Samsung eMMC flash, and a micro SD slot.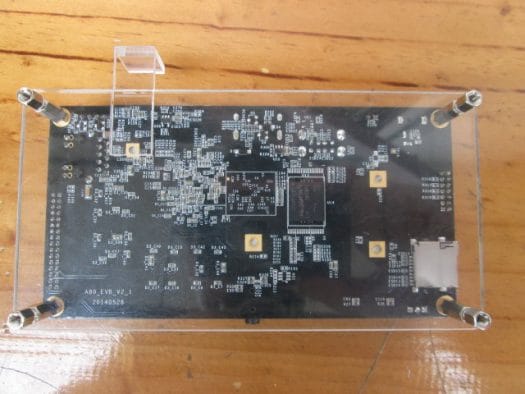 Connectors include a USB 3.0 OTG port, HDMI output, two USB 2.0 host ports, the DC jack, an Ethernet port (RJ45), and a 3.5mm headphone jack.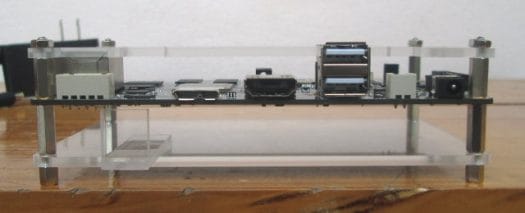 A80 OptimusBoard Benchmarks
I've connected an HDMI cable between the board and my TV, my air mouse RF dongle, an Ethernet cable, and the power supply to start the board. Boot time takes about 25 seconds.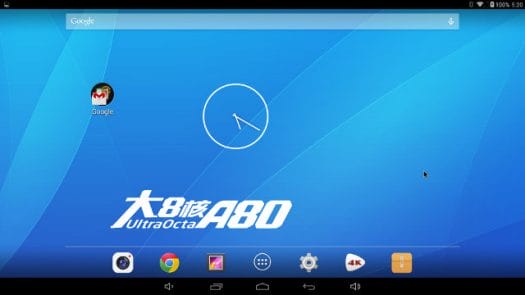 I've been told the benchmarks may not be as high as for AllWinner A80 tablets. But let's try anyway. Luckily, Google Play is installed with the firmware, but although I can login and search for apps, clicking on install did nothing. No problem, as I can install them by selecting "No Carrier AllWinner UltraOcta A80 OptimusBoard" on Google Play website.
But before running benchmarks, let's get some details about AllWinner A80 SoC and the board with CPU-Z.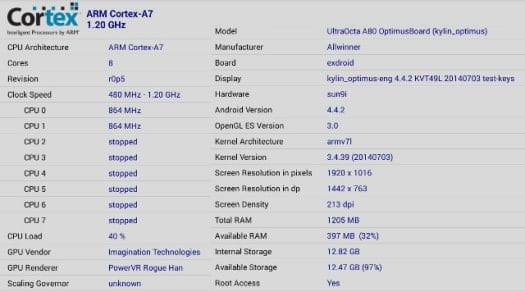 Since only some Cortex A7 cores (between 480 MHz and 1.20 GHz), CPU-Z appears to ignore Cortex A15 cores, and wrongly reports eight Cortex A7 cores. The codename of the board is "kylin_optimus", which may be something useful to know when looking for information. It's running Android 4.4.2 on top of Linux kernel 3.4.39, and everything have been built in early July. Resolution is 1920×1016, only 1205MB RAM is reported, most probably because some is reserved for the GPU, and some other hardware buffers. There's 12.82 GB of internal storage.
The first benchmark I ran is Antutu 5, which they released yesterday.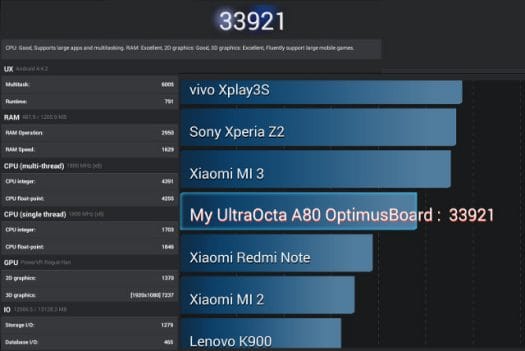 It gets 33,921 which seems a little low, considering Amlogic S802 (Probox2 EX) got 37,000 with Antutu 5 (Beta), but as mentioned above they have not optimized the current firmware and hardware for performance. I haven't run Antutu 5 on Rockchip RK3288 devices yet, so I can't do a direct comparison yet. The firmware is also dated July 3,2014, so some more optimization may have been performed on the firmware since then. Yet no new firmware has been released.
Next… Quadrant benchmark could not run at all, and all I got was a black screen, just like with UyeSee G1H TV Box.
Vellamo worked, but I had to try twice to complete the benchmark.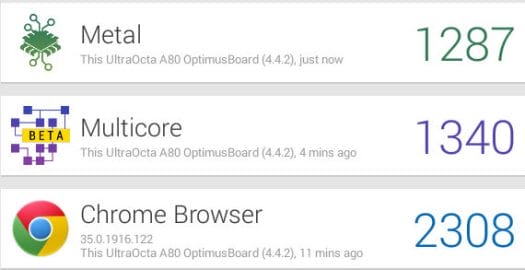 The browser score is better on AllWinner A80 (2,308) than with Rockchip RK3288 (2,147), but A80 firmware defaulted to the Chrome browser, whereas UyeSee G1H used the stock Android Browser for this test, so both results can't be compared. The Metal scores are somewhat similar with 1,287 (A80) and 1,323 (RK3288). Surprisingly, the Multicore (beta) test us much better on the quad core RK3288 (1,972) compared to the eight core A80 (1,340).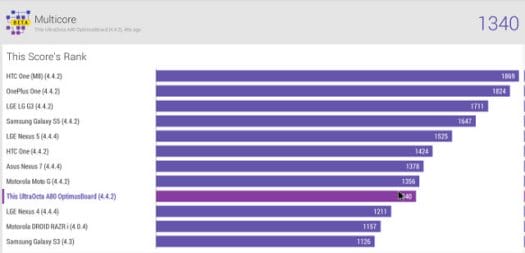 During the tests, I also connected the serial console. Here's what I got during the multicore test:

1

2

3

4

5

6

7

8

9

10

11

12

13

14

15

16

17

18

19

[

  

86.078970

]

CPU4

:

shutdown

[

  

90.610468

]

CPU1

:

Booted

secondary

processor

[

  

91.092528

]

CPU2

:

Booted

secondary

processor

[

  

91.592556

]

CPU3

:

Booted

secondary

processor

[

  

92.119633

]

CPU4

:

Booted

secondary

processor

[

  

94.104631

]

CPU5

:

Booted

secondary

processor

[

  

95.105115

]

CPU6

:

Booted

secondary

processor

[

  

97.106251

]

CPU7

:

Booted

secondary

processor

[

  

98.767201

]

CPU

Budget

:

Limit

state

:

1

item

[

1200000

,

4

,

1608000

,

4

0

]

[

  

98.774392

]

CPU

Budget

:

update

CPU

4

cpufreq

max

to

1608000

min

to

600000

[

 

100.591363

]

CPU7

:

shutdown

[

 

100.917218

]

CPU

Budget

:

Limit

state

:

0

item

[

1200000

,

4

,

1800000

,

4

0

]

[

 

101.106648

]

CPU6

:

shutdown

[

 

101.578869

]

CPU5

:

shutdown

[

 

102.069103

]

CPU3

:

shutdown

[

 

102.578981

]

CPU2

:

shutdown

[

 

103.594914

]

CPU5

:

Booted

secondary

processor

[

 

105.099015

]

CPU6

:

Booted

secondary

processor

[

 

107.092366

]

CPU2

:

Booted

secondary

processor

AllWinner A80 cores are booted in sequences. The Cortex A7 cores with 500ms interval, and the first two Cortex A15 are started first in 1 second intervals, and then 2 seconds interval. These delays may explain the lower performance of AllWinner A80 compared to Rockchip RK3288, and are probably done to optimize power consumption, rather than performance. You'll also notice that when all 8 cores are running the Cortex A15 frequency is limited to 1.6 GHz, and after CPU7 is shutdown, it is re-adjusted to 1.8 GHz. Checking "/sys/devices/system/cpu/cpu1/cpufreq/scaling_governor" show it's set to "interactive". so it would probably be possible to get a higher performance, with the CPU governor set to "performance". I'm not sure how to change the behaviour since "cpupower" does not seem to be available (by default) in Android, and "cpufreq" directory is not available with shutdown cores. Maybe I should study about this, and write my finding in a separate post. Tips are welcome.
I've also noticed that running "cat /proc/cpuinfo" will only show the cores that are not shutdown, so during idle time you may just see one core.
AllWinner A80 embeds an Imagination Technologies PowerVR GC6230, which is supposed to provide some decent performance. So I've also run "Ice Storm Extreme" tests part of Futuremark's 3Dmark benchmark.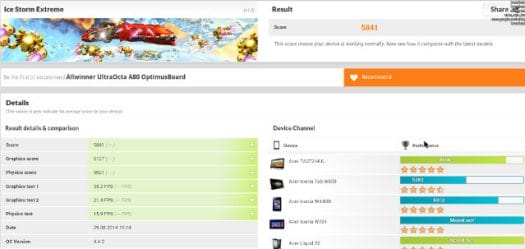 But yet again, the results are somewhat disappointing, as A80 OptimusBoard got 5,841 points against 7,278 points for Rockchip RK3288, but the main culprits are the Physics score and test which for some reasons are much lower on AllWinner A80. The other scores are similar to Rockchip RK3288.
Finally some Linux benchmarks results. There's still no Linux distribution available for A80 Optimius Board, but Linuxium ran some tests from the Phoronix test suite in a Linux chroot in Android comparing it to ODROID-U3 (Samsung Exynos 4412), MINIX NEO X8 (Amlogic S802), and Radxa Rock (Rockchip RK3188). These are all ARM Cortex A9 quad core processor, and the AllWinner A80 development board easily outperform these in most test.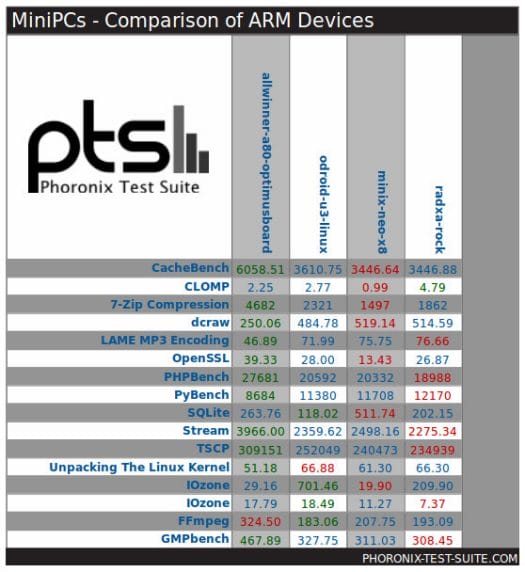 All these benchmark results should be taken with grain of salt, as the firmware is rather old, and I'd expect some performance improvement with newer firmware, and CPU governor set to performance.

Jean-Luc started CNX Software in 2010 as a part-time endeavor, before quitting his job as a software engineering manager, and starting to write daily news, and reviews full time later in 2011.