Zsun SD111, SD112 and SD113 are Wi-Fi / USB flash drives with respectively 8GB, 16 GB and 32GB storage. GearBest sent me the 8GB version (SD111) for review, as it could be an interesting platform to hack. I've take picture of the device, take it apart to check the board, review quickly the standard features with Android and Ubuntu, and try to access the board from the network.
Zsun SD111 Unboxing
I received the device in the following package.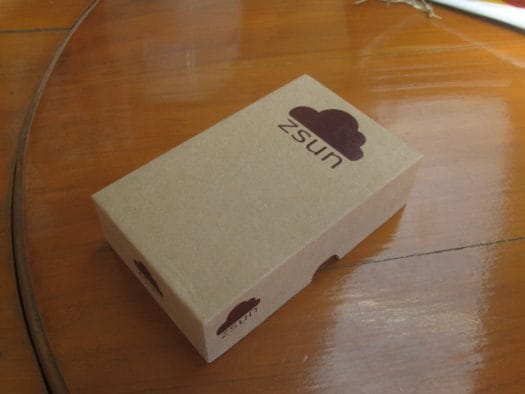 The flash drive comes with a micro USB to USB cable for charging and accessing the device from a computer, and a user's manual in Chinese.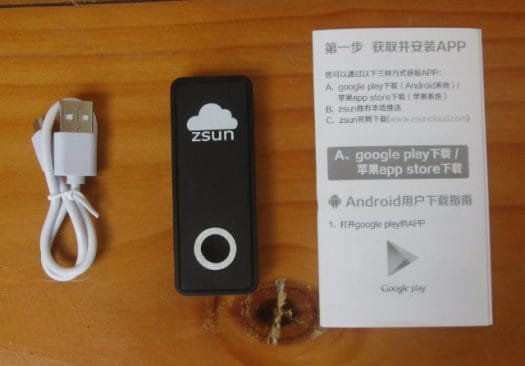 You'll probably prefer using a soft copy user manual in English…
Zsun SD111 Board and Battery
To open the stick, insert a sharp and thin object in the hole for the neck strap, and push upwards to lift the top cover a little, and finish popping up the cover with another sharp object. I used some tools from a dissasemble toolset I recently bought.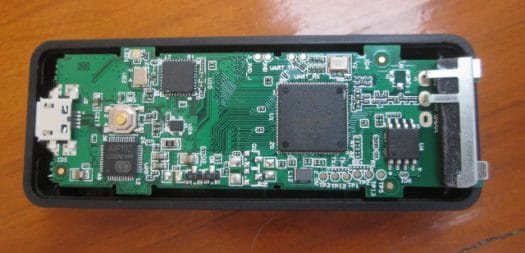 The Wi-Fi SoC is Atheros AR9331, AXP192 is used for charging, and on the top of the Qualcomm SoC you'll also find UART pins probably allowing access to the serial console (Not tried yet). There's also SMSC USB2240 USB bridge to handle the USB flash drive part of the device.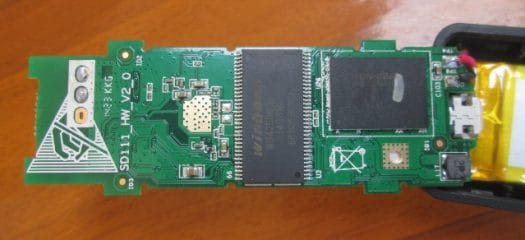 On the back you've got the flash and RAM, with the board being named SD111_HW_V2_0.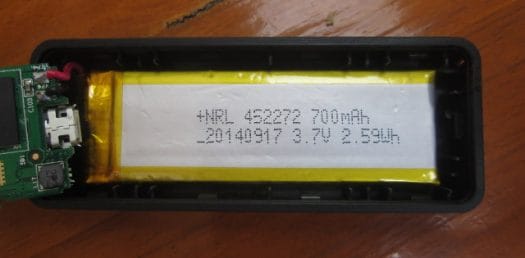 The battery is apparently 700 mAh as claimed in the specifications.
In my first Zsun SD111 blog post, the specifications were not fully complete, so here's an update:
SoC – Qualcomm Atheros AR9331 Wi-Fi SoC @ 400 MHz
System Memory – 32MB DDR SDRAM (Winbond W9425G6JH-5)
Storage –

8 MB SPI flash (

Winbond 25Q64FS1G) for firmware, and 8 GB eMMC (Toshiba THGBM2G6D2FBAI9 ?) for storage
Wi-Fi – 802.11 b/g/n up to 150Mbps with open, WEP, and WPA/WPA2 security.
USB – micro USB 2.0 port to transfer files and charge the battery
Battery – 700 mAh Li-Po battery. Good for 3h30 of continuous use. Includes automatic power off after 5 minutes of inactivity.
Misc – Power button, abd LED
Dimensions – 8 x 3 x 1.2 cm
Weight – About 30 grams
Zsun SD111 Mini Review
I've put the device back together, to try it out. First I connected it to my Ubuntu PC with the provided USB cable, and charging LED went on, but the drive was not recognized as a standard USB flash drive, and nothing was shown in the kernel log. That's because it needs to be switched the USB storage mode in the app as we'll see later.
First you need to press the power button on the top of the stick for two seconds to turn it on, and install Apple Extender (previously known as SuperDisk) app in Android or iOS.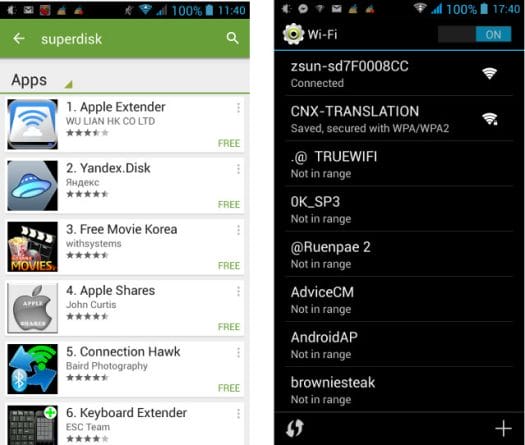 Then you can either connect to zsun-sdXXYYZZAA ESSID via the Android setting, or simply start the app and select the device ESSID. From there you'll then be able to access the files and drive on the flash drive, and copy files and directory from/to your phone and it works quite well.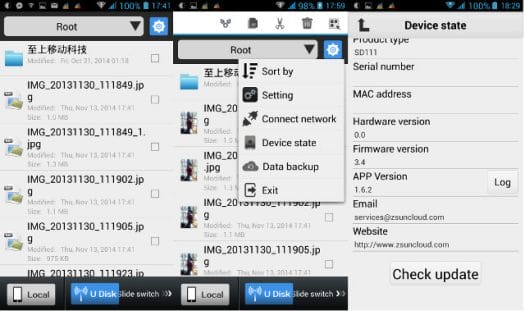 When you select files or folders, icons to share, copy, cut, and delete appear at the top. Further options are available with the setting button, such as changing the ESSID, checking the firmware (via Device state menu), backup the data and so on. You may to select "Connect network" if you rely on your Wi-Fi router for internet connectivity.
If you want to use the device as a standard USB flash drive, you need to slide the blue button on the bottom right in order to enter "PC" mode.

In theory, It's also possible to access the flash drive with Wi-Fi from a PC, but you need to install ZSunCloud.exe program (Windows only) from http://www.zsuncloud.com/. Unfortunately, I;'ve been unable to find the program, maybe because I can only read a few Chinese characters… [Update: ZSunCloud.exe is actually inside the stick, as we'll see below]
TCP Services Opened on Zsun SD111
I've also checked whether it could be possible to access the device from the network, So I enabled Wi-Fi on my computer, and connected to zsun-sdXXYYZZAA access point.
Let's find the subnet used:

jaufranc

@

FX8350

:

~

$

ifconfig

wlan0

wlan0

    

Link

encap

:

Ethernet

 

HWaddr

00

:

0f

:

53

:

b1

:

01

:

21

inet

addr

:

10.168.168.101

 

Bcast

:

10.168.168.255

 

Mask

:

255.255.255.0

inet6

addr

:

fe80

::

20f

:

53ff

:

feb1

:

121

/

64

Scope

:

Link

UP

BROADCAST

RUNNING

MULTICAST

 

MTU

:

1500

 

Metric

:

1

RX

packets

:

21

errors

:

0

dropped

:

0

overruns

:

0

frame

:

0

TX

packets

:

93

errors

:

0

dropped

:

0

overruns

:

0

carrier

:

0

collisions

:

0

txqueuelen

:

1000

RX

bytes

:

4389

(

4.3

KB

)

 

TX

bytes

:

17762

(

17.7

KB

)

and scan for open TCP ports:

sudo

nmap

-

sS

10.168.168.1

 

Starting

Nmap

6.40

(

http

:

//nmap.org ) at 2014-11-14 09:06 ICT

Nmap

scan

report

for

10.168.168.1

Host

is

up

(

0.046s

latency

)

.

Not

shown

:

996

closed

ports

139

/

tcp

 

open

 

netbios

-

ssn

8080

/

tcp

open

 

http

-

proxy

MAC

Address

:

00

:

03

:

7F

:

11

:

56

:

48

(

Atheros

Communications

)

 

Nmap

done

:

1

IP

address

(

1

host

up

)

scanned

in

21.91

seconds

So Telnet is open, but unfortunately I could not find the login credential, trying the usual root/root or admin/admin. I also tried to load the webpage in my web browser with http://10.168.168.1, but I got was an empty page with the title "Success". Looking into the code it will provide a download link if it detects Android, iOS mobile device or a Windows computer, and this is the link to use to download the windows application: http://10.168.168.1/cgi-bin/Submit.cgi?name=windows.
Trying http://10.168.168.1 generates an "Access Error: Site or Page Not Found" page.
So unless we can find the right username / password for telnet, it seems impossible to access the device without soldering the UART pins, and I may try to do just that this week-end if some of you are interested.
GearBest, which kindly provided the sample for the review, sells Zsun SD111 (8GB) for $22.74, but if you want more storage can purchase 16 or 32GB versions on DealExtreme, Amazon, GeekBuying, and others.

Jean-Luc started CNX Software in 2010 as a part-time endeavor, before quitting his job as a software engineering manager, and starting to write daily news, and reviews full time later in 2011.