WeTek Electronics, a company based in Hong Kong, has sent me an Android TV powered by Amlogic AML8726-MX dual core Cortex A9 processor. Nothing new here, but I was very very interested in reviewing it because it includes a DVB-S2 tuner, and on top of their stock Android firmware, the company provides various Android and Linux firmware files such as CyanogenMod, ParanoidAndroid, OpenELEC, Linux with Enlightenment desktop environment, Lubuntu 14.04 and so on. Today, I'll list the hardware specifications of the device, show some unboxing pictures and video, and as usual, open the device to see what's inside. I'll provide a full review in one or two more posts.
WeTek Play Specifications
Apart from the DVB-S2 tuner are the serial port, the hardware specifications sound familiar:
SoC – Amlogic AML8726-MX dual core Cortex A9 @ 1.5GHz with Mali-400MP GPU
System Memory – 1GB DDR3
Storage – 4 GB NAND flash + 1x micro SD slot
Video Output – HDMI, AV (CVBS + R/L audio)
Audio Output – HDMI, AV, and optical S/PDIF
Connectivity – 10/100M Ethernet, 802.11 b/g/n Wi-Fi , and Bluetooth 4.0 (AP6210)
USB – 3x external USB 2.0 ports, 2x internal USB 2.0 ports (used)
Misc – IR receiver, 3 LEDs for power, Ethernet and Wi-Fi, RS-232 port for serial console.
Power – 12V/1.5A
The remote control uses RF technology (air mouse), as well as IR for power on/off.
WeTek Play Unboxing
I've received the box via TNT in the package below, together with a registration card with a QR code.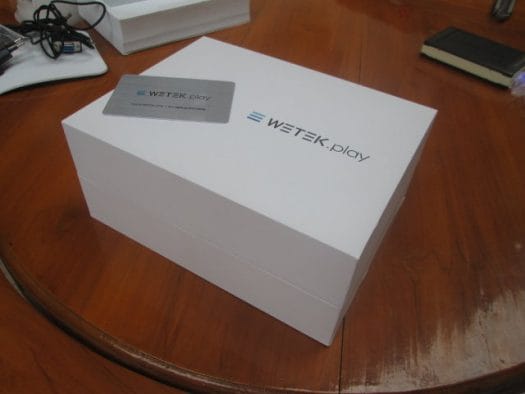 The QR code redirected to a registration page (under development), but in the final product it will simply redirect to WeTek.com, and you just need to click on Activate your device to join the membership section. I've been told this can also be done in the box itself with the Welcome Wizard.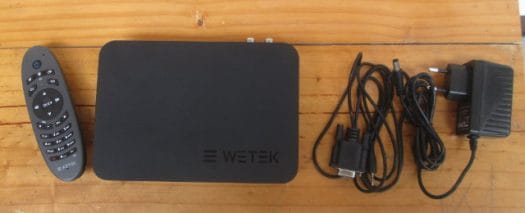 Inside the package you've got two boxes: one with WeTek Play box, and the other with an IR + RF remote control / air mouse, a 12V/1.5A power supply, and, to my surprise, a serial cable (TTL to RS232). There's no user's manual with this early sample, but the final product will come with the user's manual (See PDF), and a HDMI cable. The two AAA batteries required by the remote control are not included, but you'll probably want to use rechargeable battery with RF remotes as the ones I have need to be recharged every 2 weeks or so.

The box is made of plastic, but still feel nice. At the front, we've got a power button, and the three LEDs for power, LAN, and Wi-Fi, on one side, we can find a USB port, and the micro SD slot, and on the back panel, there are two antenna connectors for DVB-S2, 2 more USB 2.0 ports, the AV port, Ethernet (RJ45), HDMI output, optical S/PDIF, the RS-232 connector, and the power jack.
If you'd rather watch an unboxing video, and listen to my soothing voice, here it is…
Wetek Play Main Board and DVB-S2 Tuner
And now the fun part. The back of the enclosure comes with 4 rubber pads, that I had to remove in order to remove the 5 screws. You'll also notice the box can be wall-mounted, and there's a upgrade through hole for firmware upgrade.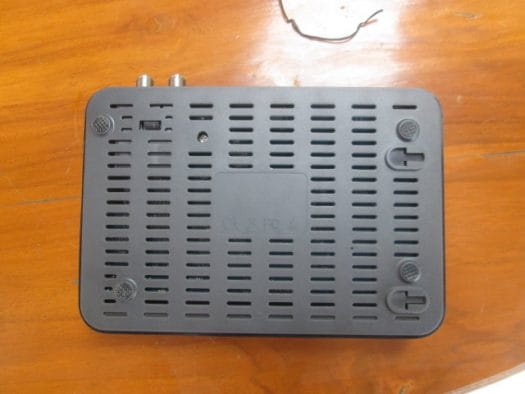 The top cover does not pop-up that easily, and I took off the Wi-Fi cable as I opened it, and I'll need to do some soldering. The final product will come with a Wi-Fi connector, so that issue is less likely to happen for the few people that may open the box.
So we've got a daughter board with two DVB-S2/S tuners with Availink AVL6211 channel receiver (enhanced version of AVL2108), and the mainboard simply called MX with the Amlogic processor and memory, AP6210 Wi-Fi module, another AVL6211 chip, and two USB dongles with PCB marking reading "USB Token" and "2.4G dongle".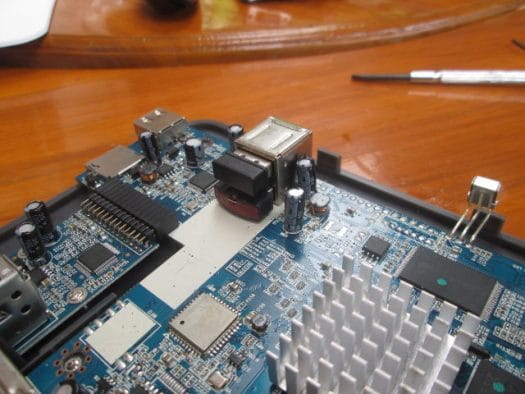 The one of the top is the 2.4G RF receiver for the remote control, which I find it much nicer than having to connect it outside. I've taken it out, and Linux reports it as a USB keyboard mouse by HGBIC (VID=0x2252, PID=0x0100). The dongle at the bottom, is not recognized by Linux, but I've been told it's an anti-copy USB token to protect the firmware, and avoid clones using their firmware. The box won't boot if you remove this dongle.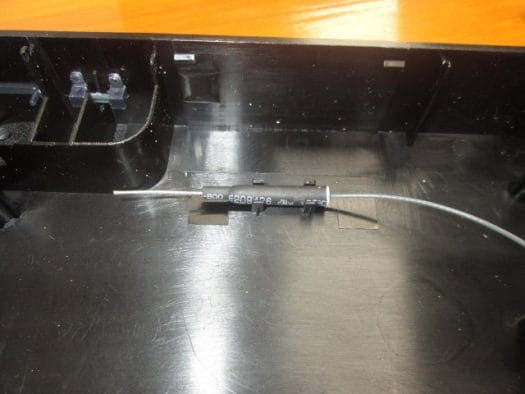 Another intriguing part is the way the Wi-Fi antenna is fixed to the enclosure. I'm not sure why it is done that way, but I've never seen anything like it in the other boxes I opened.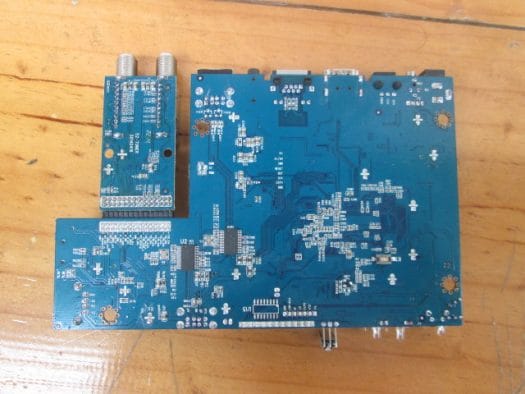 There's not that much to see at the back of the board.
WeTek Play does not seem to be available yet, and the company is looking for distributors.
That's all for today. Next, I'll probably test Android, especially the satellite receiver part, and post a review, following up by a review of the Linux images with VPU support (hardware video decoding) via Gstreamer (Gplay), but maybe not DVB-S support (TBC).

Jean-Luc started CNX Software in 2010 as a part-time endeavor, before quitting his job as a software engineering manager, and starting to write daily news, and reviews full time later in 2011.