I've reviewed quite a few Android media players this year, and as 2014 comes to an end, I thought it might be worth writing a best of 2014. But it's difficult to announce an overall winner since all have some flaws one way or another, I'll classified by categories: Best Ethernet, Best Internal Storage, … a bit like for "Oscars ceremony awards, based mostly on objective results from my tests. However, and somewhat oddly for a media player, I won't select any TV boxes based on their video playback capabilities, as so far I haven't found one that can play most 4K / H.265 videos reasonably well in Kodi, and video playback tests are also subjective. This is obviously a flawed contest as they all are, because in order to be nominated, the media player must have been reviewed on CNX Software. But it should be fun anyway, so let's get started.
Best Ethernet Performance – Tronsmart Orion R28 Meta
This year has see several boxes with Gigabit Ethernet, pushing all devices with Fast Ethernet (10/100M) out of contest. However, Gigabit Ethernet has been a challenge for most devices, with some devices being a complete failure such as HPH NT-V6 or Kingnovel K-R6 which failed at full duplex transfers, and here we have a clear and undisputed winner with Tronsmart Orion R28 Meta.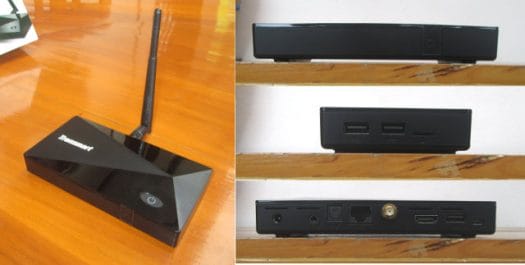 I used iperf -s on my Ubuntu computer, and iperf – t 60 -c ip_address_ubuntu_compute -d command line in Android iperf app for testing.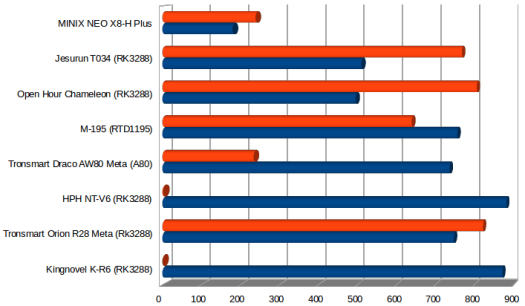 Best Wi-Fi Performance – Nagrace HPH NT-V6
Starting this year as well, we saw Android media player featuring 802.11ac Wi-Fi modules such as AP6335, and these are usually at the top of the chart, and the winner is… Nagrace HPH NT-V6 which managed to transfer data above 4.5 MB/s (36 Mbps) on average. It also wins the 802.11n contest at around 3.9 MB/s, barely out-pacing EM6Q-MXQ media player.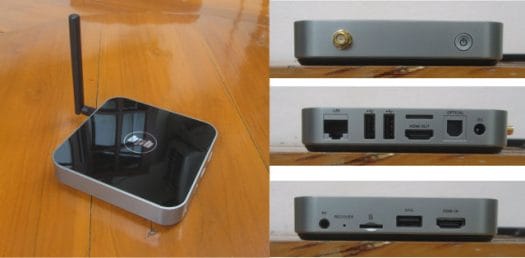 For this test, I'm using ES File Explorer transferring 278 MB between the device and a SAMBA share, and vice versa. Wi-Fi transfer is usually slow enough so that internal flash write speed does not affect the results.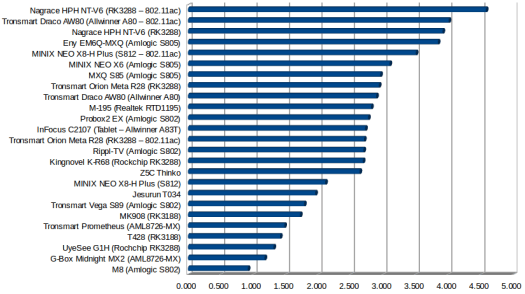 Best Internal Storage Performance – Kingnovel K-R6
Internal storage performance may be critical to a system performance. A fast reading speed should yield fast boot and app loading times, and a decent writing speed may avoid user noticeable slowdowns when the system is busy writing, such as when installing apps. The best devices I tested this year are not Android TV boxes, but instead Infocus CS1 A83 tablet, and ODROID XU3-Lite development board's eMMC module, but since this contest is reserved to Android media player, the winner is Kingnovel K-R6 (previously called K-R68), closely followed by HPH NT-V6, which just won the Ethernet award.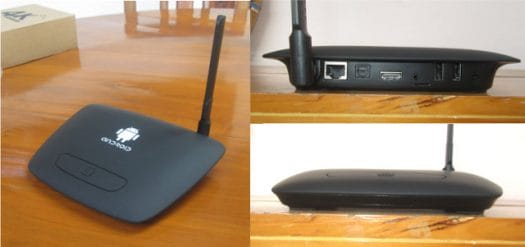 The tool used to test internal storage performance is A1 SD bench, and I added read and write speed to get the full score.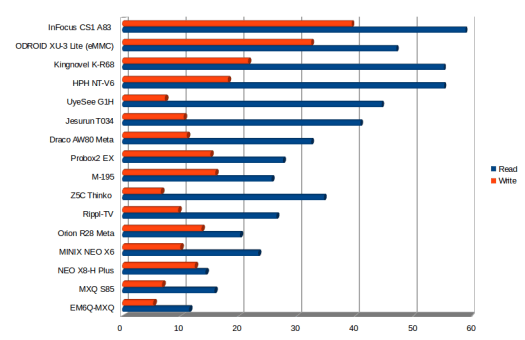 Best External Storage Performance – M-195
A device with SATA would have easily won this contest, but unfortunately, none of the TV boxes I tested this year came with a real SATA port, so devices with USB 3.0 ports ought to win that fight, and the inexpensive ($60 to $70), Realtek RTD1195 based M-195 TV box was ahead of the competition, even outperforming other devices with USB 3.0 ports such as ODROID-XU3 Lite or Tronsmart Draco AW80.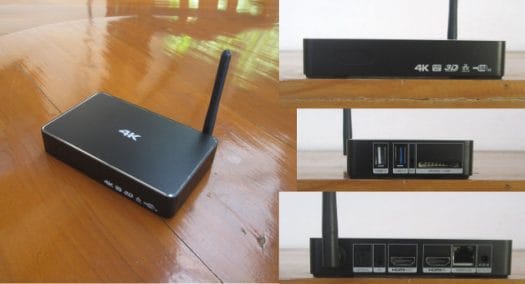 All tests below were performed with a USB 3.0 hard drive either connected to a USB 2.0 host port, or a USB 3.0 port if available. A1 SD bench was the chosen app.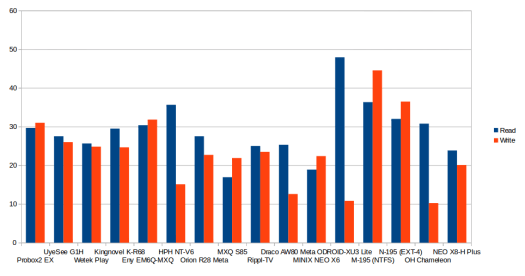 Best Benchmark Score – Tronsmart Draco AW80 Meta
This one might be controversial, as I may just have given an award to a cheater…with the benchmark crown given to Tronsmart Draco AW80 Meta. But I'll explain my process below.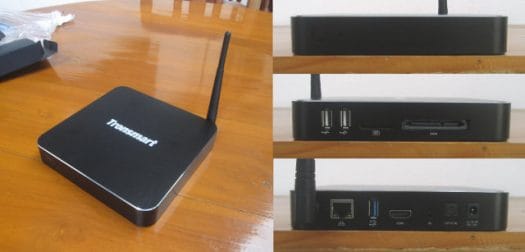 The most popular benchmark in Android is clearly Antutu, but many companies tend to "optimize", an euphemism for "cheat", their system to score well in Antutu. As you can see in the chart below, Draco AW80 Meta is even ahead of ODROID-XU3 Lite board with a "BIN1" Exynos 5422 processor @ 2.2 GHz, with the Allwinner A80 is only clocked at 1.8 GHz, and both are octa core processors with four Cortex A15 cores, four Cortex A7 cores.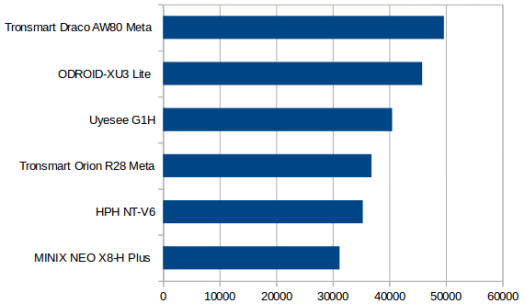 So instead I also selected Rockchip RK3288, and Amlogic S802 devices, where I ran Vellamo 3.x, and here somehow the quad Rockchip RK3288 based HPH NT-V6 outperforms both Exynos and Allwinner octa-core processors…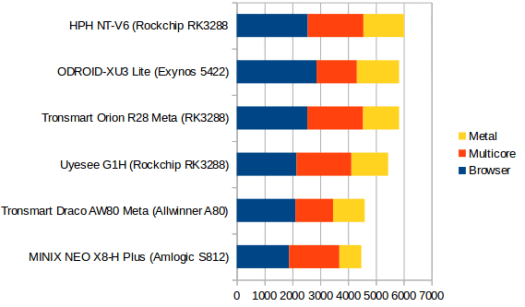 So I decided to give an equal weight to Antutu and Vellamo by multiplying Vellamo score by eight and adding Antutu score, and that's what I got.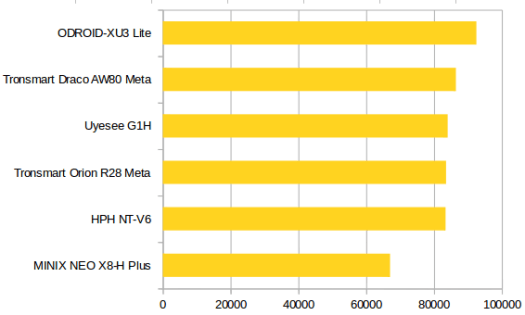 ODROID-XU3 Lite has the highest score based on my hybrid score, but since it's a development board mainly, I had to declare Tronsmart Draco AW80 Meta the winner.
Most Beautiful TV Box – Ugoos UM3
Many people just want a discreet black box, that does the job, and makes you forget it's even there. But I've decided to give a prettiest box of the year award anyway, and after voting unanimously with myself, I selected Ugoos UM3 which comes with a nice black and red enclosure.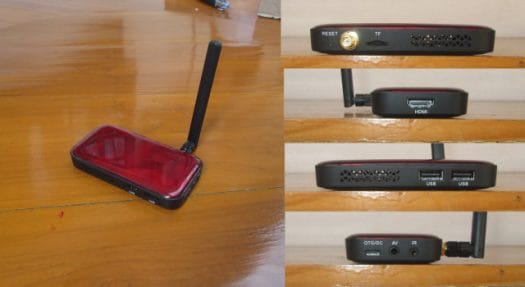 Best Value for Money – MXQ S85
Most of the time, cheap also means bad quality, but not always. One of the exception is MXQ S85 selling for about $50, with above average Wi-Fi and 10/100M Ethernet performance, pretty goos codecs/containers support in XBMC, H.265 support in MX Player, reasonable internal storage performance, and overall very stable firmware. This is obviously not a racing horse, but if all you need of a 1080p media player, with some support for not-so-demanding Android apps, then it should do the job. MK808B Plus TV stick based on the same Amlogic S805 processor might have taken it place for just $30 to $39, but I did not review it, and it could not be nominated.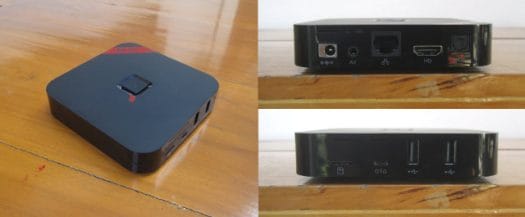 Best Software Support – WeTek Play
The last award is more like a special mention, as the product is very new, but WeTek Play comes with an amazing number of available firmwares, beside the officially supported Android and OpenELEC images, including Linux distributions such as Ubuntu, and various Android ROMs. It also features a specially designed DVB app with automatic scanning and PVR function, as well as WeCloud Antenna app with over 180 free-top-air channels available over the network. A support forum has also been setup.

Best Gaming Experience – Tronsmart Orion R28 Meta
An Nvidia Tegra K1 or Qualcomm Snapdragon 800 mini PC would have certainly won here, but I can't think of any Android mini PCs featuring rthese processors, and among Chinese processors, Rocklchip RK3288 based device offer the best 3D graphics performance, close to Alwinner A80, and much better than Amlogic S802/S812, based on gaming experience and benchmarks such as 3Dmark. Tronsmart Orion R28 Meta is the winner here, as contrary to other RK3288 boxes it supported by Mars G01 and a Sony PS3 wireless controller clone, making it the only mini PC to receive two awards this year.
What do you think about these 2014 awards? Anything you would change?

Jean-Luc started CNX Software in 2010 as a part-time endeavor, before quitting his job as a software engineering manager, and starting to write daily news, and reviews full time later in 2011.