I had already reviewed WeTek Play Android DVB-S2 STB this summer, but at the time it was still an early sample, so the company asked me to review it again with the latest firmware that includes bug fixes and new features such as WeCloud Antenna IPTV service with over 180 Live TV channels, now that they've officially launched WeTek Play with either a DVB-S2 tuner as in my sample, a DVB-T/T2/C tuner, or no tuner at all. You can find pictures of WeTek Play in my unboxing post. As usual the review will include my first impressions, video testing, and various benchmark, but I'll also have sections for WeCloud Antenna Live TV over IP service, and WeTek Theater for live TV from my satellite dish.
OTA Firmware Update
But first of all, I'll test OTA firmware update, as many companies claim to support OTA updates, but you often end up have to sideload the firmware, or worse, use some Windows based upgrade tool. I already already updated the firmware to Firmware v1.1 last week which added WeCloud Antenna app, CPU overclocking, and 1080p24 support among other features, but as I clicked on WeTek Update icon in the main menu, I was greeted with the message "There is a new update available!" as shown below.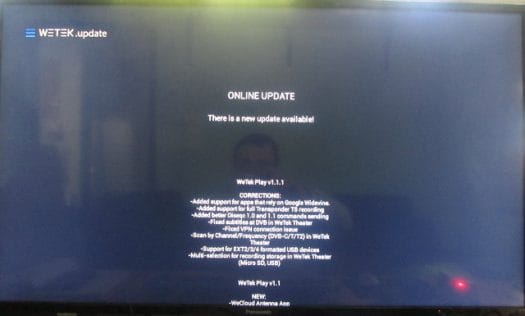 WeTek Play v1.1.1 firmware adds support for Google Widevine, useful for online video apps like Voyo, HBO GO, etc…, and EXT2/3/3 file system support for external hard drives, as well as various other improvements. You can to enter mouse mode with the remote, to scroll down, and click on Download. After the download is complete (a few hundred megabytes), click on Update Now, and Start Update to complete the process.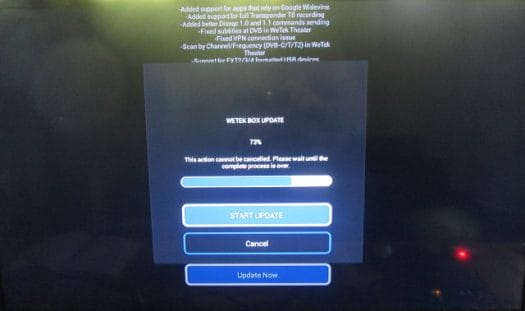 After a short time, the system will reboot into recovery mode with the typical Android update logo, and complete the installation.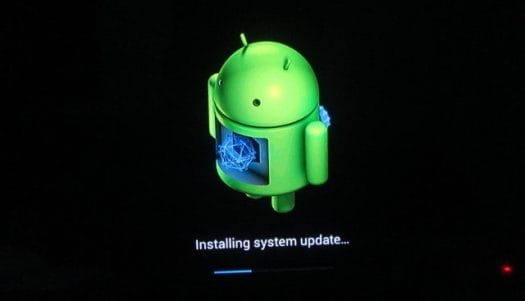 The box will then boot into Android automatically, so it just takes three clicks to update the firmware, with very little interaction from the user. Ideally, I'd prefer a one-click update, but overall it was an hassle free experience, and it also kept all my settings, and apps.
First Boot, Settings and First Impressions
WeTek Play come with an RF air mouse also integrating an IR transmitter to handle power on and off, which also means you can turn on and off comfortably from your sofa using the provided remote control. The air mouse works quite well, and a button at the back allows to conveniently switch between mouse or remote control modes. There's no QWERTY keyboard on the air mouse, so I also use Mele F10 Deluxe to input text when needed, also it should be possible to use the soft keyboard together with mouse mode to input short texts. You'll also need two AAA, as there's no built-in battery in WeTek remote control / air mouse. The "recent apps" key on the remote does not seem to do anything, but it might be I got an early engineering sample. I've also connected an HDMI cable, an Ethernet cable, my satellite dish cable, a USB hard drive, and a USB hub with a webcam, two RF dongles for MeLe air mouse and a Tronsmart Mars G01 wireless gamepad, as well as a USB flash drive.
The boot takes 90 seconds, which lasts much longer than the 40 seconds I had for my initial review. Just in case some of the devices caused issues, I disconnected all USB devices, and tried again. Results: 64 seconds, so at least one of the device slows down boot time by 25 seconds, but for some reasons (extra features, or apps installed), booting take 65 seconds instead of 40 seconds during my first review.
Normally, the very first time you boot the device, you should go through a Welcome Wizard to select your language, network connectivity, check for the latest firmware (OTA update), activate your device, login to  Google Play, and optionally configure your satellite reception. But since I had done that in August already, I did not have to do it again even after the firmware update. The main screen has not changed.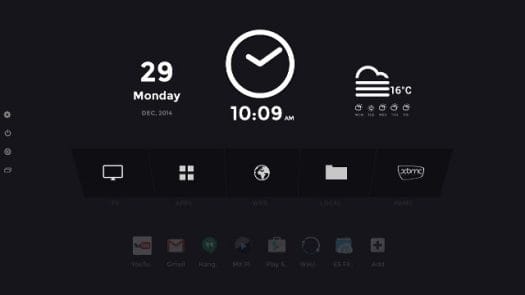 From top to bottom, and left to right, we've got the date, time, and weather forecast (and I could find Chiang Mai this time!) on the top row, then 5 icons for TV (WeCloud Antenna / WeTek Theater), Apps, Web, Local (File manager), and XBMC, and in the last row some user configurable shortcuts. On the left side of the screen four more icons are accessible for Settings, Power Off, Connected to Internet (Network settings) and Recent Apps, as well as shortcuts to connected external USB drives. The user interface is 1280×720, but for some reasons when I take screenshots with Screenshot Ultimate app the captured image is 1280×1080, with an offscreen black zone.
The "Setting" icon takes you to a "WeTek Settings" page with access to Android Settings, Weather Settings, and WeTek Services. The weather settings let you set your location, temperature unit, and update period (default is 30 minutes). WeTek Services are actually part of the Android Settings, and you can activate your device, check services status, as well as Backing up your setting in the cloud thanks to partnership with Box.com, but it's not something I tried. There's also a new option for WeControl, an app to control the box from your Android smartphone or tablet.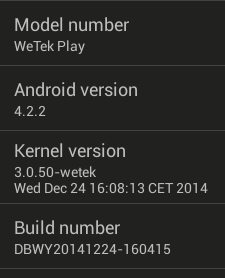 The Android settings are mostly the same, except for some extra features and options. The Wireless & Networks section has not changed at all with Wi-Fi, Bluetooth, Ethernet, Data usage, and "More" for VPN and portable hotspot support. Digital audio output menu has been added in the Sound section to select PCM, SPDIF passthrough, or HDMI passthrough. The Display section is mostly the same with  overscan, but they've added 1080p 24 Hz to video output selection: 480cvbs / 576cvbs, 480i / 576i, 720p, 72p50, 1080p, 1080p24, 1080p50, 1080i and 1080i50. Another new option is HDMI-CEC to enable/disable HDMI-CEC, select One key Play, One key power off, and auto change language. A single 1.89GB partition is available for apps and data out of the 4GB NAND flash, and it can fill up pretty quickly, as at the end of the review, I only had 240 MB free space, but that includes all apps I had to install for the review, plus screenshots, and a 280MB video I used for testing networking performance. The company also added a new Overclock section, to boost the device performance a little bit. The "About WeTek" section displays the model number "WeTek Play", and Android 4.2.2 is running on top of Linux kernel 3.0.50, just like for the earlier firmware.
My system was already connected to Google Play from my previous review, so i mostly add to update apps, and install a few ones. WeTek Play is a device certified by Google and include Google Widewine DRM which means apps should work pretty well, including some online video app that may not work with most Android TV boxes. But for some reasons, the Play Store reported Antutu, Antutu Video Tester, and iPerf as being incompatible with my device. When I updated the app it often got stuck "waiting for network", but it's most likely due to network issues that I had with Ethernet and Wi-Fi, and the company told me the networking issues were only happening with engineering samples, and retail products won't be affected.
You can turn on and off the system cleanly from the power button on the unit or the remote control. There's no standby mode, only on and off. You won't see the power on message as in other Android boxes, but there's will be an animation duplicating the effect on old TVs, and once the box is really off, you'll see the LED on the unit turn red. I used the box with Overclocking on all the time, and after Antutu benchmark, I measured the max. temperature to be 52°C on the top, and 60°C on the bottom, with exactly the same temperature measurements after 15 minutes playing Riptide GP2.
Amlogic AML8726-MX processor is an older processor, and at times reaction times may be a little slow, like 2 or 3 seconds after click, so a few times I ended up clicking twice. The flahs is a little slow too, so when you install or update apps, you should probably not expect to do other tasks. It's also possible the issue may have been amplified as I got "space running low" warning a few times. Apart from that, the firmware is rock solid, and most of the time responsive enough. Despite the 12V/1.5A (18W) power adapter, if I connect all USB devices mentioned above, the hard drive partitions won't mount, so I had to remove the USB flash drive to make it work.
Video Playback
XBMC 14.0–alpha1 is pre-installed in the firmware, and that's probably the exact same version of in August, and it was compiled in June 4, 2014. Since WeTek is a Kodi sponsor, it's probably a good idea to simply install Kodi 14 from kodi.tv, but as usual, I simply tested the version provided in the firmware, as it's what most people would use. The videos are played from a SAMBA share using the Ethernet connection of the device. I had already configured SAMBA in XBMC and ES File Explorer without issues in my previous review, so I did not have to reconfigure again. Unsurprisingly, the results are very similar to the August firmware.
Videos samples from samplemedia.linaro.org, plus H.265/HEVC and VP9 (low resolution) videos:
H.264 codec / MP4 container (Big Buck Bunny), 480p/720p/1080p – OK
MPEG2 codec / MPG container, 480p/720p/1080p – OK, but the 1080p video is playing at 20 fps instead of 25 fps as reported by XBMC debug screen.
MPEG4 codec, AVI container 480p/720p/1080p – OK
VC1 codec (WMV), 480p/720p/1080p – OK
Real Media (RMVB) – RV8, RV9, and RV10 all play, but only at 12 fps instead of 50 fps (software decode)
WebM / VP8 – 480p OK, 720p playing @ 17fps with some audio cuts, 1080p playing in slow motion and frequent audio cuts (Software decoded, VP8 not supported by AML8726-MX)
H.265 codec / MPEG TS container – 360p OK, 720p playing @ 12 fps with audio cuts, 1080p slideshow and frequent audio cuts
I've also tested some higher bitrate videos:
ED_HD.avi

(1080p MPEG-4 – 10Mbps) – audio only
big_buck_bunny_1080p_surround.avi (1080p H.264 – 12 Mbps) – OK.
h264_1080p_hp_4.1_40mbps_birds.mkv (40 Mbps) – Beginning is slow but after it's OK
hddvd_demo_17.5Mbps_1080p_VC1.mkv (17.5Mbps) – Plays at 15 fps instead of 29.975 fps.
Jellyfish-120

-Mbps.mkv

(120 Mbps video without audio) – Does not show video (Played from USB drive)
High definition audio codecs below has been tested in XBMC and MX Player using PCM output, because currently XBMC is using audio software decode, while MX Player is trying to use HW decode by default:
Video
PCM Output
XBMC
PCM Output
MX Player
HDMI Pass-through
XBMC
SPDIF Pass-through
XBMC
AC3 / Dolby Digital 5.1
 OK
 OK
Not tested, since I don't own an AV Receiver. If you want me to test pass-through for these audio format, you can consider donating below. I plan to buy Onkyo TX-NR636 which supports all codec tested here and costs 25,000 to 30,000 Baht locally ($760 to $900 US), Suggestions for cheaper options are welcomed.[wp_paypal_payment]
E-AC-3 / Dolby Digital+ 5.1
 OK (But 100% CPU usage)
 OK
Dolby Digital+ 7.1
 OK
 Video starts, but then hangs without buffering. Network issue?
TrueHD 5.1
 Audio cuts, and video choppy
 No audio
TrueHD 7.1
 Audio cuts, and video choppy
 No audio
DTS HD Master
 Audio cuts
 No audio
DTS HD High Resolution
 Audio cuts
 No audio
I've have re-tried the "PCM output – XBMC" test by playing video from a USB hard drive, and perform is much better, but I still got one or two audio cuts while playing TrueHD and DTS-HD audio files, so the system won't support high bitrate videos with "advanced" audio codecs very well, at least via PCM output. I suppose it might be better using pass-through (if it works), as the box won't need to decode audio.
Sintel-Bluray.iso could play OK, although XBMC reported playback at 20 to 22 fps instead of 24 fps. 1080i MPEG2 videos (GridHD.mpg & Pastel1080i25HD.mpg) could also play. 4K videos are not supported by AML8726-MX, but I still tried to play two to make sure XBMC does not crash, and the system simply played the videos with audio only.
I've also tested 1080p SBS (Side-by-Side) and Over/Under 3D videos. My current Panasonic TV is not a 3D TV according to the specs, so I can only check if video decoding is working.
bbb_sunflower_1080p_60fps_stereo_abl.mp4 (1080p Over/Under) – Audio only
Turbo_Film-DreamWorks_trailer_VO_3D.mp4 (1080p SBS) – OK
I also tested several AVI, MKV, FLV, VOB/IFO and MP4 videos, and the majority of videos could play fine without audio/video sync issues, and at or close to native frame rate. Only some FLV videos would not play, only outputting audio. A 2-hour video could be played until the end, but around the 19 minutes mark, the video paused automatically (maybe network issue in my engineering sample), but I could resume without issues. XBMC reported around 14,000 skipped frame in this video, which happens with some other media boxes too.
So overall WeTek Play is fairly good at playing videos, but it won't support VP8/VP9 and H.265 video files very well because AML8726-MX does not support these video codecs, and if you plan to play Blu-ray with some lossless high-definition audio codecs, playback might not be super smooth over the network, but a bit better from the USB hard drive.
I've also installed Antutu Video Tester, but the test got stuck at 40%, so I could not get a score.
Links to various video samples used in this review and be found in "Where to get video, audio and images samples" post and comments.
WeTek Theater DVB-S2 / PVR App
The TV icon in the main screen will pop-up a window asking you to select between WeCloud Antenna (IPTV) or WeTek Theater (DVB), and you can make the default selection permanent, or be prompted each time. If you make the selection permanent, a long press on the TV icon, will pop-up the selection prompt again.
WeTek Theater was already part of this summers' firmware, but at the time I had to input Thaicom 5 satellite coordinates (78.5° East) manually, while this time I just had to chose from a list of satellites, which makes setup much easier. I could not filter satellites by location/country however.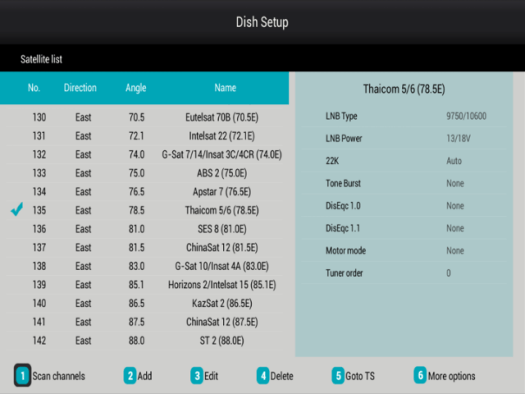 To complete the setup, press 1 Scan channels,  select "Blindscan" mode, FTA channels, and All. I ended up with  66 TV channels and 25 radios. You can actually select FTA (Free-to-air) or Crypted channels, and since there's no smartcard slot, I though only FTA channels would be available, but apparently a method (probably more or less legal) to decoded crypted channels using OSCAM (Open Source Conditional Access Module) as been posted on some forums. I have not tried. Nevertheless once scanning is complete, you can press OK, and start watching TV.
The EPG (Electronic Program Guide) is also available, but it may not support some languages such as Thai, as you can see from the screenshot below.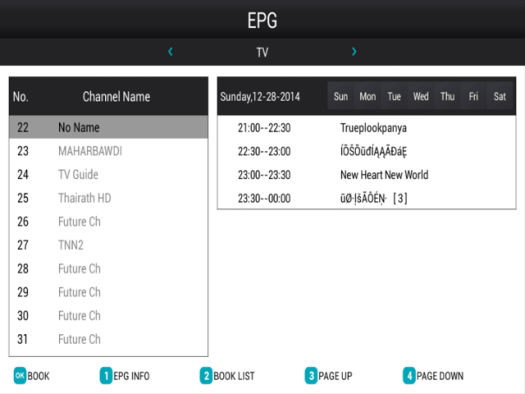 You can switch to mouse mode, and click on one of the program for scheduling viewing or recording to an external USB mass storage device. The "Book List" option will display current bookings. The system currently does not handle programming overlap, so for example if program A is shown between 22:00 and 22:30 and program B is shown between 22:15: and 23:30, there won't be any warnings.
I've tried the PVR function manually on Thairath HD, one of the few HD channels available, by pressing the record button on the remote, and it works pretty well. The shows are recorded in TVRecordFiles in your chosen USB mass storage, and you can play them back with XBMC, or another video player app. TimeShifting function is available in the setup. Strangely, I could not find a working setup button in the remote, so to enter setup, I press the EPG key, and the back key. There are for main menu in WeTek Theater settings: Antenna Settings (For inital setup), Channel Options, Video Settings (aspect ration, and language options for audio and subtitles), and System (subtitle on/off, parental rating, passwordm, TTX region..). The most interesting part is Channel Options where you can edit channels, set some EPG settings, set or check the record storage and path,  manage PVR recordings, use TimeShifting, and enable/disable TS recording. TimeShifting is working as expected, recording 10 minutes of live video by default.
You may want to watch the embedded video in the next section to see WeTek Theater in action.
WeCloud Antenna IPTV Service
WeClodu Antenna is a complete new app introduce in the latest firmware, and currently includes over 180 Live TV channels from various countries. This service requires online activation, and you'll be provided a card with a code, that you need to input on WeTek Signup page. If you don't perform this step, trying to access WeCould Antenna app will results in error messages such as "lease provide username, password, UID and device type (ios, android, …)" or "Wrong username or password". Once you've activated your device online, you should see a list of live TV channels with some EPG data.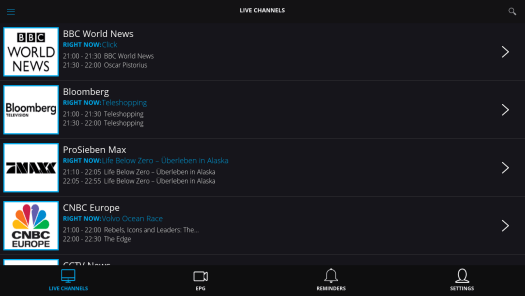 You can scroll down many channels. If you don't watch BBC Word News, Bloomberg, ProSieven Max, you can re-arrange the listing in your online profile in WeTek website. You can also filter channels by clicking the top left blue icons (three horizontal bars), and select categories such as Music, Cultural, Italy, Arabic, Turkish, Sports, and so on.
You can also access EPG data for the channels that provide it in the EPG section.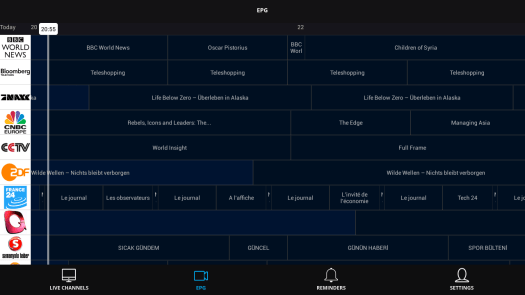 In this view, you can click on a program, and setup a reminder. Contrary to WeTek Theater, you can only set viewing reminders, and it's not currently possible to record live TV channels on WeCould Antenna. The settings include your contact details, and subscribed packages, currently only WeCloud Antenna. I've included a screenshot of BBC News so that you can evaluate the video quality.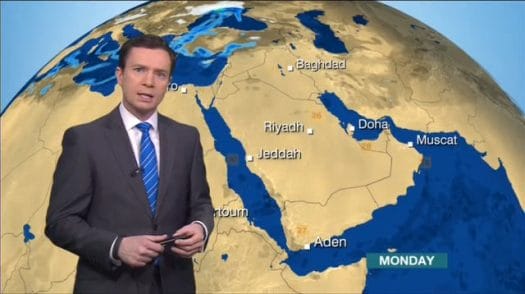 WeCloud Antenna may be listed as a subscribed package, but the company confirm it will stay free, and no recurring yearly fees are needed. However, they may add some premium channels later on. I've also been promised a link to the 180 channels, which I'll add later on. From what I've seen all channels in that list are legally free, no so piracy is involved.
For more details, about WeTek Theater and WeCloud Antenna, you may want to watch the video review below.
 Network Performance (Wi-Fi and Ethernet)
The network test consist in transferring a 278 MB file between a SAMBA share and the internal flash, and vice versa, repeating the test three times. There's a problem with Wi-Fi apparently because the box I have is an early engineering sample, and also when I opened the box, I broke the internal antenna connection, and I had to resolder it.  This means my sample a only a fair signal strength (2 bars out of 4), and from time to time transfer stalls. Ethernet also has some problem, as transfer may stall randomly during transfer in ES File Explorer. However, I managed to get iperf benchmark over Ethernet working OK for 60 seconds (the length of the test), and when it works, performance is acceptable.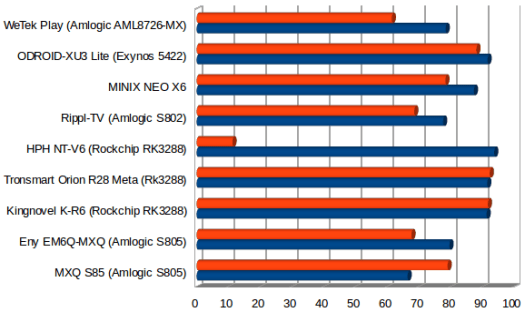 iperf log:

Client

connecting

to

192.168.0.107

,

TCP

port

5001

TCP

window

size

:

 

178

KByte

(

default

)

--

--

--

--

--

--

--

--

--

--

--

--

--

--

--

--

--

--

--

--

--

--

--

--

--

--

--

--

--

--

[

 

6

]

local

192.168.0.104

port

56818

connected

with

192.168.0.107

port

5001

[

ID

]

Interval

      

Transfer

    

Bandwidth

[

 

4

]

 

0.0

-

60.0

sec

  

562

MBytes

 

78.5

Mbits

/

sec

[

 

6

]

 

0.0

-

60.0

sec

  

438

MBytes

 

61.2

Mbits

/

sec

The company told me the retail products would not have the Ethernet and Wi-Fi issues my engineering samples had, so I won't take these into account in my conclusion.
Miscellaneous Tests
Bluetooth
WeTek Play failed to find Infocus CS1 A83 tablet, but the tablet could fid the TV box, and the devices could pair just fine, and I managed to transfer pictures from the tablet to the TV box without issues.
I managed to use my Sony PS3 wireless gamepad clone using Sixias Compatibility Checker app.
Bluetooth Low Energy is not supported, because the system is running Android 4.2. We would have to wait for Android 5.0 firmware release to test whether this feature works.
External Storage
I could use an SD card formatted to FAT32 successfully. I've also connected my USB 3.0 hard drive with NTFS, EXT-4, FAT32, and BTRFS partitions, all partitions could mount, except BTRFS. However, the EXT-4 partition is read only so you can't write to it.
File System
Read
Write
NTFS
OK
OK
EXT-4
OK
Failed
FAT32
OK
OK
BTRFS
Not supported
I used A1 SD Bench to test internal storage and USB NTFS performance. I set the custom path to /storage/external_storage_sda1 for the NTFS, and the read speed ended up being 22.23 MB/s, and the write speed 11.27MB/s, strangely significantly lower than the ~25MB/s I got for both in my first review. Maybe I should defragment my NTFS partition from time to time… Not sure why though, as very little data is written to it, except during benchmarks.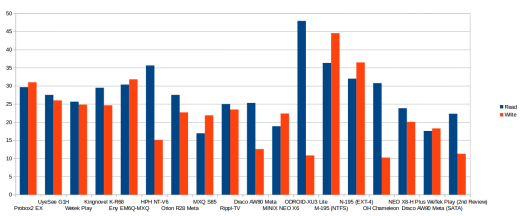 A1SD reported the 4GB NAND flash in this system is the slowest ever with 9.5MB/s read speed, and a lowly 1.13 MB/s write speed, however I wonder if this results has not been impacted by the low disk space I had when doing the benchmark, as the device should really be unusable at times if it really had a 1.13 MB/s write speed, and I'm not sure we should trust these results.
USB Webcam
My UVC USB webcam could be used with both Skype and Google hangout, but the system felt like freezing when the video was on, and I could not move the mouse at all for several seconds at time, so to recover I had to press the Home button.
Gaming
I've tested three games: Candy Crush Saga, the new Beach Buggy Racing, and Riptitde GP2,  I used WeTek air mouse to play candy crush,  and Tronsmart Mars G01 wireless gamepad to play the two other racing games. All three games were very playable most of the time, but the advanced quality settings in Riptide GP2 automatically disabled some graphics features that are normally enabled in more powerful platform such as boxes based on Rockchip RK3288 processor. Riptide GP2 also also started to act funny after the third race where the 3D graphics started to freeze for short period of time, before resuming. Mars G01 gamepad can also be used in Android home screen, but the OK button is "X" instead of "A".
WeTek Play Benchmark
I run CPU-Z to see the effect of enabling overclocking but I saw no differences with the max frequency reported to be 1.5 GHz. So instead I've been told they simply set the governor to "performance" when this is enabled. Last time, I got a score of 12,951 points in Antutu, but with Antutu 5.5, the new firmware, and performance governor the score went up to 14,365 points.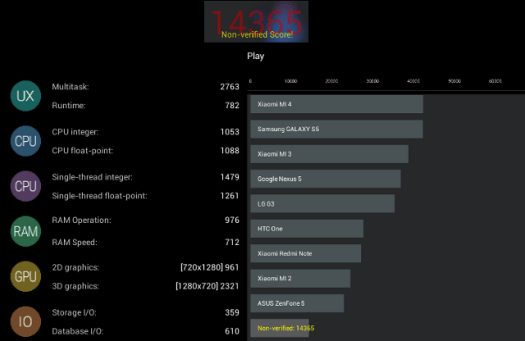 I also ran Vellamo 3.1 to get an alternative benchmark, and it confirms the hardware performance is rather low end by today's standard.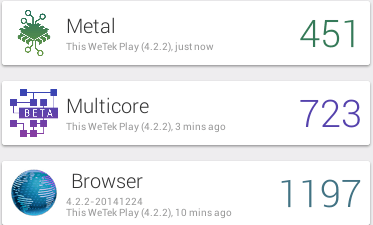 Conclusion
By the end of 2014, WeTek Play is rather a low end hardware with a dual core Cortex A9 processor, 1GB RAM, 4GB flash, and at times, you can feel some limitations of the hardware, with sluggishness become apparent from time to time. However, the system is very stable, and WeTek has probably extracted the best in term of performance they could extract from the chosen hardware. I could not recommend this device is you main use to browse the web or play games, but if you just want to watch 1080p videos, watch one of the 180 Live TV channels, or live TV via the DVB-S2 (or DVB-C/T/T2 tuner found in other the other WeTek play model), and use the EPG and PVR function, it does the job.
PRO:
Stable firmware
User friendly remote control with IR for power, and air mouse function, and all buttons you would expect in Android
DVB-S2 tuner with very good app (WeTek Theater) supporting EPG, PVR, and TimeShifting features
Live TV app (WeCloud Antenna) with access to over 180 free-to-air channels from the Internet
Google Certified Device, also including Widevine Level 1 and Level 3 DRM required by apps like Voyo, HBO GO.
Decent video playback, except for VP8 (VP9) and H.265 which are only decoded by software, some high bitrate videos, and some 3D videos.
Support for multiple firmware image including Android and Linux, as well as support for CMW  and TWRP recoveries – See (old) list here, and download page on WeTek website. Android 5.0.2 firmware is currently worked on, as well as Android TV.
OTA updates (Tested successfully), Cloud backup (not tested)
1080p 24Hz has now been added
Proper power handling (Clean on/off from remote control or unit)
External serial console port (for developers and troubleshooting)
CONS:
Older hardware which may feel sluggish at times, especially if you are used to faster platforms.
Some languages are not supported in WeTek Theater EPG (e.g. Thai languages)
UI set to 720p, which could be an issue for people requiring "true" 1080p output.
Automatic frame rate switching not available.
External USB hard drive partitions may not mount if you have some other USB devices, despite a 18W power supply.
Skype and Google Hangouts detect the camera, but are very slow (unusable)
I also had some critical issues with Ethernet and Wi-Fi transfers (stalling), but the company told me if was because I had an engineering sample, and these issues have all been fixed for the retail products, so I have not listed these in the CONS, trusting the company claims.
WeTek Play with DVB-S2 tuner can be purchased on the company's website for 108.86 Euros including VAT and international shipping, so you should be able to pay less if you live outside European Union. A DVB-C/T/T2 version is available for the same price, and a version without tuner is sold for 98.86 Euros.

Jean-Luc started CNX Software in 2010 as a part-time endeavor, before quitting his job as a software engineering manager, and starting to write daily news, and reviews full time later in 2011.