I posted pictures of MINIX NEO X8-H Plus media player a few days ago, and in this post I will report my impressions and testing results for the box, the first Amlogic S812 device I've fully reviewed so far, which adds H.265 video decoding up to 2160p, Gigabit Ethernet, and 802.11ac Wi-Fi to the original MINIX NEO X8-H. You can check my previous post for the full specifications of MINIX NEO X8-H Plus.
First Boot, Settings and First Impressions
The package includes both MINIX IR remote, and MINIX NEO M1 RF air mouse. I did not use the infrared remote at all, and instead I mostly used the provided air mouse, together with Mele F10 Deluxe air mouse when I needed to input text, or for comparison. NEO M1 comes with a built-in battery, and Off/On button, and can be used as a standard remote control, or as a wireless mouse. In most cases it works fairly well, but inputting text may be a little cumbersome as you need to use the software keyboard, and I've noticed when I scroll several times, for example in Google Play going through my list of apps, its behavior becomes erratic, and frustrating to use. I'm tried to charge the NEO M1 again, and re-calibrate it, but it did not help. I've also disconnected the other RF dongles to make sure there was no interferences. The Mele F10 (Deluxe) does not have this problem, so overall the "air mouseness" of NEO M1 isnot as good as the one of Mele air mice.
I've connected an Ethernet cable to my Gigabit hub, an HDMI cable, an SD card, a USB hard drive, a USB webcam, and a USB hub with three RF dongles for the two air mice, a wireless gamepad, and a USB flash drive. After connecting the power, you need to press the button to start the device. The boot took a massive 1 minute and 54 seconds, which seems really slow for a recent high-end device. So I removed all USB devices, and boot time decreased to one minute, better, but not really a fast booting beast. For refernce some RK3288 devices boot in 20 seconds with all devices connected.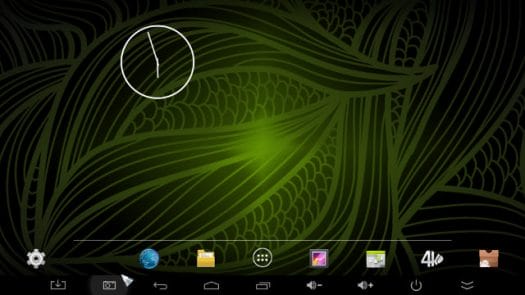 The status bar is hidden by default, but you can simply pull it up if you need it. As with other MINIX NEO device you can choose between MINIX Metro launcher, or the default Andrid Home Screen as shown above. If you want to checkout the user interface in more details, read my review of MINIX NEO X6, which includes screenshots of MINIX Metro, and a video walk-through.
The resolution was correctly automatically detected and set to 1080p, and the user interface resolution is set to 1920×1080. Although I connected the box to Ethernet, Wi-Fi was selected in the settings, so I had to go into settings before I get an Internet connection. Small detail.
The Settings menu is very similar to NEO X6 with a MINIX green and grey skin with four sub-sections: Network, Display, Advanced and Other, but it adds some extra options highlighted in bold:
Network – Enable and configure Wi-Fi or Ethernet
Display:

Automatic or manual HDMI resolution: 480p/i @ 60 Hz, 576p/i @ 50 Hz, 720p @ 50/60 Hz, 1080i @ 50/60 Hz, 1080p @ 24/50/60 Hz, or 4k2k 24/25/30Hz/smpte
Hide or Show status bar
Display Position
Start screen Saver (Never, 4, 8 or 12 minutes)

Advanced:

Miracast
Remote Control (For Rockchip/MINIX remote app)
Google TV Remote (for Google TV remote app)
CEC Control
Screen Orientation settings
No Output to USB Audio
Digital Audio Output (Auto, PCM, S/PDIF pass-through, or HDMI pass-through)
Dolby DRC settings – On/Off, and DRC mode selection (LINE or RF)

Other – System Update: Local file or OTA (connects to server OK), Backup; "More Settings": redirects to standard Android Settings.
4K video output and S/PDIF are extra hardware options supported by MINIX NEO X8-H Plus. DRC stands for Dynamic Range Control, and it aims to improve audio quality in various environments.  Here's an explanation of what it does (Source: Dolby Metadata Guide):
Different home listening environments present a wide range of requirements for dynamic range. Rather than simply compressing the audio program at the transmission source to work well in the poorest listening environments, Dolby Digital encoders calculate and send Dynamic Range Control (DRC) metadata with the signal.

This metadata can then be applied to the signal by the decoder to reduce the signal's dynamic range. Through the proper setting of DRC profiles during the mastering process, the content producer can provide the best possible presentation of program content in virtually any listening environment, regardless of the quality of the equipment, number of channels, or ambient noise level in the consumer's home.

Many Dolby Digital decoders offer the consumer the option of defeating the Dynamic Range Control metadata, but some do not. Decoders with six discrete channel outputs (full 5.1-channel capability) typically offer this option. Decoders with stereo, mono, or RF-remodulated outputs, such as those found on DVD players and set-top boxes, often do not. In these cases, the decoder automatically applies the most appropriate DRC metadata for the decoder's operating mode.
Most people won't probably use this, but in case you want to turn it on, I understand you should probably select LINE if you own a 5.1/.1 capable AV receiver, and to RF for other audio receivers / TV. Corrections are welcome.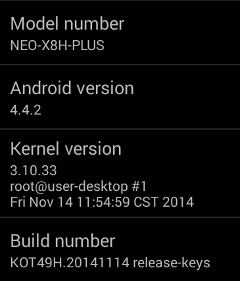 MINIX NEO X8-H Plus features a 16 GB eMMC flash with a single 12.48 GB partition, with plenty of free space (11.5GB+). In the "About MediaBox" section of Android settings, the model number is "NEO-X8H-PLUS″ , and the system runs Android 4.4.2 on top of Linux kernel 3.10.33. The firmware is not rooted, and I did not try to root it either, but the micro USB OTG port means it should be feasible. At first, I thought NEO X8, NEO X8-H, and NEO X8-H Plus shared the same firmware, and seeing a new release, I tried to update my box, but don't do that, as a separate firmware is available for NEO X8-H Plus. The latest release is dated November 22, 2014, but since only recovery mode changed, I kept the pre-installed firmware (November 14, 2014). I tried the online OTA update, but after a slow checking on the server, it just reported "no updates available". MINIX seems to have a two weeks window between the firmware update, and the availability of their OTA server(s) in Hong Kong.
Google Play Store worked pretty well, and I did not need to side-load any apps for this review. The only apk I installed was Amazon AppStore, in order to play Riptide GP2.
The power button on the side of the box cane be used to power on the device, enter and exit standby mode (short press), and call the power menu (long press) showing "Sleep", "Restart", or "Power Off". NEO M1 power button can only be used for standby mode, as a long press does nothing. Mele F10 Deluxe can only be used to enter standby mode, but not exit it, probably because the power key is an Infrared key on NEO M1, and Mele code is different. You can still power on the device with any remote by clicking on the "soft" power button on the task bar to activate the power menu. It's not possible to turn on the box with the remote control. NEO X8-H Plus does not overheat. After Antutu 5.3 benchmark, the max. temperature was 38°C and 44°C on respectively the top and bottom of the case, and after 4 races in Riptide GP2, the max. measured temperatures went up to 45°C and 55°C.
MINIX NEO X8-H Plus is fast, and stable. I never experienced slowdowns, freezes, or hang-ups. The only time I felt there may be issue is when doing repeated scroll downs with NEO M1 air mouse, where the mouse pointer did not feel responsive, but this had nothing to do with the device, only the air mouse limitation, as I had no such repeatable issues with Mele F10 Deluxe.
Video Playback
MINIX NEO X8-H Plus came with XBMC 13.3 MINIX Edition pre-installed, and contrary to my review with MINIX NEO X6, I did not install XBMC 13.3.3 Beta MINIX Edition, which supports automatic refresh rate switching, and better support for .ts files, and just kept using the release version (Built on July 28, 2014). So I installed it to give it a try. XBMC user interface renders at around 35 fps @ 1920×1080. I had no problems connecting to SAMBA shares in Ubuntu 14.04 in either XBMC or ES File Explorer. Most videos have been tested with XBMC, but I also switched to "4K MoviePlayer" app to play some 4K videos.
Videos samples from samplemedia.linaro.org, plus some H.265/HEVC videos (Elecard), and a low resolution VP9 video:
H.264 codec / MP4 container (Big Buck Bunny), 480p/720p/1080p – OK
MPEG2 codec / MPG container, 480p/720p/1080p – Mostly OK, but some people may feel a slowdown @ 1080p. 480p/720p playback at 24 fps (instead of 25 fps), and 1080p at 20 fps.
MPEG4 codec, AVI container 480p/720p/1080p – OK, although XBMC reports 720p/1080p video playing at 22 fps instead of 25 fps.
VC1 codec (WMV), 480p/720p/1080p – OK
Real Media (RMVB), 720p / 5Mbps – RV8, RV9, and RV10 – OK
WebM / VP8 – OK
H.265 codec / MPEG TS container (360p/720p/1080p) – Audio only, and the 1080p video makes XBMC exit.
WebM / VP9 (no audio in video) – Does not play at all (Stays in XBMC UI).
I wanted to install the "Frequency Switcher" in the Video Add-ons, but all I got was a message saying the platform was not supported. So no automatic refresh rate switching is possible for now, at least with this version of XBMC.
I also played some higher bitrate videos:
ED_HD.avi

– audio only
big_buck_bunny_1080p_surround.avi (1080p H.264 – 12 Mbps) – OK.
h264_1080p_hp_4.1_40mbps_birds.mkv (40 Mbps) – OK
hddvd_demo_17.5Mbps_1080p_VC1.mkv (17.5Mbps) – Plays at 15 fps instead of 29.970, and XBMC also reports skipped frames.
Jellyfish-120

-Mbps.mkv

(120 Mbps video without audio) – OK
As usually I played high definition audio codec using HDMI PCM output since I don't have an AV receiver, and all files played perfectly including audio and video:
AC3 / Dolby Digital 5.1 – OK
Dolby Digital Plus 5.1 / 7.1 – OK
TrueHD 5.1 & 7.1 – OK
DTS-HD MA & HR– OK
Blu-ray ISO are supported. Tested with Sintel-Bluray.iso. 1080i MPEG2 videos (GridHD.mpg & Pastel1080i25HD.mpg) could also play.
4K videos playback is quite a disaster in XBMC, especially since this version of XBMC does not seem to support HEVC:
HD.Club-4K-Chimei-inn-60mbps.mp4 – OK

sintel-2010-4k.mkv – OK.
Beauty_3840x2160_120fps_420_8bit_HEVC_MP4.mp4 (H.265) – Does not even start (stays in XBMC UI)
Bosphorus_3840x2160_120fps_420_8bit_HEVC_MP4.mp4 (H.265) – Does not even start (stays in XBMC UI)
Jockey_3840x2160_120fps_420_8bit_HEVC_TS.ts (H.265) –  Does not even start (stays in XBMC UI)
MHD_2013_2160p_ShowReel_R_9000f_24fps_RMN_QP23_10b.mkv (10-bit HEVC) – Does not even start (stays in XBMC UI)
phfx_4KHD_VP9TestFootage.webm (VP9) – Does not even start (stays in XBMC UI)
BT.2020.20140602.ts (Rec.2020 compliant video) – Audio only
If you are a regular reader, you may noticed that I added two new videos, one 10-bit HEVC/H.265 sample by NGCodec, and a BT.2020/Rec.2020 sample.
Since most videos did not play, I reverted to 4K MoviePlayer app install in the box which yields to better results:
HD.Club-4K-Chimei-inn-60mbps.mp4 – OK

sintel-2010-4k.mkv – "Not supported media"
Beauty_3840x2160_120fps_420_8bit_HEVC_MP4.mp4 (H.265) – OK
Bosphorus_3840x2160_120fps_420_8bit_HEVC_MP4.mp4 (H.265) – OK
Jockey_3840x2160_120fps_420_8bit_HEVC_TS.ts (H.265) –  OK
MHD_2013_2160p_ShowReel_R_9000f_24fps_RMN_QP23_10b.mkv (10-bit HEVC) – Fails to play.
phfx_4KHD_VP9TestFootage.webm (VP9) – Shows the first image, but get stuck at 1 second.
BT.2020.20140602.ts (Rec.2020 compliant video) – Plays but with several wide horizontal bluish / purplish bands with some transparency in from of the video.
Please note that XBMC-13.3.3 Beta 6 apparently support 4K playback support for X8-H PLUS, but people also report AV sync issues in the beta version. (I've seen that after testing).
I've also added one SBS (Side-by-Side) 3D videos to Over/Under 3D videos. My Panasonic TV is not a 3D TV according to the specs, so I can only check if video decoding is working. NEO X8-H appears to handle 1080p well, but can play my 3D 4K video:
bbb_sunflower_1080p_60fps_stereo_abl.mp4 (1080p Over/Under) – OK, but XBMC reports it playing at 57 fps instead of 60 fps. Hardly noticeable to me.
bbb_sunflower_2160p_60fps_stereo_abl.mp4 (2160p Over/Under) – Audio only
Turbo_Film-DreamWorks_trailer_VO_3D.mp4 (1080p SBS) – OK
Most AVI, MKV, FLV, VOB, and MP4 videos could play without A/V sync issues, or noticeable frame dropped. However, I could not play IFO files, only VOB, and I noticed XBMC sometimes report videos are not played at the original frame rate. For example, while playing a complete 1080p video (1h50 / MKV / 3GB) to test stability, I noticed the frame rate oscillated between 22 and 26 fps, instead of 23.970 fps of the video. I'm not sure if this is expected, or improvements are needed. Nevertheless, I had no problem to play the movie fully, but over 14,000 frames were skipped as reported in XBMC live debug log.
Links to various video samples used in this review and be found in "Where to get video, audio and images samples" post and comments.
Network Performance (Wi-Fi and Ethernet)
I transfer a 278 MB file between a SAMBA share (Ubuntu 14.04) and the internal flash using ES File Explorer in order to evaluate network performance of Wi-Fi, repeating the test three times, and averaging results. NEO X8-H Plus support both 802.11n and 801.11ac, so I tested both. The first one with my older TP-Link TL-WR940N, and the second standard with TP-Link TL-WDR7500 (Archer C7). The device averages a disappointing 2.11 MB/s with 802.11n, and a more respectable 3.50 MB/s with 802.11ac.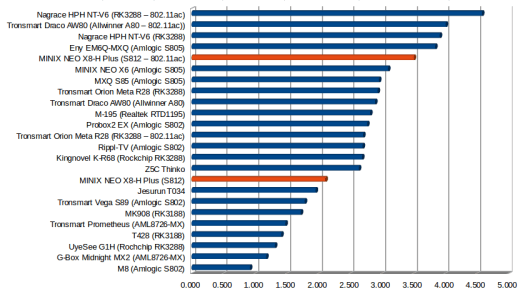 The actual performance you get may vary depending on the router used, and your environment.
Transferring a 885MB files over Ethernet showed similar performance as other Gigabit Ethernet devices, but this tests is mostly bound by the internal flash performance.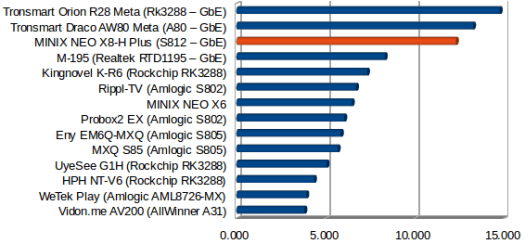 Transferring a file from a FAT32 partition on a USB hard drive to a SAMBA share (SSD drive) was done at a higher 24.58 MB/s
Checking the raw Ethernet performance with  iPerf app using "iperf -t 60 -c 192.168.0.104 -d" command line, showed some serious limitations of NEO X8-H Plus (or Amlogic S812), although they can't really be seen for typical usage: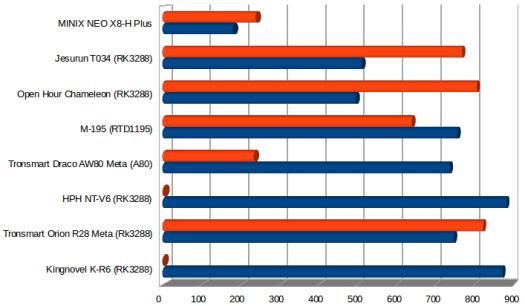 iperf output:

--

--

--

--

--

--

--

--

--

--

--

--

--

--

--

--

--

--

--

--

--

--

--

--

--

--

--

--

--

--

Client

connecting

to

192.168.0.106

,

TCP

port

5001

TCP

window

size

:

85.0

KByte

(

default

)

--

--

--

--

--

--

--

--

--

--

--

--

--

--

--

--

--

--

--

--

--

--

--

--

--

--

--

--

--

--

[

 

6

]

local

192.168.0.104

port

39357

connected

with

192.168.0.106

port

5001

[

ID

]

Interval

      

Transfer

    

Bandwidth

[

 

6

]

 

0.0

-

60.0

sec

 

1.26

GBytes

  

180

Mbits

/

sec

[

 

4

]

 

0.0

-

60.0

sec

 

1.67

GBytes

  

239

Mbits

/

sec
Miscellaneous Tests
Bluetooth
MINIX NEO X8-H Plus is advertised as "bluedroid″, and after pairing, the first transfer failed for some reasons. Subsequent photo transfers worked just fine.
I skipped Sixaxis Compatibility Checker test, since I was lazy to root the device.
The AP6335 wireless module used in this device is supposed to support Bluetooth 4.0 BLE. So I tested with protocol with Vidonn X5 activity tracker, and successfully connected using its Smartband app, and retrieved my "fitness" data.
Storage
Both a USB flash drive and a micro SD card formatted with FAT32 could be recognized and mounted by the system. NTFS and FAT32 partitions on my USB 3.0 hard drive could be mounted and accessed, but not the EXT-4 and BTRFS partitions, as with most devices, the exceptions being Open Hour Chameleon and M-195, which also support EXT-4.
| | | |
| --- | --- | --- |
| File System | Read | Write |
| NTFS | OK | OK |
| EXT-4 | Not mounted | Not mounted |
| FAT32 | OK | OK |
| BTRFS | Not mounted | Not mounted |
A1 SD Bench app can test the read and write performance of any storage device in Android, and that's what i used to evaluate the eMMC and USB NTFS performance. The read speed was 23.83 MB/s, and the write speed 20.06MB/s for NTFS partition in my USB hard drive (mounted in /storage/external_storage/sda1). Good devices with USB 2.0 normally get close to 30MB/s in both directions, so NEO X8-H Plus is a bit of a weak player here. Results well above 30MB/s are only achievable via USB 3.0 ports.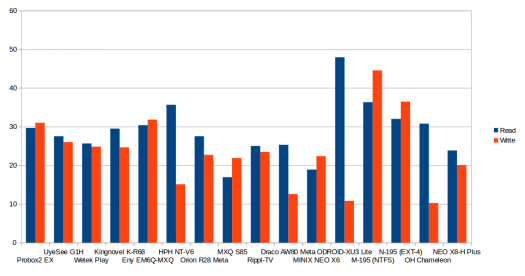 The 8GB eMMC used in the device only achieves 14.27  MB/s (read) and 12.43 MB/s (write), which again is quite disappointing, especially the read speed, for a supposedly high-end device, and this explains the rather slow boot time.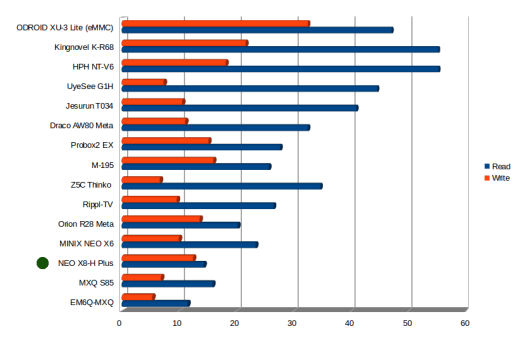 The device are now classified with the total read + write speeds, and NEO X8-H Plus is close to the bottom of the scale.
USB Webcam
I could install both Skype and Google Hangouts, but Skype refused to make any calls (nothing happened), even using Skype "Echo / Sound Test Service". I could make a call successfully with Google Hangouts but something the image was garbled.
Gaming
I played the three usual suspects: Candy Crush Saga, Beach Buggy Blitz, and Riptide GP2, and all three games worked very well.  I played Candy Crush Sage with the air mouse and . Beach Buggy Blitz and Riptide GP2 with  Tronsmart Mars G01 wireless gamepad, and both games were very smooth even with settings maxed out. Riptide GP2 advanced settings set all settings enabled and to high, except Shader Complexity was set to low, and Physicals Wakes & Shadow Details were greyed out. Riptide GP2 usually came to a halt after several minutes of play, but it did not happen in this device. It's however unclear if it's because of an updated firmware, or Riptide GP2 developers fixed some of the issues.
MINIX NEO X8-H Plus / Amlogic S812 Benchmarks
CPU-Z correctly reports a processor with four ARM Cortex A9 cores clocked between 24 MHz and 1.99 GHz coupled with a Mali-450MP GPU. The model is NEO-X8H-PLUS (n200), the resolution 1920×1080 (240dpi) and the system has 1,605 MB available to Android with 12.48 GB internal storage.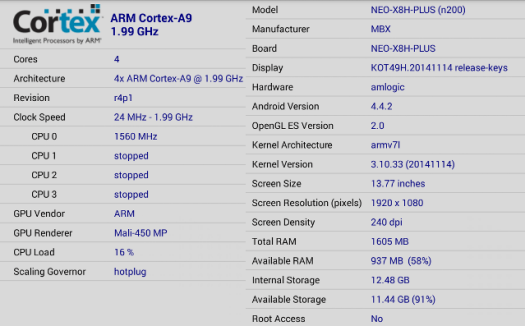 MINIX NEO-X8-H Plus gets 31,204 points which is the highest score I've seen for a device based on Amlogic S802/S812 processors so far, probably due to firmware optimizations.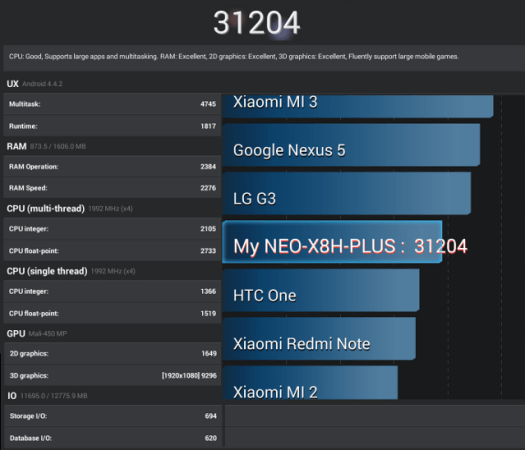 In Vellamo 3.1, the media player gets 792 points for the Metal benchmark, 1,808 points for the Multicore test, and 1,880 points for the Browser benchmark.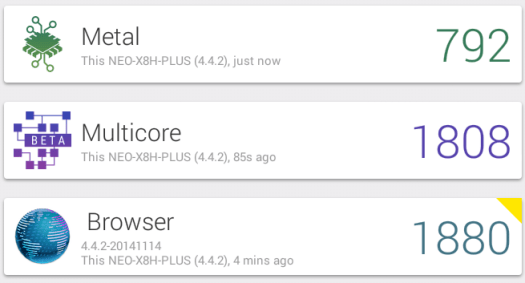 The device gets 6056 points in 3DMarks Ice Storm Extreme, lower than the score obtained in Rockchip RK3288 and Allwinner A80 devices, but it's expected for a Mali-450MP GPU.
Conclusion
MINIX NEO X8-H firmware is extremely stable, and the user experience is smooth, but when you get into performance of individual components like Wi-Fi, Ethernet, eMMC flash, and USB storage the performance is disappointing, especially for an relatively expensive device. XBMC playback is quite good, except for H.265 and 4K, but that's probably becaue the XBMC version in the current firmware, is not the latest one, and current beta XBMC app looks more promising..
PRO:
Firmware is stable, and fast.
Video Output – Supports 1080p24/50/60 (but not 25/30 Hz), and 4K2K up to 30Hz/SMPTE
3D games play without issues.
Good power handling, although the device can't be turned on with the remote control.
Air mouse included in package
H.264 / HEVC 4K video playback with 4K MoviePlayer app
USB webcam works with Google Hangouts
Support forum and community
CONS:
Wi-Fi, Ethernet, eMMC, and USB / NTFS storage performance is disappointing for a device at this price.
USB webcam did not work reliably in Skype
The remote control can't power on the device.
Poor 4K support, and H.265 supported in included XBMC version. (Will be fixed in subsequent XBMC apk updates)
Relatively slow boot time. 1 minute without USB devices, almost 2 minutes with several USB devices connected.
Air mouse is not as good as some other product in the market such as MeLe F10 Deluxe, because in some circumstance it may be difficult to control the mouse pointer.
I'd like to thank GearBest for providing the sample for review, and if you are interested in this device you may consider buying from Gearbest for about $160 including shipping [Update: use Coupon MX8HPCN to get it for $149.99].  Other shipping options includes Amazon US, DealExtreme, TinyDeals, GeekBuying, and many others. Prices are about the same for every seller.

Jean-Luc started CNX Software in 2010 as a part-time endeavor, before quitting his job as a software engineering manager, and starting to write daily news, and reviews full time later in 2011.