Technology makes live easier, and often helps bringing down the cost of services. Medical care is one of these things that can be cumbersome, for example if you need to regularly perform some medical tests at your local hospital, and that can also be expensive. That's why I believe we'll see more and more affordable devices, at least for diagnostic purpose such as Scanadu Scout tricorder, and there are also some open source solutions for Prosthetics, electrocardiographs, and polymerase chain reaction (PCR) equipment used to copy DNA sequences. Eventually, I even expect robots to replace most tasks currently performed by doctors. Sia Lab, a lab focusing on tissue engineering and point-of-care diagnostics, has recently published a paper entitled "A smartphone dongle for diagnosis of infectious diseases at the point of care" describing how a low cost dongle can diagnose disease like HIV or Syphilis, and targeting health professionals in developing countries.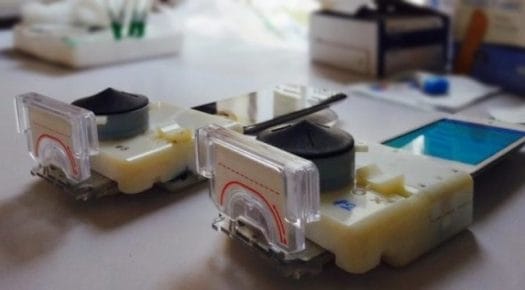 That's the abstract of the paper:
This work demonstrates that a full laboratory-quality immunoassay can be run on a smartphone accessory. This low-cost dongle replicates all mechanical, optical, and electronic functions of a laboratory-based enzyme-linked immunosorbent assay (ELISA) without requiring any stored energy; all necessary power is drawn from a smartphone. Rwandan health care workers used the dongle to test whole blood obtained via fingerprick from 96 patients enrolling into care at prevention of mother-to-child transmission clinics or voluntary counseling and testing centers. The dongle performed a triplexed immunoassay not currently available in a single test format: HIV antibody, treponemal-specific antibody for syphilis, and nontreponemal antibody for active syphilis infection. In a blinded experiment, health care workers obtained diagnostic results in 15 min from our triplex test that rivaled the gold standard of laboratory-based HIV ELISA and rapid plasma reagin (a screening test for syphilis), with sensitivity of 92 to 100% and specificity of 79 to 100%, consistent with needs of current clinical algorithms. Patient preference for the dongle was 97% compared to laboratory-based tests, with most pointing to the convenience of obtaining quick results with a single fingerprick. This work suggests that coupling microfluidics with recent advances in consumer electronics can make certain laboratory-based diagnostics accessible to almost any population with access to smartphones.
That's the procedure to use the dongle
Disinfect your finger with alcohol
Use a finger prick me to get blood from your finger
Insert blood in a plastic collector(microfluid cassette)
Open the app, input the patient ID, and follow instructions in the app:
Insert the collector into the dongle
Press bulb on dongle to initiate flow, and press the start button in the app
You should get the results within 15 minutes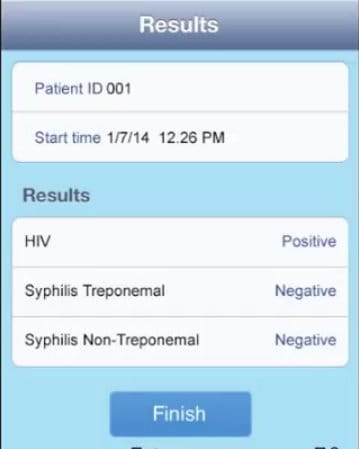 You can watch the video below to see how easy it seems.
Sia predicts the dongle will cost about $34 to manufacture, compared to the $18,000 that ELISA equipment costs. This is all perform via the audio port of the phone. This is not quite a complete medical lab, but that's certainly an interesting development, and in the future more disease may be diagnosable with such low cost equipment. Although the company is now working on bringing the product to developing countries, they are also "exploring how this technology can benefit patients and consumers back home" (The lab is based in the US).
Via Microbiology world.

Jean-Luc started CNX Software in 2010 as a part-time endeavor, before quitting his job as a software engineering manager, and starting to write daily news, and reviews full time later in 2011.