Zidoo X9 is quite a unique product on the market, as it's the only low cost Android platform that I know of that features an HDMI input port with recording capabilities. The hardware is actually based on Kaiboer F5, with some modifications, but the latter focuses on the Chinese market, while Zidoo X9 targets oversea markets with an English firmware by default. I took pictures of Zidoo X9 and its board about a month ago, but a busy schedule and some initial issues with Google Play Store delayed the review. Finally, I've completed testing of the device, and ready to share my findings about performance, stability, and features in this review.
OTA Firmware Update
I've had to go through two firmware updates before carrying on with the review, and this part is working great, and they even include a detailed changelog with each release, which they also publish on their blog. Normally a window will pop-up once the firmware is available, but you can also go to App Manager->OTA Update to perform an online update, a local update, and/or check the update log.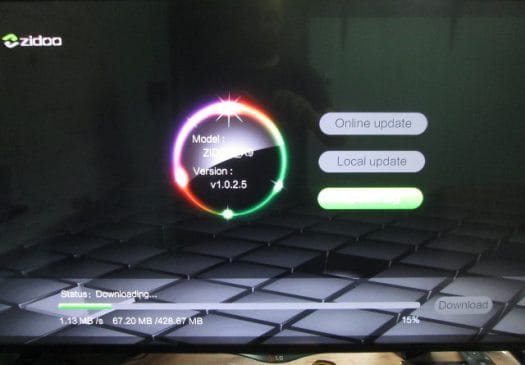 Once the download is complete, it will reboot to complete the update.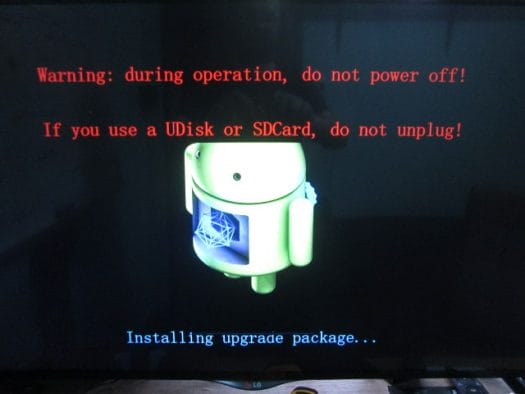 Firmware 1.0.26 was used for this review.
First Boot, Settings and First Impressions
The package include a IR remote control which works fine with their user interface, and you'll need the "Menu" key in the HDMI IN app, so even though I used Mele F10 Deluxe air mouse in many case, I still had to revert to used Zidoo X9 remote from time to time. I've connected my USB hard drive to the USB 3.0 port of the device, a USB keyboard, a USB hub with two RF dongles, a USB flash drive, and a webcam, HDMI and Ethernet cables, as well as a DVB-T2 set-top box to the HDMI input port. Boot time takes about 35 seconds. The LCD display ion the front panel shows "Boot"m "Hello", and finally the current time.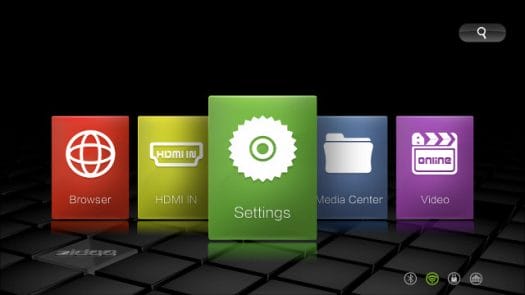 The user interface is quite different from other Android media players, and I find it quite eye-pleasing, but I also noticed I need more key presses than usual to navigate the menus. There are mostly folders (Browser, Media Center, Video, Music, Game, Other Apps) with relevant apps, as well as direct shortcuts to Google Play, the App Manager (list of apps), and HDMI IN app that handle HDMI input and video recording function.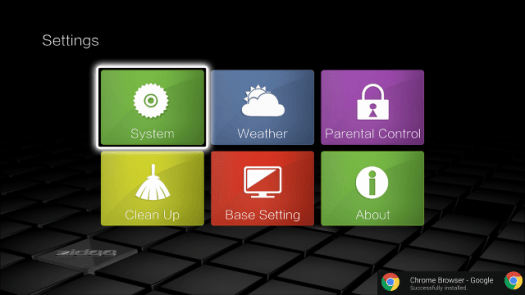 The Settings menu has fix sub-sections:
System – Standard Android Settings
Weather – To display the weather for your city on the top left of the home screen.
Parental Control
Clean Up – Task Killer, Cache Cleaner, APK File, and APP Manager (to uninstall apps)
Base Settings – Screen Saver Delay, Themes (Background image), Key Sound, and Use Featured Data (Probably for weather on home screen)
About – Provides info about the system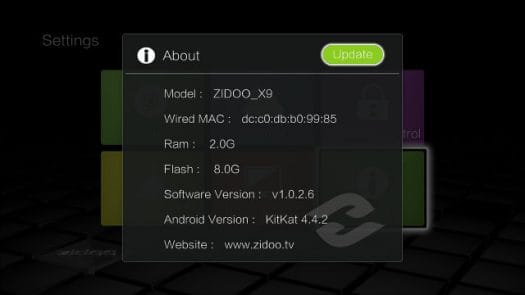 So most configuration options are done in the Android settings.
Wireless & Networks section includes Wi-Fi, Ethernet, Bluetooth, Data use, and More… sub menus, the latter only listing Portable hotspot options. Sound options only provide S/PDIF option between PCM or RAW (for pass-through), but this also is also used to for HDMI audio pass-through. The Display sections let you adjust the screen scale, and select the resolutions: 4K2KP_30, 4K2KP_25, 1080P_60, 1080P_50, 720P_60, 720P_50, 576P_60 and 480P_60. I could set 4K @ 30Hz on an LG 42UB820T UHD television without issues.
Two partitions are a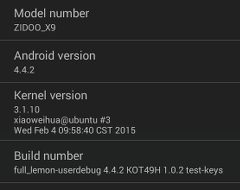 vailable in the 8GB eMMC flash: "Internal Storage" with 1.97 GB total space for apps, and "SD CARD" with 3.49GB space for data. The "About Box" section confirms the model number is "ZIDOO_X9", and that the system runs Android 4.4.2 on top of Linux 3.1.10, so not such a recent kernel. The firmware is rooted
Google Play Store caused me some troubles…  Although I could login, each time I would enter the app the message "Check your connection and try again" would be displayed despite having no internet connection issue with the web browser for example. So I was unable to use the Play Store, even after clearing the cache, removing and re-adding my account, and even after factory reset… I was advise to wait for the new firmware (1.0.26), but even after an update the problem subsisted. But Zidoo had written a blog post about the issue saying to try between Wi-Fi and Ethernet. So I switched to Wi-Fi, but no luck, Finally I did a factory reset, configured Wi-Fi, and finally I could access the Play Store. Once the connection is up, it works just fine. Only a few applications could not be installed such as CNBC and Real Racing 3, but these can seldom be installed on Android mini PCs, maybe because of my location?  I also installed Amazon AppStore to get Riptide GP2 game.
You can check the user interface, Kodi, and HDMI IN application in the video below.
There's no standby mode with this device, it's only power on and off, and you can do with with the remote control. I measured the temperature after Antutu 5.6 benchmark and 15 minutes of play in Riptide GP2, and the max. measured temperatures on top and bottom of the enclosure were respectively 37°C/43°C, and 37°C/50°C. But it did not seem quite right, and since I used a IR thermometer and the enclosure of Zidoo X9 is bright, the reading might be incorrect, so after adding some black stick tape, and a few hours of use, I check the top temperature again, and instead of 37°C, I got 45°C, which seems more like it. So the system gets a little hot, but it's not out of control.
The system works well most of the time, but I've experienced several crashes for their internal apps, as well as Kodi. You can also one hang up in the video above, so system stability does need some improvement.
Video Playback
The box comes with Kodi 14.0-RC3 Zidoo edition (built on  December 2014). The system info reports 1920×1080@60Hz screen resolution rendered at about 30 fps.  I had some problems to connect to my SAMBA shares at first, but somehow it eventually worked.  Videos have normally been tested via Ethernet using Kodi, unless otherwise stated.
Some results with samplemedia.linaro.org video samples, plus some H.265/HEVC videos (Elecard), and a low resolution VP9 video:
H.264 codec / MP4 container (Big Buck Bunny), 480p/720p/1080p/1080p60 – OK, but the 1080p60 video only renders at 30 fps according to Kodi
MPEG2 codec / MPG container, 480p/720p/1080p – OK, but framerate oscillates between 22 and 25 fps (video is 25 fps)
MPEG4 codec, AVI container 480p/720p/1080p – OK
VC1 codec (WMV), 480p/720p/1080p – OK
Real Media (RMVB), 720p / 5Mbps – RV8, RV9, and RV10 – Won't play
WebM / VP8 – OK
H.265 codec / MPEG TS container (360p/720p/1080p) – 360p OK, Audio only for the other two videos.
WebM / VP9 (no audio in video) – OK
I also played some higher bitrate videos:
ED_HD.avi

– OK
big_buck_bunny_1080p_surround.avi (1080p H.264 – 12 Mbps) – OK.
h264_1080p_hp_4.1_40mbps_birds.mkv (40 Mbps) – Could be smoother
hddvd_demo_17.5Mbps_1080p_VC1.mkv (17.5Mbps) – OK
Jellyfish-120

-Mbps.mkv

(120 Mbps video without audio) – Not really smooth. (18 to 24 fps for a 23.976 video). Played from NTFS partition on USDB hard drive.
High definition audio codecs have been tested downmixed to PCM using XBMC and MXPlayer, and audio pass-through has been tested with Onkyo TX-NR636 using HDMI pass-through to BD/DVD input, and S/PDIF pass-through using TV/CD input on the receiver. Pass-through is enabled in Android Settings (Sound->S/PDIF->RAW) for both HDMI and optical S/PDIF, as well as the proper settings in Kodi, as done here.
Video
PCM Output
Kodi
PCM Output
MX Player
HDMI Pass-through
Kodi
SPDIF Pass-through
Kodi
AC3 / Dolby Digital 5.1
Audio OK, but I could see tearing on the bottom of the video
OK
Dolby Digital  detected, but frequent audio cuts
Dolby Digital  detected, but frequent audio cuts
E-AC-3 / Dolby Digital+ 5.1
OK
OK
Dolby Digital detected, but frequent audio cuts
Dolby Digital detected, but frequent audio cuts
Dolby Digital+ 7.1
Makes Kodi crash
Video Stuck at 00:00, eventually leading to "MX Player is not responding"
Makes Kodi crash
Makes Kodi crash
TrueHD 5.1
Video plays in slow motion
OK
No audio (PCM shown on receiver)
Audio formats not supported via S/PDIF
TrueHD 7.1
OK
OK
No audio (PCM shown on receiver)
DTS HD Master
OK
"This audio format (DTS) is not supported"
No audio (PCM shown on receiver)
DTS HD High Resolution
OK
"This audio format (DTS) is not supported"
No audio (PCM shown on receiver)
Using "Explorer" app, AC3 and E-AC3 pass-through works, and TrueHD and DTS-HD can also be heard but down-mixed to Dolby Digital 5.1 or DTS 5.1. I've been informed that stock Android does not support HD pass-through (TrueHD and DTS-HD), so it would require customization from the manufacturers. If you need this feature, you should go with Linux or Windows HTPC, bearing in mind that the hardware also needs to support it.
I've successfully tested Blu-Ray ISO with Sintel-Bluray.iso. 1080i MPEG2 videos (GridHD.mpg & Pastel1080i25HD.mpg) could also play
Previously I reported that Zidoo X9 was the only platform that could support both photo and video playback at true 4K resolution among 5 others ARM devices running Android, and this is still true, but unfortunately it can't play any of my 4K videos samples smoothly in Kodi:
HD.Club-4K-Chimei-inn-60mbps.mp4 – Not smooth. ~15 fps instead of 29.976 fps

sintel-2010-4k.mkv – No smooth. 15 to 20 fps instead of 24 fps
Beauty_3840x2160_120fps_420_8bit_HEVC_MP4.mp4 (H.265) – Does not even start (stays in Kodi UI)
Bosphorus_3840x2160_120fps_420_8bit_HEVC_MP4.mp4 (H.265) – Does not even start (stays in Kodi UI)
Jockey_3840x2160_120fps_420_8bit_HEVC_TS.ts (H.265) –  Does not even start (stays in Kodi UI)
MHD_2013_2160p_ShowReel_R_9000f_24fps_RMN_QP23_10b.mkv (10-bit HEVC) – Does not even start (stays in Kodi UI)
phfx_4KHD_VP9TestFootage.webm (VP9) – Extremely slow. Kodi reports 9 to 10 fps, but it feels closer to 3 fps.

BT.2020.20140602.ts

(Rec.2020 compliant video) – Does not even start (stays in Kodi UI)
big_buck_bunny_4k_H264_30fps.mp4 – Not smooth
big_buck_bunny_4k_H264_60fps.mp4 – Audio only, shows last frame of previous video.
Playing 4K videos in Kodi is not really an option, so I tried in the sample in "Explorer" app that comes with the firmware:
HD.Club-4K-Chimei-inn-60mbps.mp4 – OK

sintel-2010-4k.mkv – OK
Beauty_3840x2160_120fps_420_8bit_HEVC_MP4.mp4 (H.265) – OK
Bosphorus_3840x2160_120fps_420_8bit_HEVC_MP4.mp4 (H.265) – OK
Jockey_3840x2160_120fps_420_8bit_HEVC_TS.ts (H.265) –  OK
MHD_2013_2160p_ShowReel_R_9000f_24fps_RMN_QP23_10b.mkv (10-bit HEVC) – Plays OK, but could be smoother.
phfx_4KHD_VP9TestFootage.webm (VP9) – "media server died"

BT.2020.20140602.ts

(

Rec.2020

compliant video) – Shows one image and plays crappy audio
big_buck_bunny_4k_H264_30fps.mp4 – OK
big_buck_bunny_4k_H264_60fps.mp4 – Audio only + message "video media error unsupport format"
Although you can't really play 4K videos in Kodi, Explorer app does a decent job.
I also tested some 3D video, despite my 4K TV not supporting 3D, to check 3D video decoding:
bbb_sunflower_1080p_60fps_stereo_abl.mp4 (1080p Over/Under) – Plays at 20 fps instead of 60 fps
bbb_sunflower_2160p_60fps_stereo_abl.mp4 (2160p Over/Under) – Audio only
Turbo_Film-DreamWorks_trailer_VO_3D.mp4 (1080p SBS) – OK
No device so far has been able to support 2160p 3D video, probably as it would need to support 3840×4320 video decoding.
One the other hand, Kodi managed to play all my AVI, MKV, FLV, VOB, and MP4 videos without A/V sync issues, and at a decent framerate.  One annoying bug is that sometimes when you start a video, all you get is a black screen, you have to go back and try agin, and the video will play.
I perform stability testing on my USB hard drive (since SAMBA did not work at the time) with a 1080p movie (1h50 / MKV / 3GB). Kodi played the most at the right framerate, and only reported 20 dropped frames, instead of the often-reported 14,000 skipped frames on some other Android media players.
Links to various video samples used in this review and be found in "Where to get video, audio and images samples" post and comments.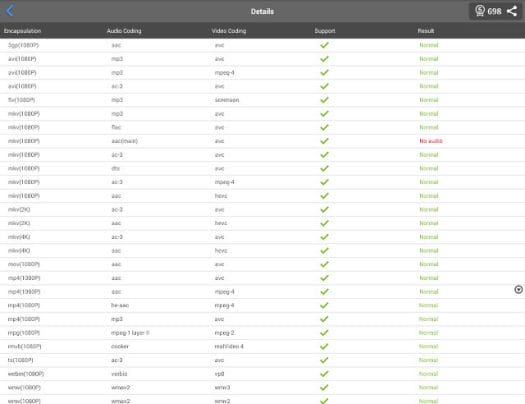 Zidoo X9 gets 698 points on Antutu Video Tester, a very good score (Maximum so far is 704). Audio failed to play only once, and quality is good based on that benchmark.
HDMI Input / PVR Function
HDMI input is the main selling point of the device, and it can be used with HDMI IN app only, which brings the following user interface.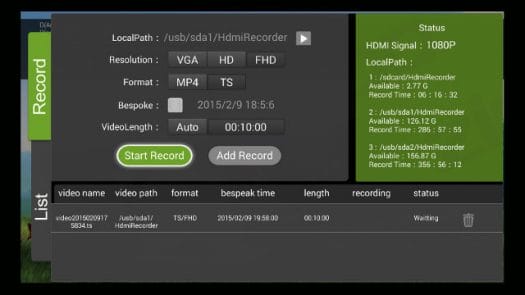 You can see the recording path to the internal flash or external USB storage. If a USB hard drive or flash drive is connected it will create HdmiRecorder directory in the first partition by default, so this is what I used. You can send select the resolution (VGA, 720p or 1080p), the video container (MP4 or TS), and optionally the start time (called Bespoke here), and the length of the recording. You can click on Start Record to record immediately, or Add record to schedule a recording. For some reasons, I was unable to schedule multiple recordings, but the one I set started right on time. You can access the List of recorded video with the List tab on the left of the menu.
The user interface will quickly disappear (within 5 seconds) if there's no user activity, but you can press the Menu button on the remote control to bring it back. Once you start recording, a red record button will be overlaid on the top right of the TV. You can stop recording anytime, by pressing the "Stop Record" button in the menu.
I've tested different use cases, and you can download the samples below to check yourself too:
Please bear in mind the videos won't play in Totem or VideoLAN. I could play them in my PC with Kodi 14 and KMPlayer.  The first three videos look pretty good to me, although some lines appear when panning in the first video ("Hello Kitty" Funerals), but it could be the original video. When I play the PC video in full screen, it almost feels the same as the original, so I'm rather impressed by the the quality. The text may not be quite as sharp as the original, but still pretty good to me. However, when scrolling in Firefox we can clearly notice it's a video, as the text becomes blurry.
I started to experience some issues with OpenELEC. By default it seems the resolution was set to 1280×1024, and Zidoo X9 did not like that, reporting an error, so I switched to 1920×1080, and everything worked again. Another bad news is that audio pass-through does not work. If I play n AC3 video using this flow: OpenELEC on my PC->HDMI port of Zidoo->Onkyo TX-NR636 AV Receiver->TV, the receiver will probably detect Dolby Dolby 5.1, and I can hear the audio just fine, but the recorder won't handle AC3, and just record AAC (for all videos), so audio is just silent here. Another problem is the quality of the video itself, and it's quite choppy at time, and I can see obvious horizontal lines in some scenes too. The original video is 60 fps, my PC plays it at 51 to 52 fps, and output 1080p50, while the recorded video is 29.976 fps.
I did try TrueHD audio pass-through but this made OpenELEC lose video output, but it's the same when I connect my PC to a Sharp TV, so OpenELEC must not like try to pass TrueHD to an HDMI input that does not support it…
Some people have asked about HDCP, but I don't have devices, and checking in AMD Catalyst Control Center did not report anything about HDCP when I connected my PC to Zidoo X9. I've been told that you should be able to record PS3 output by entering the game first, then inserting the HDMI cable to the HDMI Input of the recorder. maybe something similar is feasible with a Cable STB, and some other devices.
Network Performance (Wi-Fi and Ethernet)
I transfer a 278 MB file between a SAMBA share (Ubuntu 14.04) and the internal flash of the device in order to test network performance. This is done with ES File Explorer three times, and I average the results. My testbed has now changed since I got a 4K TV and AV receiver, and the device under test is now a little closer to the Wi-Fi router, around 5 meter + wall, instead of around 6 meters + wall. I've made the assumption that it should not much change the results, but maybe this is something to look into. With that warning out of the way, Zidoo X9 is the best  802.11n platform tested so far with an average transfer rate of 4.43 MB/s over Wi-Fi.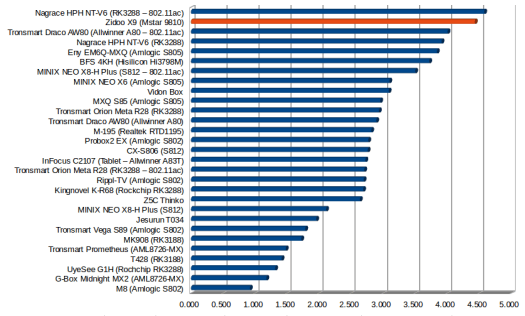 One the other hand, Ethernet could be better.
The below average Ethernet performance can also be confirmed with iPerf using "iperf -t 60 -c 192.168.0.104 -d" command line: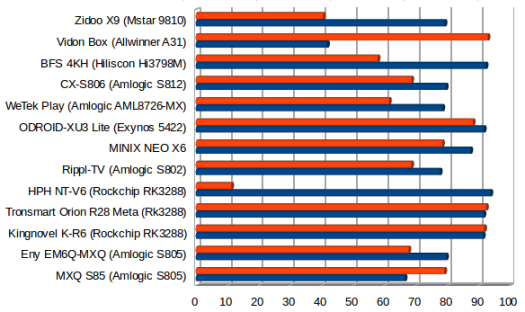 iperf output:

TCP

window

size

:

85.3

KByte

(

default

)

--

--

--

--

--

--

--

--

--

--

--

--

--

--

--

--

--

--

--

--

--

--

--

--

--

--

--

--

--

--

[

 

4

]

local

192.168.0.104

port

5001

connected

with

192.168.0.105

port

59341

--

--

--

--

--

--

--

--

--

--

--

--

--

--

--

--

--

--

--

--

--

--

--

--

--

--

--

--

--

--

Client

connecting

to

192.168.0.105

,

TCP

port

5001

TCP

window

size

:

 

136

KByte

(

default

)

--

--

--

--

--

--

--

--

--

--

--

--

--

--

--

--

--

--

--

--

--

--

--

--

--

--

--

--

--

--

[

 

6

]

local

192.168.0.104

port

48609

connected

with

192.168.0.105

port

5001

[

ID

]

Interval

      

Transfer

    

Bandwidth

[

 

4

]

 

0.0

-

60.0

sec

  

567

MBytes

 

79.2

Mbits

/

sec

[

 

6

]

 

0.0

-

60.0

sec

  

290

MBytes

 

40.5

Mbits

/

sec
Miscellaneous Tests
Bluetooth
File transfer worked without issue using ThL W200 smartphone.
Sony PS3 game controllers can't be used because Sixaxis Compability Checker "could not load Bluetooth library".
I could connect Vidonn X5 activity tracker over Bluetooth Low Energy to retrieve my fitness data.
Storage
Both a micro SD card and a USB flash drive formatted with FAT32 could be mounted and access. NTFS, EXT-4 and exFAT partitions on my USB 3.0 hard drive could be mounted and accessed, and only BTRFS failed.
| | | |
| --- | --- | --- |
| File System | Read | Write |
| NTFS | OK | OK |
| EXT-4 | OK | OK |
| exFAT | OK | OK |
| BTRFS | Not mounted | Not mounted |
| FAT32 | OK | OK |
I ran A1 SD Bench to measure I/O performance of both internal and USB storage. My hard drive is connected to the USB 3.0 port for the device, and it did show for the read/write of the three partitions:
NTFS – Read: 44.33 MB/s; Write: 48.95 MB/s
EXT-4 – Read: 52.41 MB/s; Write: 62.00 MB/s
exFAT – Read: 52.51 MB/s; Write: 43.31 MB/s
So for this device, EXT-4 appears to be the best choice, at least for sequential read/write.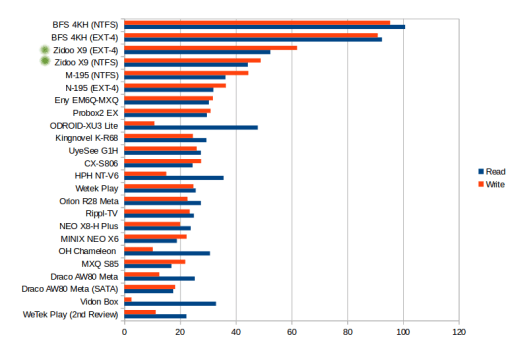 We've got one of the best Android media player on the market when it comes to USB mass storage performance, but unfortunately just like BFS 4KH it can't really be leverage as both devices are limited by their Fast Ethernet port.
The 8GB eMMC flash in the device achieves 29.95 MB/s (read) and 15.30 MB/s (write), a good performance overall, with nice balance between read and write speeds.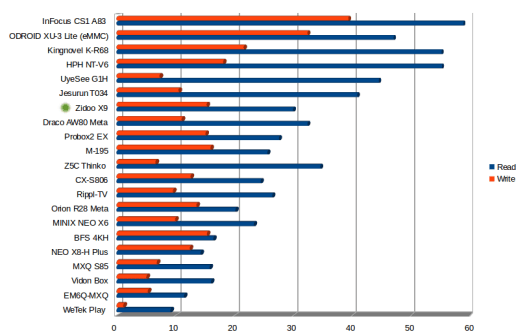 USB Webcam
I installed Skype and Google Hangout. I managed to make the "Echo Service" call in Skype, but most of the time video calls failed, and I could only see the actual webcam image once, while most of the time a black screen was shown. The webcam icon showed in Google Hangout, and I could click to start a call, but I got no image at all. So neither Skype nor Hangouts worked at all for me, except for voice calls on Skype.
Gaming
Three usual games: Candy Crush Saga, Beach Buggy Racing, and Riptide GP2.  I played Candy Crush Sage with MeLe F10 air mouse, and the game was as smooth as on other recent devices. However, I did notice some delays with Tronsmart Mars G01 wireless gamepad in Beach Buggy Racing, and the game was not that smooth even with graphics options set to "highest framerate".  No delays in Riptide GP2, but again, although it's playable, it's certainly not as enjoyable as on more powerful  platforms. On the plus side, none of the games froze at anytime, even after over 20 minutes of play.
Zidoo Z9 (Mstar MSO9810) Benchmarks
I had never used a product based on Mstar MSO9810 so I went through all benchmarks I normally run for my reviews. But before that, I checked out CPU-Z information.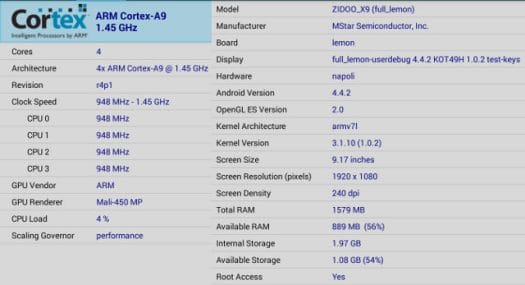 An Mstar Semiconductor quad core ARM Cortex A9 r4p1 processor @ 1.45 GHz is detected, together with a Mali-450MP GPU. The model number is Zidoo_Z9 (full_lemon) with the board simply called "lemon", and the hardware "napoli". Not quite sure what the difference is between "board" and "hardware". 1579 MB RAM is available in total, the rest most probably being reserved for the GPU and VPU, with 1.97GB internal storage (CPU-Z only report the first partition).
X9 got 15,851 points in Antutu 5.6.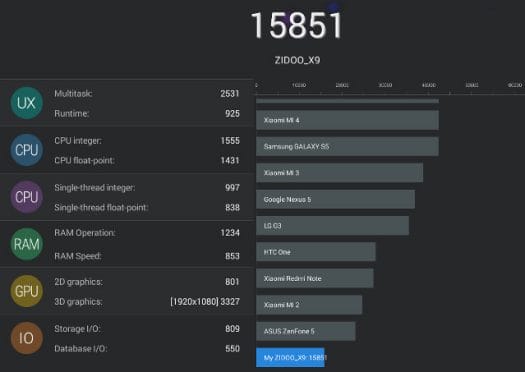 Quite surprising for a quad core Cortex A9 processor (in a bad way), because that's lower than score I got (16,500+)  with Amlogic S805 Cortex A5 platforms such as MXQ S85. It's always possible one is cheating more than the other, and looking at the detailed scores, integer and floating point performance is better with Mstar as it should be, but RAM speed is rather poor (853 vs 1590), while graphics performance is slightly better, and I/O too. So memory bandwidth seems to be the issue here.
Vellamo 3.1 score for Metal Benchmark (534), Browser benchmark (1151), and Multicore benchmark (718) are mixed against Amlogic S805 with respectively 551, 1319, and 816 (but some test were skipped). So it more or less confirms Mstar 9810 performance is quite close to Amlogic S802.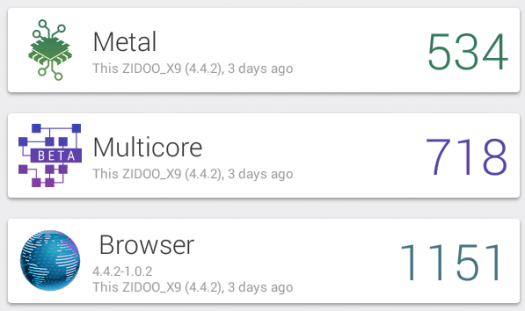 Mali-450MP GPU found in Mstar 9810 might be clocked at a higher speed (and/or use a different amount of cores MP2 vs MP4), as it gets a little over 3,000 points vs 2,325 points in EM6Q-MXQ.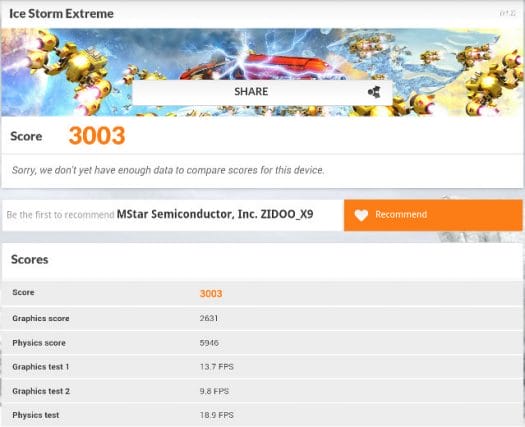 Conclusion
Zidoo X9 is a unique product on the market thanks to its HDMI input, and video recording function, which works pretty well with some caveats. Wi-Fi is excellent, and storage performance (eMMC and USB 3.0) is also very good. The firmware works well most of the time, but a few internal apps tend to crash a bit too often to my liking, and Kodi really needs some work. The good news is that the development team seems dedicated to regular firmware updates, and is looking into users' issues.
PRO:
HDMI Input with PVR function works relatively well.
Both 4K videos and pictures are actually displayed at 4K resolution.
H.264 / HEVC 4K video playback with "Explorer" app
Audio pass-through in "Explorer" app works for AC3 and E-AC3, TrueHD and DTS-HD are down-mixed to Dolby 5.1 and DTS 5.1 however.
High Antutu Video Tester score (698).
Excellent Wi-Fi performance
Good performance for eMMC, and USB 3.0 hard drive
NTFS, EXT-4, exFAT and FAT32 file systems are fully supported.
Good looking user interface
Clean power off  and on from remote control
Regular OTA update with detailed changelog
Blog and support forums
CONS:
Some Zidoo apps  (e.g. Settings) may crash, or even hung the system. I have not really found issues with the firmware itself, while running apps from Google Play however.
Kodi 14.0 has some issues

None of my ten 4K video samples would play at an acceptable frame rate
H.265 / HEVC not well supported in XBMC
Sometimes a video won't start (Black screen), and re-trying will usually work
It may crash with some videos
Audio pass-through is not working is a satisfying manner even with AC3 / E-AC3 (frequent audio cuts)

Performance underwhelming for a Cortex A9 processor based on Benchmarks, which ends up being equivalent to Amlogic S805 due to slow memory bandwidth.
Skype and Google Hangouts did not work for me
Sony PS3 controller can't be used (required Bluetooth library missing)
HDMI IN app – I could not schedule multiple recordings, some "lines" may be apparent in the recordings, can't record AC3 audio pass-through.
Lack of 1080p24 / 4K24 video output option
I'd like to thanks GearBest for sending the sample for review, and if you are interested in the device, you could purchase from their shop for $119.99 including shipping with ZDX9CN coupon.  Other shipping options include Amazon US ($165),  GeekBuying ($115.99 with BFCIGPHO coupon) or Ebay ($149.99).

Jean-Luc started CNX Software in 2010 as a part-time endeavor, before quitting his job as a software engineering manager, and starting to write daily news, and reviews full time later in 2011.