Wintel W8 (aka Kingnovel K8) is an Intel Atom Z3735F mini PC inspired from Sunchip Wintel CX-W8 (the hardware is a little different), but instead of just running Windows 8.1, the device can dual boot Android 4.4 and Windows 8.1 with Bing. I've already taken pictures or torn down Wintel W8, so today, I'll focus on the software part of the review, first checking dual boot functionality and Windows 8.1 briefly since it should be very similar to MeLE PCG03, before spending more time on Android as it's my first Android Intel platform.
Dual boot in Wintel W8
When you boot the device, you can select Android or Windows icon, with a 10 second timeout that will boot your latest choice. There's no menu within Windows to start Android, and vice versa, so to dual boot you need to reboot first, and select the operating systems right after UEFI. The best way to checkout how this all work is to watch the short demo below where it first boot into Android, reboot, and switch to Windows.
If you watched the video, you must have noticed that if you change OS, it will reboot again. One person on Google+ mentioned that the system is switching between the 32-bit UEFI firmware (for Windows) and 64-bit UEFI firmware (for Android), which would explain why it needs to reboot, and you have to make sure you don't turn off the device, or a power failure occur during that process, or you may brick your device! Same thing if you mistakenly try to install Windows 8.1/10 with the 64-bit UEFI firmware.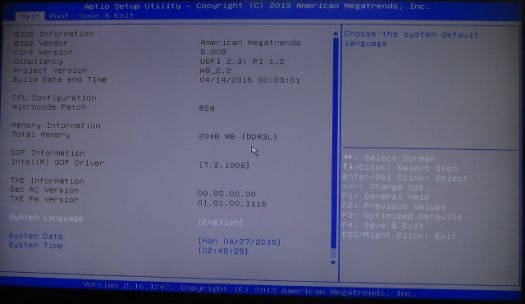 However, when I checked Aptio Setup Utility both version looked exactly the same whether I selected Android or Windows.
A Quick Look at Windows 8.1
Windows 8.1 will bot in about 40 seconds on Wintel W8 because the FORESEE eMMC flash used in the hardware is not quite as fast as the Samsung Class 5 eMMC flash used in MeLE PCG03 and many other Intel Bay trail mini PCs.
Windows 8.1 with Bing is not activated in my sample, and clicking on activation failed. However, since my sample comes from Kingnovel it's not a retail sample, and resellers can certainly request for a valid Windows NTE license if required.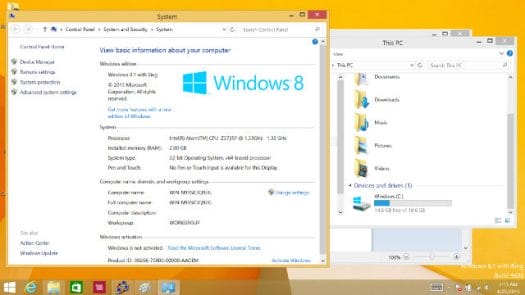 Another detail you should probably pay attention when getting a dual boot firmware is the space reserved for Windows… Wintel W8 C: drive is 18.6GB large with 14.8GB free. Considering I already struggled with 32GB space on Mele PCG03, I'd really recommend trying to get a version with 64GB flash, and soon models with 128GB storage will also be up for sale.
Since I've already reviewed Windows 8.1 with Bing on MeLE mini PC, and that firmware customizations are not really an option with Windows, that's all I've checked in the Windows side of the firmware.
Wintel W8 Review with Android 4.4
First impressions and Setup Menu
While in Windows, you'll probably want to connect a wireless or USB keyboard and mouse, these may not be the most convenient in Android, so as usual I connected the RF dongle of my MeLE F10 Deluxe air mouse to control the mini PC. I've also connected HDMI and Ethernet cables, before powering up the device which will boot automatically as you connect the power adapter. It also takes around 40 seconds to boot into Android.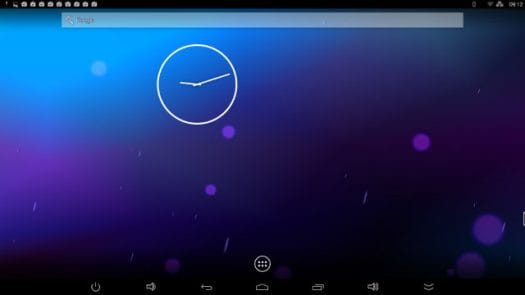 The firmware is using the stock Android launcher, with a 1920×1080 resolution. Pre-installed apps include Kodi 15 Alpha 1 and Google Play Store. After setting up Ethernet, and login to the Play Store, I could install all apps required for this review just like on ARM based platforms, but I did notice some games such as Shadowgun: Deadzone, Dead Trigger, Angry Bird Star Wars, etc.. could not be installed, but many other games could. Whatsapp was also greyed out, but not Facebook or Facebook Messenger that both could be installed. I also side-loaded Amazon AppStore and installed Riptide GP2 without issues.
The settings allow you to configure Network settings like Wi-Fi, Bluetooth, and Ethernet, and services including VPN, Tethering and PPPoE. There aren't any really useful Audio settings, but Day Dream is enabled in the Display settings, and an HDMI section will allow you to compensate for overscan if needed, and select various HDMI output: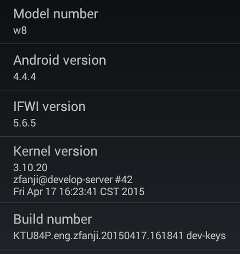 1080p @ 60/50/30/25/24Hz
1280×1024 @ 60Hz, 1360×768 @ 60Hz, 1152×864 @ 60Hz
720p @ 60 or 50Hz
1024×768 @ 60 Hz, 800×600 @ 60Hz
720×576 @ 50Hz, 720×480 @ 60Hz (16:9 or 4:3)
640×480 @ 60 Hz, 720×400 @ 70Hz
The firmware also has a separate function for video post-processing called "Intel Smart Video" that will "improve video quality by reducing noise and eliminating artifacts with interlaced content".
Since most storage is reserved for Windows, the partition in Android is only 4.36GB out of the 32GB flash with most of it available.  Developers option can easily be enabled, and Printing menu is enabled by default, although you'll probably prefer printing in Windows 8.1 instead.
The "About tablet" section indicate the model number is w8, and Android 4.4.4 runs on top of Linux 3.10.20. There's also a line showing IFWI version 5.6.5, but I'm not sure what that means. The firmware is rooted. You can checkout all Android settings in the 2-minute video embedded below.
There's an IR receiver, but it's supposed to only work in Android, and I'm not quite sure how to set it up. One of the most important features of an IR remote control is to allow turning on and off the platform, and there's no problem with turning off and rebooting the device in Android or Windows 8.1 with MeLE F10 Deluxe or another air mouse, but it's just not possible to turn it back on without pressing the power button on the unit itself. If you had a power extension with a remote control, you should be able to start the box automatically.
Wintel W8 does not get hotter than ARM TV boxes, as I measured respectively 42 and 50 C on the top and bottom of the case after Antutu 5.7, and 50 and 56 after 15 minutes playing Riptide GP2.
Overall Android on Intel Atom Z3735F feels just like Android on recent ARM platforms such as Rockchip RK3288, with the exception that some games won't install, and the games experience for some games may not be as good. The firmware is not only smooth, but extremely stable too, and I did not experience any noticeable slowdown or freezes during my testing. The only issues I had was with Kodi 15 Alpha 1 which may exit from time to time or even freeze, but it's probably because they chose to load an Alpha version of Kodi, instead of Kodi 14.2 stable release.
Kodi 15 Android on Intel Atom Z3735F Processor
I've already tested Kodi on Intel both with Kodi 14.1 in Windows 8.1, and Kodi 14.2 in Linux (Ubuntu 15.04), and I was impressed by the performance in both system, although Z3735F does not support HDMI audio in Linux, so I had to use an inexpensive USB sound card instead. Let's see how Kodi 15 Alpha 1 (pre-installed) works on Intel Atom Bay Trail-T processor by playing videos from a SAMBA share over Ethernet.
Results with video samples from samplemedia.linaro.org, plus Elecard H.265/HEVC samples, and a low resolution VP9 video:
H.264 codec / MP4 container (Big Buck Bunny), 480p/720p/1080p/1080p60 – OK. However 1080p60 video renders at ~36 fps according to Kodi overlay debug info.
MPEG2 codec / MPG container, 480p/720p/1080p – OK
MPEG4 codec, AVI container 480p/720p/1080p – OK
VC1 codec (WMV), 480p/720p/1080p – OK
Real Media (RMVB), 720p / 5Mbps – RV8 (OK, but first time I had a greenish background, which disappeared the second time). RV9, and RV10 –play at 16 fps instead of 25 fps.
WebM / VP8 – OK
H.265 codec / MPEG TS container (360p/720p/1080p) – 360p & 720p OK. 1080p will play only about 3 seconds before freezing. I can't go back to Kodi, and going back to the Home Screen and restarting Kodi does not work, so I had to reboot the device (Tested twice).
WebM / VP9 (no audio in video) – OK
Some higher bitrate videos could play more or less smoothly:
ED_HD.avi

– OK
big_buck_bunny_1080p_surround.avi (1080p H.264 – 12 Mbps) – OK.
h264_1080p_hp_4.1_40mbps_birds.mkv (40 Mbps) – OK
hddvd_demo_17.5Mbps_1080p_VC1.mkv (17.5Mbps) – Not smooth, plays at 12 to 15 fps instead of 29.97 fps
Jellyfish-120

-Mbps.mkv

(120 Mbps video without audio) – Not smooth, plays at 12 to 15 fps instead of 29.97 fps
HD audio codecs have been tested down-mixed to PCM using Kodi and MXPlayer, and audio pass-through has been tested with Onkyo TX-NR636 using HDMI pass-through with BD/DVD input. I enabled pass-through in Kodi for AC3 and DTS, as well as Dolby Digital transcoding, and did not change anything in Android settings.
Video
PCM Output
Kodi
PCM Output
MX Player
HDMI Pass-through
Kodi
AC3 / Dolby Digital 5.1
Audio OK, but the video could be smoother
No audio
OK
E-AC-3 / Dolby Digital+ 5.1
OK
No audio
OK
Dolby Digital+ 7.1
OK
No audio
Dolby 5.1
TrueHD 5.1
OK
No audio
Dolby 5.1
TrueHD 7.1
OK
No audio
Dolby 5.1
DTS HD Master
OK
No audio
Dolby 5.1
DTS HD High Resolution
OK
No audio
Dolby 5.1
So the firmware does not support any advanced audio codec as shown with MX Player results, so but since Kodi implements its own audio decoding by software all formats can be down-mixed in Kodi. Lossless audio codecs HDMI pass-through is not supported, but again Kodi handle that by transcoding unsupported audio codec to Dolby Digital 5.1. I'd like to note however that enabled HDMI pass-through makes Kodi relatively unstable, as it might randomly exit when starting to play videos.
Sintel-Bluray.iso could play so unencrypted Blur-ay ISO are supported The two 1080i MPEG2 videos (GridHD.mpg & Pastel1080i25HD.mpg) could also play, but GridHD video would sparkle. Both Hi10p H.264 videos failed to play:
[Commie] Steins;Gate – NCED [BD 720p AAC] [10bit] [C706859E].mkv – No audio / no video. Back screen.
[1080p][16_REF_L5.1][mp3_2.0]Suzumiya Haruhi no Shoushitsu BD

OP.mkv

– No audio / no video. Back screen.
Bay Trail-T processors can't output to 2160p (4K UHD), but they should still decode H.264 videos up to 2160p30:
HD.Club-4K-Chimei-inn-60mbps.mp4 – OK

sintel-2010-4k.mkv – OK
Beauty_3840x2160_120fps_420_8bit_HEVC_MP4.mp4 (H.265) – 10 fps
Bosphorus_3840x2160_120fps_420_8bit_HEVC_MP4.mp4 (H.265) – 10 fps
Jockey_3840x2160_120fps_420_8bit_HEVC_TS.ts (H.265) – Won't start
MHD_2013_2160p_ShowReel_R_9000f_24fps_RMN_QP23_10b.mkv (10-bit HEVC) – Won't start
phfx_4KHD_VP9TestFootage.webm (VP9) – 10 fps

BT.2020.20140602.ts

(Rec.2020 compliant video) – Kodi will exit
tears_of_steel_4k_H264_24fps.mov – OK
big_buck_bunny_4k_H264_30fps.mp4 – OK
big_buck_bunny_4k_H264_60fps.mp4 – Not smooth, plays @ ~20 fps.
My LG 42UB820T television does not support 3D, but I still tested whether the platform could decode some stereoscopic 3D videos:
bbb_sunflower_1080p_60fps_stereo_abl.mp4 (1080p Over/Under) – Looks OK, but plays at 36 fps instead of 60 fps
bbb_sunflower_2160p_60fps_stereo_abl.mp4 (2160p Over/Under) – Looks like a still picture slideshow
Turbo_Film-DreamWorks_trailer_VO_3D.mp4 (1080p SBS) – OK
All my AVI, MKV, IFO and MP4 videos (720p/1080p) could play fine without issues such as A/V out-of-sync. Most FLV videos played, but some only had audio with black screen. A full 1080p movie (1h50 / MKV / 3GB) could play without interruption and no dropped or skipped frames at all for the whole duration.
Kodi 15 Alpha 1 is not that bad on Intel platform, but it certainly does not perform as well as Kodi 14.x in Windows 8.1, with some videos not playing smoothly, HDMI audio pass-through makes Kodi unstable, and Kodi may exit while starting videos. So I'd still recommend using Kodi inside Windows 8.1 instead of Android 4.4.
Links to various video samples used in this review and be found in "Where to get video, audio and images samples" post and especially in its comments section.
I've also run Antutu Video Tester where Wintel W8 gets 460 points about of 700+ possible despite failing to play a fair amount a video due to lack audio codec and HEVC video codec among other things.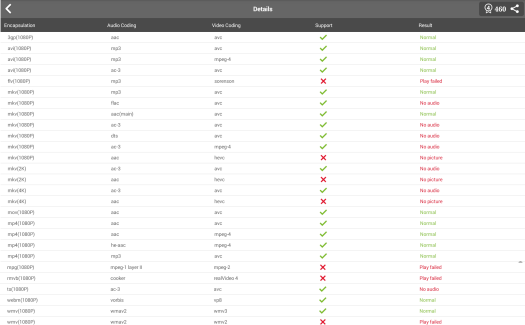 It's not quite as good as HiSilicon (700+ points), or Allwinner (600+) platforms, but still better than the score I got with Open Hour Chameleon (Rockchip RK3288): 262 points.
Network Performance (Wi-Fi and Ethernet)
I've tested networking performance by transferring a 278MB file over SAMBA three times with ES File Explorer. Wi-Fi performance is very good with an average transfer rate of 3.58 MB/s, making it one of the best 802.11n performer.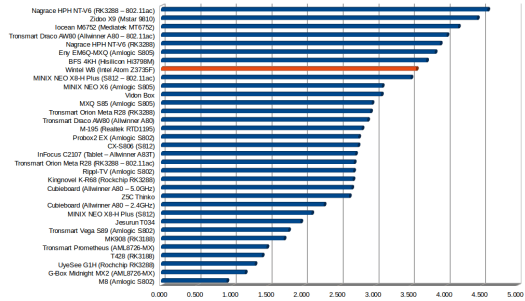 I've repeated the same test with the 10/100M Ethernet connection, which achieves 6.78MB/s which is quite good for a Fast Ethernet connection.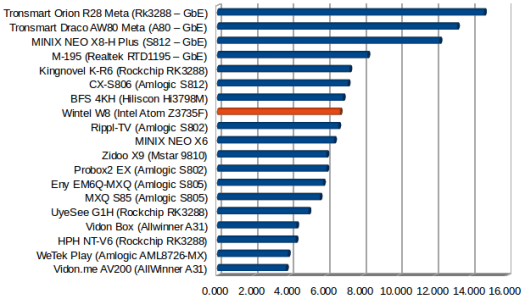 Run iperf instead with the command iperf -t 60 -s server_ip -d confirms the good performance.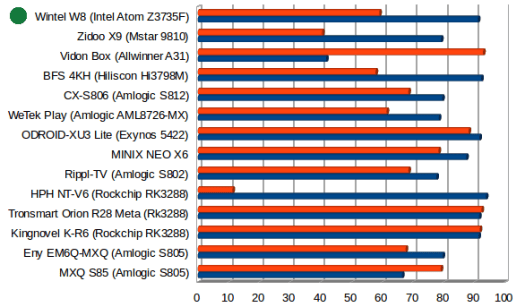 iperf output:

[

  

4

]

local

192.168.0.104

port

5001

connected

with

192.168.0.111

port

33327

--

--

--

--

--

--

--

--

--

--

--

--

--

--

--

--

--

--

--

--

--

--

--

--

--

--

--

--

--

--

Client

connecting

to

192.168.0.111

,

TCP

port

5001

TCP

window

size

:

  

272

KByte

(

default

)

--

--

--

--

--

--

--

--

--

--

--

--

--

--

--

--

--

--

--

--

--

--

--

--

--

--

--

--

--

--

[

  

6

]

local

192.168.0.104

port

59163

connected

with

192.168.0.111

port

5001

[

ID

]

Interval      

Transfer    

Bandwidth

[

  

4

]

  

0.0

-

60.0

sec

  

652

MBytes

  

91.2

Mbits

/

sec

[

  

6

]

  

0.0

-

60.0

sec

  

423

MBytes

  

59.1

Mbits

/

sec
Miscellaneous Tests
Bluetooth
I had mixed results with Bluetooth. Photo transfers over Bluetooth between Iocean M6752 smartphone and the box worked fine, but Vidonn X5 smartband (Bluetooth Low Energy) could not be found by the relevant app, and my Wireless PS3 gamepad clone failed to connect with Sixaxis Compatibility checker, although the drivers appears to be there.
Storage
Both a micro SD card and USB flash drive formatted with FAT32 could be mounted by the system. However, only the NTFS partition of my Seagate USB 3.0 hard drive could be mounted and accessed.
| | | |
| --- | --- | --- |
| File System | Read | Write |
| NTFS | OK | OK |
| EXT-4 | Not mounted | Not mounted |
| ExFAT | Not mounted | Not Mounted |
| BTRFS | Not mounted | Not mounted |
| FAT32 | OK | OK |
The system also only appear to support one USB storage device at a time, so when I connected my USB flash drive it automatically unmounted the NTFS partition on my hard drive with a notification popping up as follows:
Warning: One more MSC devices attached
Warning:  only one USB mass storage device can be used.
I ran A1 SD Bench to benchmark USB hard drive and internal flash performance, but I have to gave with the former, since I could not find a supported mount point. in ES File Explorer it shows as usb://1004/USB3_NTFS, where USB3_NTFS is the volume name, but this string is not recognized in A1 SD bench.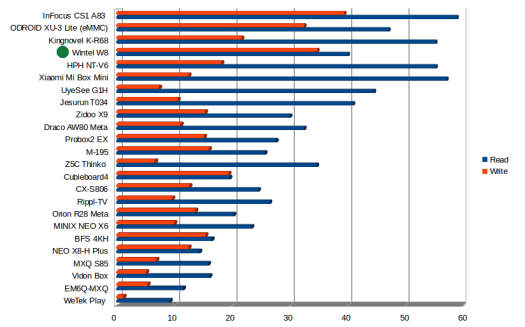 So finally, I only tested the eMMC which turns not to be so bad after all. It's still much slower than the 160MB/s achieved with CrystalDiskMark on MeLE PCG03 in Windows 8.1, but compared to Android TV boxes, the read speed is acceptable, and the write speed is very good.
USB Webcam
I could install Skype and Google Hangouts, but once I connected my USB webcam I lost all input to the mini PC (keyboard and air mouse unresponsive) for 30 seconds or so before I could use the system again.
The camera was detected in Google Handhouts (Camera icon shown), but I could not get any image during calls. I tried to call "Echo / Sound Testing services" but I could get the lady voice at all despite the system audio working. Trying to call a real person, who just get me the Android home screen, and start Skype again.
Conclusion: if you want to use Skype / Hangouts on Wintel W8, use Windows 8.1…
Gaming
My three usual test games namely Candy Crush Saga, Beach Buggy Racing, and Riptide GP2 could all be installed and run on the box. I control Candy Crush Saga with the air mouse, and game play was nice and smooth. I then then switched to Tronsmart Mars G01 wireless gamepad for Beach Buggy Racing and Riptide GP2. The former was behaving just like on higher end Android TV boxes, with a higher framerate even with quality settings set to the maximum. Riptide GP2 was playable with high quality settings, but far from optimal, and the user experience appeared to deteriorate with time. I played  15 minutes (5 races), and the game felt slower at the end.
As mentioned in the "First impressions" section, some famous games (Dead Trigger, Shadowngun…) can't be installed on the platform, and I'm assuming it might be because these have not been ported to x86 target (TBC), so to play Android games better go with Rockchip RK3288, Tegra K1/X1 or Qualcomm Snapdragon S8xx based platforms.
Wintel W8 Android Benchmarks
Before running benchmarks per se, let's see what CPU-Z has to show for this Intel mini PC.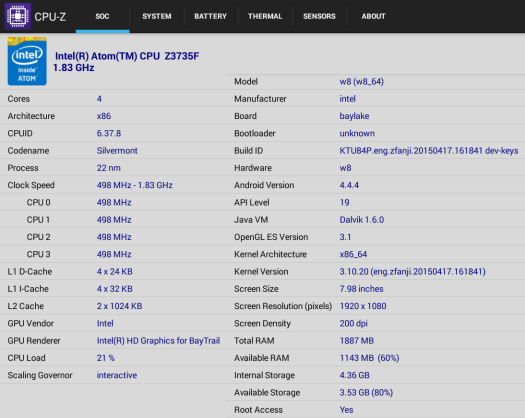 It correctly detects an Intel Atom Z3735F processor @ 498 MHz to 1.83GHz processor with HD Graphics. The screen resolution is 1920×1080, total RAM 1887 MB, and it has 4.36GB reserved for Android OS.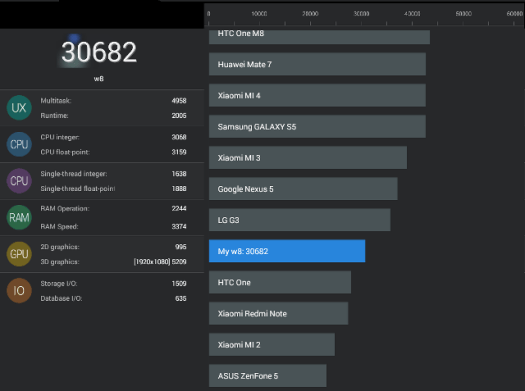 Wintel W8 got 30,682 points in Antutu 5.7, which is fairly similar to the score with MeegoPad T01 running Android-x86, and I have compared to Rockchip RK3288 processor.  Rockchip RK3288 devices now get around 36,000 to 39,000 points.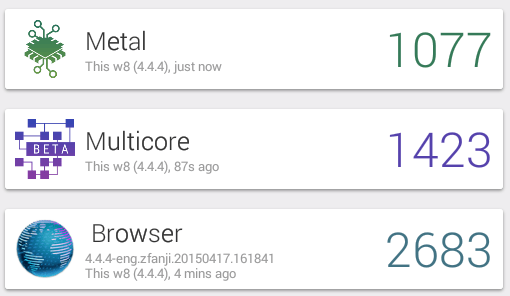 But Antutu can easily be cheated, so I've also run Vellamo 3.x, and compare it to the results I got with HPH NT-V6, another Rockchip RK3288 TV Box.
Vellamo 3.x Test
Wintel W8
Intel Atom Z3735F
HPH NT-V6
Rockchip RK3288
Browser
2,683
2,549
Multicore
1,423
2,003
Metal
1,077
1,457
The Intel platform slightly outperform the ARM device in the browser test with the stock Android browser, but Rockchip RK3288 clearly has the edge in  metal and multicore benchmarks.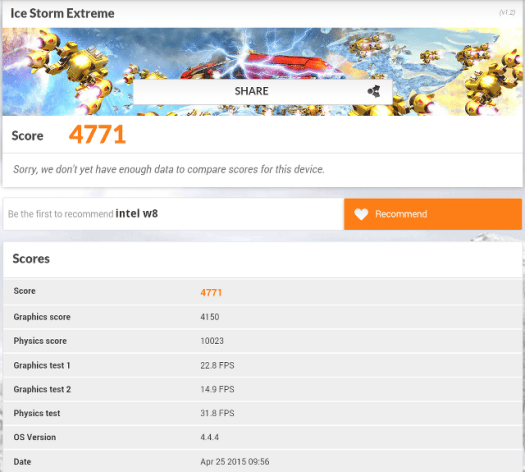 Finally, 3DMark Ice Storm Extreme shows the limitations of the Intel GPU, as 4771 points is significantly lower than 6,400 points in Allwinner A80 platforms (PowerVR GC6230), and 7,000+ points with ARM Mali-T764 GPU found in Rockchip RK3288.
Conclusion
When it comes to Windows 8.1, I don't believe there's much difference between vendors with a given processor, in that case Intel Atom Z3735F, except with eMMC speed, and thermal management. Wintel W8 does not seem to overheat at all, and although the eMMC may not be quite as fast as other low cost bay Trail mini PC I find it's still acceptable. But dual boot with Android is the selling point of this device, and the Android firmware is actually fairly good with Google Play support, and very stable, but some applications like Office, Kodi, and Skype should still better run in Windows 8.1, and 3D graphics performance is a little weak compared to recent ARM targets.
PRO:
Dual boot image with Windows 8.1 with Bing and Android 4.4
Google Play pre-installed.
Relatively fast processor
Stable and fast firmware.
Very good Wi-Fi and Ethernet (10/100M) performance
CONS:
32GB internal storage may not be enough for many people: 18GB in Windows 8.1, 4GB+ in Android, and it's a bit slower than other Intel Atom mini PCs, but performance is still decent.
3D graphics performance is a little weak, and some games can't be installed in Android.
Pre-installed Kodi 15.1 Alpha 1 is not quite as stable, and video playaback is not as good as in Windows 8.1, so use Kodi 14/15 in Windows 8.1 instead
Skype and Hangouts not working in Android, but should be OK in Windows 8.1
Bluetooth Low Energy not supported
Windows 8.1 is not activated (in my sample)
The dual boot firmware helps Wintel W8 being a better device, as some of the cons, such as average Kodi or poor Skype support in Android, can easily be worked around by rebooting into Windows. So this type of device could really be great with 64 or 128GB internal storage, as with 32GB it's likely to be frustrating over time, with the user having to free space regularly.
Kingnovel provide their K8 box for reviews, and resellers / wholesalers can purchase it in quantities (with 32, 64 or 128GB storage) by contacting the company via their Kingnovel K8 product page, or alternatively you could consider Kingnovel K8-II based on the same hardware but with a metal case instead. Individuals can pre-order Wintel W8 with the same dual boot firmware on the partner's Aliexpress store or Geekbuying* for $126, although I'm not 100% whether Windows 8.1 with Bing is properly licensed, or they simply use the tablet version. Another model called Wintel CX-W8 can be purchased on Aliexpress for less than $100, but with Windows 8.1 only, and most definitely without a proper Windows license at that price.
[Update: * I've been told the following:
Geekbuying website which shows the K8 is not released by Kingnovel…

Actually, There are two original manufacturers for K8, There is a true situation need clarify to you.Our software is not the same as other's.  our software is "A key switch external" for Android OS and Windows OS. it is very stable for running system.their software is "A key switch internal" for Android OS and Windows OS. It need to upgrade bois every time once switched. it will occur big risk for drop procedure easily.
So basically, that should mean Kingnovel K8 should not be easily brickable like Wintel W8 sold on Geekbuying]

Jean-Luc started CNX Software in 2010 as a part-time endeavor, before quitting his job as a software engineering manager, and starting to write daily news, and reviews full time later in 2011.