Xiaomi Mi Smart Remote Center is a tiny box with WiFi connectivity and IR transmitters that is used to control infrared enabled devices such as TVs, medai players, air conditioners and more with your Android smartphone. The good thing is that it only costs $20, so I asked GearBest to send a sample to check it out, which they did. I'll start this review by checking out the hardware, before running MiHome app to control a television and air conditioner.
Xiaomi Mi Smart Remote Center Unboxing and Teardown
The package is just a cardboard box with Mi logo.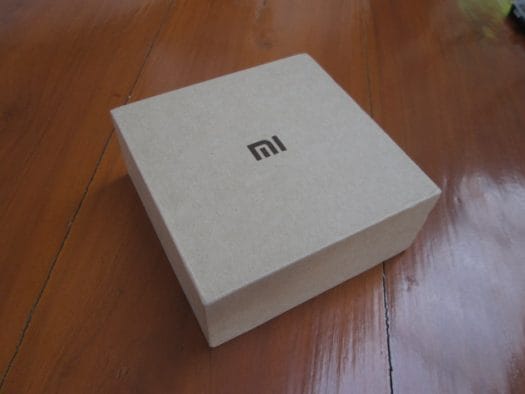 Once you open the page there's a sticker with the QR core redirecting to MiHome app.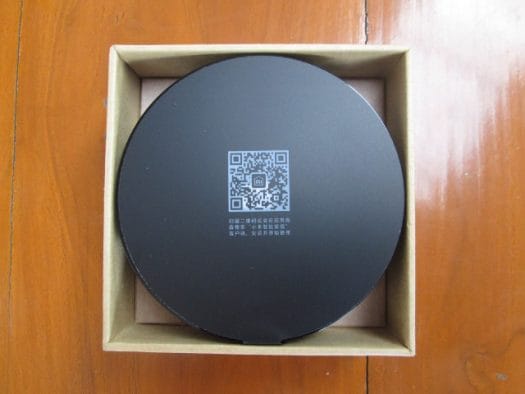 You can peel it off, and take the box out of the package, where you'll also find a USB to micro USB cable for power, and a user's manual in Chinese only.

To open the device (and void your warranty), turn it around…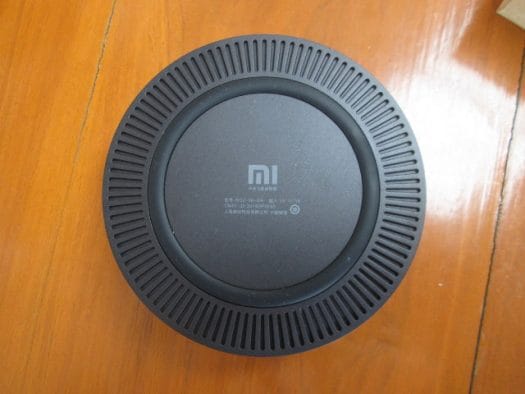 … remove the ring-like rubber pad, and loosen the four screws that hold the case together.
We'll find 6 (or 7?) IR transmitters in the center of the board, as well as an IR receiver from the side (bottom of the pic) which might be used for IR learning. The solution is based on two Marvell processors: 88MC200-NAP2 ARM Cortex M3 micro-controller with 512KB SRAM, and 88W8801 Wi-Fi SoC supporting 802.11n (1×1) single-band (2.4GHz) WiFi.
Xiaomi Mi Smart Remote Center Tested with MiHome app
The first thing to do is to install MiHome app on your Android smartphone or tablet. iOS is not currently supported. Bear in mind that for some reasons, it requires a lot of permissions, including the permission to make direct phone calls…
Once you power the device, you'll see a notification indicating a new device is detected (green icon on the screenshot below), and I was pleased to find out the setup part was in English.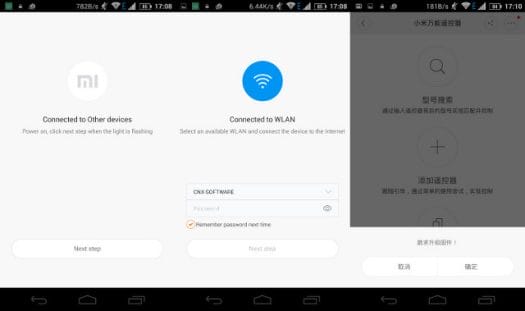 You'll need to click next, setup a WLAN connection to your router, and press next to complete the installation. You'll then be redirected to the interface in Chinese as shown in the right above, which allows to search and add (+ icon) infrared devices. When I did this a pop-up also showed up, asking for the user action in Chinese. Here's a tip, the left icon is usually for "Cancel/No" and the right icon for "OK/Yes".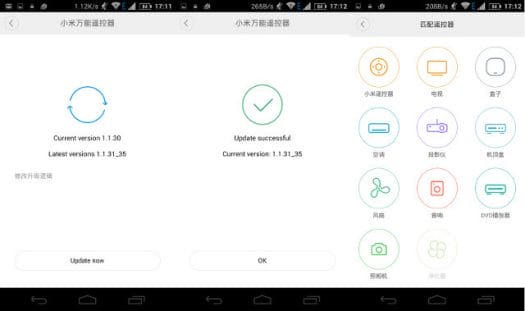 So I clicked on the right icon, and it informed me in English that a new firmware is available, and I proceeded with the installation which was completed successfully in about 1 minute. You'll then go back to the Chinese only part of the interface, where you can press the '+' icon to get to a list of device type as shown on the right screenshot above. Even if you can't read Chinese, it's pretty much self explanatory. For example the second icon on the top row is for TVs, and the first icon on the second row is for aircons.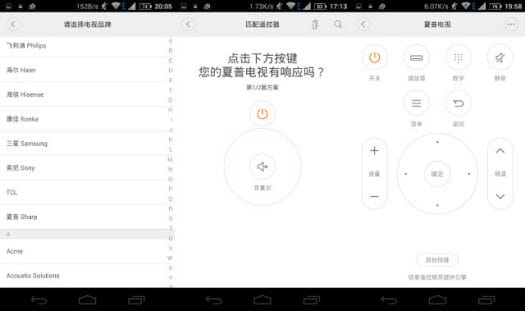 After clicking on the TV icon, you are offered a list of TV brands, with the most common (in China) listed first.  I own a Sharp TV so I selected Sharp, and I got shown a power button at first. I tapped on it, and the TV turned off. I was then offered to select between the left (Not working) and right (Working) button to confirm, and was then presented with a volume+ button a shown in the second screenshot above. You repeat this for a few more buttons until you find the one that works, and are finally presented with the remote control on the right with more options. It works pretty well, but there's some delays, and if you press the volume keys too fast, the delay issue is amplified, and all keys pressed are suddenly send a few seconds later, so you may have to readjusted the volume up or down again.
Let's switch to aircon configuration…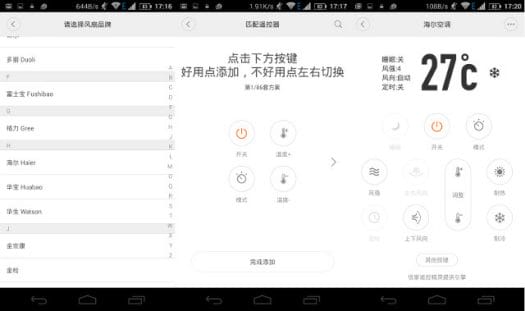 Again, you can presented with a list of aircon brands, and mine is made by Haier. Configuration is a little different compared to what needs to be done for TVs, as you are presented with four buttons (middle screenshot above), which you need to try, and if it does not work, tap on > to switch buttons, until you are satisfied, and you can press the button on the bottom.  Once this is done, you'll get an aircon remote on the device. Temperature, mode selection, and fan strength buttons work, but not blade direction, so it did not match exactly my remote control. For some reason the sleep / timer button is grayed out.
You can watch a short demo with both the TV and air conditioner controlled with an Android smartphone and MiHome app below.
So overall it works, but I was expecting to use some more featuring, such as a single key press sending multiple IR code, for example to turn on the aircon, configure blade position and set the timer. Unfortunately, my Chinese skills are not good enough, so I could not check this in details, and people would can't read Chinese should better wait for a multilingual version of the app.
I'd like to thanks GearBest for sending a sample. They sell it for $19.90 shipped, but you can also purchased the device from other resellers for around $25 including Banggood, Tinydeal, or Aliexpress.

Jean-Luc started CNX Software in 2010 as a part-time endeavor, before quitting his job as a software engineering manager, and starting to write daily news, and reviews full time later in 2011.