EzeeCube is a Linux based Kodi Media Hub powered by Freescale i.MX6Quad processor with one internal 1TB hard drive and up to 8TB extra storage via four stackable 2TB hard drive module, as well as an option for a Blu-Ray player module. Beside playing video, it's also designed to store your pictures and videos like a cloud service such as dropbox, but without privacy concerns since data is only stored in your own EzeeCube. The company launched an Indiegogo campaign in Q2 2014 which ended up being pretty successful having raised over $160,000, and as they are now shipping rewards to backers, I've also been sent a unit. Today, I'll check out the hardware, and will review the unit probably sometimes next month.
EzeeCube Unboxing
The device came in a cardboard package with some EzeeCube branding, and some features like Freescale quad core processor, a 2TB hard drive (which finally is just 1TB), and 2GB DDR3, as well as a mention about EzeeSync app available from Google Play and Apple App Store.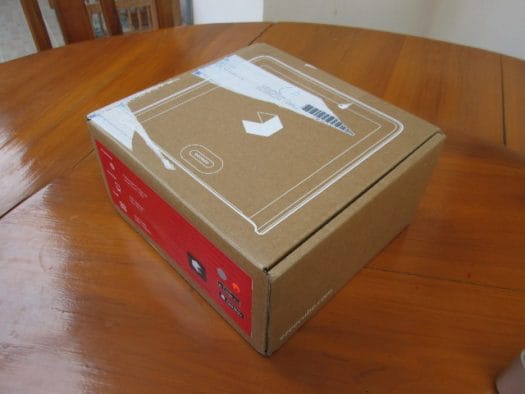 The media hub is a little bigger than most devices I've reviewed so far, but the larger size might be required due to stackable HDD and Blu-ray modules. It shipped with a 12V/5A (60W) power supply that should be enough to handle multiple hard drives, power cable with UK/HK plug, and simple IR remote with a CR2032 battery, and a quick setup guide printed an cardboard.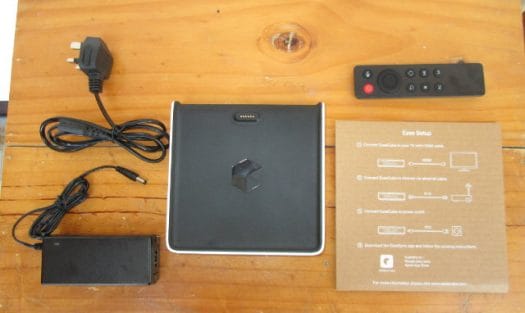 The build quality looks quite good, while the front panel has small holes for the power LED and IR receiver, all ports are located on the rear panel including a USB port, an SD card slot, a micro USB port, an HDMI 1.4a port, an optical S/PDIF output, an Ethernet port (RJ45), the power jack, and a the reset pin hole.


On the top and bottom of the case, we can see one of the unique characteristics of the device with EzeeStack connectors for the stackable module. You could also watch the unboxing video if you please.
EzeeCube Teardown
You'll need to remove four rubber pads, and loosen four screen before popping up the plastic bottom cover.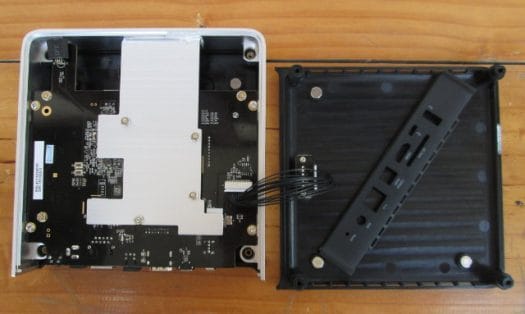 There's a large metallic plate to cool the device that is also in contact with the case via some thermal paste, so they've paid some attention to heat dissipation. We can take it out by loosening the four nuts.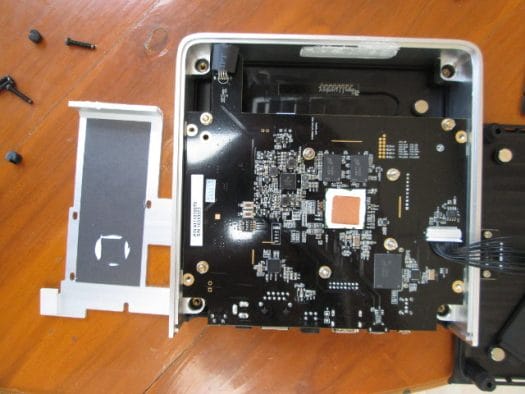 The Freescale processor is covered with thermal paste and another metallic part. Micrel KSQ9021RNI Gigabit Ethernet transceiver and what must be a 4GB Micron 4PA98 eMMC flash are also in contact with a thermal pad attached to the metallic plate. Other ICs include two Micron 4OE77 SDRAM chips (2GB in total), and Freescale MMPF0100 PMIC. We can completely take the board out after loosening four more screws.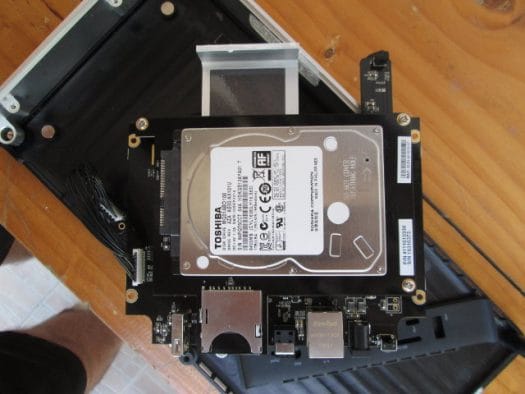 The hard drive is Toshiba MQ01ABD100 with 1TB capacity, 5400 rpm. The MAC address 2C:D1:41:10:xx:xx belongs to Ezee Systems Limited. I wanted to take the device apart further, and remove three more screws, but I stopped there as I was not confident I would not damage the pins connecting the main board with the HDD board.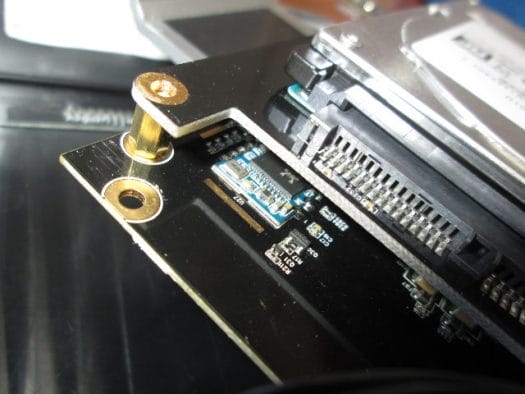 We can still have a peek between the two boards, and notice a Realtek WiFi module which according to the specs supports 802.11n and Bluetooth 3.0. If for some reasons you have also disassembled the device and taken out the metal plate, make sure to fasten the main board first with the four screws, and hold the metal plate again the case while fastening the nuts to make sure there is good contact.
EzeeCube base unit, as shown in this post, can be purchased on EzeeCube store for $399 (1TB HDD) or $499 (2TB HDD), while add-on 2TB hard drives and the Blu-ray player go for $199 each.

Jean-Luc started CNX Software in 2010 as a part-time endeavor, before quitting his job as a software engineering manager, and starting to write daily news, and reviews full time later in 2011.