I've been running Antutu Video Tester for my TV box reviews for over  a year. I usually simply install Antutu Video Tester 2.2 from Google Play, then there's a prompt offering to upgrade to Antutu Video Tester 3.0 (as for some reasons it's not in Google Play) and once this is done, the app will download the video samples from some server before starting the test. However, recently it's become a pain as I've had numerous problems installing the latest version of the app, and then downloading the video samples, as it may take 2, 3 or 4 hours to download all the necessary files from Antutu server, and once or twice I just gave up.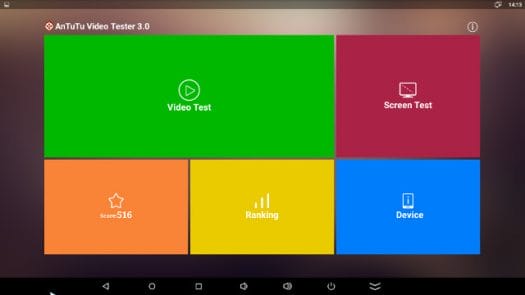 As the problem occurred yet again today, I decided to install the benchmark app manually. China Gadgets Reviews provides several download links with AVT 3.0 apk and the video samples, and I select my favorite file hosting service: mega.co.nz (188MB).
You'll get AnTuTu Video Tester 3.0.rar file which contains AnTuTu Video Tester_3.0_300000.apk and VideoBench directory. Installing the apk is easy, but I did not know where to copy the video samples. So I looked for them in a box where I managed to install the benchmark:

1

2

3

4

5

6

7

8

9

10

11

12

13

14

15

16

17

18

19

20

21

22

23

24

25

26

27

28

29

30

31

root

@

rk3368_box

:

/

storage

/

emulated

/

0

/

.

antutu

/

VideoBench

# ls

01Sintel_avc_mp3_1080p.mkv

02Sintel_avc_flac_1080p.mkv

03Sintel_avc_aac

(

main

)

_1080p

.

mkv

04Sintel_avc_ac

-

3_1080p.mkv

05Sintel_avc_dts_1080p.mkv

06Sintel_mpeg

-

4_ac

-

3_1080p.mkv

07Sintel_avc_aac_1080p.mp4

08Sintel_mpeg

-

4_aac_1080p.mp4

09Sintel_mpeg

-

4_he

-

aac_1080p

.

mp4

10Sintel_avc_mp3_1080p.mp4

11Sintel_vp8_vorbis_1080p.webm

12Sintel_avc_aac_1080p.3gp

13Sintel_avc_ac

-

3_1080p.ts

14Sintel_avc_mp3_1080p.avi

15Sintel_mpeg

-

4_mp3_1080p.avi

16Sintel_hevc_aac_1080p.mkv

17Sintel_avc_ac

-

3_1080p.avi

18Sintel_avc_aac_1080p.mov

19Sintel_mpeg

-

2_mpeg

-

1

layer

II_1080p

.

mpg

20Sintel_wmv3_wmav2_1080p.wmv

21Sintel_wmv2_wmav2_1080p.wmv

22Sintel_sorenson_mp3_1080p.flv

23Sintel_realVideo

4_cooker_1080p.rmvb

28Sintel_avc_aac_1080p.mp4

29Sintel_mpeg

-

4_aac_1080p.mp4

30Sintel_vp8_vorbis_1080p.webm

/storage/emulated/0/ may differ from device to device, but this is the internal storage, sometimes referred to as internal SD card. So now that we know where to copy the files it's pretty easy, but since .antutu is an hidden directory, it may not show up in your file manager.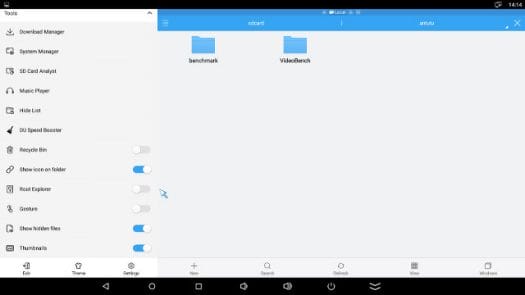 ES File Explorer is my favorite Android file manager and that's the one I used to copy VideoBench directory. First, you'll need to click on Tools in the left sidebar, and scroll down to enable "Show hidden files". Now copy VideoBench directory from a USB drive or network share, and go to .antutu directory in the internal_sd (e.g. /mnt/internal_sd/.antutu) to paste the VideoBench directory, and you are done! Launch Antutu Video Tester 3.0, click on Video Test, and after a few seconds the first video should play.

Jean-Luc started CNX Software in 2010 as a part-time endeavor, before quitting his job as a software engineering manager, and starting to write daily news, and reviews full time later in 2011.