Today ARM has revealed the first details of its latest mobile processor and GPU, both said to be optimized for VR (Virtual Reality) and AR (Augmented Reality) applications.
Starting with the ARM Cortex-A73, we're looking at an evolution of the current Cortex-A72 with ARM claiming 30 percent "sustained" performance over the Cortex-A72 and over twice the performance over the Cortex-A57. ARM is already talking about clock speeds of up to 2.8GHz in mobile devices. Other improvements include an increase up to 64k L1 instruction and data cache, up from 48 and 32k respectively for the Cortex-A72, as well as up to 8MB of L2 cache.
The Cortex-A73 continues to support ARM's big.LITTLE CPU design in combination with the Cortex-A53 or the Cortex-A35. It's also the first ARM core to have been designed to be built using 10nm FinFET technology and it should be an extremely small CPU at around 0.65 square millimeters per core, or a 46 percent shrink from the Cortex-A72. By moving to 10nm and FinFET, ARM is also promising power efficiency gains of up to 20 percent over the Cortex-A72.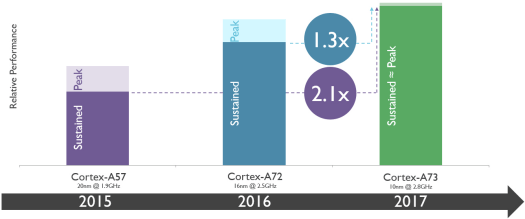 The Mali-G71 GPU takes things even further, as ARM is promising a 50 percent increase in graphics performance, a 20 percent improvement in power efficiency and 40 percent more performance per square millimeter over its previous generation of GPU's. To accomplish this, ARM has designed the Mali-G71 to support up to 32 shader cores, which is twice as many as the Mali-T880 and ARM claims that this will enable the Mali-G71 to beat "many discrete GPUs found in today's mid-range laptops". We'd take this statement with a grain of salt, as it takes more than raw computing performance to do a good GPU and that's why there are so few companies that are still designing their own GPUs. As with the Cortex-A73, the Mali-G71 is optimized for 10nm FinFET manufacturing technology.
As always with ARM based GPUs, it depends on the partner implementation and the Mali-G71 supports designs with as little as one shader. Looking at most current mobile GPU implementations we'd expect to see most of ARM's partners to go with a 4-8 shader implementation to keep their silicon cost at a manageable level. That said, we might get to see one or two higher-end implementations, as ARM has already gotten the likes of Samsung, MediaTek, Marvell and Hi-Silicon interested in its latest GPU.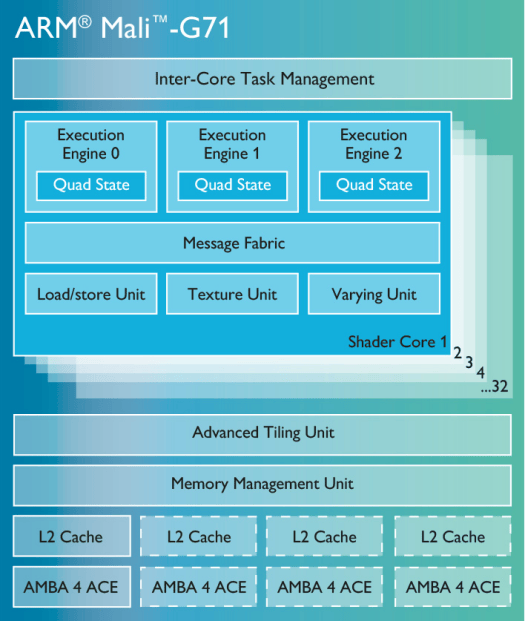 With a big move towards VR and AR, it's also likely that the ARM partners are going to have to move to a more powerful GPU to be able to deliver the kind of content that will be expected from these market spaces. According to the press release, it looks like ARM has already gotten Epic Games and Unity Technologies interested in supporting their latest GPU
Devices using the new ARM Cortex-A73 and Mali-G71 are expected sometime in 2017, so there's quite a gap between the announcement and the availability of actual silicon, but with HiSilicon, Marvell, MediaTek, Samsung Electronics and others having already licensed Cortex A73 IP. at least it means we have something to look forward to next year. You can find more details on ARM Cortex A73 and Mali-G71 pages, as well as ARM community's blog.

Jean-Luc started CNX Software in 2010 as a part-time endeavor, before quitting his job as a software engineering manager, and starting to write daily news, and reviews full time later in 2011.