DOM's or Disks on Module are quite popular with embedded system makers, but they've traditionally used slow interfaces like PATA or USB 2.0, with some more recent models using SATA or USB 3.0.
At Computex, Innodisk was showing off an entirely new entry which should hopefully become the new standards for motherboard DOM's. By using a horizontally mounted M.2 connector (B keyed) with a screw hole on each side, Innodisk has created a compact connector for DOM's that build on industry standards. The great news here is that the same connector can be used for USB 3.0, SATA and even PCI Express based DOM's.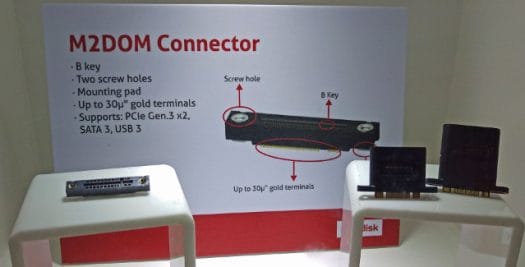 Innodisk does of course offer a full range of compatible products, starting with the M2DOM U30 featuring a USB 3.0 interface. This is the "slowest" product in the range with speeds of up to 100MB/s and available in capacities from 8-64GB.
Next up is the M2DOM S20 and S30, both featuring SATA interface. The S20 is the more basic model of the two with speeds of up to 220MB/s. It's also the smallest in terms of height, but still managed to squeeze in between 8-64GB of storage space. The S30 not only increases the speed to up to 530MB/s (similar to a typical SSD), but also increase the capacity to 16-256GB.
Finally we have the M2DOM P30 which is using a PCI Express 3.0 x1 interface. We're looking at speeds of up to 660MB/s and capacities between 16 and 128GB.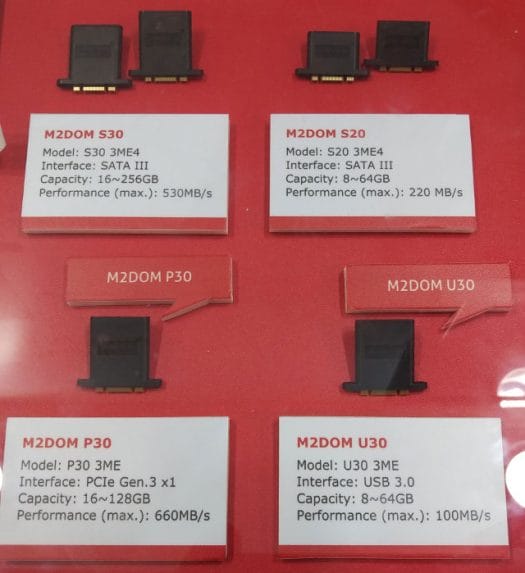 The neat thing with all of these modules is that they come in a sealed unit to protect the PCB from dust and other potential nasties and once screwed in place, they're not easily going to fall out. There was no word on pricing and the products are expected to be available later this year. Hopefully this will be a standard that will be adopted by embedded board makers, as it's a far superior solution to any of the current DOM options available today.