Beelink BT7 mini PC powered by Intel Atom x7-Z8700 processor offers an interesting alternative to the fanless Voyo V3 mini PC, as it is actively cooled by a small fan, supports (Gigabit) Ethernet, and comes with three full USB 3.0 ports. There are three versions with either 64, 128 (64+64) or 320 (64+256) GB stortage, and I got Beelink BT7 128GB to play with. Since I've already checkout the hardware, I'll focus on the performance and stability of the device on Windows 10 in the second part of the review.
Setup and System Information
I placed the mini PC on my desk, made use of the three USB 3.0 ports with a USB keyboard, a USB mouse, and a Seagate USB 3.0 hard drive, and connected Ethernet, HDMI and the power cable.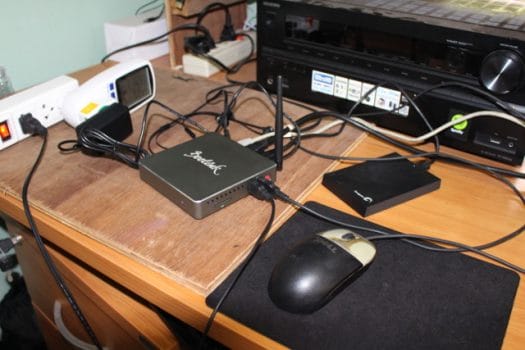 However, if you happen to own a TV or monitor that supports VESA mounts, you can use the include VESA bracket and screws, as well as the short HDMI cable to hook Beelink BT7 right behind the display.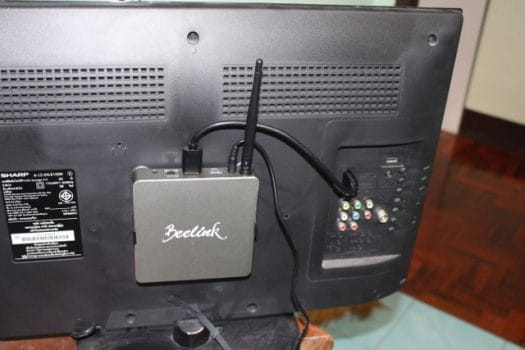 This is definitely a plus if you are short on space, or just want a cleaner desk. Press the red button on the side to start the computer. The boot will typically take 20 seconds, but the very first time you'll go through Windows 10 setup starting by language selection between German, English, Spanish, Russian, and simplified Chinese. I assume other languages might also be available, but I'm unclear if it can be selected here.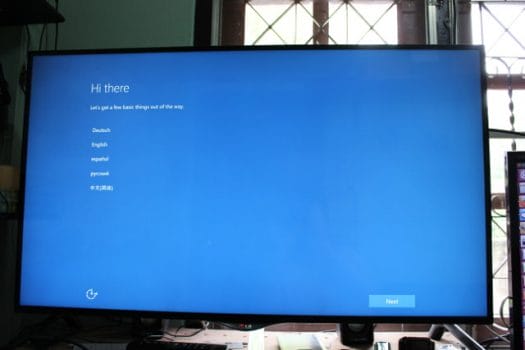 The rest of the usual Windows setup includes EULA agreement, Custom or Express settings selection (I went with Express), and account creation. Contrary to the pre-installed version of Windows 10 on Voyo V3 which lacks account support, Windows 10 on Beelink BT7 appears to be "clean".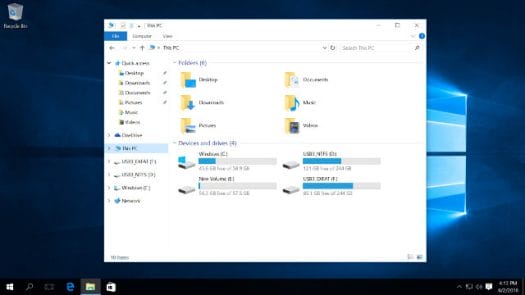 As indicated in my unboxing and teardown post, I was confused at first because while I had been sent a 128GB version, all I got was a 64GB SSD in the device. But as you can see from the screenshot above, leaving apart the NTFS and exFAT partition from my USB hard drive, there are two storage devices with the C: "Windows" drive (eMMC flash) with 58.9 GB in total, and E: "New Volume" drive (SSD) with 57.5 GB.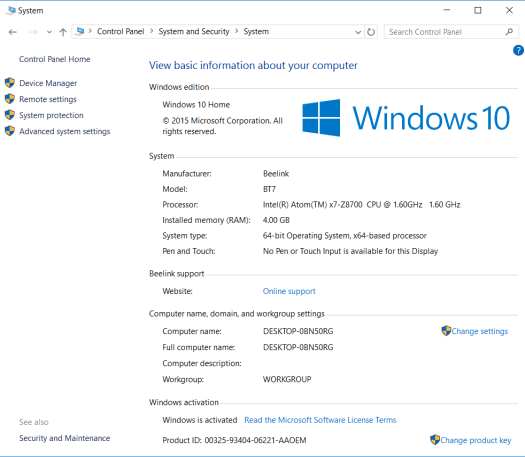 We can check some of the info in Control Panel->System and Security->System to find out an activated version (i.e. properly licensed) of 64-bit Windows 10 Home is installed, and the processor is indeed an Intel Atom x7-Z8700 CPU coupled with 4GB RAM.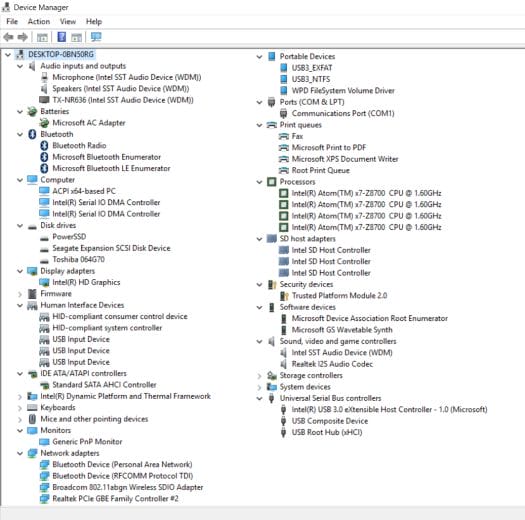 The Device Manager confirms the two hardware storage devices with "PowerSSD" and "Toshiba 064G70", Bleutooth and WiFI connectivity, Gigabit Ethernet, etc…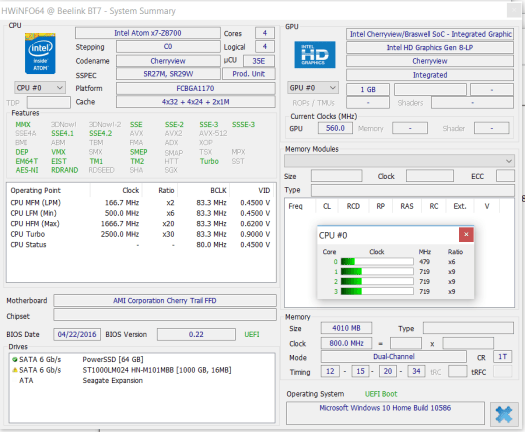 HWiNFO64 information is mostly the same as for Voyo V3 for CPU, GPU, and Operating System, but the reported memory is a little higher (4010MB vs 3882 MB), and the BIOS and storage info are obviously different.
Since many people did not trust the Windows 10 version installed on Voyo V3, they reinstalled Windows 10 themselves, but met a roadblock while finding the drivers. The company did release the complete firmware image (5GB+), so people extracted the drivers and provided a much smaller download link. Even though the issue was resolved after a while, many users went through the unnecessary steps of finding the drivers. With Beelink BT7, fewer people are likely to re-install Windows 10 since the security features are still enabled, and if you still do, the company provide  CD in the package with all Windows 10 drivers for Beelink BT7.

List of drivers available in the CD.
| | | | | |
| --- | --- | --- | --- | --- |
| Vendor | Driver or Utility name | Driver Version | Released date | WHQL'd |
| Intel | Intel(R) HD Graphics | 20.19.15.4308 | 04/11/15 | Y |
| Intel | I2C Controller | 604.10146.2654.7394 | 04/11/15 | Y |
| Intel | GPIO Controller | 604.10146.2652.3930 | 04/11/15 | Y |
| Realtek | Realtek I2S Audio Codec | 6.4.10147.4327 | 04/11/15 | Y |
| Intel | Intel SST Audio Device | 604.10135.2664.5232 | 04/11/15 | Y |
| Microsoft | HID-compliant System control | 10.0.10586.0 | 04/11/15 | Y |
| Realtek | Realtek PCle GBE Family Controller | 9.1.402.2015 | 04/11/15 | Y |
| Broadcom | Broadcom 802.11abgn Wireless SDIO Adapter | 5.93.102.19 | 04/11/15 | Y |
| Microsoft | Intel SD Host Controller | 10.0.10586.0 | 04/11/15 | Y |
So when it comes to Windows 10 integration, and driver availability, Beelink BT7 clearly comes ahead of Voyo V3.
Beelink BT7 Benchmarks
Let's run first run PCMARK 8 HOME accelerated and conventional benchmarks.


Both scores are slightly higher than on Voyo V3. The PCMARK 8 Home Accelerated score is 1,509 points (vs 1,428), and PCMARK 8 Home Conventional is 1,211 points (vs. 1,066). Please note that the graphics driver on Voyo V3 would often crash, so I had to repeat the test a few times. Beelink BT7 had no such issues.
Something changed in 3DMark benchmark, and you now need to run each tests individually. I could run Sky Diver 1.0, Ice Storm 1.2 and Cloud Gate 1.1 successfully, while in Voyo V3 Skydiver would not run at all.

However the two benchmark that went through on both mini PCs have vastly different scores in favor of Voyo V3. Cloud Gate 1.1: 1,664 vs 2,065 points; Ice Storm 1.2: 9,599 vs 20,853 points. A side by side comparison of the two Ice Storm 1.2 scores only show a different UI version, and strangely the width and height for Voyo V3 is not reported. The maximum CPU frequency was also only 1,760 MHz on BT7 against 2,319 MHz on Voyo V3, so maybe some throttling was happening.

So I ran the Ice Storm 1.2 and Cloud Gate 1.1 benchmarks again another day, and the results became much better with respectively 23,999 and 2,185 points.

Passmark 8 benchmark results ended being nearly the score as Voyo V3 with 845.9 points (vs 839.9 pts).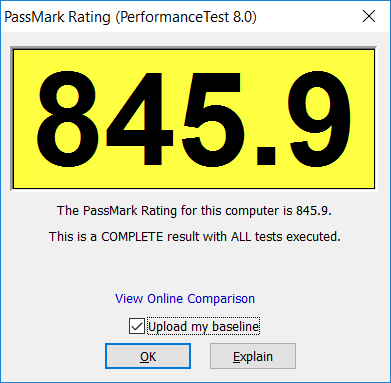 CrystalDiskMark was used to test performance of the internal flash (C:), the SSD (E:), and the NTFS partition on my USB drive (D:).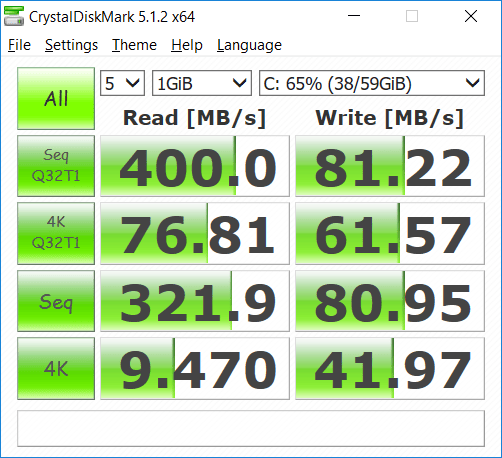 Sequential read is excellent, sequential write not that much, with random write and read speeds roughly equivalent to the storage devices in Voyo V3 and MINIX NGC-1. Random I/Os are quite important when you're going to run the operating systems, and there are many small read and write operation.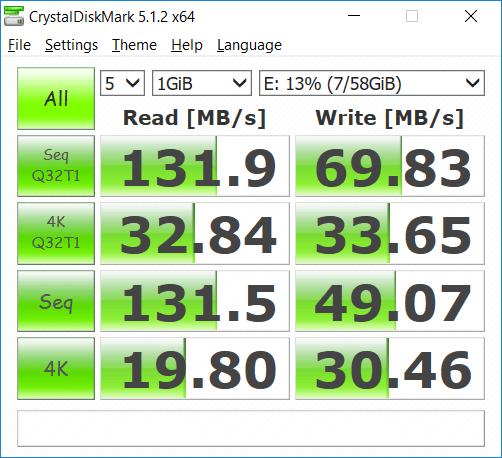 The SSD does not perform quite as well, but should still be OK for data and programs. I'd still recommend installing programs on, and set the caches' paths to, the eMMC flash (C:) for better performance.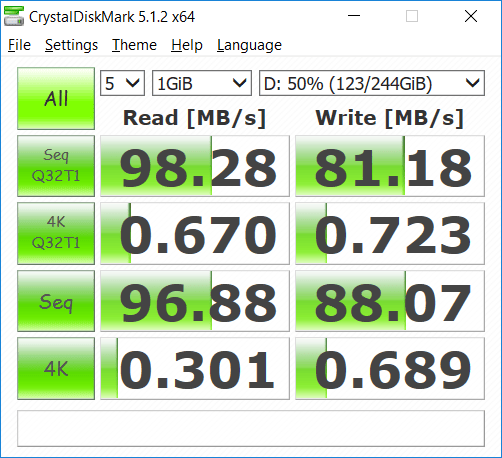 USS 3.0 performance was basically the same as on Voyo V3. The first run however had a very low 20 MB/s sequential write speed, which improved to 80MB/s+ in my second attempt. The random I/Os (4K Q32T1 and 4K) are quite slow, but it's normal for a mechanical drive.
Finally, I installed iperf-2.x to test Gigabit Ethernet and WiFi performance.
Gigabit Ethernet dual duplex transfer with "iperf.exe -t 60 -c -d":

Client

connecting

to

192.168.0.111

,

TCP

port

5001

TCP

window

size

:

 

170

KByte

(

default

)

--

--

--

--

--

--

--

--

--

--

--

--

--

--

--

--

--

--

--

--

--

--

--

--

--

--

--

--

--

--

[

 

6

]

local

192.168.0.104

port

53173

connected

with

192.168.0.111

port

5001

[

 

6

]

 

0.0

-

60.0

sec

 

6.24

GBytes

  

893

Mbits

/

sec

[

 

5

]

 

0.0

-

60.0

sec

 

6.03

GBytes

  

863

Mbits

/

sec

That's actually the best device I've tested when it comes to Ethernet performance.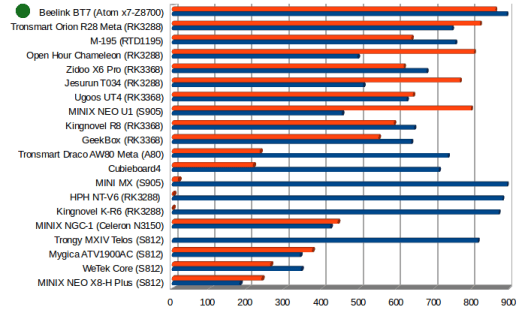 The Wireless module is supposed to support 2.4 and 5.0 GHz WiFi, but only 2.4 GHz access points were detected in Windows. I repeated the same test with WiFi @ 802.11n:

Client

connecting

to

192.168.0.108

,

TCP

port

5001

TCP

window

size

:

85.0

KByte

(

default

)

--

--

--

--

--

--

--

--

--

--

--

--

--

--

--

--

--

--

--

--

--

--

--

--

--

--

--

--

--

--

[

6

]

local

192.168.0.104

port

57933

connected

with

192.168.0.108

port

5001

[

6

]

0.0

-

60.0

sec

116

MBytes

16.2

Mbits

/

sec

[

4

]

0.0

-

60.1

sec

126

MBytes

17.6

Mbits

/

sec

Results were a bit disappointing but similar to the WiFi performance I got with Voyo V3. Since WiFi is not really designed for full duplex, I repeat the test in one direction only.

[

5

]

local

192.168.0.104

port

5001

connected

with

192.168.0.108

port

50810

[

5

]

0.0

-

60.1

sec

258

MBytes

36.0

Mbits

/

sec

Again the results is about the same as I had with Voyo V3's WiFi.
I've created a comparison chart between Beelink BT7 against Voyo V3, MINIX NGC-1, Tronsmart Ara X5, Intel NUC, Intel Core-M compute stick, abd Kangaroo mobile desktop in order to have a better feel of the relative performance of those systems. 3DMark Ice Storm results are divided by 20 to get a more readable chart.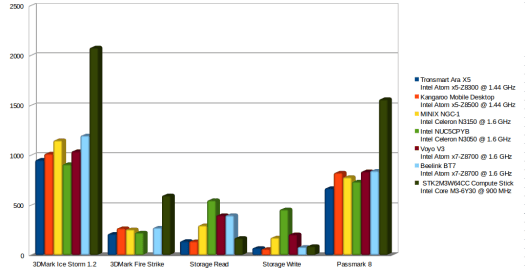 While the more expensive Core m3 stick is clearly ahead, Beelink BT7 is pretty good, and overall slightly better than Voyo V3 expect for sequential write speed.
Beelink BT7 User Experience and Usability Testing
Beelink BT7 passed the benchmark test almost flawlessly, with the main worry being the low 3D graphics performance during my first run of 3Dmark possibly due to some throttling, but the most important of course is how the system perform in real-life tasks. I perform the following using 1080p59 resolution, except for Kodi were I set the resolution to 3840×2160 @ 30 Hz:
Multi-tasking – Using Microsoft Edge, Thunderbird, LibreOffice, and Gimp at the same time
Web Browsing with Microsoft Edge

Loading multiple tab with CNX Software
Playing a 1080p YouTube Videos
Playing a flash game  (Candy Crush Saga)

Gaming with Asphalt 8
Kodi 16.1 @ 4K resolution with 4K videos using H.265 or H.264 codecs, and HDMI audio pass-through
Note that I'm using Microsoft Edge browser, instead of Chrome or Firefox, because the last two simply do not work very well in YouTube. It could be because Edge uses MP4, and the other two VP9, and Cherry Trail processors are not quite powerful enough to handle this without dropped frames.

Overall, Beelink BT7 did very well in all those tasks, although I would have wished higher frame rates in Asphalt 8, but the GPU is just not powerful enough to achieve optimal performance. Kodi could play 4K video using XVDA2 hardware decoding for H.265 and H.264 videos, but 4K 10-bit H.264 and H.265 videos could not be played smoothly, as Kodi fell back to software decoding. HDMI audio pass-through works but is limited to Dolby Digital and DTS 5.1, and TrueHD and DTS HD is not supported (Kodi can transcode TrueHD to DD 5.1).
I also ran HWiNFO64 in the background during my tests, including benchmark to check whether the system would throttle.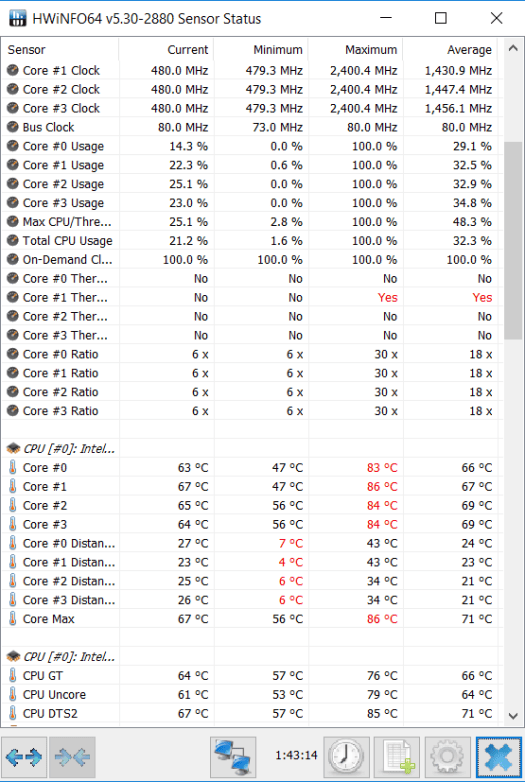 One core did throttle on average, but nothing too bad, and Voyo V3 had two cores throttling on average for the same set of tests.
However, I normally also test playing a 1080p YouTube video for over one hour in Microsoft Edge in full screen mode, and when I came back to check out the status,  the video was buffering, which could happen due to poor connectivity to the YouTube servers unrelated to the device itself, but I soon found out that something else was wrong.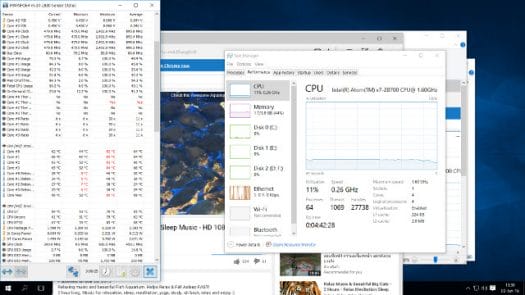 The CPU was shown to be stuck at 0.13 to 0.26 GHz (in Task Manager) and 480 MHz (6x) in HWiNFO64, without any of the core overheating at the time, and the frequency would not go up whatever I did with the computer. It's very similar to what happened with my first MINIX NGC-1, except the temperature was perfectly under control. So I turned the mini PC off, waited a few minutes, before starting it again, and playing the video for one more hour.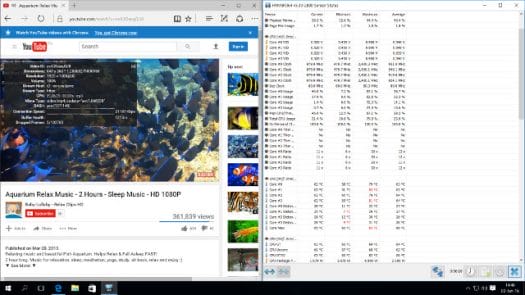 The video only had 5 dropped frames out of over 100,000, which happened when I switched between full screen and windowed mode. So no problem at all here, and I have not explanation for what happened, unless there some bug with Windows 10, UEFI, or the drivers.
If you think that I should have used Chrome browser instead, I have a screenshot for you 🙂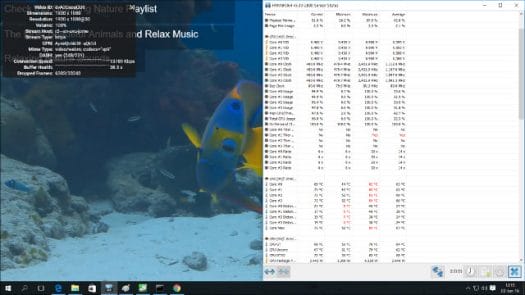 Power consumption in idle mode is normally around 5 to 7 watts, playing a 4K is around 10 to 12 watts, and in power off mode my meter reported 0.0 watt. The power consumption in sleep mode is a little odd, as after one minute the consumption varied between 5 and 10 watts, and after 30 minutes it was still 7 to 7.4 watts, ore greater than in idle mode. The fan turns all the time, but it's really not that noisy. I can't hear it when my main PC (which I reckon is quite noisy) or aircon is running. In a quiet room (PC and aircon off), I'm able to hear the fan at around 2 meters away, but the noise is very low.
Conclusion
Beelink BT7 is a good mini PC. The hardware build is of good quality, Windows 10 is activated and without some strange hacks like in Voyo V3, but if you want to reinstall Windows 10 anyway, the drivers are provided. Performance is very slightly better than Voyo V3, except for networking thanks to the Gigabit Ethernet interface. I still found some downsides, such as 5 GHZ WiFi access points are not detected, and in some rare & random cases the performance did suffer a lot (3Dmark benchmark and  one hour 1080p YouTube video). I have not good explanation for the latter issue, as the CPU did not overheat when it happened, and a reboot would apparently fix the issues. I have not tried Linux on the platform, yet but thanks to recent work, you should be able to run a fully working Ubuntu firmware (HDMI audio, and maybe WiFi and Bluetooth) using Ubuntu 16.04 ISO by linuxium.
Price is also an important factor in a purchase decision, and considering both Voyo V3 and Beelink BT7 (128GB) are about the same price (when using coupons), it's likely a no-brainer to go with Beelink BT7, unless you don't want a fan at all. The cheapest way to current buy Beelink BT7 is via GearBest for respectively $168.99 (64 GB – coupon: GBBT76), $195.99 (128 GB – coupon: GBBT72), and $249.99 (320 GB – coupon: GBBT73), but it can also be found on Banggood, Amazon UK, and Beelink themselves sell it directly on Amazon US.

Jean-Luc started CNX Software in 2010 as a part-time endeavor, before quitting his job as a software engineering manager, and starting to write daily news, and reviews full time later in 2011.