Last month I received Popcorn Hour A500 high-end media player powered by Sigma Designs SMP8758 dual core Cortex A9 processor, and in the firtst part of the review I posted the specifications, and pictures of the devices and its internals. Today, I'll write a short review of the device, as it's basically an update of Popcorn Hour VTEN which I reviewed last year with a faster processor, more memory, and an internal SATA bay for 2.5″ and 3.5″ drives.
User Interface, Remote Control, Internal HDD, and Technical Support
The user interface is basically the same as on VTEN with two home screens to select: Media or Music.

The performance is a little better, but if you want to find out more about the user interface, I propose you watch the video I shot for Popcorn Hour VTEN

During the first boot, Music Home was selected, and I soon got asked whether I wanted to upgrade the firmware, and OTA firmware update worked just fine.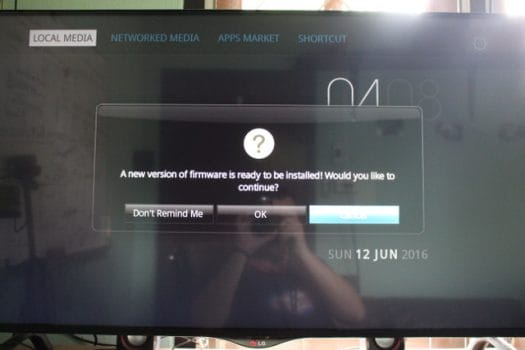 One difference with VTEN is that the number of apps to install has decreased from 59 to 52 with YouTube, Russia Today still there, and working as expected.
The remote control provided with Android TV boxes is normally pretty useless, with since Popcorn Hour A500 is a pure media player the remote control is the only input option you have, and it's actually pretty good for the task as you have quick access to various features such as audio track, video zoom, play/pause and other trick modes, subtitles, and so on.
Another thing that pleasantly surprised me is that the remote control keys are backlit, so it's more convenient to use in the dark. I think it's the very first time I get a backlit remote control.
I tried both a 1TB 3.5″ HDD with an EXT-4 partition (and some bad sectors) and a 128GB 2.5″ SSD with two partitions (NTFS and EXT-4) in the SATA bay. The hard drive was not detected, but the EXT-4 of the SSD could be mounted and and I could play some video using "Local Media" option. Others had no problems with larger hard drives.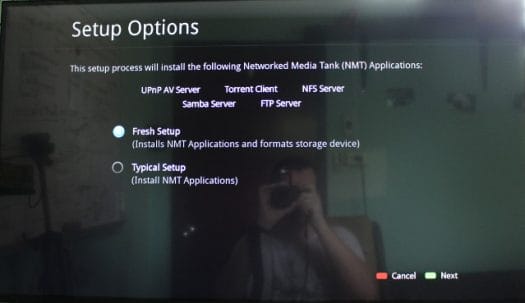 Popcorn Hour A500 can also be used as a NAS running UPnP AV, NFS, Samba, and FTP servers, and it can download torrents using a web based torrent interface using Transmission BT.
This brings me to the last part of this section before I carry on with video and audio testing. Cloud Media offers email support to customers, and well as a detailed user guide for Popcorn Hour A500, and their other devices. You can also check Network Media Tank forums to get some help.  I can also see the company has been working on firmware updates for their devices for well over a year, so you get a level of support that's higher than with most other manufacturers, which should be reassuring. However, I've also read a few people write they would never buy a Cloud Media device again, as they could not fix the bug(s) that affected them on older devices.
Video Playback and Audio Pass-through Testing
The first video samples are the easy ones from samplemedia.linaro.org, plus H.265 videos by Elecard:
H.264 codec / MP4 container (Big Buck Bunny) 1080p – OK
MPEG2 codec / MPG container 1080p – OK.
MPEG4 codec, AVI container 1080p – OK
VC1 codec (WMV) 1080p – OK
Real Media (RMVB), 720p / 5Mbps – RV8, RV9, and RV10 – Network Media app reports "No content found", as  .rmvb files are filtered out
WebM / VP8 – Network Media app does not show any file (only another directory), as .webm files are filtered out
H.265 codec / MPEG TS container – 1080p – OK
Exactly the same results as in VTEN. Then I switched to videos with various bitrates:
ED_HD.avi

– Audio only.
big_buck_bunny_1080p_surround.avi (1080p H.264 – 12 Mbps) – OK.
h264_1080p_hp_4.1_40mbps_birds.mkv (40 Mbps) – OK
hddvd_demo_17.5Mbps_1080p_VC1.mkv (17.5Mbps) – Could be smoother
Jellyfish-120

-Mbps.mkv

(120 Mbps video without audio) – OK
Most videos played fine over Ethernet, even the 120 Mbps one. I could also clearly notice that the video quality is superior to most Android TV boxes as the device appears to be able to clear some "white noise" on some videos, notably in the bottom right corner of the "birds" video, possibly with some clever post-processing performed with the SoC's VXP video engine.
I've checked audio pass-through capabilities with Onkyo TX-NR636 A/V receiver via HDMI and optical S/PDIF, and I've also tested PCM downmix for people who connect the device directly to the TV.
Video's Audio Codec
HDMI PCM downmix
HDMI Pass-through
optical SPDIF Pass-through
AC3 / Dolby Digital 5.1
OK
OK
OK
E-AC-3 / Dolby Digital+ 5.1
OK
OK
OK
Dolby Digital+ 7.1
OK
OK
Audio Formats Not Supported over S/PDIF
Dolby TrueHD 5.1
No Audio
OK
Dolby TrueHD 7.1
No Audio
OK
Dolby Atmos
No Audio
Dolby TrueHD 7.1
DTS-HD Master
OK
OK
DTS-HD High Resolution
OK
OK
DTS:X
OK
DTS-HD MSTR 7.1*
* TX-NR636 does not support DTS:X, so fall back to DTS-HD Master 7.1 is expected.
I've added Dolby Atmos and DTS:X since last year, but apart from that the results are exactly the same as with VTEN which I tested a year ago. The fact that they did not fix TrueHD downmixing is unimpressive.
Sintel-Bluray.iso and amat.iso (unencrypted Bluray ISOs) could play fine, and MPEG2 videos too. However, Popcorm Hour A500 does not support Hi10p (10-bit H.264) video, as all I got what a black screen and audio for the two anime videos I tried.
Popconr Hour A500 supports video output up to 3840×2160 @ 30Hz via HDMI 1.4 output, as well as 4K video playback for H.264 and H.265, as usual I tested several:
HD.Club-4K-Chimei-inn-60mbps.mp4 – OK, but not 100% smooth

sintel-2010-4k.mkv – OK
Beauty_3840x2160_120fps_420_8bit_HEVC_MP4.mp4 (H.265) – OK
Bosphorus_3840x2160_120fps_420_8bit_HEVC_MP4.mp4 (H.265) – OK
Jockey_3840x2160_120fps_420_8bit_HEVC_TS.ts (H.265) – OK
MHD_2013_2160p_ShowReel_R_9000f_24fps_RMN_QP23_10b.mkv (10-bit HEVC) – OK

BT.2020.20140602.ts

(

Rec.2020

compliant video; 36 Mbps) – OK
big_buck_bunny_4k_H264_30fps.mp4 – OK
big_buck_bunny_4k_H264_60fps.mp4 – Plays, but not very smoothly.
Fifa_WorldCup2014_Uruguay-Colombia_4K-x265.mp4 (4K, H.265, 60 fps) – OK. It's perfectly watchable by obviously plays at 30 fps during to hardware limitations.
Samsung_UHD_Dubai_10-bit_HEVC_51.4Mbps.ts (10-bit HEVC / MPEG-4 AAC) – OK
Astra-11479_V_22000-Canal+ UHD Demo 42.6 Mbps

bitrate.ts

(10-bit H.265 from DVB-S2 stream) –  Video OK, but no audio
暗流涌动-4K.mp4 (10-bit H.264; 120 Mbps) – Black screen only (normal since hi10p is not supported) and audio heavily saturated
Ducks Take Off [2160p a 243 Mbps].mkv (4K H.264 @ 30 fps; 243 Mbps; no audio) – Plays, but in slow motion.
That's not too bad, but the results are fairly similar to other devices that sell for a fifth of the price.
Finally I tried some 3D videos. My TV does not support 3D, but my A/V receiver is capable of detecting 3D MVC videos and shows a 3D icon:
bbb_sunflower_1080p_60fps_stereo_abl.mp4 (1080p Over/Under) – Plays but not smoothly
bbb_sunflower_2160p_60fps_stereo_abl.mp4 (2160p Over/Under) – Black screen + audio
Turbo_Film-DreamWorks_trailer_VO_3D.mp4 (1080p SBS) – OK
3D

-full-MVC.mkv

(Full-frame packed MVC 3D MKV) – Plays in 2D only
ISO-full3D

-sample.iso

(Full-frame packed MVC 3D ISO) – Plays in 2D only
Conclusion
Popcorn Hour A500 capabilities are quite similar to Popcorn Hour VTEN, but it's a little faster, features a SATA bay, and ships with a backlit infrared remote control. The video "smoothness" is comparable to what I get in Android TV boxes, but the video "quality" appears to be better in some videos, probably due to VXP engine and some post-processing. Audio quality should be better too, but I could not hear noticeable improvement. I don't quite have "musical" ears though…  The main downsides I experienced were that the player did not recognize my (old) HDD drive (SSD OK), and it also rebooted twice as I tested videos. It's also possible to setup PCH-A500 as a NAS server with UPnP AV, torrent client, NFS, SAMBA and NFS services. Another positive point is that Cloud Media provides support by email, decent documentation, and access to NMT (Networked Media Tank) forums as mentioned in the first section of this review.
Cloud Media sells Popcorn Hour A500 directly on their website for $269 plus shipping, and through resellers.

Jean-Luc started CNX Software in 2010 as a part-time endeavor, before quitting his job as a software engineering manager, and starting to write daily news, and reviews full time later in 2011.