Last year I wrote about Allo Sparky SBC Linux and Android development powered by Actions Semi S500 quad core Cortex A9 processor, which mostly differentiates itself from the competition by the many add-on boards for audio, VoIP, and IoT (WiFi+Bluetooth+Zigbee ). While most of development boards are manufactured in China, Allo company is based in India, and all boards are manufactured there, which could be a benefit to Indian readers who want to avoid potential custom issues with other boards.
The company has shipped me their complete audio development kit, and I'll first check out the hardware, before taking time to experiment with the kit in a few weeks or months…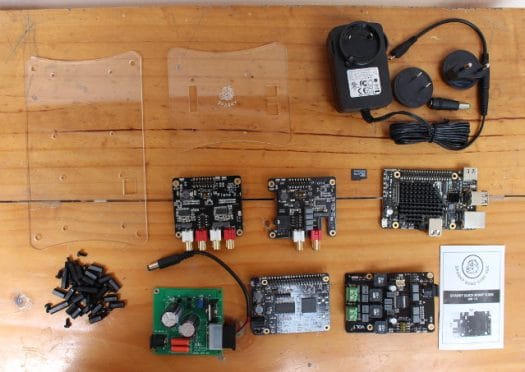 I could find 6 different boards in the kit, which I detailed below, as well as a 5V/3A power supply with AU and EU adapter,  a micro USB adapter, a micro SD card apparently pre-loaded with Ubuntu 12.04, a Quick Start Guide, and two Acrylic plates together with a screws and spacers set.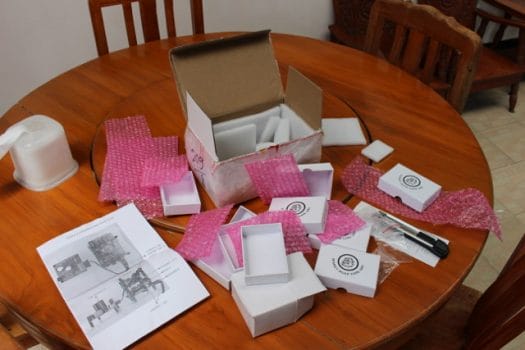 Everything was neatly packed in their own individual little packages, and an assembly guide was also provided.
Allo Sparky SBC
The brain of the system is Sparky SBC with Actions Semi quad core Cortex A9 processor with 1 or 2GB RAM, SD card, NAND flash and eMMC module storage options, HDMI and LCD display outputs, a camera connector, two USB 2.0 host ports, one USB 3.0 port, a Fast Ethernet RJ45 port, as well as a micro USB port for power, some buttons & LEDs, and an IR receiver.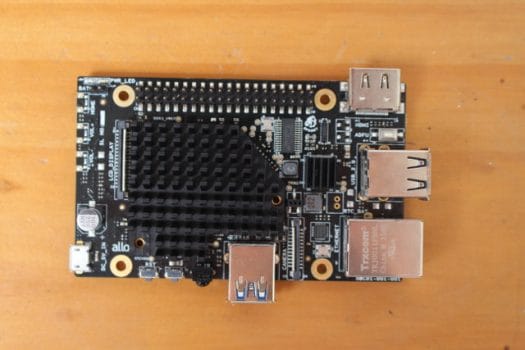 The processor and memory chips are covered by a large heatsink, and we'll find the usual 40-pin Raspberry Pi connector on the top of the board, while the bottom has a 50-pin Telecom connector for some other add-on board(s).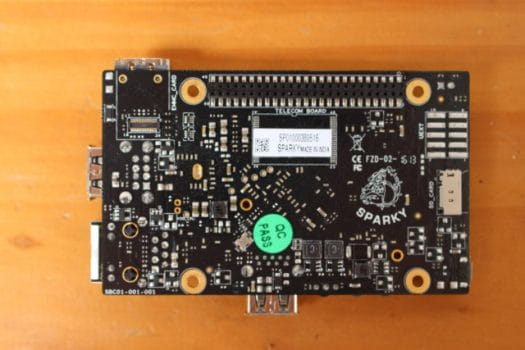 My sample does not include a NAND flash, but you'll notice the Hardkernel ODROID like eMMC module connector on the top left, and the micro SD card slot on the right. There's also an unpopulated UEXT connector used to access the serial console.
Piano Audio DAC boards
Two Piano audio DAC board were provided. Piano 1 comes with two RCA connectors and a headphone jack, and features Texas Instruments PCM5122 stereo audio DAC.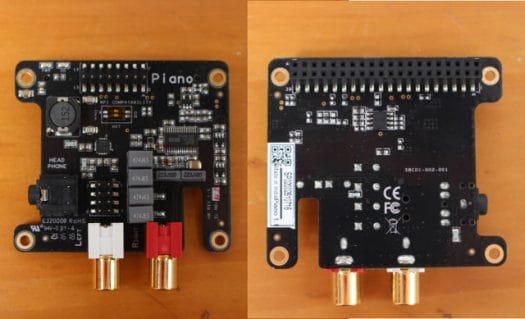 Piano 2.1, as its names implies, has been designed for 2.1 system with 4 RCA jack, two for Left and Right speakers, and two for one or two subwoofers. It features two TI PCM5142 stereo audio DAC's.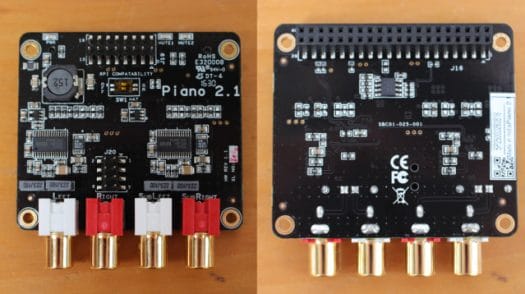 Allo VOLT Amplifier
VOLT is an amplifier board based on TI TPA3118D2 30-watt Class-D audio amplifier chip, and includes two terminals for the kind of speakers you'd use in home theater systems.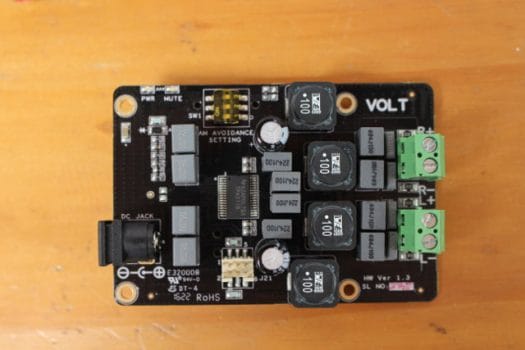 The bottom has two header to connect to one of Piano Audio DAC boards.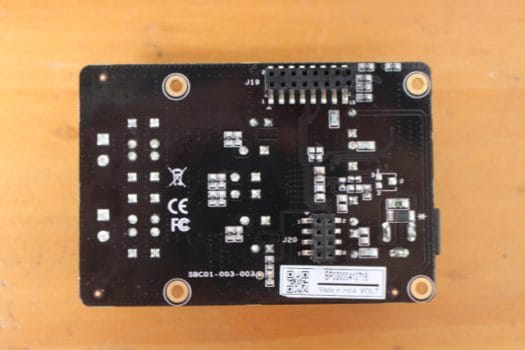 You'll find more technical details in Volt Brochure.
Allo Kali Reclocker Board
Allo Kali handle power with the power jack to use with the 5V/3A power supply. It includes a Lattice MachXo3 LCMXO3L-4300C PLD / FPGA with 4300 LUTs, 34 kbits distributed RAM, 240 kbits ESR SRAM, and two PLLs, as well as ISSI IS61WV25616EDBLL-10TLI 256K x 16 static ram with ECC.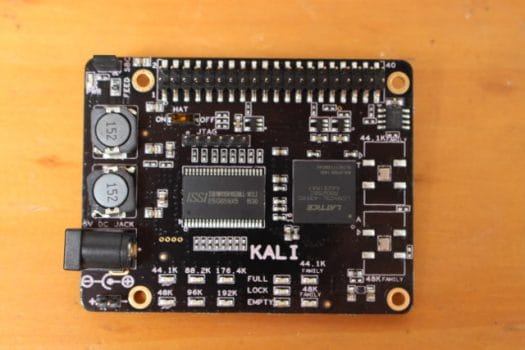 The JTAG header is soldered and easily accessible so if might be possible to reprogram the PLD.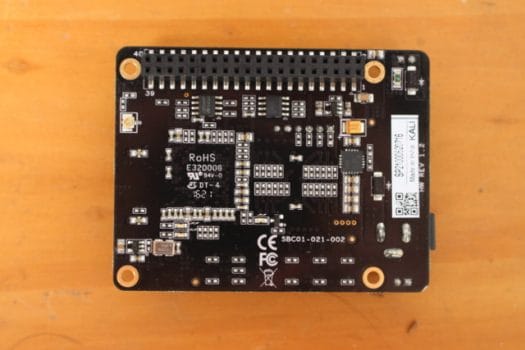 But what's a Reclocker for anyway? That's explained in Kali brochure:
Every SBC has a crystal that it used to send digital signals to your DACs.

The accuracy of this crystal is very important in how well the DAC will transform the digital signal into analog sounds. Simply put: a better crystal means a better sound! Most SBCs use a very cheap crystal with lots of jitter in order to save costs.

Furthermore, there are 2 kinds of frequencies for digital files: 44.1Khz (wave files) and 48khz (streamed music). Some SBCs (like RPIs) can output only 48Khz, so imagine the degradation of the sound that was recorded at a different frequency.

…

Talking about Kali:

First, it has a very low jitter NDK crystal feed by LDOs in series for ultra quiet power supply. Second, the FPGA will read the incoming stream, will buffer the DATA 0.7s while discarding the incoming clocks. Using the NDKs it will reclock the buffered data OUTSIDE the FPGA (since fpgas introduce about 200ps of jitter) and provide a MCLK/BCLK that is direct from crystal, providing a jitter-free (almost) to your DAC.

Meanwhile, it will clock the file using the correct crystal (there are 2), fixing the problems outlined in the beginning.
Allo CM Board
The last board is called Allo CM, which stands for capacitance multiplier.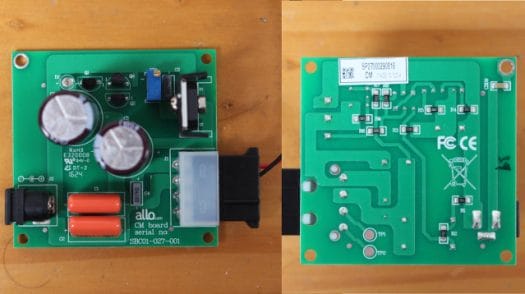 Wikipedia explains that a capacitance multiplier is "designed to make a capacitor function like a capacitor that is much larger", and a blog post explains in more details how "it's useful for filtering audio frequency noise (ripple) on power supply rails, for example in sensitive audio or RF circuits like VCOs".
Allo Sparky Audio Kit Assembly
Assembly is pretty straightforward with the provided sheet. You first need to connect Volt board to the top Acrylic plate, amking sure the speaker screws are easily accessible through the two holes, than connect one of the Piano board to the Volt, Kali reclocker to Piano, and Sparky to Kali.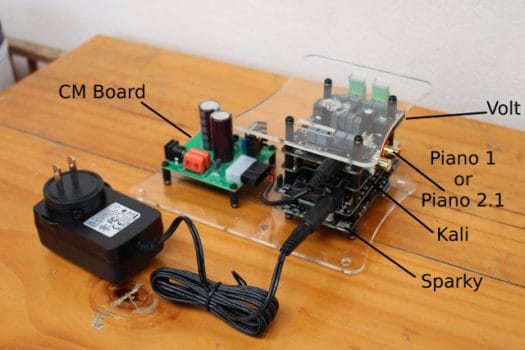 You can then faster the set of board to the bottom acrylic plate, and install the CM board too. Finally connect the CM board cable to Volt amplifier board (19V), as well as the 5V/3A power adapter to the power jack on Kali board.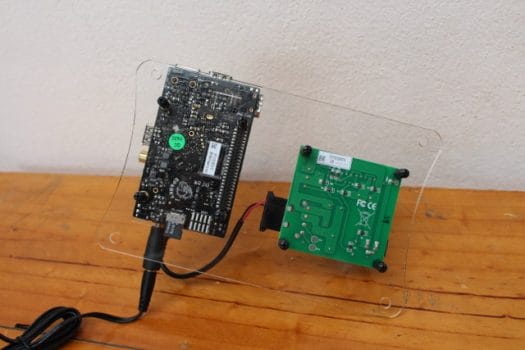 I don't have pricing nor availability info for the boards yet, but eventually you should be able to find more details on Allo.com products page. Allo Sparky and shields page is up with all boards, and pricing, e.g. Sparky board for $37, KALI Recloker for $69, Piano 2.1 HiFi DAC for $45, etc…

[Update: The second part of the review is now up @ Review of Allo Vana Player Linux HiFi Audio System with Max2Play, SqueezeBox and Kodi]

Jean-Luc started CNX Software in 2010 as a part-time endeavor, before quitting his job as a software engineering manager, and starting to write daily news, and reviews full time later in 2011.