OK the title might be a little over of the top, but within the last month or so, I've been a "victim" of three American companies' requests, via third parties, namely their customers or technology partners, never directly, to delete or amend the content of this blog. One which I believe is justified albeit not really necessary, and two are just ridiculous, with the latest one prompting me to write this post.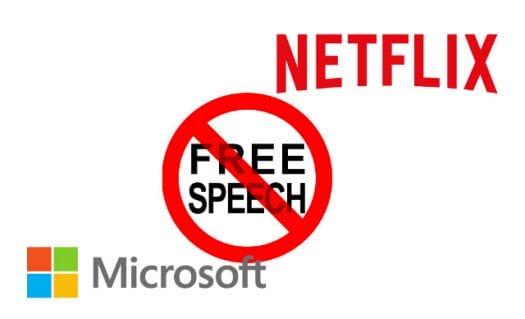 The first issue was about a post entitled "Allwinner A64 based Pine A64 and Banana Pi M64 Boards Can Now Run Windows 10 IoT Core", where I shared .ffu firmware file links that I found directly via a page on Microsoft Azure github about Banana Pi board. There were accessible without any EULA, or agreement. So The Internet being the Internet, where you can freely share links that don't break any sort of copyrights or promote hate, I added the links to my post, as well as a video showing the board with Windows IoT.
Two days later, I received an email from a company telling Microsoft had been asked them to ask me to "remove the ffu links from the article as MS are quite sensitive about publishing them" and "could you remove the video?". I reluctantly did it, since I've received DMCA requests from Microsoft in the past for allegedly infringing on their copyrights in that post, but the way Google words them, it's nearly impossible to find out why exactly. Google will normally comply with Microsoft request, so the page was removed from Google Search results, but funnily enough I can find it in Bing… On the bright side, there's a lawsuit against DMCA by the Electronic Frontier Foundation in progress… Who knows, this might also help terminate YouTube's "you're guilty until proven innocent" policy regarding fair use of copyrighted audio and video…
The second US company asking me to modify my content this month was Intel, against by proxy, through their customer. The post was "Intel Atom C3000 Denverton Processor Targets Low Power Servers", and a company contacted me to remove two pictures, and references to a specific company, as Intel had seen this was in conflict with an NDA. I got the picture and info from Anandtech, but I was explained that there's been a misunderstanding with Anandtech when they published the pictures, and I could see they had themselves removed the pictures, so I did it too as I felt it was a fair request. However, I still have a hard time understanding how those two pictures can negatively impact Intel business, and IMHO they'd better focus their efforts on more important things. It also took them around 50 days to report the issue…
Netflix was the third company asking me to remove content or even delete a post by proxy. The interesting part is that I did not have any input from any company involved when I wrote "MINIX NEO U9-H 4K HDR Amlogic S912-H Android TV Box Coming in October", as I got all my info from HDBlog Italia, except for one confirmation about the use of Amlogic S912-H processor. The post was written five days ago, and today I received an email by a third party asking me to remove the post. Wow, that's quite a request without explanation… So I asked why and whether I could amend part of the post instead, and I was told that Neflix was quite unhappy about my post because of the text in bold below:
One interesting point is that Widewine Level 1 DRM is supported, so some premium video streaming app will support HD and maybe 4K UHD. It does not mean Netflix HD/4K will be supported however, as this requires an extra agreement with Netflix, but it's still a step in the right direction.
It's quite a well known fact that Netflix HD and 4K does not work on all devices, and Netflix even have a list of working devices. It's quite hard to understand why this comment would become an issue, unless Netflix feels like it makes them look like the deliver a poorly supported service… Anyway, I changed the "inadequate" post by removing the text in bold, and wrote this post instead to make everybody happy 🙂

Jean-Luc started CNX Software in 2010 as a part-time endeavor, before quitting his job as a software engineering manager, and starting to write daily news, and reviews full time later in 2011.