I've already taken pictures and shown Antutu benchmark in the first part of Vernee Apollo Lite review, an Android 6.0 smartphone powered by Mediatek Helio X20 deca-core processor. Now that I've had time to play with the phone for over 10 days, I've ready to report my experience and write the second part of the review about performance, features, and issues I encountered with the phone.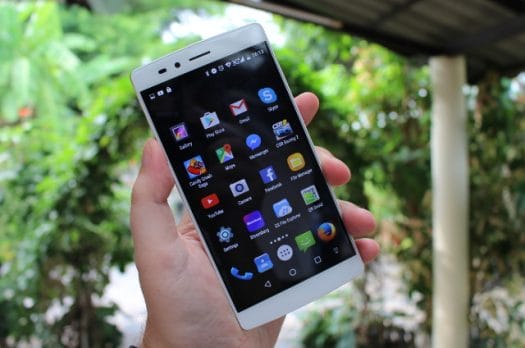 General Impressions
First, the build quality feel pretty good, the phone is light and slim. I've only called once or twice, and voice quality was good, but I mostly use my phone over WiFi to browse the web, check emails, watch YouTube, and access social networks. More rarely, I also use GPS while running and during trip, and play some games. To be honest, the first few days did not work as expected, as many apps would either be much slower than last year Iocean M6752 smartphone or failed to start entirely with the message "Unfortunately app has stopped". Fortunately, I eventually found that Android 6.0 Adoptable Storage was the source of those two issues, as when I installed a 32GB Class 10 micro SD card I used as storage device, and most app would install on the micro SD card, which has very good sequential speeds, but terrible random I/Os performance. The latter explain apps were not always responsive, and some apps simply don't like to be installed on an SD card – at least on Apollo Lite Android firmware – like Firefox or MAPS.me, while others lose the ability to access Widget such as Adsense. Once I found out about the issue, I moved most apps back to internal storage, and everything felt much faster, and I could run Firefox, MAPS.ME, and access Adsense Widget.
However, I have to say it's hard to really notice a big difference in terms of performance between my older Mediatek MT6752 octa-core Cortex A53 based Iocean M6752 phone, and Mediatek Helio X20 deca-core Cortex A72/A53 based Vernee Apollo Lite phone for most tasks, except for some 3D games, and handling large PDF files.
One big improvement over Iocean phone is the battery, since it's much bigger on Vernee Apollo Lite, and usually last well over 24 hours with 3 to 4 hours of active browsing and/or YouTube watching per day. Charging is much faster too, and while Iocean would take over 3 hours to charge, I can charge Apollo Lite in just one hour from about 10% to 100% thanks it is fast Pump 3.0 charger. Overnight battery discharge rate is however a little high with WiFi and 3G (calls) enabled, as the charge goes down between 20 to 25%, meaning if my phone was fully charged before going to bed, I'd only get 75 to 80% charge in the morning.
Once I found a workaround for the issues related to adoptable storage, I was very happy with the phone, although a better rear camera, and slightly more accurate GPS would have been a bonus.
Benchmarks: Antutu, Vellamo, and 3DMarks
I've reproduced Antutu 6.2.1 benchmark results for people who have not read the first part of the review.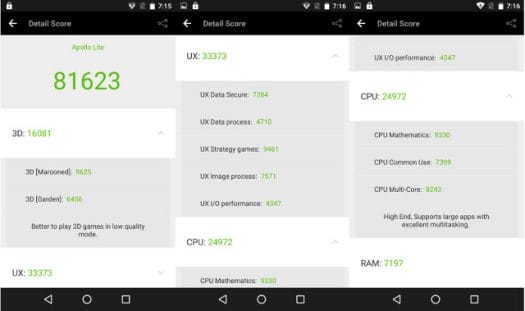 A comparison with other models reveals Apollo Lite is right between 360 N4 smartphone (also based on Helio X20 processor) and iPhone 6 performance.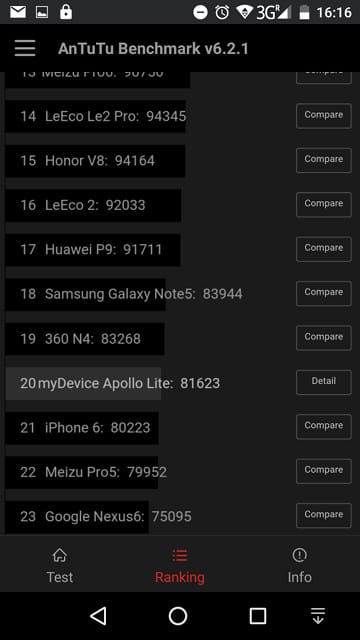 Vellamo benchmark shows Vernee Apollo Lite performance is roughly equivalent or even a little better than Samsung Galaxy S6 with Exynos 7420 Octa processor, or LG G Flex 2 with Qualcomm Snapdragon 810 processor.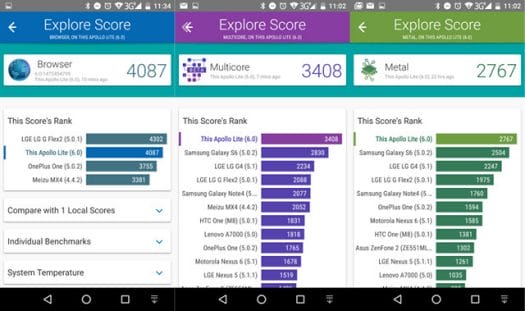 So far, I've always tested graphics performance using 3Dmark Ice Storm Extreme in my mobile and TV box reviews, but the ARM Mali-T880 GPU found in Mediatek Helio X20 SoC is a bit too fast for the task, and the score maxed out, despite frame rate not always topping at 60 fps.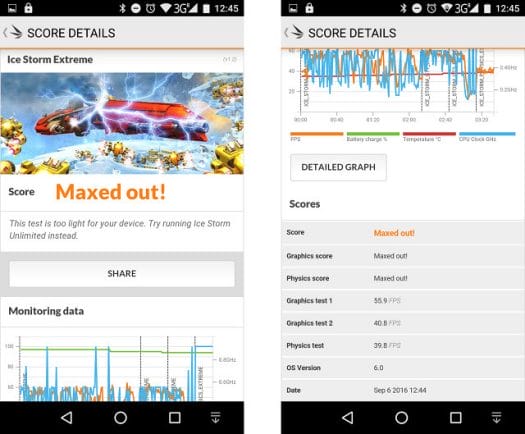 So instead I ran Ice Storm Unlimited, where Apollo Lite score 15,637 points, which almost places it in the top 200 Android & iOS devices for this benchmark.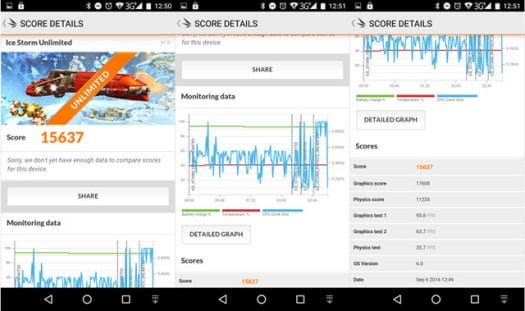 The GPU also supports 3Dmark Sling Shot, the reference benchmark for OpenGL ES 3.1, and the smartphone got 995 points. Since there are less OpenGL ES 3.1 capable devices, or simply because this benchmark is less popular, Apollo Lite would be ranked in 68th position among phones powered by Qualcomm Snapdragon 810 processor.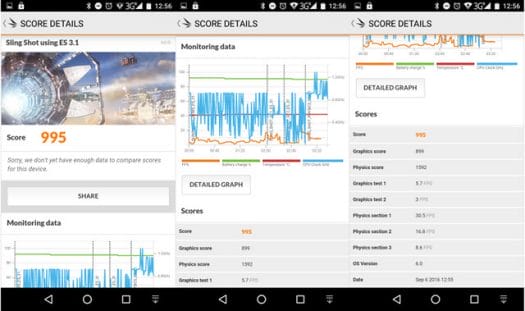 Storage and Wi-Fi Performance
A1 SD Benchmark app was use to test the performance of the internal storage (32GB eMMC flash), and my micro SD card, and Vernee seems to have gone with a cheaper eMMC flash only capable of 36.25MB/s read speed, and 12.05 MB/s write speed. The Class 10 SD card I used has much higher performance with 92.76MB/s and 55.92 MB/s write speed. However, you must remember those are sequential speed tests, and for app IOPS also matter a lot, and based on my experience app installed in internal memory run much faster than the one installed in the SD card, so that's something to keep in mind.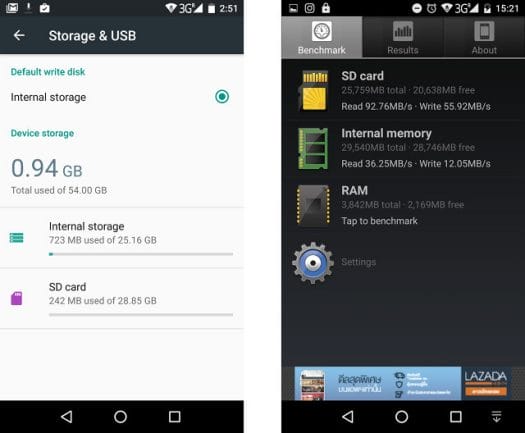 You can see from the chart below with mobile devices (smartphones / tablets) with a green dot, that Vernee Apollo Lite does not exactly have the fastest storage.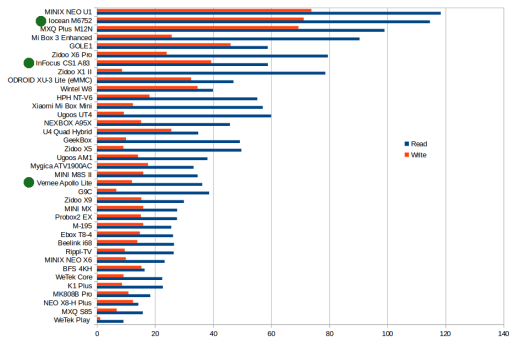 I transfered a 278 MB file over SAMBA using ES File Explorer three times to test 802.11n @ 2.4 GHz and 802.11ac performance, and I placed the smartphone in the exact same location where I usually review TV boxes and development boards in order to have results that can be comparable.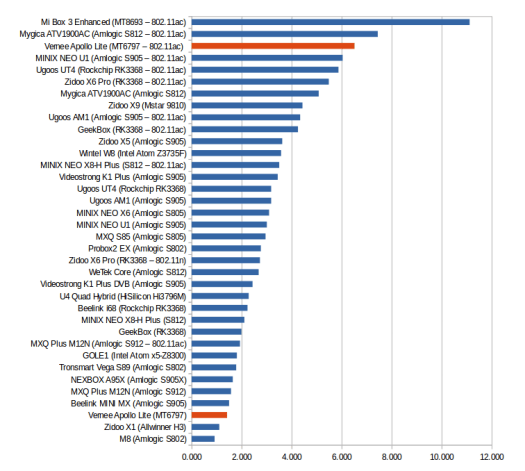 The results are quite surprised because Vernee Apollo Lite has both one of the worst WiFi performance with 802.11n @ 2.4GHz averaging 1.4 MB/s, and one of the best 802.1ac performance averaging 6.5 MB/s in my environment. Download and upload speeds are similar with 802.11n, but there's an asymmetry with 802.11ac, as downloads average 9.5 MB/s, and uploads only 5 MB/s.
Rear and Front Facing Cameras
Rear Camera
I've taken photos with different focus points, and light conditions using "high quality" settings with renders 5376×3024 resolution JPEG images with quality set to 95. You can find 26 photo samples in the linked Google Photo album.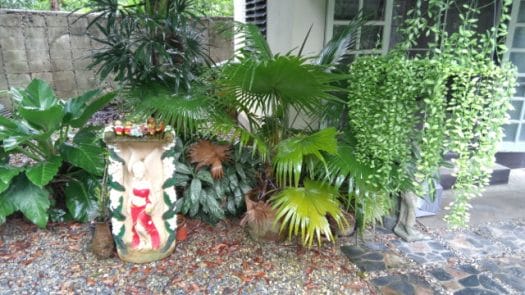 The way the camera focus works is a little weird, as it only relies on focus before you press the button, and once you press the button, it assumes focus is already done, and shots immediately. In my case, this led to many pictures looking a little blurry or washed out due to a lack of good focus.
I also shot two videos using the default settings (medium). The first one during day time.


Video details: 3gp container, H.264 video codec @ 17087 kbps, MPEG-4 AAC stereo @ 48,000 Hz / 12 kbps, 1920×1080 resolution, 30 fps.
The second one during night time.

Video details: 3gp container, H.264 video codec @ 8250 kbps, MPEG-4 AAC stereo @ 48,000 Hz / 12 kbps, 1920×1080 resolution, 14 fps.
So overall, the rear camera is clearly not the strong point of this smartphone.
Front Camera
I've also take a few pictures with the front camera, which can be found in a Google Photo album. The images native resolution is 2560×1920.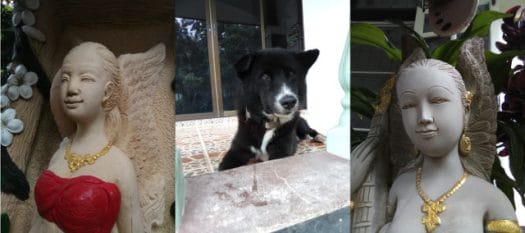 I also made a 1h30 video call with Skype using the front camera, and the quality was perfectly satisfying.
Video Playback
I manually installed Antutu Video Tester 3.0 app in the phone in order to evaluate video playback, and Apollo Lite got 849 points, which remains acceptable, but still not reaching the best devices that achieve a little over 1,000 points.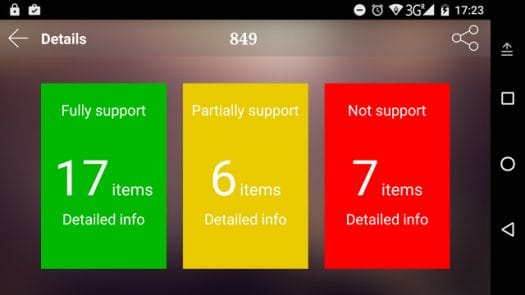 The partially supported videos were so, because of failed audio playback of AC-3, DTS, and Flac audio.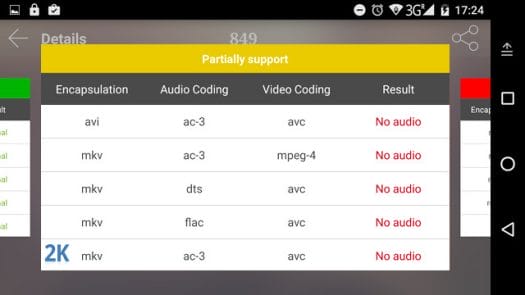 Seven videos completely failed to play, but it's hard to pinpoint the exact reason since for example, MKV files could be played, as well as videos with AVC codec, but a particular MKV + AVC video failed to play at all.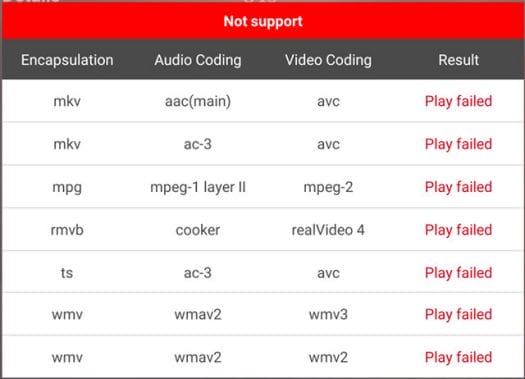 Battery Life
Vernee Apollo Lite battery is the most significantly improvment over my previous phone. The large 3,180 mAh battery allows for well over 24 hours of use, with my typical use case being 3 to 4 hours a day browsing the web, watching YouTube videos, and checking emails. My previous phone, Iocean M6752, would barely last from morning to evening, but not quite reaching bed time.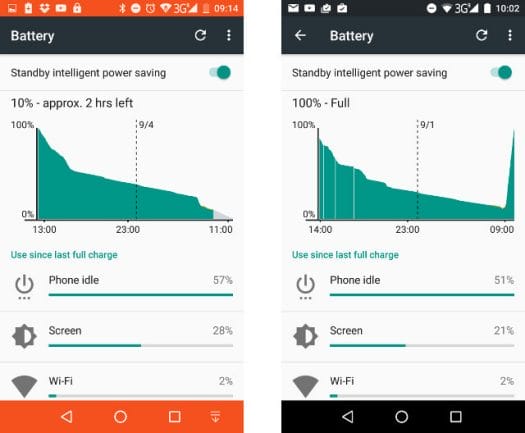 Another big improvement is that charging from basically 0% to 100% just takes one hour, while Iocean M6752 would take 3h30 to charge to 100% (one hour to 90%) while new, and 18 months, it's even slower to reached an acceptable charge level.
In order to give a more formal evaluation of battery life, I ran LAB501 Battery Life app's web browsing, video playback (720p), and gaming tests. I started from a full charge until the battery  level reached about 15%, with Wi-Fi & cellular (3G, no data) enabled, and brightness set to 50%.

Vernee Apollo Lite results
Browsing (100% to 15%) – 467 minutes (7h47).
Video (100% to 15%) – 396 minutes (6h36), or about 3 to 4 typical movies.
Gaming (100% to 15%) – 261 minutes (4h21)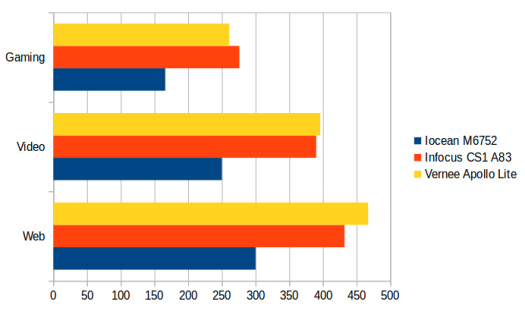 Vernee Apollo Lite's 3,180 mAh battery, compares to the 2,300 mAh battery in Iocean M6752 smartphone, and 3,550 mAh battery in Infocus CS1 A83 7″ tablet.
The only real downside about battery life is that "Phone Idle" may consume a little too much, as the battery level drops between 20 and 25% overnight. Some members of Vernee complained about this since "OTA-2" firmware update, so a subsequent firmware update may improve this.
Miscellaneous
Bluetooth
I could pair the phone with other Android devices, and transfer photos and files between them. Bluetooth LE works fine too, as I could retrieve fitness data from my Bluetooth 4.0 smart fitness band using Smart Movement app. I also used a Bluetooth 3.0 audio headset successfully.
GPS
GPS fix is super fast, as test with GPS Test, and maps app such as Google Maps or MAPS.ME. Accuracy is not perfect however when using Nike+ Run Club, the new version of Nike+ Running. The screenshot above shows the map and running path as shown from the app when WiFi and GPS "High accuracy" are enabled, and when only GPS device is used with WiFi disabled.The latter was tested since I've previously found out that disabling WiFi could greatly improve GPS accuracy.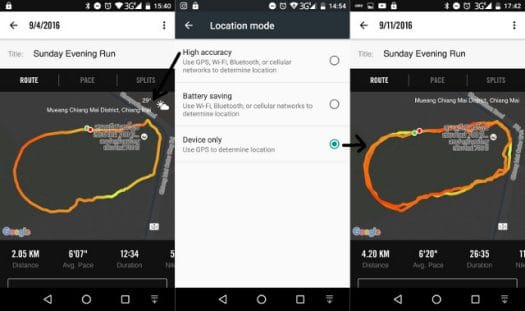 I follow a road around a stadium, so it should be a nice regular ellipse like shape, and it's not perfect both in "High accuracy" mode with GPS , WiFi, and Cellular network, and in "Device only" mode with WiFi disabled. It's basically the same. The undulations are about 5 to 15 meters which may be within GPS accuracy (TBC).
One problem I have with Nike+ Run Club is that the screen will turn off after 30 seconds (or whatever settings are set in Android), while the old app Nike+ Running had no such issues. I've worked around the issue by setting Settings->Display->Sleep to 30 minutes in Android settings before I go for a run.
Gaming
Candy Crush Saga, Beach Buggy Bleach, and Riptide GP2 all played very smoothly as expected with an ARM Mali-T880 GPU. So I tried a more demanding 3D racing games with CSR Racing 2, and again it felt the game was rendered at 60 fps, or close to this framerate.
Others
Multitouch app reports the touchscreen supports 5 touch points. The smartphone looks like it has stereo speakers since it has two sets of holes on the bottom side. However, I can mute the phone, by covering one of the hole… I'd say audio quality through the speaker is only average, and I recommend using headphones whenever possible, or external speakers. I also find myself often muting the phone inadvertently by placing my thumb right on the speaker location. It would have been much better to place the speaker on the back of the phone instead.
Video Review
If you'd rather see the smartphone in action, I've shot a video showing some of the settings, benchmark results, the camera function, GPS fix speed, gaming with Riptide GP2 and CSR Racing 2, handling a large PDF, and show there are no stereo speakers, but only one speaker.
Conclusion
Vernee Apollo Lite has good firmware, fast and stable (after I moved apps to internal storage), with performance similar to Samsung Galaxy S6 or iPhone 6 according to benchmarks, 802.11ac performance is one of the best I've seen, and the battery life is much better (~ 24 hours) and charging times much shorter than my previous Mediatek phone.. However it's not quite perfect, as the camera does not always deliver pretty pictures, which has probably more to do with the firmware than the hardware itself, the company has gone cheap with the eMMC flash, 2.4 GHz 802.11n performance is poor, despite being stable,
PROS
Fast Mediatek Helio X20 (M6797) deca-core processor
Plenty of memory (4GB RAM)
Good 1920×1080 display
Excellent Wi-Fi 802.11ac performance
Outstanding gaming performance
Long battery life, and short charing time (~1 hour)
Fast GPS fix, and relatively accurate
OTA firmware update support
CONS
Photos taken with the rear camera are not always very clear, with what looks like an auto-focus issue.
4K video recording is supported by Helio X20, but not implemented in the current firmware.
Adoptable storage option with micro SD card may cause problems with apps crashing or losing features like widget support.
Poor WiFi performance while using 802.11n @ 2.4 GHz (with my router)
eMMC flash with average performance leading to longer boot time (~35 to 40 seconds) and app loading times (CSR Racing 2 feels especially slow to load races)
The back of the phone gets rather warm when running benchmarks or playing games.
Mono speaker only, and quality is just average. It's also poorly placed on the bottom side of the phone where it is easy to cover it up.
Tomtop kindly sent Apollo Lite smartphone for review, and if you are interested in the phone, you could consider purchasing it from them for $209.99 including shipping with ApolloLite068 coupon. There are also several other sellers offering the phone including GearBest, GeekBuying, eBay, and Aliexpress for $227.99 and up.

Jean-Luc started CNX Software in 2010 as a part-time endeavor, before quitting his job as a software engineering manager, and starting to write daily news, and reviews full time later in 2011.