Broadlink MP1 is an inexpensive ($20) power strip with four international sockets that can be controlled over WiFi. Since I was interested in finding out how the power strip was designed internally, I asked GearBest whether they could send a sample for evaluation, which they did, and I got it today. So I'll first check the device, and hardware design, before trying it with the Android app.
Broadlink MP1 Unboxing
I don't have much to say about the package, it's just a bland white box with Broadlink logo.

The bottom of the package is useful however, as it contains a sort of user guide in Chinese together with the specifications. I could not find any mentions of CE/FCC/CCC (for WiFi) or UL/TUV (safety) certifications on the package.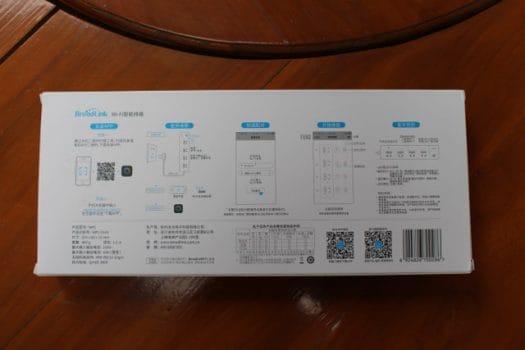 There's no more information inside the box, except what looks like a warranty card in Chinese.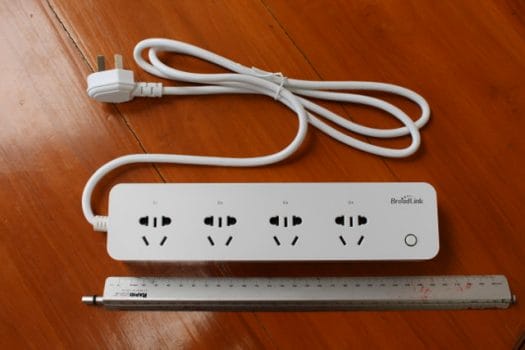 The power strip itself has four multi-standard sockets, a power button, and a 1.5 meter lead with a Australian 3-prong plug. Spacing between each socket is a good 5 cm as advertised.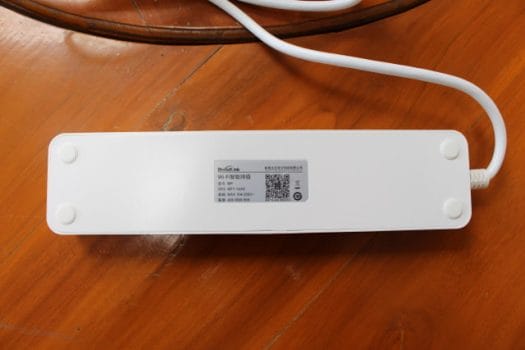 The bottom on the power strip includes some information including the model number (MP1-1K4S), maximum current and voltage (10A/250V), and a QR core linking to a QQ page redirecting to WeChat app in Google Play Store, so I did not try further…. The device is made by Hangzhou GuBei Electronics Technology.
Broadlink MP1 Teardown
We can open the device by removing the four rubber pad, and loosening 4 screws, as well as an extra screw placed right on the QR code.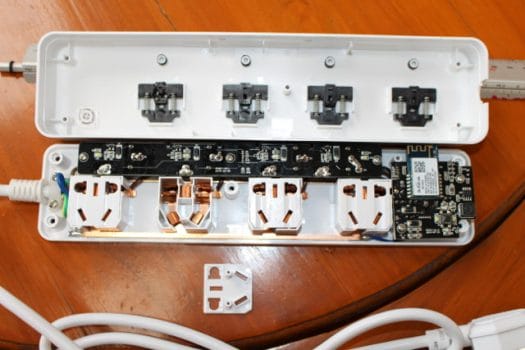 I'm not the best person to evaluate the design of this type of product, but I can see three wires including the ground are connected, the parts carrying the mains appear to be large enough, but I don't see any type of fuses, which might be suitable in that sort of thing. You may want to check out the comment section, as hopefully more knowledgeable people may give their input. The long board is the really board, and the square board is the brain of the design with the WiFi module.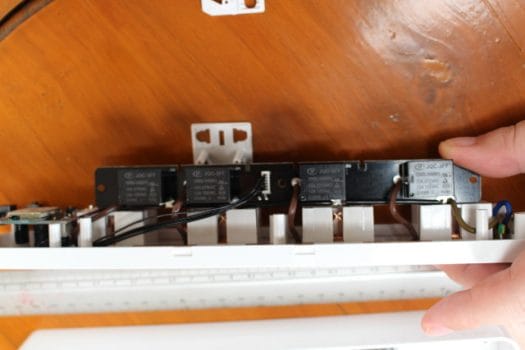 Four JQF-3FF 12V relays supporting 10A @ 277VAC / 12A @ 125VAC are used to control the sockets. A cable with 4 GPIOs (R1 to R4), GND, and 12V signals is connected between the relay board and WiFi board.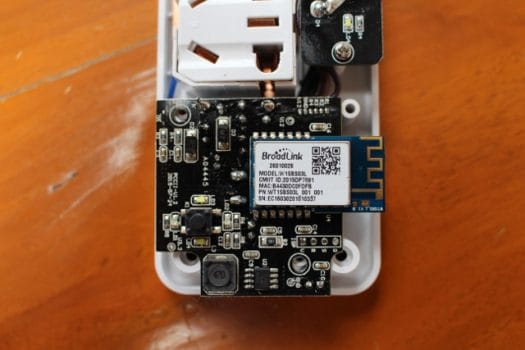 The board (PCCII-U1-2) includes a Broadlink WiFi module, the power button, two LEDs, and an unpopulated "GSRV" header to connect an  ISP programmer. The small chip on the bottom of the pic is XLSemi XL1509 DC-DC converter.
I can't find specific information about W1SBS03L WiFi module, except through its CMIIT ID, a product ID assigned by the China Ministry of Industry and Information Technology to identify wireless products in the Chinese market. The aforelinked website indicates the module operated in 2400-2483.5MHz frequency range, emits less than 20dBm (EIRP), occupies less than 40MHz bandwidth, and its emissions are inferior than -30 dBm. What I could not find it which chip that module is using.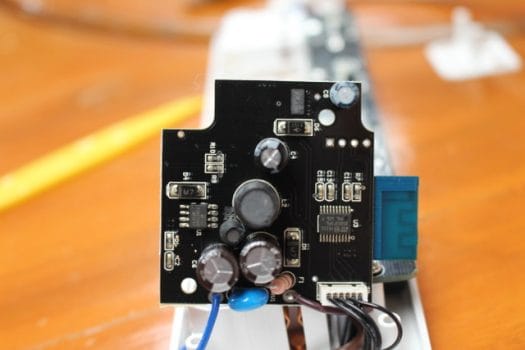 The bottom of the board has two more small ICs: STMicro STM8S003F3P6 8-bit MCU, and MP157 regulator.
Broadlink MP1 Power Strip Review
I've also tried the power strip. The first step is to scan the QR core on the package, to install the same e-Control app used on Broadlink SP2, or other Broadlink WiFi devices for home automation.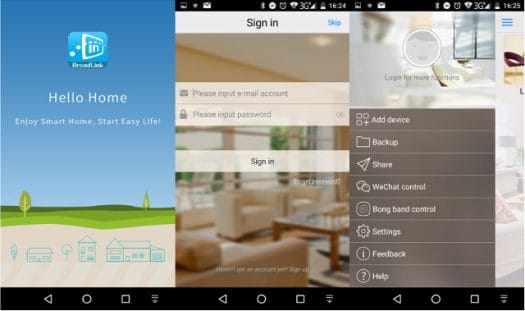 After the welcome screen, you'll be asked to register or sign-in, but simply select Skip on the top right. If you want to control the plug over Internet, instead of just your local network, you may have to register however. You'd then have to tap on the three blue bars icon to bring the left menu, and select Add device.
At this stage I also connect the power strip, and the power button LEDs will start blinking regularly meaning the strip is ready for configuration.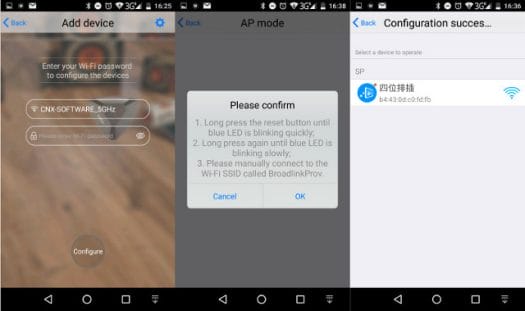 You'll be presented with a first window asking you to enter your WiFi password, but when I tried to do this it failed each time. Instead tap on the top right Setup button and switch to AP mode. Click OK in the the second screen shown above, select your access point, enter your password, and you should be able to find the power strip pre-named with a name in Chinese (4-socket power strip).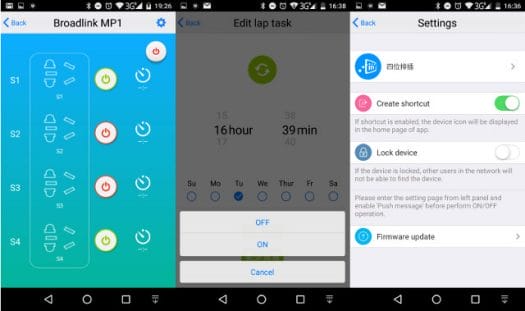 You'll be able to turn on or off individual sockets, set timers to turn on or off specific a socket, control all sockets with a single button, or go to settings to change the power strip name, lock the device so that only your device can control the socket, or update the firmware. If you don't have your smartphone with you, it's also possible to turn on or off all sockets by pressing the power button on the unit.
I've scanned the power strip for both UDP and TCP port with nmap, which reports all TCP ports are closed, and all UDP ports are open|unfiltered.
I'd like to thank GearBest for sending Broadlink MP1 for review, and if you're interested you could consider buying the device from them for $22.39 shipped. Banggood used to have a promo selling it for just under $20, but the price is now $22.79. You'll also find Broadlink WiFi power strip on Aliexpress, but the prices are normally around $25 or greater.

Jean-Luc started CNX Software in 2010 as a part-time endeavor, before quitting his job as a software engineering manager, and starting to write daily news, and reviews full time later in 2011.