FriendlyElec (previously FriendlyARM) launched NanoPi NEO and then NanoPi NEO Air board as respectively Ethernet and WiFi/Bluetooth connected boards for IoT applications. But so far, there was no ecosystem around the board, you had to use your own sensor modules, and write your own software to control them. This has now changed with the launch a BakeBit Starter Kit with twelve sensor modules, a NanoHat Hub add-on board designed for NanoPi boards, as well as BakeBit Library to control the hardware.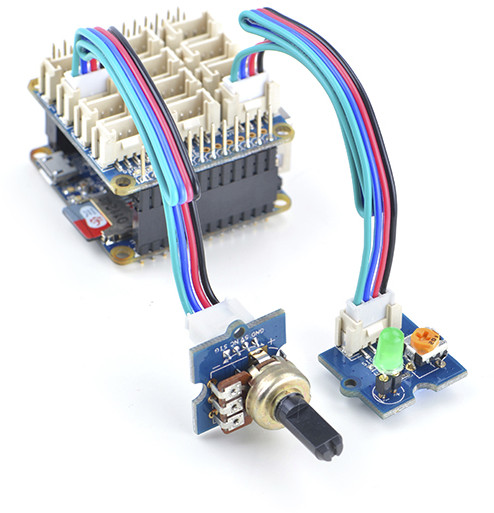 The NanoHat Hub plugs into the two NanoPi NEO headers and provide 12 headers with 3x I2C interfaces, 3x analog interfaces, 2x UART interfaces, and 4x digital interfaces among which D3 and D5 support PWM, compatible with SeeedStudio Grove modules. You then have a choice of 12 modules to connect to the NanoHat Hub:
OLED Module
Ultrasonic Module
Green LED Module
Red LED Module
LED Bar Module
Rotary Angle Sensor Module

Joystick Module
Sound Sensor Module
Button Module
Light Sensor Module
Buzzer Module
Servo Module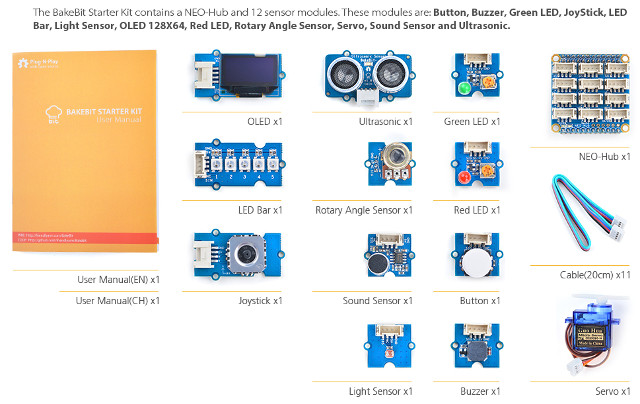 But now that you have your hardware setup with multiple module, you still need to program the thing, and that's where BitBake library, based on Grove Pi, comes into play, as it allows you to program the module easily with Python programming. More details can be found in the Wiki for BakeBit NanoHat and modules.
BakeBit Starter Kit is now sold for $29.99 (promotion), but if you already have Grove modules, you could also simply purchase NanoHat Hub for $12.99. Bear in mind that Chinese New Year is around the corner, so any order passed after January 24th and beyond, will be processed after the holidays around February 6th. [Update: The company has also released a $9.99 NanoHat PCM5102A audio board for NanoPi Boards]