Atomo is a modular electronics protyping system comprised of four elements: Control, I/O, Power, and Connector, with the PCBs for each category color-coded with respectively red, blue, green, and black. The connector board connects power, I/O and control(ler) boards together in a way that's supposed to be neater than most hand made prototypes.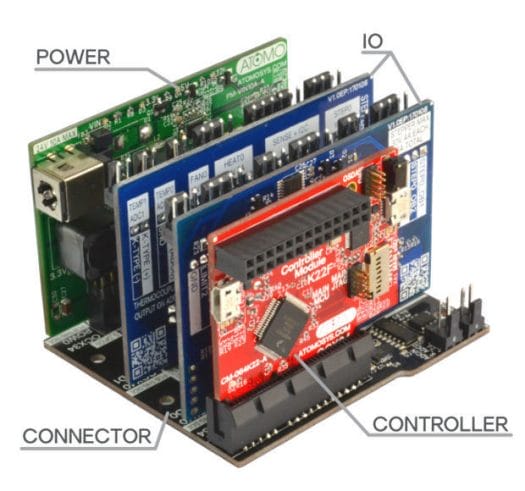 The whole ecosystem includes 15 different boards:
Controllers with 26-pin Raspberry Pi compatible header

Connectors

8 IO Module Connector (GM_M8P2_A) – Dim: 145mm x 100mm; power up to 40V @ 64A
4 IO Module Connector (GM_M4P1_A) – Dim: 71mm x 100mm; power up to 40V @ 32A
2 IO Module Connector (GM_M2P1_A) – Dim: 71mm x 65mm; power up to 40V @ 16A

IO Boards

Single Stepper Driver with Sensing IO Module (IO-001ST1-A)
Triple Stepper Driver with Limits IO Module (IO-002ST3-A)
Single Stepper and Heater Driver with Limits and Dual Temp (Thermistor + Thermocouple) IO Module (IO-003ST1TC1-A)

Power Boards

1X ATX Power Module (PM-ATX1X-A) for 1 ATX power supply with support for 3.3V, 5V, 12V plus a higher voltage up to 40V @ 32A
2X ATX Power Module (PM-ATX2X-A) for 2 ATX power supply with support for 3.3V, 5V, 12V plus a higher voltage up to 40V @ 64A
10A 5.5mm Barrel Plug Power Module (PM-VIN10A-A) – Input from 15V, 2A up to 24V 10A. Output: 12V, 5V, and 3.3V
They also have one expansion module with USB input & UART headers, a USB port, an Ethernet port, and a 26-pin header, which you can use if you don't connect the controller board to a Raspberry Pi.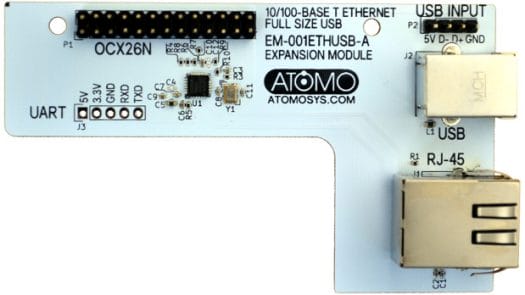 So now, you have to decide about your project's power and IO requirements, select the boards, and put it all up together.  That's what it looks like when the Raspberry Pi comes into play together with four IO modules and one ATX power board.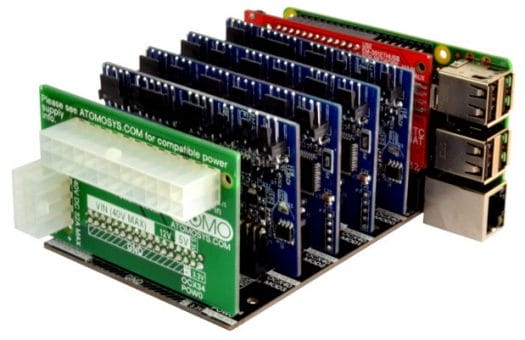 Now you'll need to program the NXP Kinetis based controller board using  KDS and MCUXpresso, with low-level drivers using DMA provided by the developer, as well as board profiles with standard pin and clock configurations. ARM mbed compatibility, and RTOS integration are also planned for the future.
The video below introduces Atomo ecosystem, and shows a project with four LED strips.


Atomo has recently launched on Indiegogo, and the developer aims to raise at least $5,000 to fund mass production. Rewards start at $19 for the 2 IO controller board, and up to $48 for the 8 IO controller with the expansion board. The IO, power, and connector boards are not offered through Indiegogo – no wonder the campaign has not raised that much so far -,  but a 10% coupon is included with all perks to purchase them on Atomo Systems online shop.
While Atomo Systems is a one person company, but the project has "Arrow Certification" meaning this campaign has a working prototype that has been certified by Arrow Electronics, so hopefully project failure due to technical or manufacturing troubles is less likely. Shipping is free worldwide, and delivery is scheduled for June 2017.

Jean-Luc started CNX Software in 2010 as a part-time endeavor, before quitting his job as a software engineering manager, and starting to write daily news, and reviews full time later in 2011.