NComputing RX300 is a thin client based on Raspberry Pi 3 board that will allow to remotely run Windows and Linux operating systems from a much more powerful server, and Raspberry Pi 3 mostly handling the display, and connection to hardware like USB keyboard and mouse. The company has me sent a review sample for evaluation, and I'll start by checking out what I received, and the hardware design of the device.
NComputing RX300 Thin Client Unboxing
I was asked whether I could test dual display, and then I had to choose between a VGA adapter or a DVI adapter. I selected the former, and I received both RX300 thin client, and a USB to VGA secondary adapter with its USB cable.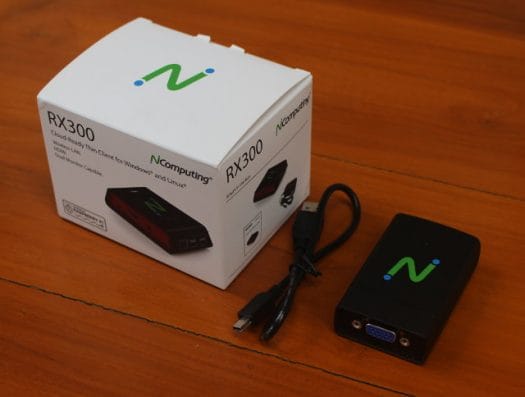 We'll find the thin client, a 5.1V/2.5A power adapter with a US plug adapter, and a multi-language quick installation guide in the package.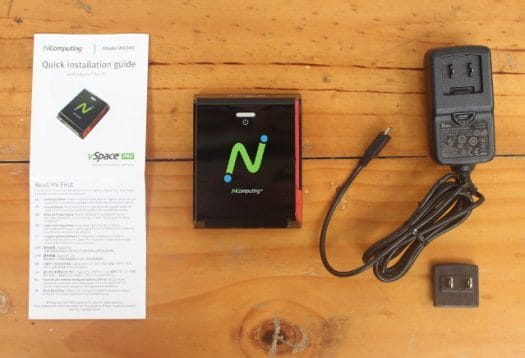 The enclosure is really cute, and expose most Raspberry Pi 3 port with the four USB 2.0 connectors, Ethernet, HDMI and AV ports, as well as a micro USB port for power.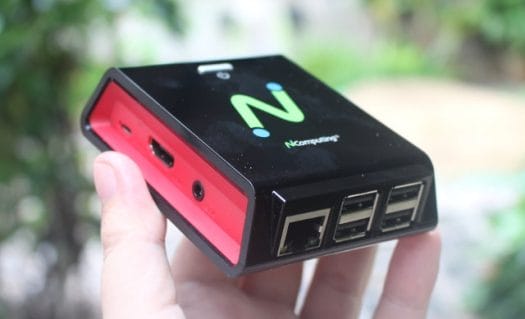 The only thing that's not accessible is the micro SD card, but for this particular device it's not really needed, since it's designed for one and only purpose: being a thin client. The opening (close to my thumb) on the other red side should be the Kensington lock hole.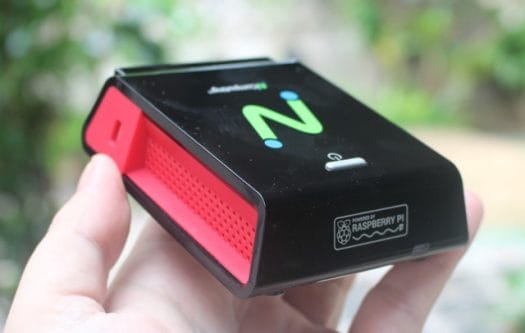 The power button is located on the top of the case, and the power / network LEDs can be seen through a transparent plastic bit.
NComputing RX300 Teardown
Most people won't need to open the case, but in case you find out you don't need a thin client after all, you could always re-use the Raspberry Pi 3 board for other projects.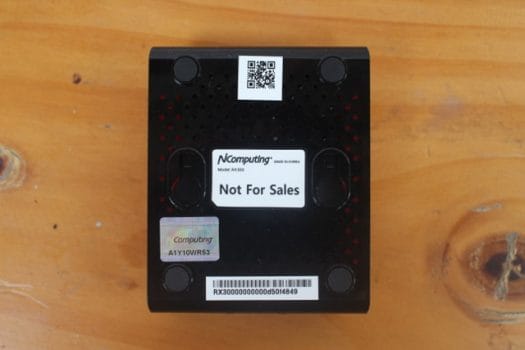 As a side note, the bottom of the enclosure allows for wall-mounting, and the user guide mentions an optional VESA mount is for sale, so you could hook the thin client right behind your monitor or TV. There are four rubbers pads, but only the top right in the photo above hides a screw, but there's another hidden under NComputing's authenticity? sticker.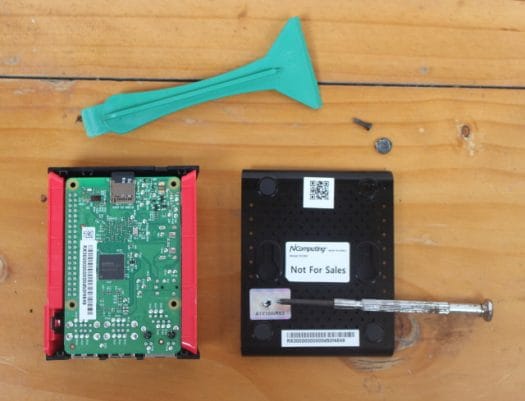 Piercing though that sticker most probably void any warranty you may have had for the device. You'll also need a plastic tool to unclip the bottom part of the enclosure. As expected, we'll find a Raspberry Pi 3 board inside with an 8GB Sandisk UHS-1 micro SD card pre-loaded with NComputing software. We can take out the board by removing the two red sides, and gently pulling it out as it is inserted into a small add-on board use to add a button to the design.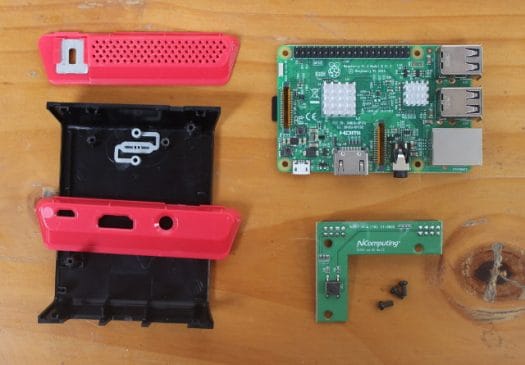 The Raspberry Pi 3 board is also fitted with two heatsinks on the processor, and the USB Hub / Ethernet bridge controller to ensure smooth operation under heavy load and/or high ambient temperature.
That's all for the hardware part, and the next step will be to install vSpace Pro 10 server on my computer, and connect to it with RX300 to remotely use the power of my computer. NComputing RX300 is supposed to sell for $99 with one-year connection subscription to vSpace Pro 10 and a 6-month trial of vCAST streaming technology, but so far I could only find it for ~$150 and up on sites like Newegg and eBay. The product is also listed on Amazon US, but currently unavailable.
[Update from the company about pricing and availability:
RX300 comes with either 1-year bundled license or 3-year bundled license. The $99 MSRP for RX300 is for the one that comes with 1-year bundled license, and the one you saw on NewEgg is based on a 3-year bundled license therefore higher price.

Our distribution is mostly based on channel partners as they have the reach to local education and SMB customers worldwide, and direct online sales has not been our core emphasis. However, we plan to have RX300 listed on Amazon starting in September for the U.S market.
]

Jean-Luc started CNX Software in 2010 as a part-time endeavor, before quitting his job as a software engineering manager, and starting to write daily news, and reviews full time later in 2011.