MINIX launched NEO Z83-4 Cherry Trail mini PC last year, but the company has now launched NEO Z83-4 Pro, an updated version with a slightly faster Atom X5-Z8350 processor, Windows 10 Pro (instead of Home), and a a VESA mount kit. I've already checked the hardware in the first part of the review, so today I'll report my experience with Windows 10 Pro.
Windows 10 Home vs Windows 10 Pro
My main computer runs Ubuntu 16.04, and I'm only using Windows 10 during reviews… But so far all other mini PCs I tried came with Windows 10 Home, and NEO Z83-4 Pro is my first Windows 10 Pro computer. So I had to educate myself, and Microsoft website has a comparison between the two versions of Windows 10. Windows 10 Pro supports all features of Windows 10 Home, plus the following:
Security

Windows Information Protection – Formerly Enterprise Data Protection (EDP), requires either Mobile Device Management (MDM) or System Center Configuration Manager to manage settings. Active Directory makes management easier, but is not required.
Bitlocker – Full disk encryption support. Requires TPM 1.2 or greater for TPM based key protection. More details here.

Business – Management and deployment

Group Policy
Enterprise State Roaming with Azure Active Directory – Separate subscription for Azure Active Directory Premium required
Windows Store for Business – Available in select markets. Functionality and apps may vary by market and device
Assigned Access
Dynamic Provisioning
Windows Update for Business
Take a Test – app in Windows 10 to create the right environment for taking a test (education)

Windows Fundamentals

Domain Join
Azure Active Directory Domain Join, with single sign-on to cloud-hosted apps – Separate subscription for Azure Active Directory required
Enterprise Mode Internet Explorer (EMIE) – For compatibility issues of web apps in Internet Explorer 11 (emulates IE 8).
Remote Desktop
Client Hyper-V
If you don't understand some of the option, you most probably don't need then. Bitlocker works more securely if a TPM (Trusted Platform Module) chip is present in the system, so the presence of that secure chip is something I'll have to check out during the review. AFAIK, the original MINIX NEO Z83-4 does not include any TPM.
A few days ago, I wrote about BBen MN10 TV stick available with either Windows 10 Home or Windows 10 Pro, and the former is offered for $21.39 extra, the later for $30.33, so the Pro version is only about $10 more expensive than the Home version on such entry level hardware. If you had to purchase Windows 10 Pro license by yourself, it would cost $199.99, or the same price as the complete MINIX NEO Z83-4 Pro mini PC including the Win10 Pro license… That sounds crazy/unbelievable, but apparently that's just the way Microsoft handles licenses, and one of the main reason MINIX decided to launch this new model.
MINIX NEO Z83-4 Pro Setup & System Information
I connected a USB 3.0 hard drive to the USB 3.0 port, USB mouse and keyboard, HDMI and Ethernet cables, and started up the device by pressing the power button right after connecting the 12V power adapter.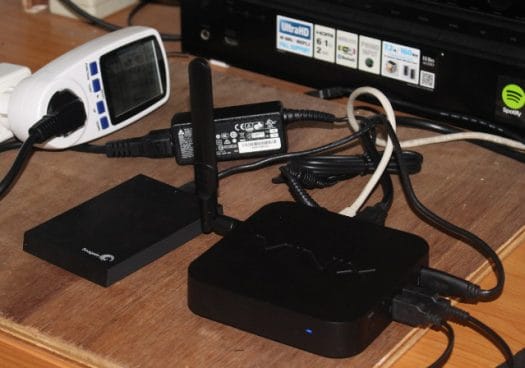 The first boot was a little different than what I'm accustomed to, as I was doing something, I started to hear a female voice… asking to select the region… So Microsoft has now enabled Cortana voice assistant by default in the setup Wizard. If you don't like it you can turn it off by pressing the Volume icon on the bottom right corner.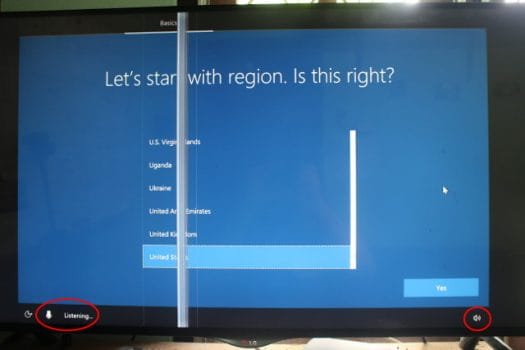 NEO Z83-4 Pro does not come with an built-in microphone, but you have one you can answer "Yes" to go the next step while Cortana is listening. I've shot a short video to show what the new Windows 10 (Pro) setup wizard feels like.

The whole process is slightly different. For example, I normally do not sign-in with a Microsoft account, and used to press skip in that section, but there's no such Skip button in the new interface, and instead you can click on Offline account button in the bottom left.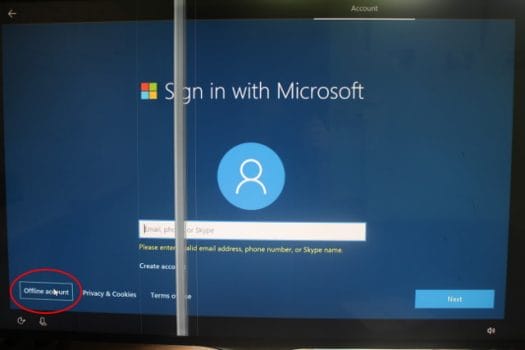 You'll also be asked about privacy settings for location, diagnostics, speech recognition, and so on, which I cannot remember in other mini PCs I tested with Windows 10. All options are enabled by default, so if you want better privacy you should set them to off.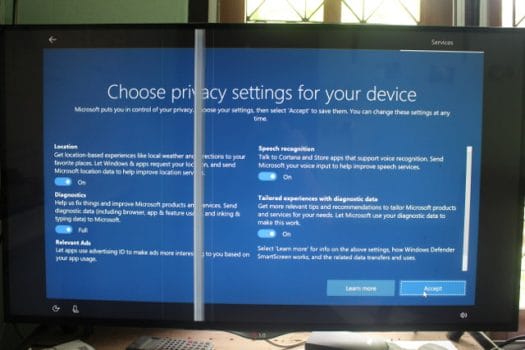 Once the setup is complete Windows 10 Pro looks just like Windows 10 Home, except you'll be informed you are running the Pro version in the System window.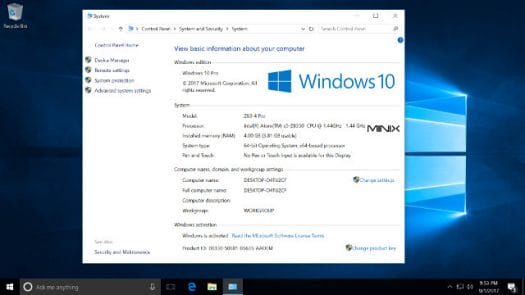 That window confirms the information we already knew with Z83-4 Pro model powered by Intel Atom x5-Z8350 processor @ 1.44 GHz, with 4GB RAM, and Windows is activated..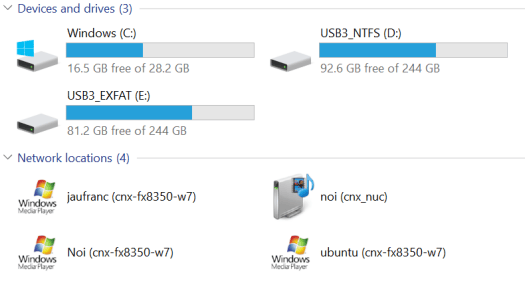 The eMMC flash has a 28.2GB Windows drive (C:) with 16.5 GB free. The system could also detect the NTFS and exFAT partitions on my USB drive, as well as some Windows network locations.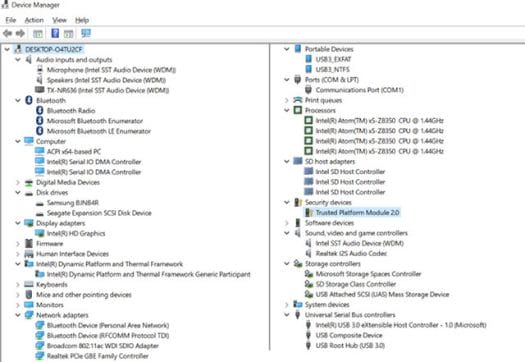 I've also taken a screenshot for the Device Manager to get more technical details, and we can also notice a Trusted Platform Module 2.0 is enabled, so that's another feature in Z83-4 Pro that was absent from Z83-4 mini PC.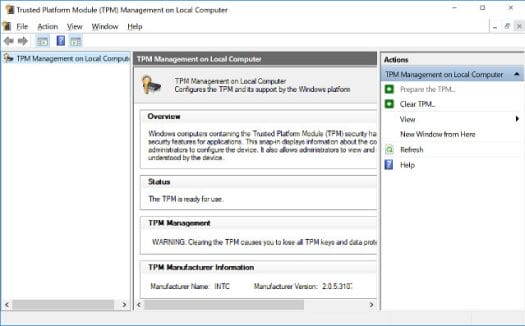 I also started tpm.msc to get some more details about the TPM as shown above, and by default it is not enabled, but you can follow Microsoft TPM instructions to use it properly for better – hardware based – security.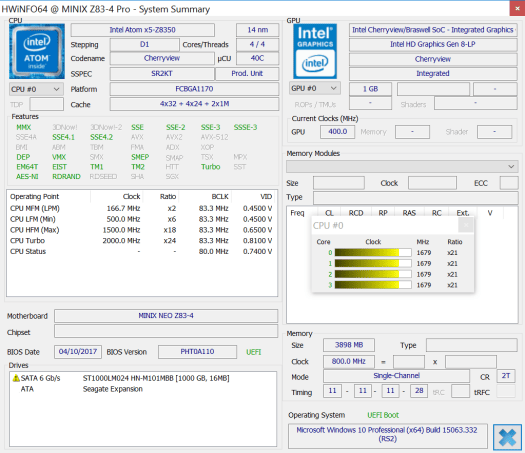 HWiNFO64 show further details about the system and processor.
I noticed the computer would turn off (not sleep) by itself after a few minutes when I ran benchmarks. I could fix that by going to Power & sleep settings and changing the 10 minutes sleep time to Never.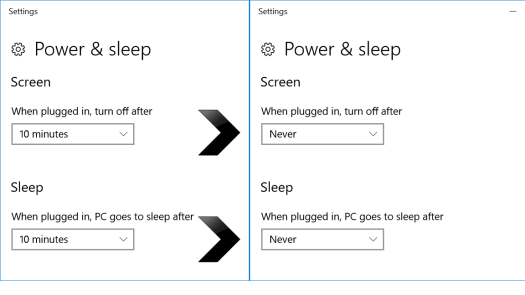 MINIX NEO Z83-4 Pro Benchmarks
Z83-4 Pro was strangely slightly slower than Z83-4 mini PC in PCMark 8 Home Accelerated 3.0 with 1,445 points against 1,543 points for the latter.

If we look at the details, we can actually see Z83-4 Pro was faster in most tests, but is 50% slower in Advanced Photo Editing Accelerated, and significantly slower in Video Chat Encoding v2 Accelerated, so there might be a driver issue with OpenCL support since those accelerated tests are supposed to leverage the GPU. You'll find the detailed results here.

I've also run the newer PCMARK 10 benchmark to have a reference point for Cherry Trail platform, and in this test Z83-4 Pro got 896 points, which compares to 1,334 points on a faster Celeron N3350 Apollo Lake mini PC.
Passmark 9.0 failed in the 3D graphics section, so I ran Passmark 8.0 instead, where the device got 698.8 points, against 656.30 points in the original Z83-4 mini PC, a results closer to expectations.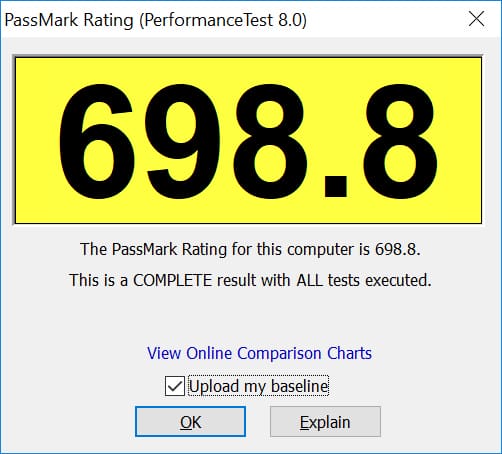 NEO Z83-4 Pro archived 20,284 and 233 points on respectively 3DMark's Ice Storm 1.2 and Fire Strike 1.1 3D benchmarks, which compares to 16,030 points and 187 points on the older version.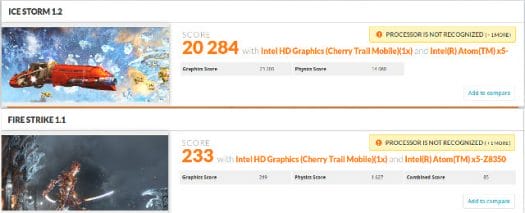 The extra boost is likely due to the higher GPU frequency on x5-Z8350 SoC.
CrystalDiskMark 5.2.1 shows roughly the same eMMC flash performance as on MINIX NEO Z83-4 model. That's rather average but normal for 32GB parts mandated by Microsoft for a discounted license.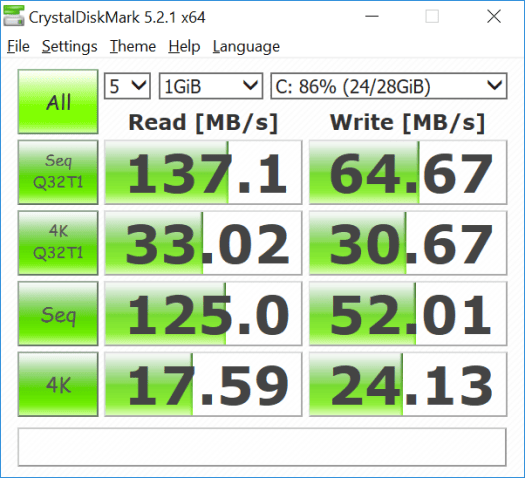 What's not so good however is the sequential write speed on the NTFS partition of my USB hard drive, as it can normally achieve 90 to 100 MB/s on most hardware.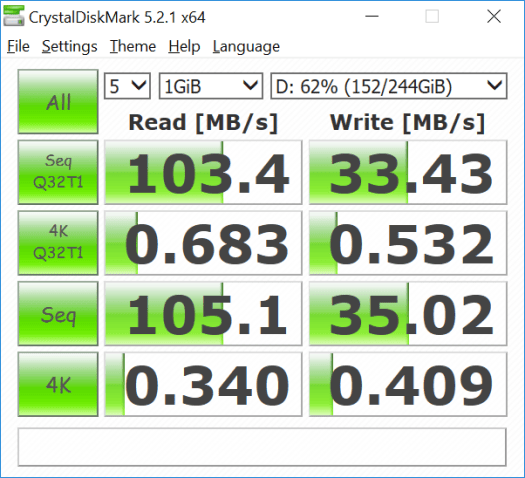 The read performance is normal however. So I repeated the test, but got the same poor write speed. I retried a few days later, and after a disk scan, but write speed only went up to around 45 MB/s. So something looks wrong here.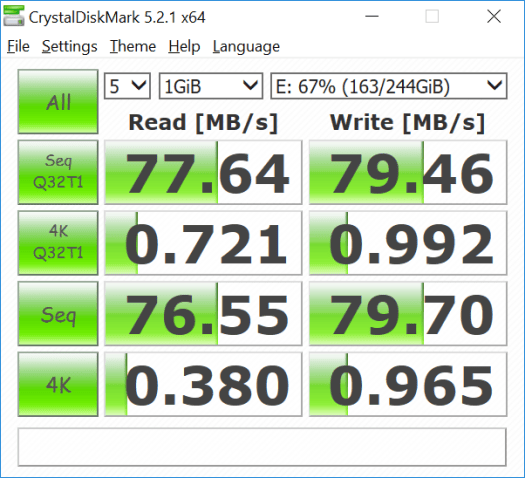 For that reason, I also ran the benchmark on the exFAT partition, and write benchmark is fairly normal at close to 80 MB/s, so it's not a USB issue, and looks like some issues with NTFS or caching.
Sadly, WiFi AC testing with iperf yielded under average performance.
Server

listening

on

TCP

port

5001

TCP

window

size

:

85.3

KByte

(

default

)

--

--

--

--

--

--

--

--

--

--

--

--

--

--

--

--

--

--

--

--

--

--

--

--

--

--

--

--

--

--

[

4

]

local

192.168.0.104

port

5001

connected

with

192.168.0.111

port

49758

[

ID

]

Interval

Transfer

Bandwidth

[

4

]

0.0

-

60.0

sec

703

MBytes

98.2

Mbits

/

sec
Client

connecting

to

192.168.0.111

,

TCP

port

5001

TCP

window

size

:

85.0

KByte

(

default

)

--

--

--

--

--

--

--

--

--

--

--

--

--

--

--

--

--

--

--

--

--

--

--

--

--

--

--

--

--

--

[

3

]

local

192.168.0.104

port

51704

connected

with

192.168.0.111

port

5001

[

ID

]

Interval

Transfer

Bandwidth

[

3

]

0.0

-

60.0

sec

559

MBytes

78.2

Mbits

/

sec
So overall the tests show everything is mostly working as expected, except OpenCL acceleration in PCMark 8, NTFS sequential write speed, and 802.11ac WiFi performance does not look that good compared to the competition, at least with my TP-Link router.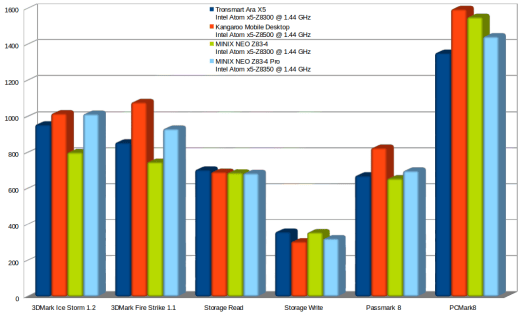 Finally, I've compared MINIX NEO Z83-4 Pro benchmark results (adjusted for easier comparison) to Atom x5-Z8300 / x5-Z8500 mini PCs including NEO Z83-4, Kangaroo Desktop, and Tronsmart Ara X5, and as one should expected, there aren't that many differences between the devices. Z83-4 Pro is slightly faster than x5-Z8300 devices, but a bit slower than an x5-Z8500 mini PC.
Chart adjustments as follows: 3DMark Ice Storm divided by 20, 3DMark Fire Strike multiplied by 4, and storage results multiplied by 5.
MINIX NEO Z83-4 Usability and Stress Testing
I repeated the test I did for Z83-4 to see how the mini PC performs in a typical desktop use case, and check out some BIOS settings.
Multi-tasking – Using Firefox, Thunderbird, LibreOffice, and Gimp at the same time
Web Browsing

Loading multiple tab with CNX Software blog in Firefox
Playing 1080p & 4K YouTube Videos in Firefox
Playing Candy Crush Saga in Firefox (now smoother/faster since it's not using Adobe Flash anymore)

Gaming with Asphalt 8: Airbone
MINIX UEFI Settings
The experience is so similar to MINIX NEO Z83-4, that I have not done another video, and if you want to get a feel about the system performance you can check out last year video.
One difference is that there's a new MINIX option in the BIOS: USB charging that allows you to charge your phone or other device via the USB 3.0 ports even when the mini PC is turned off. That's an addition to existing BIOS options to set earphone standard, (automatic) AC power on, Wake-on-LAN, and RTC wake up.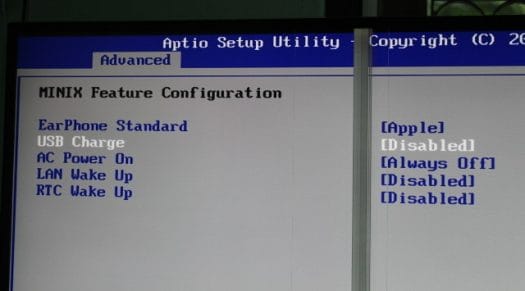 I used Aida64 Extreme's system stability test for 2 hours to stress the computer in combination with HWiNFO64 to monitor CPU temperature and potential throttling, but the latter never happened, and temperature never exceeded 69°C, or a cool 34°C away from the junction temperature, with an ambient room temperature of around 30°C.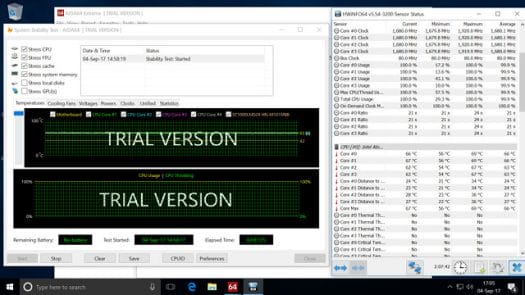 So I'd except the mini PC to perform consistently even in hot climate / room with temperatures exceeding 35/40°C.
Finally some power consumption numbers with all USB devices connected:
Power off – 0.2 Watts
Sleep – 3.3 Watts
Idle – 4.2 Watts
Aida64 stress test – 9.4 Watts
Conclusion
If you're one of the customers who purchased MINIX NEO Z83-4 mini PC and installed Windows 10 Pro, upgrading to NEO Z83-4 Pro for your next purchases is a no-brainer, since performance is similar – usually a bit better -, and you'll save a nice amount of money on the Windows license. The device also includes enterprise features like a TPM 2.0 module, and ships with a VESA mount. So overall, I'm very pleased with the device, and the only issues I found are disappointing sequential write speed to external USB 3.0 storage with NTFS file system, OpenCL based tests in PCMark 8 are slower than usual for this type of hardware, and WiFi 802.11ac – as tested with iperf – is not quite as fast as on other 802.11ac platforms I've tested.
MINIX NEO Z83-4 Pro mini PC sells for $189.99 and up on various sites including Amazon, GeekBuying, GearBest, Chinavasion, and others.

Jean-Luc started CNX Software in 2010 as a part-time endeavor, before quitting his job as a software engineering manager, and starting to write daily news, and reviews full time later in 2011.