I've listed specifications and posted photos of MINIX NEO Z83-4 mini PC in the first part of review, and while NEO Z83-4 is yet another Intel Atom x5-Z8300 device, it's clear the company has made specific efforts for the thermal design with a large heatsink and aluminum bottom cover, and provided a solid 12V/3A power supply. So in the second part of the review, I'll check how Windows 10 performs in the device, and run some benchmarks to compare it to other low power Intel mini PCs.
MINIX NEO Z83-4 Setup & System Information
If you've connected USB mouse and keyboard, HDMI and Ethernet, a USB 3.0 hard drive to the USB 3.0 port, and the power cord. Pressing the power button on the right side will boot the device.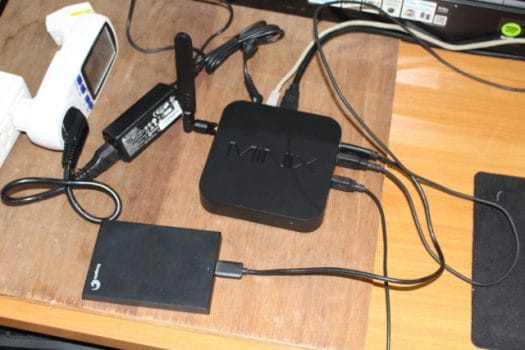 A typical boot will take around 30 seconds to the desktop. My system was already configured with Z83-4 user, possibly because MINIX tested the device before sending it to me, but for the first boot, users should normally go through Windows 10 setup to select the language, configure networking and so on.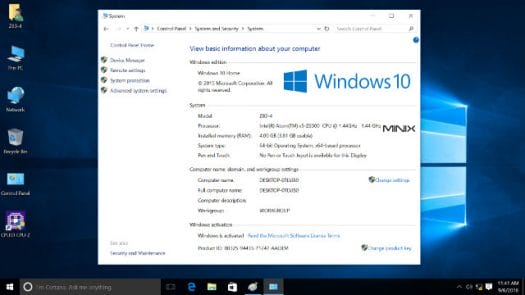 System and Security->System in the control panel shows Z84-3 runs Windows 10 Home 64-bit (activated), and features an Intel Atom x5-Z8300 processor @ 1.44 GHz with 4GB RAM.

If we check My Computer we can see the C: drive (eMMC flash partition) has a total capacity of 28.6GB with about 13.1 GB free, and the system also detected partition on my USB hard drive formatted with exFAT and NTFS file systems.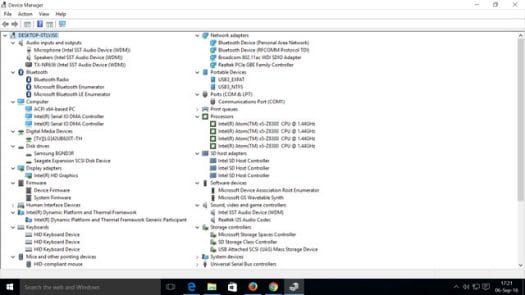 I've take the Device Manager screenshot for people wanting more details about the drivers, and runs HWiNFO64 to show a system summary.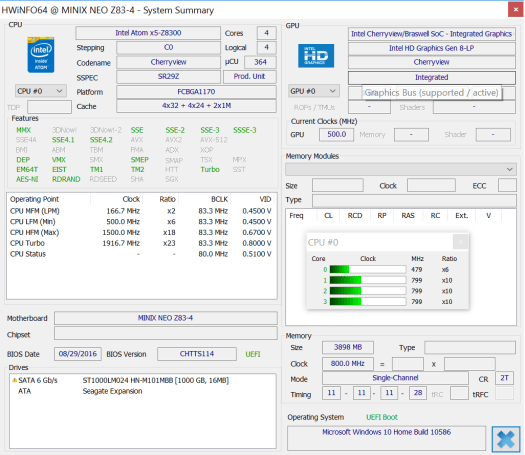 There's no surprise here, and the info is basically the same as other x5-Z8300 mini PCs such as Tronsmart Ara X5.
MINIX NEO Z83-4 Benchmarks
I've only run PCMARK 8 HOME 3.0 Accelerated benchmark, and skipped the "baseline" benchmark, as systems based on Intel Atom x5-Z8300 processor have been benchmarked so many times.

The results (1,543 points) confirms the system runs well, and NEO Z83-4 even slightly beats the more expensive MINIX NGC-1 Braswell mini PC, which achieved 1,492 points in the same test. It's also better than Voyo V3 Intel Atom x7-Z8700 mini PC, which in theory should have a better score.
3DMarks results are also as expected, and a bit lower than NGC-1 since Intel Celeron N3150 has a faster GPU.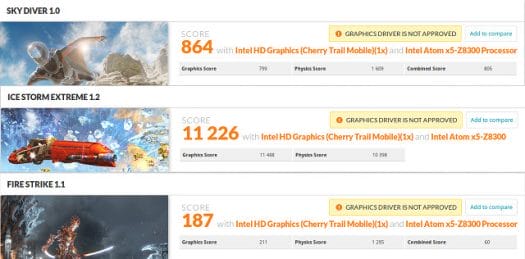 You can find MINIX NEO Z83-4 detailed results for Sky Driver 1.0, Ice Storm Extreme 1.2, and Fire Strike 1.1. I also ran Ice Storm 1.2 since that one of the tests I use for comparison with other platforms, and for some reasons, it's significantly lower than Ara X5 (16,000 vs 19,000).
The device got 656.3 points in PassMark 8 benchmark, a result quite lower than other faster mini PC with Atom x7 or Braswell processors, but the benchmark is quite shorter in duration, so CPU throttling is not a factor in most cases.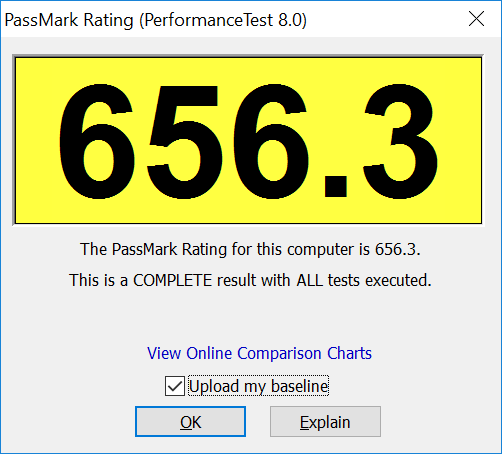 The eMMC flash performance is average however, since 32GB storage device are often a bit slower than their larger counterparts (64 / 128 GB), but still acceptable.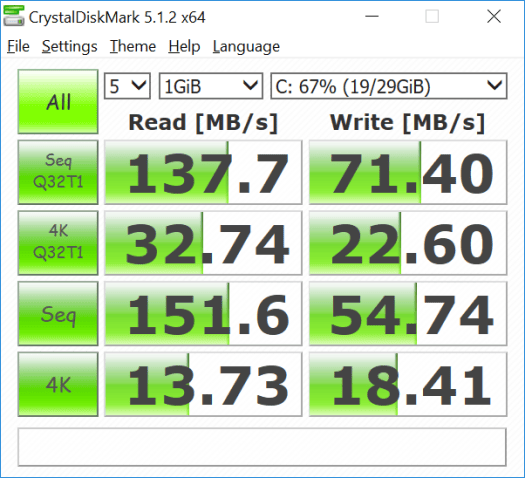 I also tested USB 3.0 throughput, and close to 100 MB/s is about where it should be.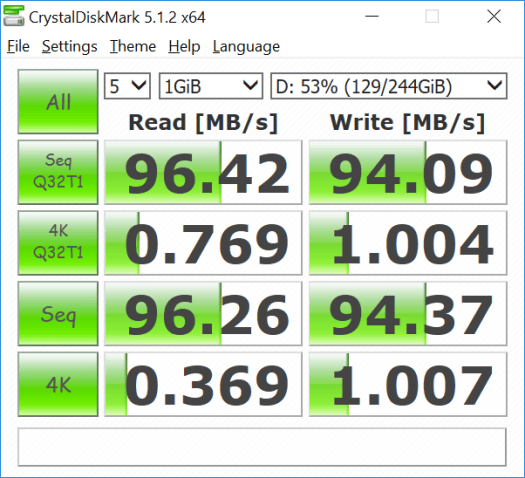 MINIX NEO Z83-4 mini PC has good networking options as it supports both Gigabit Ethernet and 802.11ac WiFi, and I had no issue connecting to my TP Link AC router the first time.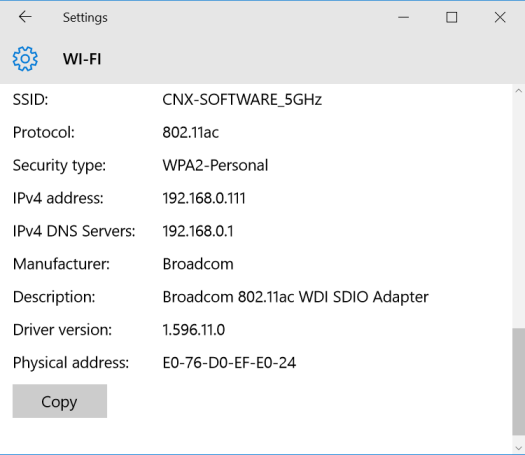 However, subsequent attempts all failed, with the Device Manager reporting an error with Broadcom 802.11ac WDI SDIO Adapter.

I'm unable to connect to any wireless networks when that happens. But I can either restart the PC, or faster, disable and re-enable the adapter, and I can connect to my two 2.4 GHz networks including one of the same TPLink AC router, but connecting to the 5 GHz access point will always cause the driver to fail…
[Update: I've re-tried this morning, and could connect to 5 GHz WiFi… iperf results with full duplex test:

Client

connecting

to

192.168.0.113

,

TCP

port

5001

TCP

window

size

:

 

170

KByte

(

default

)

--

--

--

--

--

--

--

--

--

--

--

--

--

--

--

--

--

--

--

--

--

--

--

--

--

--

--

--

--

--

[

 

6

]

local

192.168.0.104

port

35978

connected

with

192.168.0.113

port

5001

[

ID

]

Interval

      

Transfer

    

Bandwidth

[

 

6

]

 

0.0

-

60.0

sec

  

265

MBytes

 

37.0

Mbits

/

sec

[

 

4

]

 

0.0

-

60.1

sec

  

328

MBytes

 

45.8

Mbits

/

sec
WiFI AC performance is quite good in this test. I also performed the test in one direction only (iperf.exe -t 60 -c 192.168.0.104):

[

 

5

]

local

192.168.0.104

port

5001

connected

with

192.168.0.113

port

49852

[

 

5

]

 

0.0

-

60.0

sec

  

709

MBytes

 

99.0

Mbits

/

sec

That's Fast Ethernet type of performance, and with my setup it's an excellent result.
end of update]
So I reverted to Gigabit Ethernet to test the performance with iperf 2 using iperf.exe -t 60 -c 192.168.0.104 -d command line:

Client

connecting

to

192.168.0.108

,

TCP

port

5001

TCP

window

size

:

 

255

KByte

(

default

)

--

--

--

--

--

--

--

--

--

--

--

--

--

--

--

--

--

--

--

--

--

--

--

--

--

--

--

--

--

--

[

 

6

]

local

192.168.0.104

port

36420

connected

with

192.168.0.108

port

5001

[

ID

]

Interval

      

Transfer

    

Bandwidth

[

 

6

]

 

0.0

-

60.0

sec

 

5.33

GBytes

  

762

Mbits

/

sec

[

 

4

]

 

0.0

-

60.0

sec

 

3.26

GBytes

  

467

Mbits

/

sec
Performance is OK without being outstanding.
The table below compares the results to some competitors including Tronsmart Ara X5, Kangaroo Mobile Desktop, MINIX NGC-1, Intel NUC5CPYB, Voyo V3, Beelink BT7, and Vorke V1. Results for Ice Storm 1.2 are divided by 20 to make the graphics more readable.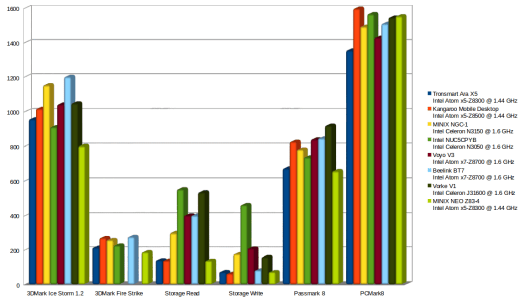 One oddity is that NEO Z83-4 has the weakest GPU score, even slightly lower than Tronsmart Ara X5, and storage and passmark results are about equivalent. PCMark 8 is the only benchmark that seems to show the strength of the platforms.
MINIX NEO Z83-4 Usability and Stress Testing
I've run most of the same test as on other mini PCs with 4GB RAM to see how well they can be used as desktop PC replacement, or at least as an Entry level computer, by running multiple programs, playing games, etc… I replaced my Kodi test, with always the same decent results in those Atom mini PCs, by checking out MINIX options in the BIOS.
Multi-tasking – Using Firefox, Thunderbird, LibreOffice, and Gimp at the same time
Web Browsing

Loading multiple tab with CNX Software blog in Firefox
Playing 1080p YouTube Videos in Firefox 48
Playing a flash game (Candy Crush Saga) in Firefox

Gaming with Asphalt 8
MINIX UEFI Settings
MINIX NEO Z83-4 mini PC did well for all of those tests considering it's a long end PC, and the performance is solid and constant. Adobe flash CPU usage was quite high in Firefox, and may perform better in Chrome or Microsoft Edge.
I also ran OCCT 4.4.2 system stress tool for three hours, and the computer stayed cool all the time only reaching 63 C max, with an average CPU frequency of 1.6 GHz between the base frequency (1.44 GHz), and the maximum burst frequency (1.84 GHz).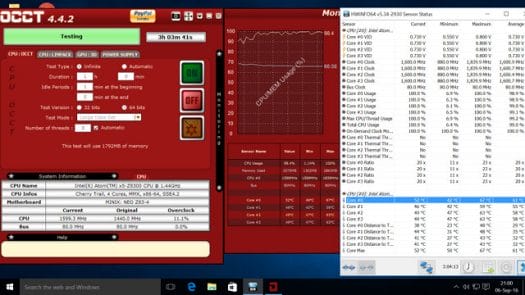 MINIX Feature Configuration in BIOS / UEFI
MINIX has also fone some work in the BIOS. So I've check their options in Aptio Setup Utility. Press Esc to enter the BIOS when the system boots.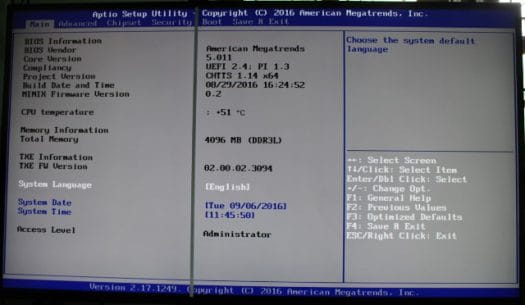 Then go to Advanced->MINIX Feature Configuration.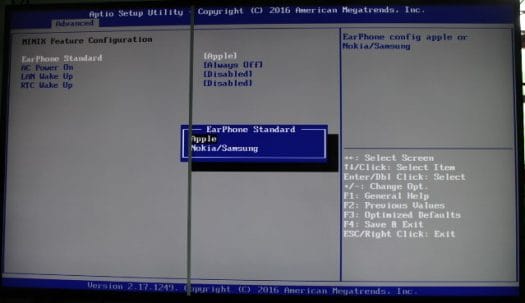 You'll find option to select between Apple or Nokia/Samsung earphone types for the 3.5mm audio jack, AC Power On if you want the computer to automatically start (without pressing the button) when power is applied, Wake-on-LAN, or RTC wake-up to set a specific date, or specific hour of the day to automatically turn on the computer.
Conclusion
I've quite pleased with MINIX NEO Z83-4 mini PC as the performance is stable, and for desktop tasks just as good, if not better, as some other mini PCs based on more powerful Intel Atom x7-Z8700 and Celeron Braswell processors. I also like the extra options in the BIOS, which are not always found in cheaper models, and the only major downside I found is some issue with Broadcom WiFi driver which reports an issue after attempting to connect to my 5.0 GHz / 802.11ac access point, despite initially working [Update: I tried again the day after, and I had no problem connecting to 802.11ac WiFi with very good performance]. 3D Graphics performance appears to be a little lower than expected too, and storage performance is average, if not below average.
Price is also higher than somewhat similar models, but considering the extra features (802.11ac, 4GB, GbE, UEFI options…), it may still be worth paying a little extra. MINIX NEO Z83-4 is much more aggressively priced compared to MINIX NGC-1, as it will sell for $169.90, 169.90 Euros, or 144.90 GBP once it launches on September 16.
[Update: MINIX NEO Z83-4 can be bought on Geekbuying for $169.99 shipped]

Jean-Luc started CNX Software in 2010 as a part-time endeavor, before quitting his job as a software engineering manager, and starting to write daily news, and reviews full time later in 2011.