With several new Android devices coming with the latest 802.11ac Wi-Fi, I decided I should buy a new router with AC1200 class or greater and Gigabit Ethernet support, and with a budget of $100. Xiaomi Mi Wi-Fi Mini router almost matched my requirements, but unfortunately only comes with Fast Ethernet ports. TP-Link Archer C7 selling for $96 Amazon US exactly matched my budget, and outmatched my requirements being an AC1750 router with 5x Gigabit Ethernet ports, and two USB ports. Since Amazon won't ship to my location and shipping would have gone over budget, I expected to find it locally for a slightly higher price, but it ended up selling for over $200 here, allegedly because of a lifetime guarantee. Finally, I ended up buying TP-Link TL-WDR7500, the Chinese version of Archer C7 with 6 Wi-Fi antennas instead of 3, for $94.32 including shipping on Aliexpress.

I'll take some pictures of the device, explain options to change the Chinese web interface into English, compare the Wi-Fi range to my existing router (TP-Link), and perform some transfer test using 802.11n and 802.11ac with Tronsmart Orion R28 Meta, and HPH NT-V6 Android media player both supported 802.11ac thanks to AP6335 wireless module.
Unboxing Photos
When I received the package I was surprised how big the parcel was, and it felt massive compared to the size of mini PC packages.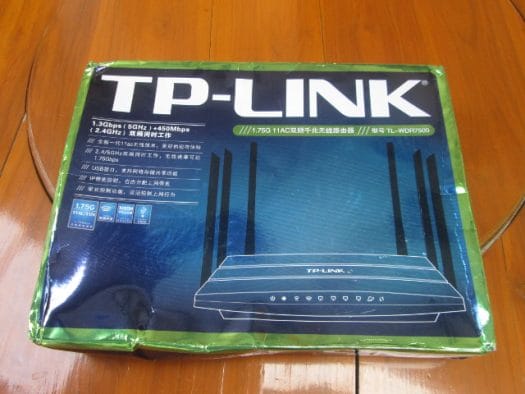 The complete package is in Chinese, so this router is definitely designed for the Chinese market only. Based on the text on the package, it's indeed an AC1700 router with a throughput up to 1.3Gbps @ 5 GHz, and 450 Mbps @ 2.4 Ghz.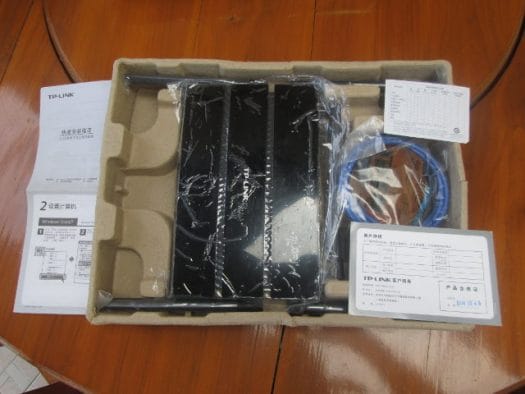 The router itself is quite big, and the 6 antennas (3 for 2.4Ghz, 3 for 5Ghz) explain why you'd need such as large package. As expected all documents are in Chinese.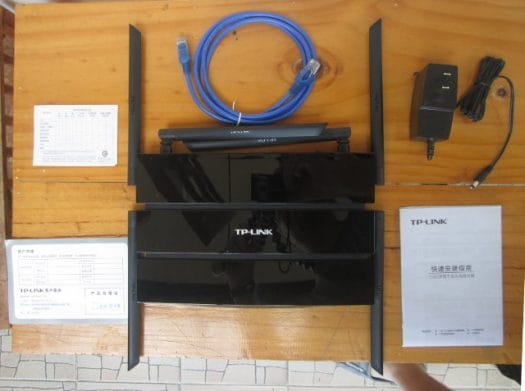 The router comes with a 2m-meter blue Ethernet cable, a 12V/1A power supply, a user's manual in Chinese, a warranty card, and another small paper listing where traces of lead, mercury, cadmium… may be found.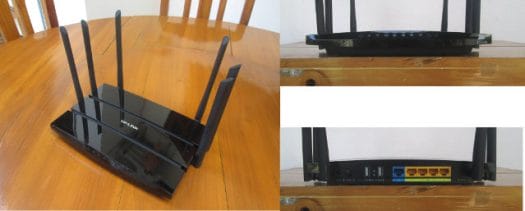 TP-Link TP-WDR7500 router looks pretty neat once it's installed. You'll get a bunch of LEDS on the front panel (left to right): Power, System/Status, 2.4 GHz connection, 5GHz connection, 4x LEDs for LAN ports, 1x LED for WAN port, and WPS. On the back panel, we'll find a power jack, a power button, two USB 2.0 ports with LED for mass storage (FTP, Samba…), a WAN port, four LAN ports, and a WPS/Reset button.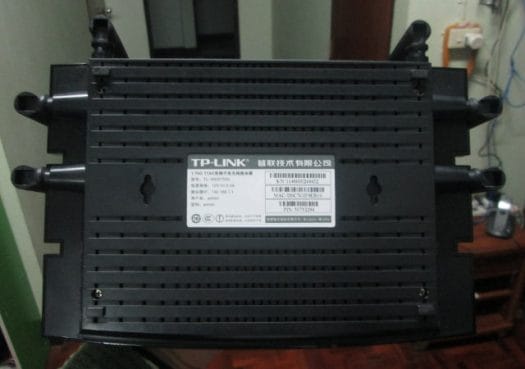 On the case's bottom you'll get a sticker with small details, S/N, and MAC address. You'll also notice two holes for wall-mounting the router.
TP-Link TL-WDR7500 / Archer C7 Review
Setting up the router
So I've installed my new router close to my old one to perform range and performance testing.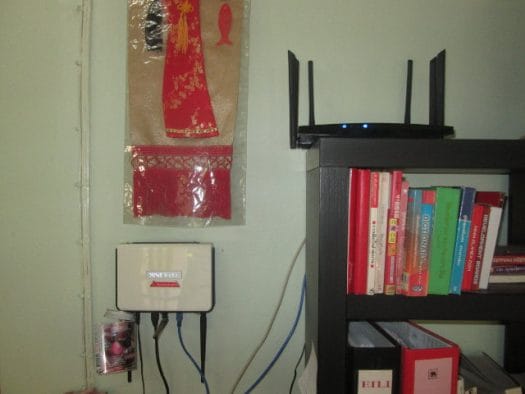 TP-Link TL-WR940N is wall-mounted, beer can optimized, and comes with 3 external antennas for 2.4 GHz Wi-Fi (no 5Ghz support). This is actually equivalent to TL-WDR7500 router with 3 external antennas for 2.4 GHz Wi-Fi, and three more with 5GHz.
Once everything is connected, you'll need to access the router with Wi-Fi or Ethernet using the router IP address (192.168.1.1), and login credentials (admin/admin). Provide the computer/device you use to connect to the router support dual band Wi-Fi, you should see two new ESSID: TP-LINK_5GHz_F9EB0E and TP-LINK_2.4GHz_F9EB0E for respectively 5 and 2.4 GHz Wi-Fi.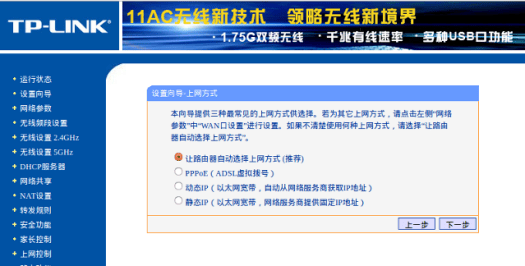 For most people, using the Chinese interface may be a problem. But luckily there are several options:
Since I use Firefox as my main browser, I just installed the script as it's fast and easy, and it automatically translates the left menu, and the most important settings.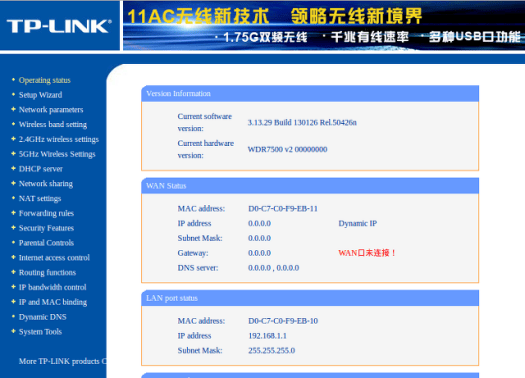 However, anything below DHCP server has not been translated. So it's enough for basic settings, but for more access settings you'll probably want to find a better option. The script limits itself so some IP ranges, and when I changed the default subnet to 192.168.2.x, I had to edit the script within Firefox to add 192.168.2.0. It's very easy to do.
TP-Link TL-WDR7500 Signal Strength and Range
I haven't kept the default ESSID in the router. My older TP-Link router is CNX-TRANLATION (2.4 Ghz), and I've configure TL-WDR7500 with CNX-SOFTWARE (2.4 GHz), and CNX-SOFTWARE_5G (5Ghz). In this part of the review, I just walked about with my phone (ThL W200) checking the signal strength in various locations with Wifi analyzer.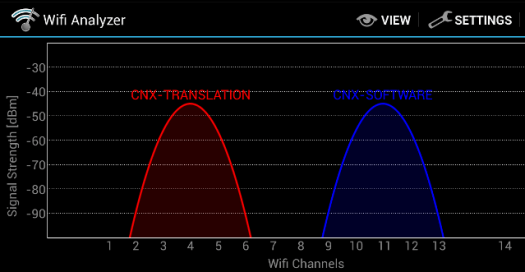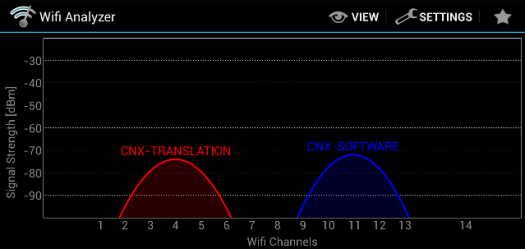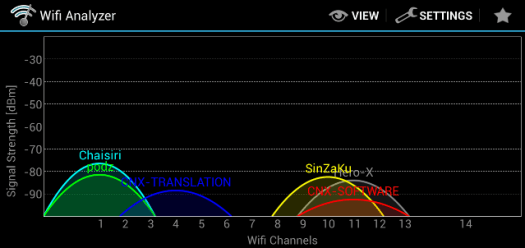 It's quite clear both router have about the same range, and signal strength at various locations. The only small difference is that on the street, CNX-TRANSLATION (TL-WR940N) had a tendency to come and go, whereas CNX-SOFTWARE (TL-WDR7500) signal appeared to be more stable.
I was unable to test 5GHz 802.11n/ac range, since I don't own any mobile devices supporting it.
TP-Link TL-WDR7500 Throughput Testing
Finding out a router range is interesting, but the reason to buy a 802.11ac is not really about improved range, but rather faster throughput. So I'll put two Android TV boxes to test, transferring a 278 MB from SAMBA to their internal eMMC and vice-versa using 802.11n (2.4 GHz) with both TL-WR940N and TL-WDR7500 routers, and 802.11ac with the new router. I used ES File Explorer for this purpose, repeating the tests three times, and averaged the results.
The first device under test was Tronsmart Orion R28 Meta Android mini PC with Rockchip RK3288 processor and an AP6335 module with an external antenna.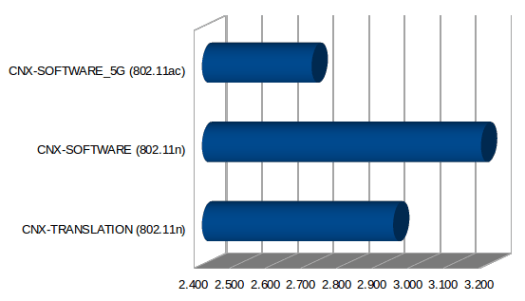 OK, so that's quite disappointing as 802.11ac is much slower than 802.11n… The 5GHz connection was initially set with a speed of 433Mbps (as reported in Android Settings), but it fell to 117 Mbps after a while. Orion R28 Meta has an external Wi-Fi antenna, but for some reasons the signal is not "Excellent" but only "Fair", almost like if there's a bad contact with the external antenna.
Let's move to HPH NT-V6, another media player based on Rockchip RK3288 processor with AP6335 module, to see if performance is any better.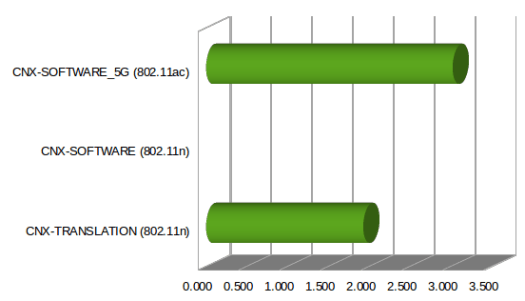 Performance in underwhelming again. The 802.11ac is connected at 292 Mbps, and the results are a bit better than Orion R28, but it's not the real picture as I discarded one of the transfer which dropped to around 10 KB/s over a 17 Mbps connection. You may wonder why there's no result with 802.11n using TL-WDR7500. The reason is simple: two of the three transfer were very slow and even stalled at times, so I canceled them. The transfer that went through took 3 minutes 50 seconds with an average of 1.20 MB/s… The connection was more stable with my older router @ 1.92 MB/s, a very average score among Android mini PCs, as the best device
The best device I've tested can reach 3.84 MB/s on average with 802.11n, so it's clear disappointing that I haven't been able to go faster with any of the devices I've tested over 802.11ac. Having said that it's very difficult to draw a conclusion regards the performance of either TL-WDR7500 router, and the two Android TV boxes because I don't have a reference platform that's known to work properly that could help pinpoint the bottleneck in these tests. But at least I've learned that 802.11ac does not always beats 802.11n.
USB Mass Storage and Gigabit Ethernet
To complete my review, I connected a USB 3.0 hard drive to one of the USB 2.0 port on the back of the router to test both USB transfer speed, and Gigabit Ethernet. Normally I get about 30 MB/s transfer rate if my drive is connected to USB 2.0, but I only got 7.3 MB/s over a SAMBA connection, and quickly realized the LED on my Gigabit Ethernet switch (D-Link DGS-1005A) indicated a Fast Ethernet connection with the router… The Cat5e cable between the router and the switch is is 15 meter long, so I thought maybe it could be an issue. I brought my router closer to try several cables and I could get a Gigabit connection with some, but not all. Again, I can't be sure 100% of the reason for this issue, but based on experience I'd tend to think the problem is related to with Gigabit switch, which has been picky with other devices too.
Gigabit Ethernet has been introduced in 1999, so I was naively thinking after 15 years it should just work with no problem, but actual testing showed it was not the case…

Jean-Luc started CNX Software in 2010 as a part-time endeavor, before quitting his job as a software engineering manager, and starting to write daily news, and reviews full time later in 2011.