Imagination Technologies has just made two announcements: one for their PowerVR Series2NX neural network accelerator, and the other for the new high-end GPU families: PowerVR Series9XE and 9XM.
PowerVR Series2NX neural network accelerator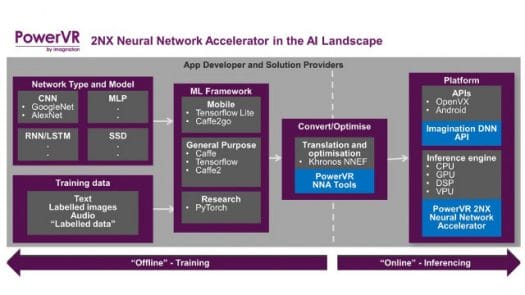 The companies claims 2NX can deliver twice the performance and half the bandwidth of nearest competitor, and it's the first dedicated hardware solution with flexible bit-depth support from 16-bit down to 4-bit.
Key benefits of their solution (based on market data available in August 2017 from a variety of sources) include:
Highest inference/mW IP cores to deliver the lowest power consumption
Highest inference/mm2 IP cores to enable the most cost-effective solutions
Lowest bandwidth solution with support for fully flexible bit depth for weights and data including low bandwidth modes down to 4-bit
2048 MACs/cycle in a single core, with the ability to go to higher levels with multi core
The PowerVR 2NX NNA is expected to be found in smartphone and other mobile devices leveraging Tensorflow Lite and API for Android, as well as Caffe2Go framework, smart surveillance cameras, assisted and autonomous driving solutions, and home entertainment with TVs and set-top boxes using artificial intelligence to adapt preferences to certain users. NNA will find their ways in more and more SoC as shown in the diagram below by Imagination showing the evolution of SoCs over the years, and this has already started as we've seen with Huawei Kirin 970 mobile SoC featuring its own neural processing unit (likely not 2NX though).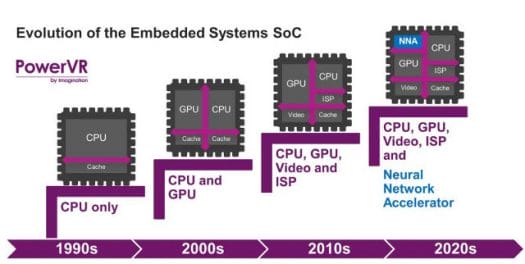 PowerVR 2NX development resources include mapping and tuning tools, sample networks, evaluation tools and documentation leveraging industry standard machine learning frameworks such as Caffe and Tensorflow. The Imagination DNN (Deep Neural Network) API, working across multiple SoC configuration, should ease transition between CPU, GPU and NNA.
PowerVR 2NX NNA is available for licensing now which should mean products with the solution possibly coming sometimes in 2018. Some more details about 2NX can be found in a blog post and the product page.
PowerVR Series9XE and 9XM GPUs
The Series9XE GPU family is an update to the previous generation Series8XE family with the same fill-rate density, but improved application performance of up to 20%, with the GPU expected to be used in cost-sensitive products such as digital TVs, set-top boxes, streaming sticks/dongles, and entry-level to mid-range mobiles and tablets.
The Series9XM family improves performance by up to 50% over the Series8XEP family with increased compute density and should be found in premium set-top boxes, mid-range smartphones, tablets and automotive ADAS applications.
Both families benefit from improvements in the memory subsystem, reducing bandwidth by as much as 25%, include a new MMU, standard support for 10-bit YUV, and are suitable for 4K output/displays.
Some of the key benefits of the new Series9XE/9XM family include:
Performance/mm2

9XE GPUs' improved gaming performance while maintaining the same fillrate density compared to the previous generation
9XM GPUs' several new and enhanced architectural elements enable up to 70% better performance density than the competition (as of August 2017), and up to 50% better than the previous 8XEP generation
Bandwidth savings of up to 25% over the previous generation GPUs through architectural enhancements including parameter compression and tile grouping
Memory system improvements: 36-bit addressing for improved system integration, improved burst sizes for efficient memory accesses, and enhanced compression capabilities
Low power consumption thanks to Imagination's Tile Based Deferred Rendering (TBDR) technology
Support for hardware virtualization and Imagination's OmniShield multi-domain security, enabling customers to build systems in which applications and operating systems can run independently and reliably on the same platform
Support for Khronos graphics APIs: OpenGL ES 3.2, and Vulkan 1.0
Support for advanced compute and vision APIs such as RenderScript, OpenVX 1.1 and OpenCL 1.2 EP
Optional support for PVRIC3 PowerVR lossless image compression technology
The company also explains the Series9XE/9XM GPU are ideal for use with the new PowerVR 2NX Neural Network Accelerator, which means NNA's will not only be found in premium devices, but also in entry level and mid range products.
The IP is available for licensing now with four Series9XE GPU IP cores:
1 PPC with 16 F32 FLOPS/clock(GE9000)
2 PPC with 16 F32 FLOPS/clock (GE9100)
4 PPC with 32 F32 FLOPS/clock (GE9210)
8 PPC with 64 F32 FLOPS/clock (GE9420)
and three Series9XM GPU IP cores:
4 PPC with 64 FP32 FLOPS/clock (GM9220)
4 PPC with 128 FP32 FLOPS/clock (GM9240)
8 PPC with 128 FP32 FLOPS/clock (GM9240)
Visit the product page for more details about the new PowerVR GPU families.

Jean-Luc started CNX Software in 2010 as a part-time endeavor, before quitting his job as a software engineering manager, and starting to write daily news, and reviews full time later in 2011.