Imagination Technologies has announced four OpenGL ES 3.0 compliant mobile GPUs based on PowerVR Series6XE Rogue architecture for entry level ($100) smartphones, tablets, and other low-end consumer devices such as wearables and smart TVs, as well as four high-end GPUs based on PowerVR Series6XT Rogue architecture capable of TeraFLOPS computing power.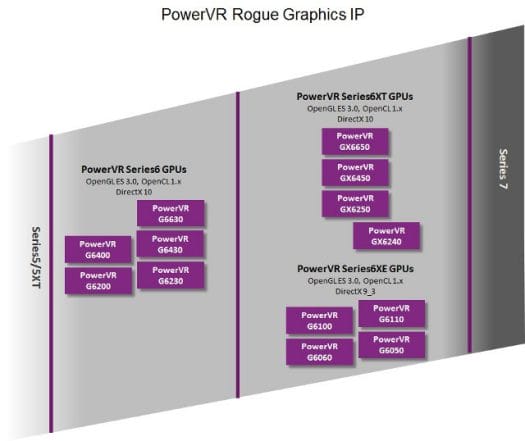 PowerVR Series6XE GPUs
The new PowerVR Rogue GPUs will deliver the same fillrate performance as equivalent Series5XT multi-processor configurations but offer more in terms of features and functionality, including OpenGL ES 3.0, OpenCL 1.x, and DirectX 9.3.
Four entry-level GPUs have been introduced at CES 2014:
PowerVR G6050 – Smallest fully-featured GPU core by Imagination with support for OpenGL ES3.0 and OpenCL 1.x.
PowerVR G6060 – Same as G6050, but adds PVRIC2, the company's second generation lossless PowerVR Image Compression. It reduces bandwidth requirements, and it likely to be used in entry-level tablets, HD TVs and STBs.
PowerVR G6100 – Updated and optimized version of the original area-optimized Series6XE Rogue core that features a single Unified Shader Cluster (USC) combined with a high-performance texture mapping unit, enabling it to deliver the same raw fillrates as multi-processor GPUs from the previous generation (Series5XT).
PowerVR G6110 – Same as G6110, but adds PVRIC2. To be used in low cost 4K Ultra HD TVs.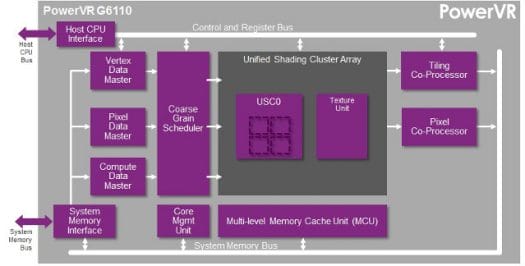 PowerVR Series6XT GPUs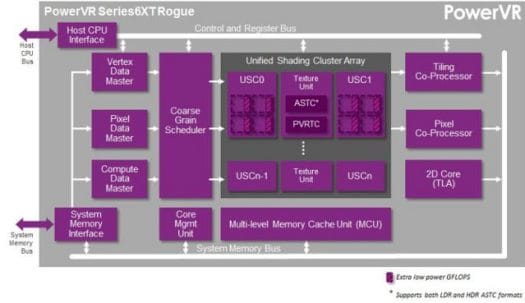 The company also announced Series6XT GPUs for high-end devices, providing a boost of up to 50% performance compared to Series6 GPUs (for same cluster / clock speed combination), with features such as PVR3C triple compression technologies, and UltraHD deep color GPU, as well as PowerGearing G6XT power management.
Four high-end GPUs have been introduced at CES 2014:
PowerVR GX6250 with two shading clusters.
PowerVR GX6450 with four shading clusters.
PowerVR GX6650 with six shading clusters.
PowerVR GX6240 is an area-optimized core with two shading clusters.
Series6XT GPUs features PVR3C triple compression system-level optimizations of the compute and graphics bandwidth flow to increase the performance and lower power consumption. PVR3C is said to combine lossy texture compression (Imagination's PVRTC and Khronos' ASTC), second generation lossless image compression (PVRIC2) and lossless geometry compression (PVRGC).
Anandtech has a nice performance comparison table with Seruies6 and Series6XT GPUs.
PowerVR Series6/6XT "Rogue"
GPU
# of Clusters
# of FP32 Ops per Cluster
Total FP32 Ops
Optimization
G6100
1
64
64
Area
G6200
2
64
128
Area
G6230
2
64
128
Performance
GX6240
2
64?
128?
Area
GX6250
2
64?
128?
Performance
G6400
4
64
256
Area
G6430
4
64
256
Performance
GX6450
4
64?
256?
Performance
G6630
6
64
384
Performance
GX6650
6
64?
384?
Performance
GX6650 should have about the same GFLOPS performance as the Kepler GPU in Tegra K1. I suppose the TFLOPS performance aforementioned refers to future Series6XT GPUs, or possibly another type of workload.
Availability and Tools
All eight GPUs are available now, and the company provides developers with free access to the PowerVR Graphics SDK available for Windows, Mac OS X, and Linux at
www.powervrinsider.com
. You may also want to check Imagination's blog posts about
Series6XE
and
Series6XT
for further technical details.

Jean-Luc started CNX Software in 2010 as a part-time endeavor, before quitting his job as a software engineering manager, and starting to write daily news, and reviews full time later in 2011.