MINIX NEO N42C-4 mini PC was first unveiled last September at IFA 2017, as the first Apollo Lake mini PC from the company. The device has some interesting features like the possibility to upgrade the RAM thanks to two SO-DIMM slots, and storage via an M.2 SSD slot, and support for up to three display via HDMI 1.4, mini DisplayPort 1.2, and USB type C connector. Just like MINIX NEO Z83-4 Pro model, the device is pre-loaded with an activated version of Windows 10 Pro, and includes a VESA mount.
The company has now officially launched the device, with sales starting at the end of December for US$299.90 / 299.90 Euros on sites like Amazon [Update: NEO N42C-4 is now up for pre-order on GearBest]. MINIX has sent me a unit for review, so as usual, I'll start by checking out of hardware, before testing Windows 10 Pro, system performance and stability in a separate post.
MINIX NEO N42C-4 Unboxing
While it remains blue, they've slightly redesigned the package, as you can see by comparing it to the one for MINIX NEO Z83-4 Pro.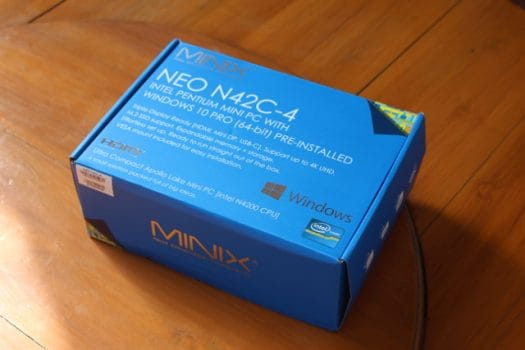 The specifications are the same as the ones unveiled at IFA 2017 with an Intel Pentium N4200 Apollo Lake processor, with 4GB RAM (upgradable), 32 GB eMMC 5.1 flash, a 2280 M.2 slot for an optional SSD, and support for three independent display via HDMI 1.4 up to 4K @ 30 Hz, Mini DP (DisplayPort) up to 4K @ 60 Hz, and USB Type C up to 4K @ 60 Hz.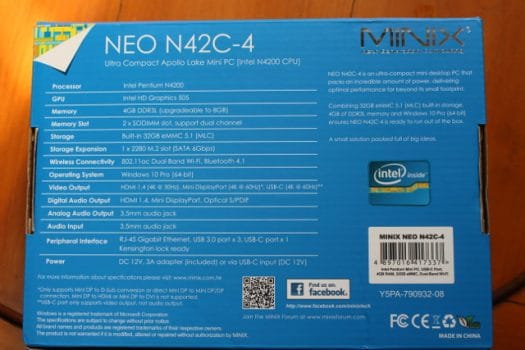 The mini PC ships with about the same accessories as NEO Z83-4 Pro model, including a HDMI cable, 6 screws for the VESA mount (not shown in the photo below), a 12V/3A power supply and power cord, MINIX product brochure, and MINIX NEO N42C-4 setup guide. The external WiFi antenna is gone, as the new design- as we'll see below – uses two internal antennas instead, and this time the company included plug adapter for the US, Europe, and the UK.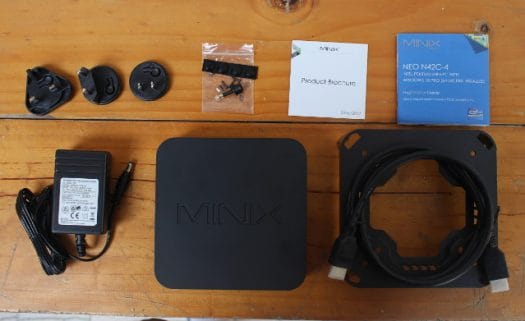 There's also another small bad with rubber pads, more screws for an M.2 SSD for example, and what looks like an optical S/PDIF adapter.
The enclosure is made of plastic, with three USB 3.0 ports and the power button on one side, a Kensington lock and a CMOS clear pinhole on the other. The rear panel features the power jack, a Gigabit Ethernet port, the miniDP port, HDMI output, USB type C, and a combo headphone / SPDIF audio jack.
The user manual indicate some of the limitations for the video output:
Mini DP port – N42C-4 only supports mini DP to D-Sub conversion or direct mini DP to mini DP/DP connection. Mini DP to HDMI or Mini DP to DVI is not supported
USB type C – Only support video output, not audio output. Hot plugging is not supported, meaning you should only connect/disconnect the display when NEO N42C-4 is powered off.
The USB type C port supports 9V/2A, 12V/5A, and 15V/3A power input, but 20V/3.25A is not supported. Power output is limited to 5V/3A.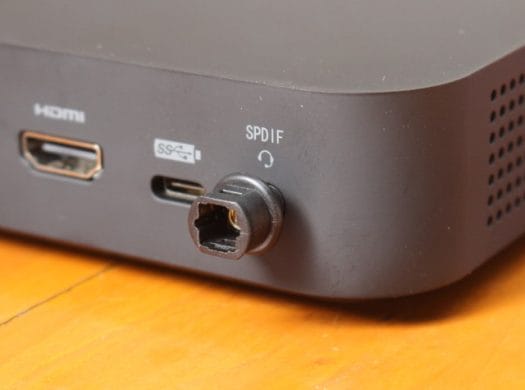 I've connected the SPDIF adapter, and could insert my TOSLINK cable into it. But I have not tested it yet.
MINIX NEO N42C-4 Teardown / M.2 SSD + RAM Installation
In most cases, users do not need to open their mini PCs, and I do open them to check out the hardware design. But MINIX NEO N42C-4 is different since it's upgradeable, and you can add more RAM up to 8GB, add an M.2 SSD, or even replace the WiFi module. The company confirmed that if users upgrade the RAM or internal storage it won't affect their warranty status, neither will it void the warranty.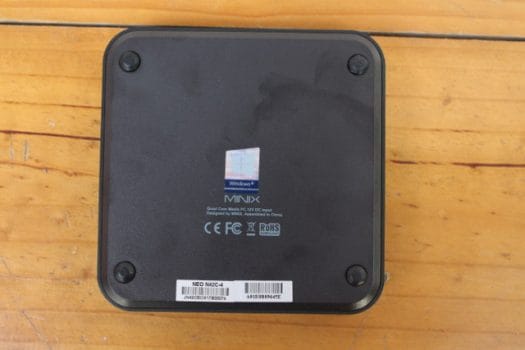 For that reason, I expected them to make opening the device a little easier, but you'd still need to remove the four rubber pads, and loosen four screws on the bottom of the case. Also notice the Genuine Windows logo, something I seldom see on other devices.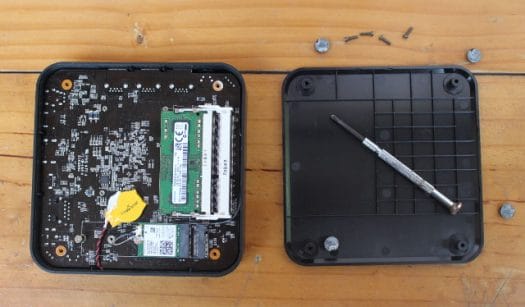 The bottom still come easily, but ideally the rubber pad and screws should be located at different location, as the sticky part on the rubber pads may not work that well if you open the device two or three times. Maybe that's why they included a spare rubber pad set in the box.
The bottom of the board includes the RTC battery, two SO-DIMM connectors with one Samsung 4GB stick, and an Intel Dual Band Wireless-AC 3168 (3168NGW) WiFi module with 802.11ac 1×1 WiFi and Bluetooth 4.2.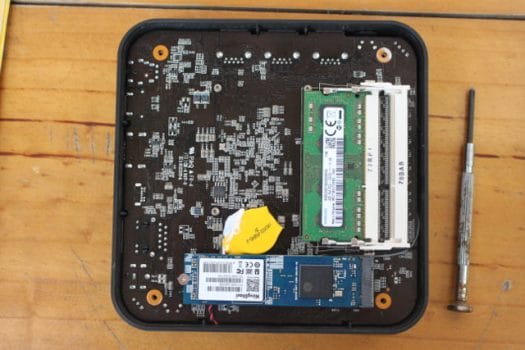 You can also add your own M.2 SSD, and I did so with KingDian N480 2280 M.2 SSD with 240GB capacity, but it looks like 2260 M.2 SSD may also be supported. MINIX told me you can boot from M.2 SSD. Simply re-install the Windows 10 OS on the M.2 SSD, and disable the eMMC in the BIOS.
Most people won't need to further remove the board from the case, but I still took it out to check more of the hardware design.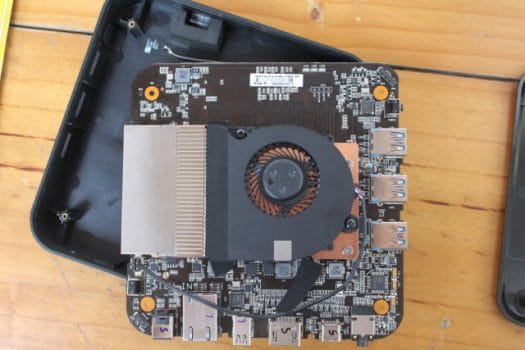 All other MINIX mini PCs I've reviewed so far were fanless with a large heatsink covering the board, but the company has instead gone with a actively cooled design for their NEO N42C-4, with a copper heatsink fitted with a fan blowing out the warm air from one of the sides (the one with Kensington lock). The fan is connected via a 4-pin, so it should be controlled depending on temperature, and not spinning all the time.
Some of the visible chips include Realtek RTL8111F Gigabit Ethernet transceiver, Realtek ALC662 5.1 channel HD audio codec, and an ARM MCU (MINI5870E?) for power control. Some headers are also exposed for the ICE (In-Circuit Emulator), and serial interface for debugging.
I have not tried the VESA mount, but the installation procedure should be the same as for MINIX NEO Z83-4 Pro. Documentation and support are available through a dedicated forum.
Continue reading MINIX NEO N42C-4 Mini PC Review – Part 2: Windows 10 Pro.

Jean-Luc started CNX Software in 2010 as a part-time endeavor, before quitting his job as a software engineering manager, and starting to write daily news, and reviews full time later in 2011.