Ambiq Micro unveiled their ultra-low power Apollo MCU back in 2015 with claims of Cortex-M4 performance at Cortex-M0+ energy efficiency by leveraging SPOT (Subthreshold Power Optimized Technology) technology that allows operating the microcontroller at very low voltages (less than 0.5V). Since then the company introduced Apollo2 MCU with 10 μA/MHz power consumption, but still a generic purpose microcontroller.
Earlier this year, the company unveiled a new version of Apollo2 microcontroller adding Bluetooth connectivity, and allowing Bluetooth applications that last years on a charge. Meet Apollo2 Blue.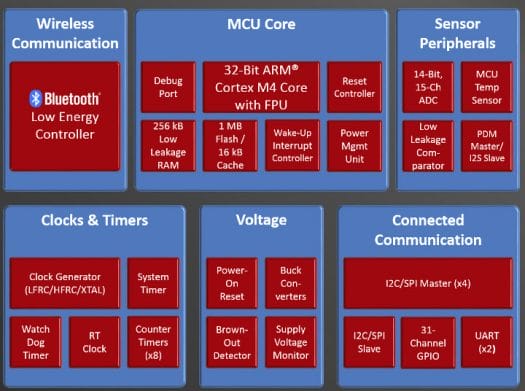 Apollo2 Blue key features and specifications:
Arm Cortex-M4 Processor up to 48 MHz with FPU, MMU, wake-up interrupt controller with 32 interrupts
Ultra-low power memory

Up to 1 MB of flash memory for code/data
Up to 256 KB of low leakage RAM for code/data
16kB 1 or 2-way Associative Cache

Bluetooth 5 Low Energy

RF sensitivity – -95 dBm
TX: 5mA @0 dBm; RX: 3.5mA
Tx output power: -40 dBm to +5 dBm
AES 128-bit encryption
Over-The-Air updates (OTA)
Coexistence with other 2.4 GHz wireless
Bluetooth SIG profiles support
Enhanced data rate up to 2 Mbps
Built in 32 KHz RCO

Ultra-low power interface for off-chip sensors

14-bit, 15-channel, up to 1.2 MS/s ADC
Selectable 8/10/12/14 bit precision to save energy
Voltage comparator
Temperature sensor with +/-2ºC accuracy

Serial peripherals – 4x I2C/SPI master, 1x I2C/SPI slave, 2x UART, PDM for mono and stereo audio microphone, I2S slave for PDM audio pass-through
Configurable timing peripherals

RTC with both 32.768 kHz XTAL and 1.024 kHz RC sources
8x 16-bit timers with flexible functionality for timing and PWM generation
32-bit system timer with 8 compare registers for interrupt generation and 4 capture registers

Clock sources

32.768 kHz XTAL oscillator
Low frequency RC oscillator – 1.024 kHz
High frequency RC oscillator – 48 MHz
RTC based on Ambiq's AM08X5/18X5 families

Ultra-low supply current (Bluetooth in shutdown)

<10 μA/MHz executing from flash at 3.3 V
<10 μA/MHz executing from RAM at 3.3 V
< 3 μA deep sleep mode with RTC at 3.3 V

Wide operating range – 1.755-3.6 V, –40 to 85°C
Package –  4 x 4 x 0.9mm 64-pin LGA
On the software side, the company provides FreeRTOS 9.0, Arm Cordio BLE stack (WiCentric), proprietary OTA firmware update method, fitness & watch profiles, standard Bluetooth SIG LE profiles, Tx Power control, and more. Supported toolchains include IAR, Keil, GCC and Segger.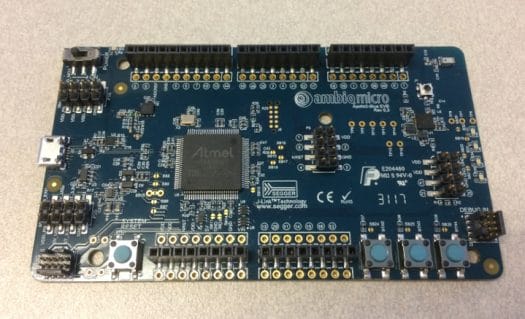 The company also offers Apollo2 Blue EVB for development with Arduino headers. The Atmel processor is used for debugging purpose. and if you are looking for Apollo2 Blue MCU it's the small black chip in the top right corner area. You'll find more details about the MCU and development kit including datasheet, schematics, PCB layout, and getting started guide on the product page.
Typical applications would include any battery powered device requiring Bluetooth connectivity such as smart watches, wireless sensors, activity and fitness trackers. home automation, wireless mice and keyboards, alarms and security system, and others.
Ambiq Apollo2 Blue evaluation board  can be purchased for 70 Euros + VAT + shipping on Fujitsu webstore, while sample price for the chip itself is 2.98 Euros.

Jean-Luc started CNX Software in 2010 as a part-time endeavor, before quitting his job as a software engineering manager, and starting to write daily news, and reviews full time later in 2011.