I had great hopes for SMA-Q smartwatch, as it features an always on color e-Paper display, a built-in heart rate monitor, and promised 30-day standby battery life, as well as being 30-meter water resistant. But last week, I found out that the latter did not mean waterproof, and instead the watch was rated IP65 that's only good enough to wash hands and a little rain, but not showering let alone swimming. In the last week, I could play with the watch, and found some serious Bluetooth connectivity issues (with Iocean M6752 smartphone), and I was recommended to upgrade the firmware of SMA-Q watch, and after that my Bluetooth issue have somewhat improve, but everything pretty much went downhill, and the watch is now out of order, and shows no sign of life.
So while I was expecting to write a full review, I'll simply report with experience with the watch and SMALife app, before tearing it down to see how it was made.
SMA-Q Smartwatch Mini Review
One you've fully charged you watch, you'll probably want to pair it with your smartphone. To do so you need to install SMAlife for iOS or Android.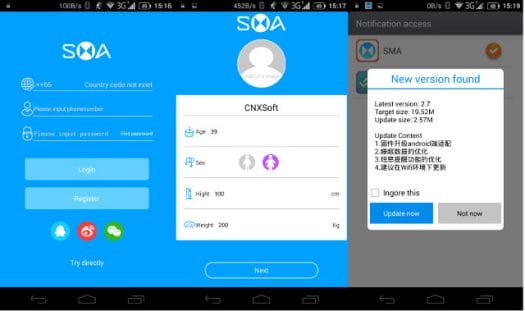 You'll be asked to enter you country code, phone number and password to register, but you could also use Chinese social networks to register, and simply skipped registration altogether by selection "Try directly". I have registered with my phone number, and after that you are asked to input your age, gender, height and weight. It's important to give the correct value to have a better estimates, such as walked distance. Finally, you'll be asked to authorized notification access the app. The first time, the app also detect a new version with a Changelog in Chinese only, and I proceeded to get the latest SMALife 2.7 app.
Now you should have access to the settings menu.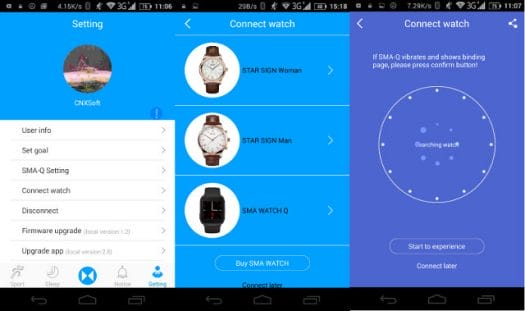 Tap on Connect watch, then select SMA WATCH Q, and the next window you search for your watch, and then display Bluetooth connecting. The full pairing may well take over one minute, and while that's annoying by itself, the app did not seem to reconnect to the watch if connection was lost, and I had to do a manual disconnect and reconnect that did not work, unless I reboot my phone. Reconnecting to the watch also mean the step and distance count in the watch, and all data that was out of sync with the phone would be lost.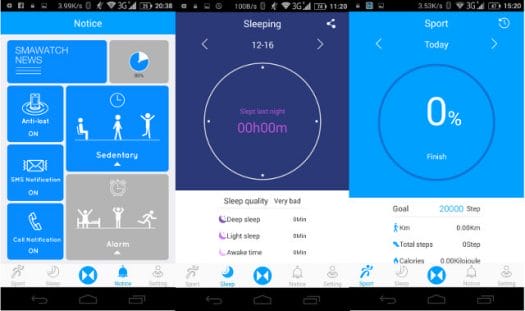 Beside Anti-lost and sedentary could never be enabled, sleeping tracking did not work, and I struggled to get any activity tracking data. So this is when I decided to contact GearBest to report the problems, and got instructions to upgrade the firmware on the watch. Firmware upgrade went smoothly, but was only available in Chinese (in the app), and I tagged Shenzhen Smart Care Technology Limited in Facebook, and the following day the company had provided an updated app with English support. So at least, the company is trying what they can to improve the device.
Sadly, while there was some improvement, with better connectivity, and I could enable Anti-lost and sedentary, the last two features never worked. Having said that I could get gmail, SMS, and call notification working, and since four lines are shown in the watch screen it was much more readable and easy to use than on No.1 D3 watch.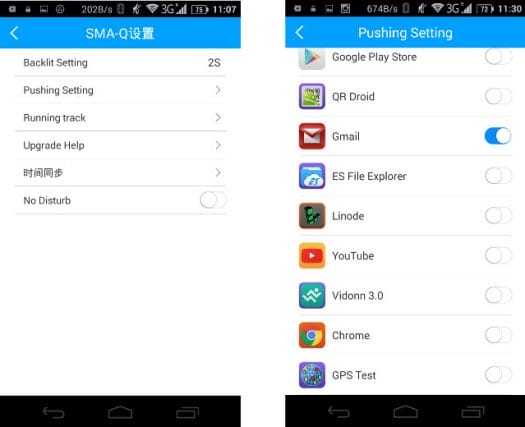 While only calls and SMS notifications are enabled by default, you can receive any app notifications to you watch, but going to SMA-Q settins, Pushing Setting, and enable the apps you wish. Running Track is crashing when I accessed it, Upgrade Help is only in Chinese, and you ma already have noticed the English translation may need to work across the app. I particularly like the "you have been binding" to notified the watch is allegedly connected to the phone whether it is or not.
Before the firmware upgrade I could get 4 to 5 day battery life, but I got surprised when the watch showed 21% one morning, and simply turned off a couple of hours later… However, after the firmware upgrade this went down to 20 hours, and the last day as I used to heart rate monitor, it seems to have gone to hell with the battery lasting 5 hours…
Talking about the heart rate monitor, I did learn a few things. Since the hear rate monitor is using an electro-optical sensor it's important not to let light affect the results, and you should make sure the watch is tight around your arm, and placed after the carpal bone, higher up your forearm. I did this, and went for a walk. It started at 80 bpm, and went up to 110 bpm as I walked a bit faster, so it seemed to work. But as I started to jog, the measured value went down to 80 bpm again… The watch also has a running mode that will record a run with your hear rate, time and estimated distance, but I did not manage to load the results to the phone, as the heart rate icon return an error in Chinese. The last day as I ran a bit faster the heart rate was also stuck at 80 to 90 bpm, and that was in the evening. I also noticed the running time was different from the one reported by Nike+ Running app on my phone. So yet one more issue.
While I really prefer the Sharp e-Paper display used in the watch compared to the OLED displays used in most other smartwatches, as it's always on and readable in bright light, it's quite dim compared to the display on my "dumb" Casio digital watch, and viewing angles are very poor.
Finally, the watch stopped working after a 25-minute run one evening, as I used the running mode and heart rate monitor. As I completed the run, I press the back button, but instead of asking whether I wanted to save the results, the screen just went blank. A few minutes later, I noticed the screen switched between red and rainbow colors just like in a firmware update. I then saw it enter some test mode, and the HRM green LED would keep on blinking. I tried to turn it off, but it kept blinking, so I let the battery deplete. I could see some humidity found its way into the watch… Nevertheless, at night and the next morning, I still tried to charge the watch again with two different power supplies, but nothing happens after a few hours waiting. The watch was clearly dead.
SMA-Q Smartwatch Teardown
While the watch is clearly a massive disappointment, the silver lining is that I could now tear it down to find out how it was made.
The screen cover has some glue/silicon to provide some sort of waterproofness. I could then relatively easily take the screen out and find out a Silicon Labs EFM32 MCU was used in SMA-Q.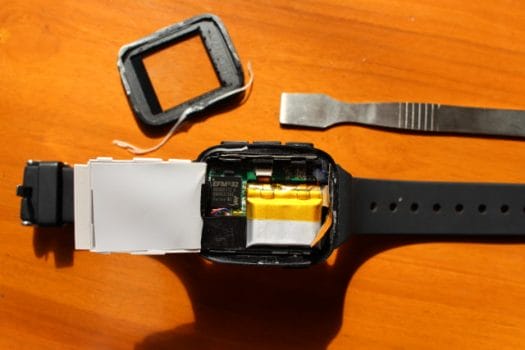 More exactly EFM32 Giant Gecko EFM32GG330F512 ARM Cortex-M3 MCU @ 48 MHz with 512 KB Flash, and 128KB RAM.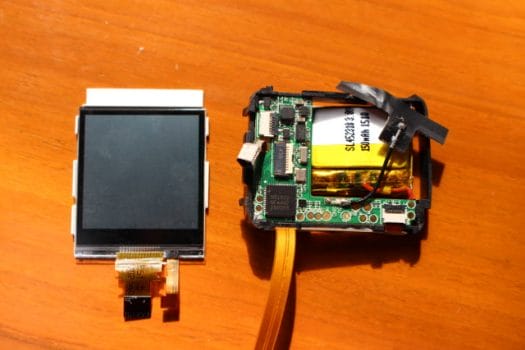 Taking out the board to checkout the other side confirms the watch features a 150 mAh battery, and we can find out the Bluetooth 4.0 LE is implemented with Nordic Semi n51822 (nRF51822) Bluetooth Smart SoC. That means that company has not used an home grown (Chinese) electronics in their watch, but instead relied on European tech for the ICs, and Japanese tech from Sharp for the display. There are also various test points on this side of the watch board that might be used for hacking.
Even though I'm quite sad that SMA-Q smartwatch did not perform well at all for me, I'd like to thanks GearBest for providing a sample. If you'd still like to purchase one, you can do so on their website for $55 shipped.

Jean-Luc started CNX Software in 2010 as a part-time endeavor, before quitting his job as a software engineering manager, and starting to write daily news, and reviews full time later in 2011.