I had been using Xiaomi Mi A1 Android One smartphone since the end of 2017,  and was mostly satisfied with it thanks to regular (monthly) firmware update, although I was a bit disappointed by the camera overtime. Eventually I had a serious issue with Mi A1's eMMC flash, and stopped using it at the end of last year, or roughly after one year of service, since the phone became unusable, unbearably slow.
Xiaomi Mi A2 and A2 Lite where released last summer, and having seen Mi A2 was getting an Android 9.0 firmware in Q4 2018, I asked GearBest whether they could send a sample to review the latest Xiaomi Android One phone. They accepted, and I posted the first part of the review in early December. However, at this time, I did not get the update, since it was not released in Thailand, but soon enough Xiaomi Mi A2 got upgraded to Android 9.0 Pie. I've now been using the phone for two months, and can report my experience with the device.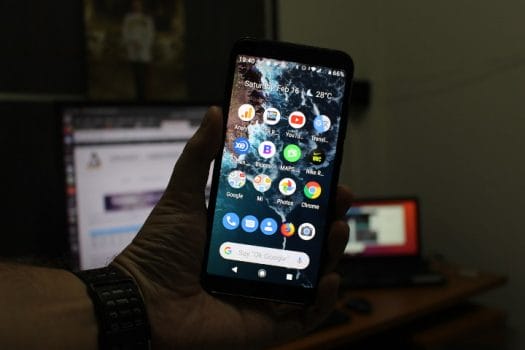 Benchmarks: Antutu, PCMark, 3DMark, and GeekBench
Let's start with the usual benchmark. In the first part, I ran Antutu 7.x in Android 8.1 Oreo, and got 111,353 points. I repeated the test with Android 9.0, and the score has now increased to 133,504 points.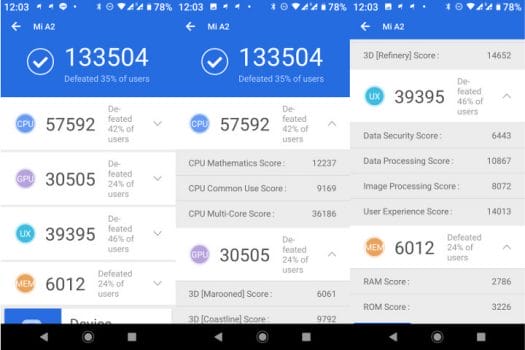 For reference, the top smartphones get a little over 300k points but Xiaomi Mi A2 score is not bad for a $250 phone.
PCMark Work 2.0 performance score was 6,743 points.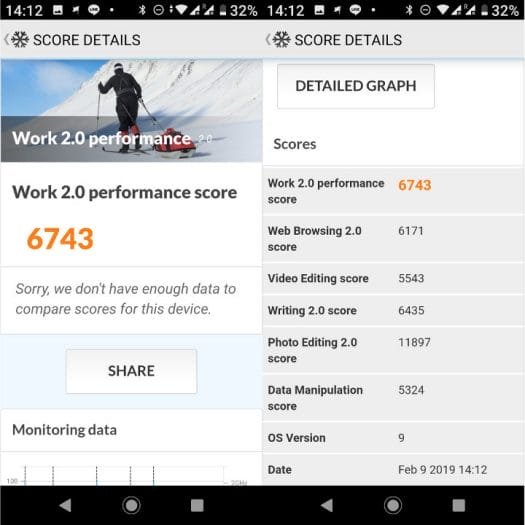 The best devices get close to 10,000 points for Work 2.0 performance benchmark at the time of writing.
I started 3DMark graphics benchmark with Ice Storm Extreme, despite being told the phone was too powerful, but I should have believe it, as Mi A2 just maxed out the benchmark. For reference, Xiaomi Mi A1 got 8,045 points in Ice Storm Extreme.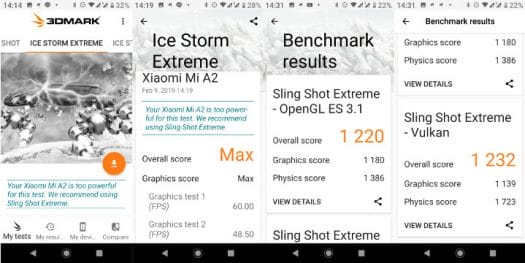 Switching to Sling Shot Extreme OpenGL ES 3.1 and Vulkan benchmark yielded about 1,230 points in both.
I completely the generic benchmarks with GeekBench 4.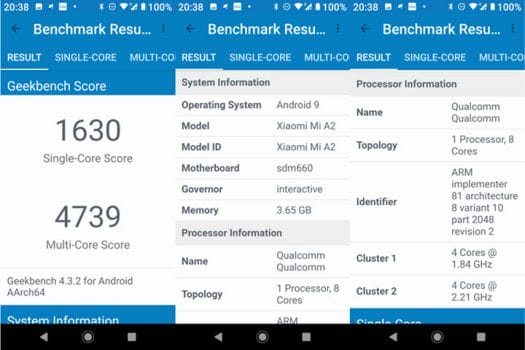 1,630 single core score and 4,739 multi-core score compares to 856 and 4,161 points for Xiaomi Mi A1. You'll find the detailed results here. It should be noted that others achieved over 6,000 points in the multi-core score with Mi A2. The only rational explanation I have for the discrepancy, and I have tested several time, is that my ambient temperature (around 28°C) is likely higher than others.
Storage and Wi-Fi Performance
As usual I went with A1 SD Benchmark app to evaluate storage performance. The 32GB eMMC flash achieved a decent 211.49MB/s sequential read speed, and 125.14MB/s sequential write speed.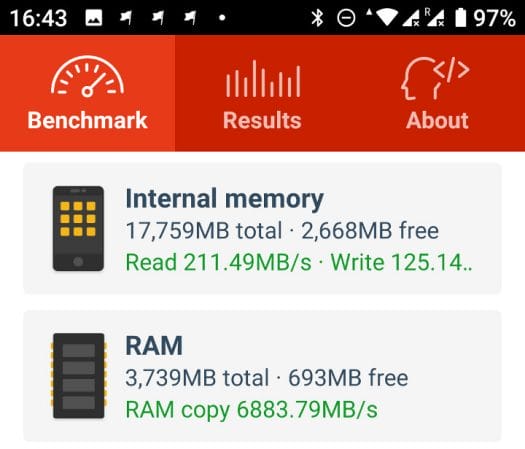 Note that read speed was cached, so it may not be representative of the actual speed of the eMMC flash. As a side note, I'd recommend people not to buy the 32GB version of the phone, and instead go with the 64GB. My phone storage is often full, so I have to uninstall apps or delete files, and since it does not come with a micro SD card slot, we can't easily expand it. What worries me is with the storage being always nearly full, the flash may wear out faster than on my Mi A1 with 64GB storage.
Let's now try WiFi performance using WiFI 5 (802.11ac) and iperf.
Server

listening

on

TCP

port

5001

TCP

window

size

:

  

128

KByte

(

default

)

--

--

--

--

--

--

--

--

--

--

--

--

--

--

--

--

--

--

--

--

--

--

--

--

--

--

--

--

--

--

[

  

4

]

local

192.168.1.22

port

5001

connected

with

192.168.1.2

port

40463

[

ID

]

Interval      

Transfer    

Bandwidth

[

  

4

]

  

0.0

-

60.0

sec

  

1.13

GBytes

  

162

Mbits

/

sec
Client

connecting

to

192.168.1.2

,

TCP

port

5001

TCP

window

size

:

85.0

KByte

(

default

)

--

--

--

--

--

--

--

--

--

--

--

--

--

--

--

--

--

--

--

--

--

--

--

--

--

--

--

--

--

--

[

  

3

]

local

192.168.1.22

port

46486

connected

with

192.168.1.2

port

5001

[

ID

]

Interval      

Transfer    

Bandwidth

[

  

3

]

  

0.0

-

60.0

sec

  

1.93

GBytes

  

276

Mbits

/

sec

So download looks excellent, althrough upload is a litle disappointing, but nothing too bad, it's perfectly usable.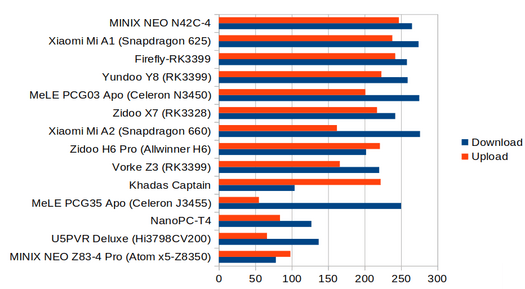 Now bear in mind that I moved home, and don't currently use the same router. Furthermore, previously the router was outdoor (about 4 meters from the test location + wall), and this time the new router is in the same room about all 2 meters from the test device, so I would expect slightly better performance in my new environment.
Anyway, I don't have complaint about WiFi throughput. However, there's another WiFi related issue as I've noticed is that the phone often fails to connect in places I'm used to go such as friends' houses or restaurants, and I need to move closer to the router in those places – than I used to with Mi A1 – to detect the access point, and connect. So there appears to be a very annoying range issue on the phone.
Rear and Front-Facing Cameras
Another selling point of Xiaomi Mi A2 is its improved camera capabilities, so I've put it to the test.
Rear Camera
Let's start with some close shots using the rear camera.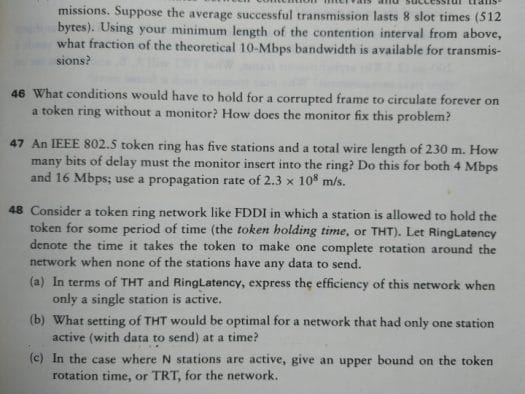 Text looks pretty good, and I could even use the phone as a scanner with Clear Scan app, which produced results good enough for some government's paperwork.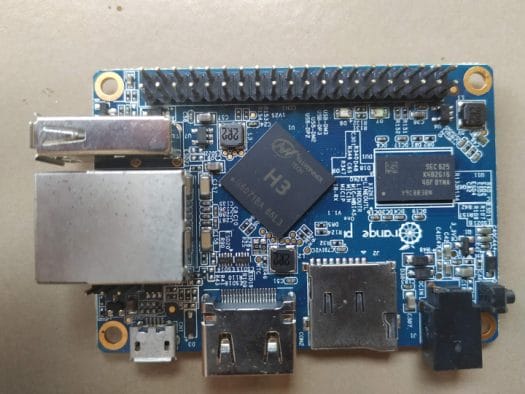 I then took a photo of Orange Pi One SBC, and it looks better than the equivalent shot with Mi A1 with most marking clearly readable.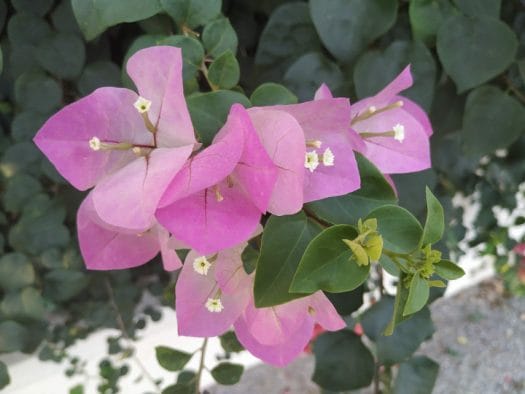 All flowers shot looked good, with faithful colors.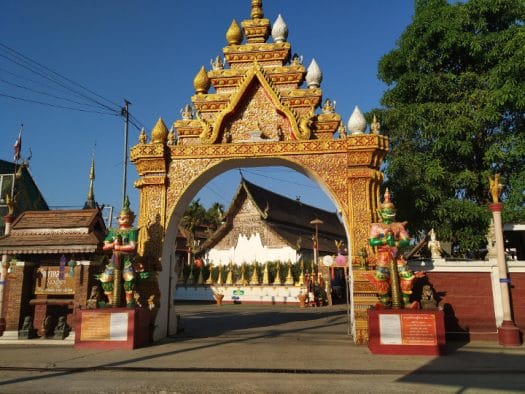 The same is true for photos with good light, but as is often the case, the camera struggles a bit more while facing the sun.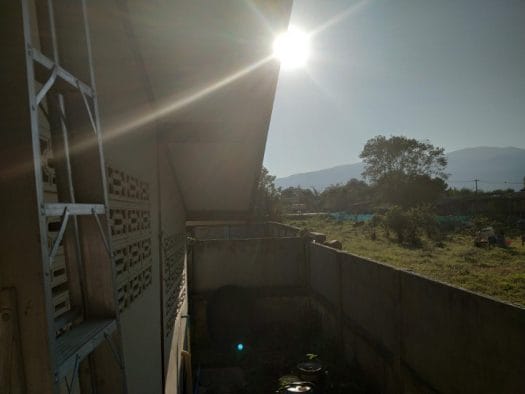 There's some pollution in Chiang Mai at this time, but the photo below makes it look quite worse than it really is with the image being quite foggy.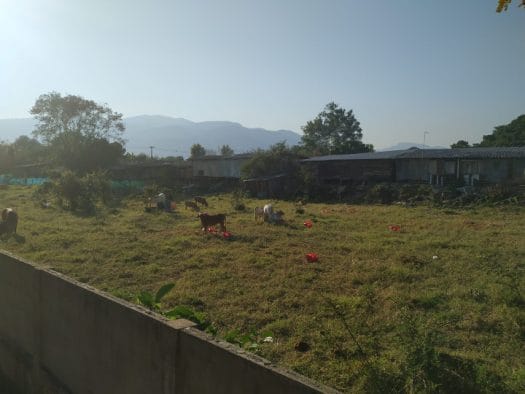 I also had a try at zooming with the photo below.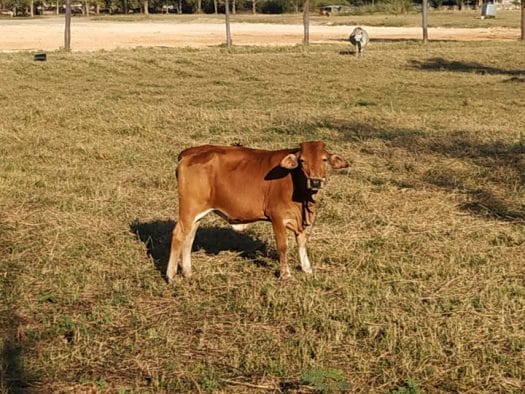 Dusk photos are also a bit foggy, but at the time the air was clear, no fog at all.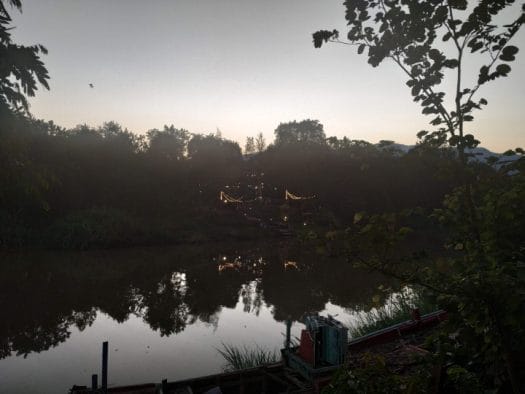 Night-time photos are a bit grainy.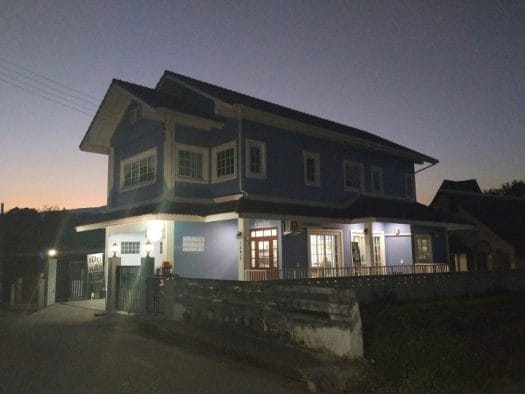 I also went in a fairly dark street (below), and I can actually see more details than with my own eyes on the photo.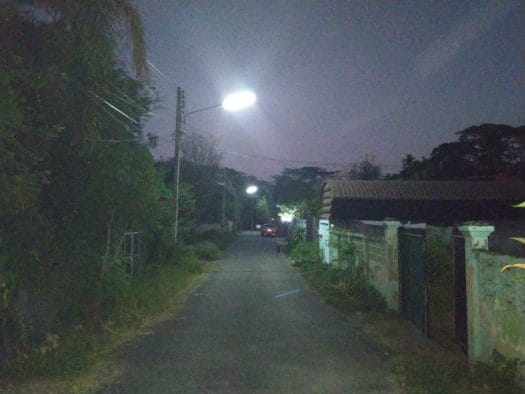 For closer subjects, the flash is triggered so low light photos look good.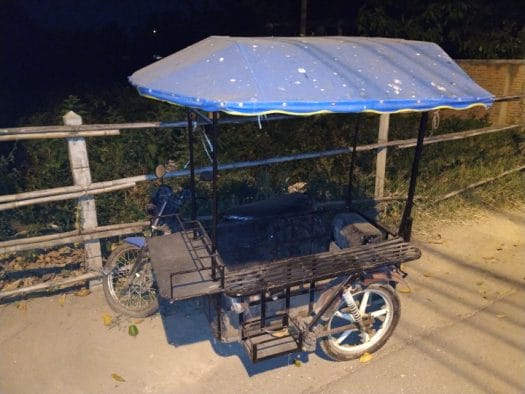 Videos are shot at 1080p30 by default with H.264 codec, and (MPEG-4 AAC / 128 Kbps / 44100 Hz) stereo audio sounds fine.
However, the auto-focus somewhat messed up the video at night time

Front-facing Camera
The font-facing camera work as one should expect, so no complains overall.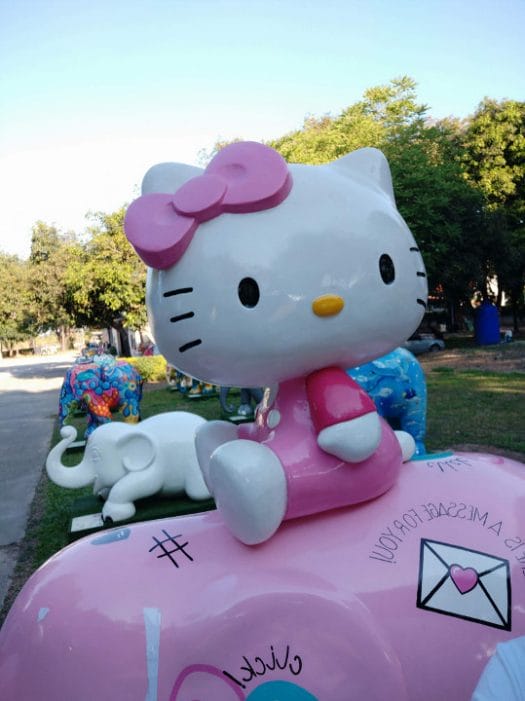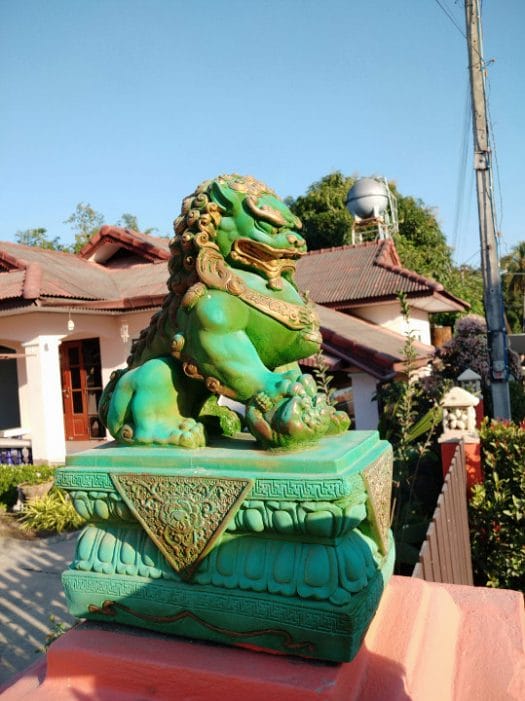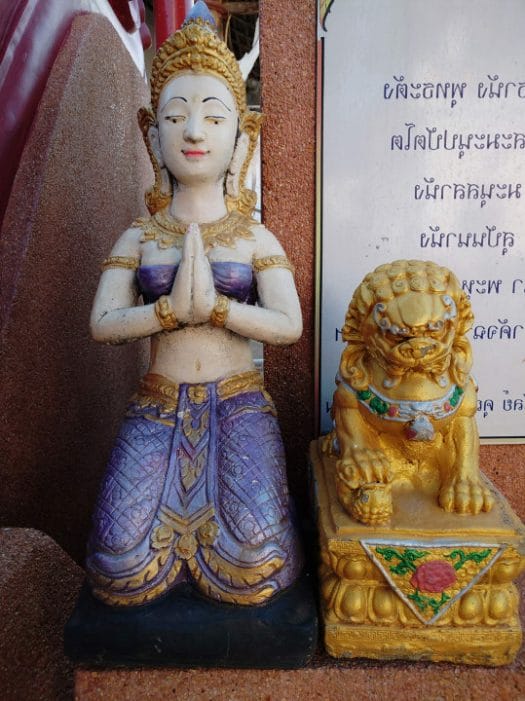 I also used it for video calls through LINE app, and the image is clear and sharp.
You'll find two videos samples with the front-facing camera during the day and at night below.
Battery Life
Xiaomi Mi A2 battery has the same capacity as Mi A1's battery, or about ~3,000 mAh, but I found it was hard to get a full day of battery life out of the phone for my use case (Web browsing, YouTube, gaming, and chatting 4 to 5 hours a day). One reason might be because I found the display not to be very bright, so I set the brightness to the maximum often.
In my previous reviews, I used LAB501 Battery Life app to test battery life from 100% to 15% for browsing, video and gaming cases, with brightness to 50%, WiFi and Cellular (no data) enabled, and I repeated this method again for Mi A2.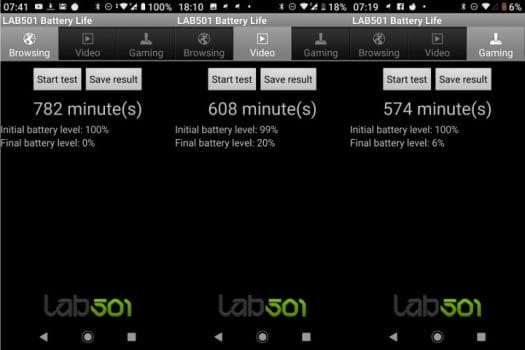 But in some cases let it run to less than 15% battery charge, and the video benchmark automatically stopped with 20% battery charge left. So I normalized the results for 100% to 15% as follows considering the discharge is mostly linear:
Browsing – 664 minutes (11 hours 4 minutes)
Video – 646 minutes (10 hours 46 minutes)
Gaming – 519 minutes (8 hours 49 minutes)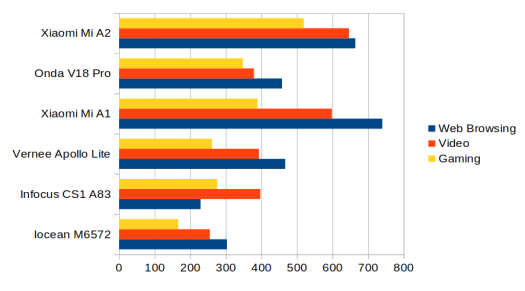 Xiaomi Mi A2 fares better than I would have expected in this test considering I can't get a full day (e.g. 8:00 to 22:00) of battery life. The browser battery life is lower than Mi A2, but gaming lasted longer so the GPU may be significantly more power efficient.
Lab501 app has not been updated since 2012, and I noticed GeekBench also offered a battery life benchmark.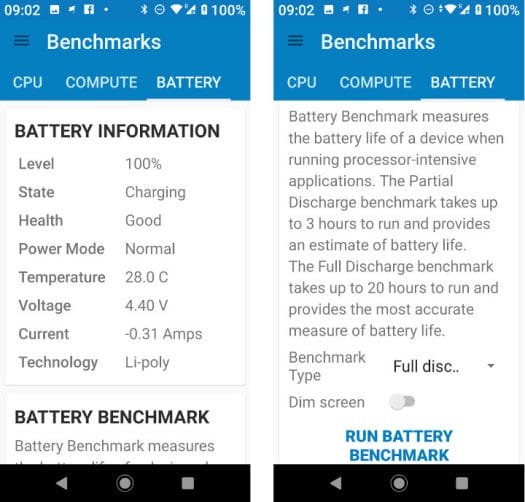 So I ran it for future reference with full discharge, and without dimming the screen, selecting 50% brightness instead. Geekbench Battery Score: 3343 points.
I'm not quite sure why the score is not in minutes or hours/minutes, but nevertheless, we can see the discharge (blue line) is pretty much linear, even after the system enters power savings mode (grey line) with 15% battery life left. Total time for the test was 5 hours 44 minutes.
The score does not look too bad, as it's right between Samsung Galaxy S7 and Galaxy S8. The best device in the comparison windows is Samsung Galaxy Note 8 with 5,000 points.
Fast charging is not supported, and it takes around one hour and 30 minutes for a "full charge" from 15% to 100%
Miscellaneous
Bluetooth
I used Bluetooth for files transfer between my phones, to connect wireless Bluetooth headset, and synchronize data from Weloop Hey 3S sports smartwatch and no problem. Once I also connected the phone to Onkyo TX-NR636 A/V receiver to play music.
GPS
I'm mostly using two apps with GPS features: Nike+ Running and MAPS.me, and overall I'm very satisfied with a fast fix, and good accuracy as shown in the screenshot below.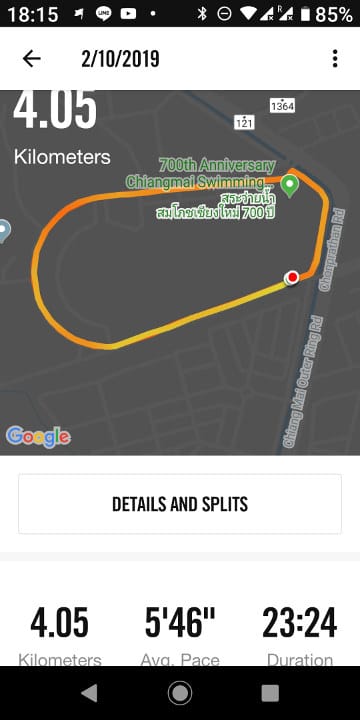 Gaming
I played four games with the phone: Candy Crush Saga, Beach Buggy Bleach, Riptide GP2, and CSR Racing 2. I test the first three quickly, but I play the last one daily. All games play smoothly with high frame rate, but in CSR Racing 2 I have a problem with the game missing the first gear press from time to time. It did not happen with my previous phone, but it could also be a bug with the game itself, as CSR 2 is one of the worse game I ever played when it comes to bugs.
Other comments
Multitouch Tester app allowed to confirm the touchscreen supports 10 touchpoints. I found the speaker to be of decent quality, and I often use it to listen to YouTube videos. Note, the phone does not come with a headphone jack, and instead, a USB-C to 3.5mm audio jack is provided in the package.
I didn't play with cellular data much, except during a 5-day trip overseas, and I had no problem using it as all.
As part of Android One program, I already received a firmware update to Android 9.0, as well as two security updates since I received the phone two months ago.
Conclusion
Xiaomi Mi A2 smartphone mostly does the job, but I would not necessarily recommend it because of 2 or 3 keys issues: poor WiFi range, no micro SD card slot (so I'd recommend the 64GB model instead of the 32GB model I got for review), and the screen is not that bright, so it may be an issue to use in direct sunlight.
PROS
Latest Android 9.0 Pie firmware
Part of Android One program with promise of regular security and firmware updates for 18 months (including Android 10.x).
Good & sharp 2160 x 1080 display
Good Wi-Fi 802.11ac performance
Good eMMC flash performance
Improve camera capabilities over Mi A1
(Incremental) performance improvement over Mi A1
CONS
Poor WiFi range (I find myself having to get up to get signal in places where I used to be able to connect with Mi A1 or other phones)
The screen is not very bright
No micro SD card socket, and 32GB is clearly not enough in my case, as I regularly have to uninstall apps, or remove files/photos to keep using the phone.
Fast charging not available
Lack of 3.5mm audio jack
I'd like to thank GearBest for providing a review sample. Since I don't recommend the 32GB flash version, Xiaomi Mi A2 (64GB Black) can currently be purchased for $209.99 shipped via GearBest, but you'll also find did on other websites such as Amazon for $205 and up.

Jean-Luc started CNX Software in 2010 as a part-time endeavor, before quitting his job as a software engineering manager, and starting to write daily news, and reviews full time later in 2011.