The PanGu Board is a single board computer (SBC) that is feature-rich and versatile, at an affordable price point. The board powered by STMicroelectronics STM32MP1 processor was released in February of 2019 and hadn't really made much a splash in the pool of microprocessors available at the time. The processor is now the main feature of the PanGu Board, an SBC with a host of features and utilizing the Arm dual-core Cortex–A7 MPU and the Cortex-M4 coprocessor to allow for more enhanced multimedia ability and all the heavy real-time processing that users are calling for today.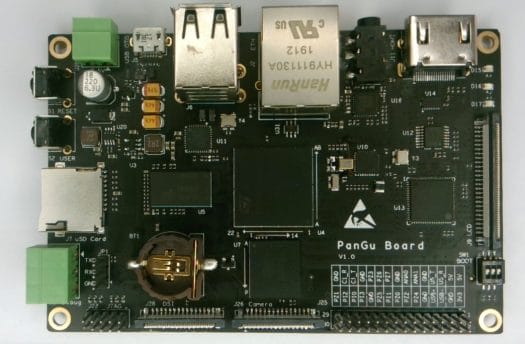 Hardware Features
MPU

Dual Cortex-A7, 650MHz
Cortex-M4, 209Mhz
3D GPU

Flash & Memory

16-bit DDR3L, up to 1GByte
8-bit eMMC Flash
Quad-SPI NOR Flash
Supports Micro SD

Audio

3.5mm stereo headphone jack
support microphone input

Display

Parallel RGB LCD interface, the resolution up to WXGA (1366×768)
MIPI DSI interface
Support for resistive and capacitive touch panel
HDMI Type A connector includes audio output

USB

1x USB 2.0 OTG, support device, and host mode using Micro Type-AB connector
2x USB Host,Type-A connector

Camera

8Bit parallel camera interface

LEDs

1 x red LED for system power
2 x blue LED for user

KEYs

1 x KEY for system reset
1 x KEY for user

Debug

support JTAG/SWD port
support TTL debug port

Power

DC 5V, support USB or 3.81mm terminal block supply
support using CR1225 as a backup battery

PCB Size (W x L )
Extension

80-pin board-to-board connector
30-pin 2.0mm Pin
Support GPIO/I2C/SPI/CAN/TIM/UART/SDIO/ADC/USB/FMC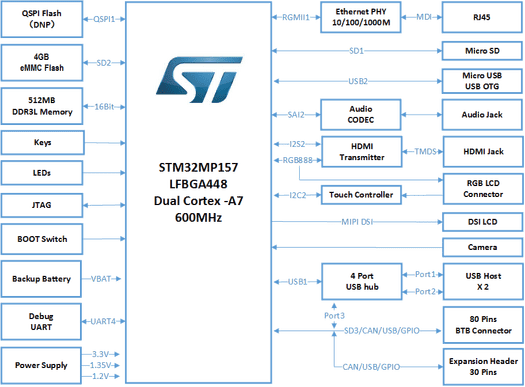 The PanGu Board comes with a rich array of features and abilities, all powered by the STMicroelectronics STM32MP1. The HDMI port and the Ethernet, along with LCD, USB OTG, USB Host, add a new dimension to SBC's in general. The company reports that the board can work in a number of different scenarios and can be used in industrial and commercial environments. The PanGu Board can be utilized in consumer electronics, the Internet of Things, etc.
The extra features and capabilities of the PanGu Board show the ability of the STMicroelectronics STM32MP1 processor to handle the processing of data from the multitude of features and ports, each needing its share of RAM, from the 512 MB's that the PanGu Board carries.
The PanGu Board can run Linux in Debian Jesse and Yocto Linux, the processing is more reliable and overall faster and more stable, than previously seen with comparable SBCs. The development features are lighter, more robust and have the developer in mind with multilanguage capabilities. You'll find documentation in the Wiki (Chinese only).
I2Som's PanGu board is now available on Taobao for 499 RMB (~$72.50 US).

Stephen started writing about technology after publishing sci-fi short stories. His first White-Paper, written in 2008, was well received and inspired him to continue writing about technology. Today he writes in the technology space full time, covering a multitude of topics. During the time he wrote part-time he edited hundreds of titles for large publishers, in science and technology. He lives in Staten Island, with his wife and children.