Announced on August 12, 2019, Arduino has partnered with the London-based Chirp, a wireless data-over-sound software solution for machine-to-machine connectivity.  The system has the ability to work online or offline, as long as there is a loudspeaker and a microphone available. The software works with the Arduino Nano 33 BLE Sense board in send and receive mode, while most Arduino MKR boards and Arduino Nano 33 IoT will also be supported by the SDK, but only to send data. The software and board are fully compatible with SDKs from a wide variety of platforms. The Nano 33 BLE Sense is available for purchase from the Arduino website, for $29.50.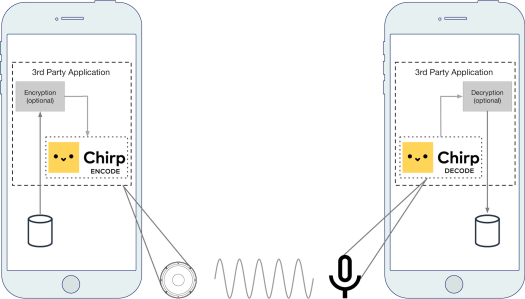 The sensor-rich Arduino Nano 33 BLE Sense is application-ready right out of the box, and Chirp is ready to start sending encoded data from a device fitted with an audio speaker, to the board's built-in microphone, where it is encoded and delivered. The sound is above the hearing range of human's, so is inaudible. The applications for such a transfer of data are many and varied, but some are IoT based purchase transactions, signal to turn on a Wi-Fi network in a particular device.
The process consists of-
A transmitter can be a device, outfitted with a speaker, that sends the data through sound production.
Channel, this can be a room, or even a telephone line, any place where sound can be reproduced.
The receiver is a device equipped with a microphone, where sound can be picked up directly to the Chirp SDK
Chirp is not an app or a website, but a series of SDK's that can be utilized for applications in IoT development.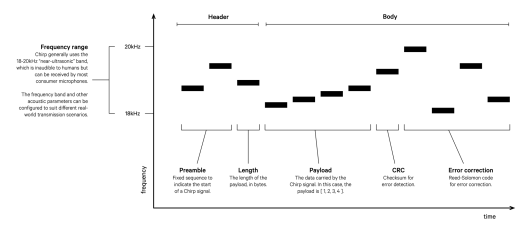 Chirp's machine-to-machine data transfer capability is utilizing one of the most prevalent forms of delivery, sound. Chirp can detect devices, initiate transfers, and gather information all in a data-over-sound solution. The Chirp SDK is designed for Arduino projects as well as a cross-platform solution for many OSs.
C code
iOS
Windows 8.1, 10
Android
Python
JS
The entire system runs independent of an internet connection, and encryption is used at every stage of the transfer process, so the process is very secure. The platform can also connect to the internet for transfer but is encrypted for security purposes. The entire system is meant to be developed for the end-user, who is creating applications for IoT.
The information found in this article and further information can be found:
Chirp is a free SDK for non-profits and startups, the basic software is free and open-source for everyone, even commercial users, with some limits. There is an enterprise-level product offered with customized pricing.

Stephen started writing about technology after publishing sci-fi short stories. His first White-Paper, written in 2008, was well received and inspired him to continue writing about technology. Today he writes in the technology space full time, covering a multitude of topics. During the time he wrote part-time he edited hundreds of titles for large publishers, in science and technology. He lives in Staten Island, with his wife and children.