[Update August 24, 2019: Added information about expected release date and license]
About Qt for MCUs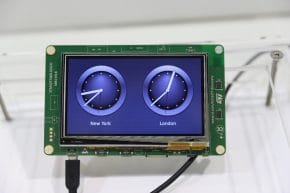 Qt- The well known opensource toolkit for creating graphical interface announced their new release: Qt for MCUs, targeting MCU's. The new graphical toolkit will be capable of running on devices without operating system.
This may be a game changer in the entire MCU world, since Qt for MCUs allows developers to create fluid user interfaces on cost-effective micro controllers. This means we will be able to see smartphone like GUI's which are running on low-end MCU's with limited resources. With reference to their press release, assuring that Qt-GUI will consume less power to save the battery life.
Qt for MCUs Software Stack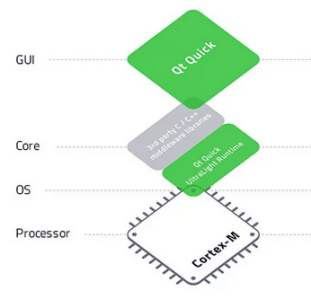 While developing any applications for MCU, developers still can use their powerful declarative UI language QML and rich set of ready-made Qt Quick controls. And the C++ APIs, helps the user interface with C++ based back-end.
applications are being rendered by Qt's optimised graphics run-time with low memory foot print. This makes Qt for MCUs capable of running on resource constrained devices. This new run time engine allows the application to run directly on the processor without an operating system.
Providing Qt Quick Control 2 along with Qt offers features to start the development with Qt for MCUs. Qt's design and development tools – Qt Design Studio and Qt Creator will support development on the new graphical toolkit. The Qt team is also ensuring that the current users of Qt can continue using their existing workflows to develop applications for micro-controllers. You can download demo binaries and try them out with a supported hardware platform.
Qt for MCUs Hardware Compatibility
Currently, Qt for MCUs is specifically developed for Arm Cortex-M microcontrollers, with a limited set of tested hardware platforms, mentioned below.
STM32F7508-DK

I.MX RT1050-EVKB

Renesas RH850
A thermostat demo can run on NXP I.MX RT1050-EVKB with the following specifications and resources consumed.
Screen Resolution of 480×272, Color -16 bit
Frame Rate 60 FPS
SRAM Used 1625 KB
FrameBuffer 522KB
As demonstrated by the videos published by the Qt team, a GUI developed with the graphical tookit is capable of running on somewhat low-end hardware.
The company targets a mid-September release for the evaluation version to be available for download, and it will be licensed under a commercial license.
References
Product page where you can

sign-up to receive the evaluation packages

An Entrepreneur, an Opensource Enthusiast  and Researcher in the domain of Embedded Systems, Wireless and IoT – Has over 16+ years of experience in managing and contributing enterprise Research Projects, in Embedded Systems, Software Technologies, Product Conceptualizations and development, Telecommunication, Media and Entertainment and Consumer Electronics.