PicoPix Extra Connectivity
The latest entrant into the miniprojector market is the Phillips PicoPix Max Pico Projector in two versions, x10 and x100, a very versatile projector with many features and large aspirations. The mini projector is nothing new and we have reported on it in depth for units that came out some time ago such as the Rikomagic RKM R1 or Doogee Smart Cube P1. The fact that a major electronics manufacturer is launching a mini projector through a crowdfunding campaign is somewhat unusual, but let's have a look at the details.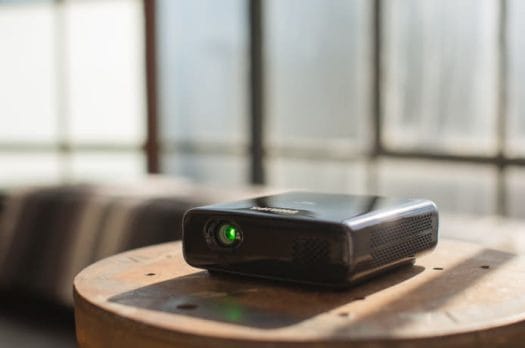 Portable Native Full HD
Phillips is calling the PicoPix Max Pro a premium, portable cinematic experience. The unit is made to go anywhere and not need a phone or laptop to function but has a large number of ports and options for each port. The LED light bulb is said to last 30K hours, and the source is 800 ANSI lumens strong and can run off the internal battery for 3 hours of completely wireless uptime. The unit is a 1080p Full HD Pico Projector, with direct input from the touchscreen on top of the unit, which has a built-in trackpad. The projection size can be adjusted from 30" up to 120" (75 cm up to 305 cm) with a 1.5 GHz quad-core CPU and 16 GB of internal memory.
Supports Many Devices
There is a large array of devices that can be plugged into the units. Some of these devices are Macbook, iPad, iPhone, flash drives, hard disk drives, tablets, gaming consoles, and speakers. The units have a speaker arrangement built-in, but also a number of options for audio. Connections can be made through Airplay, Screen Mirroring, USB Type C (power and video) USB Type A, headphone Jack, Bluetooth, and HDMI. The units are all Apple ready through the USB Type C connectors. The units can host any iOS or Andriod device.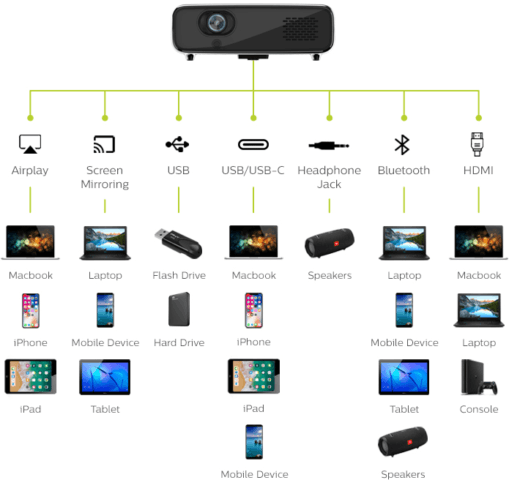 Specifications and Features
1.5GHz quad-core CPU
16GB storage + MicroSD
Projector

Native Full HD
Cast up to 120"

Video Inputs – USB-C (video+power), HDMI (4K ready),  Wi-Fi via Miracast or Airplay
Audio Input – 3.5mm audio jack and Bluetooth, built-in speakers
Apple Ready
Up to 3 Hrs of Battery Life
Android OS – Supports Netflix, Youtube, Kodi, and 4000+ Android Apps.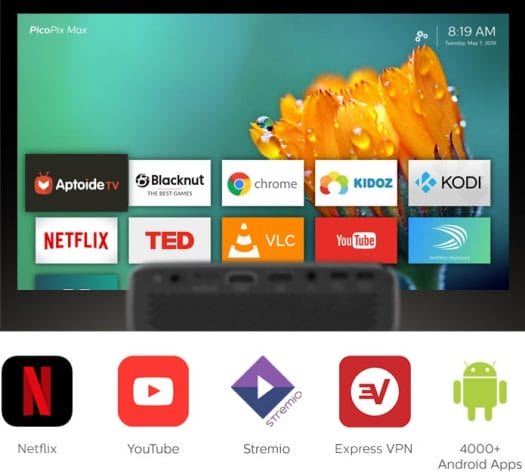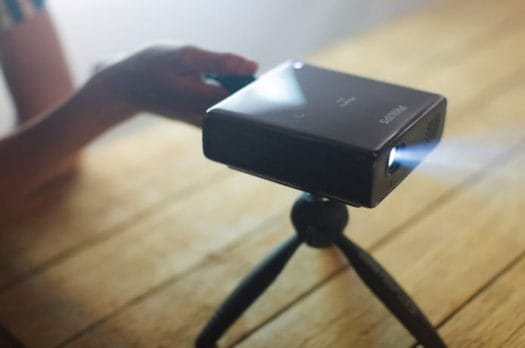 A Feature Above The Rest
There is an autofocus feature that is controlled by an internal camera mounted just below the lens, for a constantly updated image to make sure the picture is clear and in crisp focus.

Shipping and Crowdfunding
The units are set to ship starting very end of September 2019, and packages of 50 or 100 set to ship at the very end of October. Crowdfunding on Indiegogo for the PicoPix Max is up right now and is over 1000% funded. The single unit price is $464. The optional packages are $19,894.00 for a 50-unit pack, and $37,890 for a 100-unit pack. The units ship with AirMote, Travel Pouch, Tripod and universal charger.
Thanks to TLS for the tip.

Stephen started writing about technology after publishing sci-fi short stories. His first White-Paper, written in 2008, was well received and inspired him to continue writing about technology. Today he writes in the technology space full time, covering a multitude of topics. During the time he wrote part-time he edited hundreds of titles for large publishers, in science and technology. He lives in Staten Island, with his wife and children.