Doogee Smart Cube P1, or just Doogee P1, is an Android projector powered by a quad core Amlogic processor. I've already taken some pictures of the device, and gave it a quick try, so today, I'll write a little more about my experience using it in standalone mode with an air mouse, as well as with an Android phone using both Miracast and DLNA. The device also supports Airplay, but I don't think I have any compatible device, so I have not tried this mode.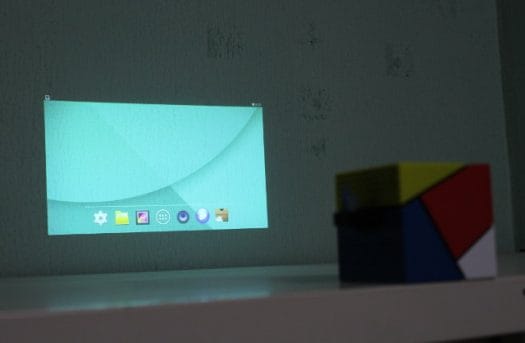 Doogee P1 in Standalone Mode with an Air mouse (or other wireless/USB input device)
After connecting MINIX NEO A2 lite air mouse's RF dongle to the only USB port on the device, I pressed the power button for 5 seconds to start it up, and boot is pretty fast in around 30 seconds. You'll need to adjust the focus with the wheel button on the side. It will start with the stock Android launcher, showing "Hotspot mode" on the left in the notification bar, but instead I went to the settings to connect to my WiFi network. My 2.4 GHz and 5.0 GHz access points were detected, but if you don't input the password fast enough that "Hotspot mode" notification will come up again, and you have to start again. After a few unsuccessful frustrating attempts, I finally managed to connect to my WiFi network.
So I went to Google Play Store to install YouTube. I could sign-in with any issues, but I got some error message when installing the app.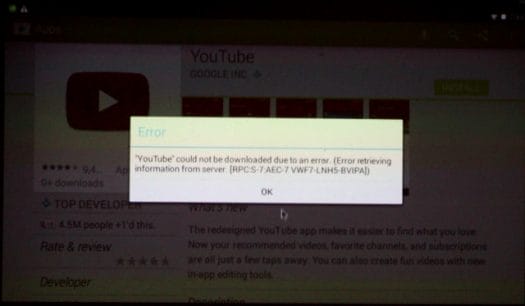 It also happens with all other apps, and two other reviewers actually contacted me to know if I had the same problem with Google Play. So there's definitely a problem with the firmware here. However, at the end of the review, I finally found out that Wireless update works, and March 30, 2016 firmware did fix Google Play. So make sure you update when you receive the device.
Since YouTube app was not an easy option at the time, I instead started the pre-installed Chrome Browser, went to youtube.com, and started playing videos, and it worked well with audio coming out of the built-in speakers. I also tried to connect some Bluetooth headset, but the projector would not detect it.
I'm pretty sure some people would have asked me about Kodi, so I installed SPMC 16.2.1, and played a 1080p H.264 video (Big Buck Bunny) from the USB flash drive connected via a USB hub, and no problem here.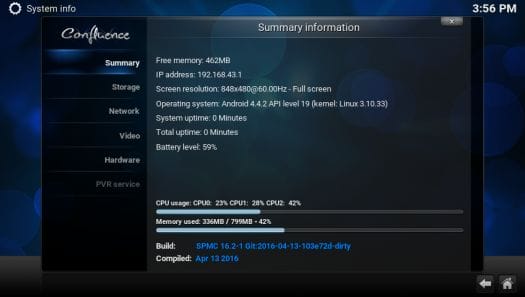 The projector resolution is 854×480, but it still feels sharp enough.
Doogee P1 with an Android Smartphone (Miracast + DLNA)
Since Smart Cube P1 does not come with a user's manual that part may be tricky at first, and I eventually found out that you need to press the power button twice to get to connection instructions, and the first time, download Doogee app for Android 4.0+ or iOS 7.0+. Then each time you start the project, you have to pair it with your smartphone again.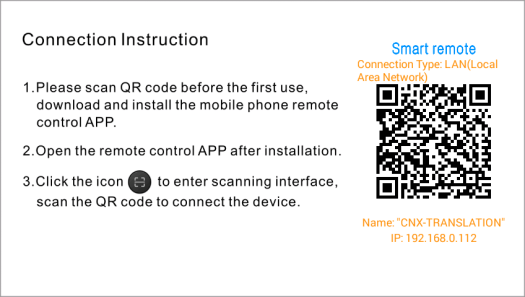 You'll need to tap on the top right icon, scan the QR code, and the relevant icon will turn green and show "Connected". You'll be able to control the projector with the remote.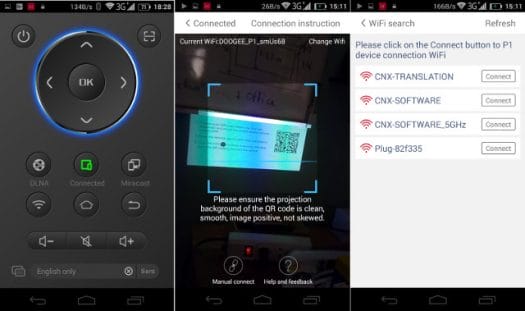 However, since it is in Hotspot mode, there's no Internet connection by default, so you'll need to tap on the WiFi button, just under DLNA, to seatch for WiFi access point, and connect. Sadly I also have to do this each time, and the WiFi is not saved by the app.
Now that configuration is done, you can play with DLNA or Miracast. Starting with Miracast, the system will show the app has crashed, but you can still go ahead enable Wireless Display in your phone, and connect to the projector. I've played YouTube videos, and played Beach Buggy Racing from my phone, which I'll be able to see in the demo video further below, and it worked reasonably well. Later, I played some music videos in YouTube, and noticed artifacts from time to time. Anyway, Mircast is working reasonably well.
On the other end, my DLNA  experience was pretty poor, with videos and photos super slow to load with BubbleUPnP, and most of the time the video would just end before completion. The projector was only 4 to 5 meters (+ one wall) from the router.
The demo video below shows my experience in standalone mode, and with Miracast & DLNA using a Mediatek smartphone.

Doogee P1 System Info & Antutu Benchmark
Let's check the system details with CPU-Z first.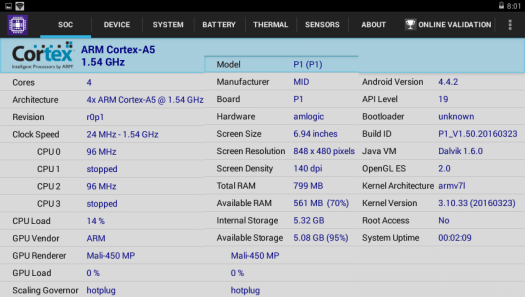 So we have a quad core Cortex A5 processor @ 24 MHz to 1.54 GHz with a Mali-450 MP GPU. That's similar to Amlogic S805 processor, but it's likely Amlogic T826 processor since it also targets "smart projectors" The model is P1, and the screen resolution is confirmed to be 848 x 480 pixels. There's 799 MB total RAM (part of the 1GB RAM are probably used for the GPU or VPU), and 5.32 GB storage with 5.08 GB free after installing a few apps. The device runs Android 4.4.2 on top of Linux 3.10.33.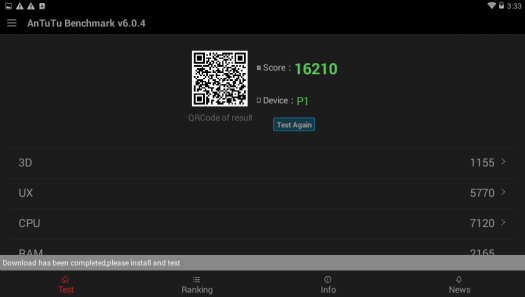 The projector achieves 16,210 points in Antutu 6.0.4, which is about what I expected. I had to run the benchmark three times to get 3D to succeed.
Doogee Smart Cube P1 OTA firmware update
When I went to the About section of the Android settings, I noticed both System update and Wireless update options.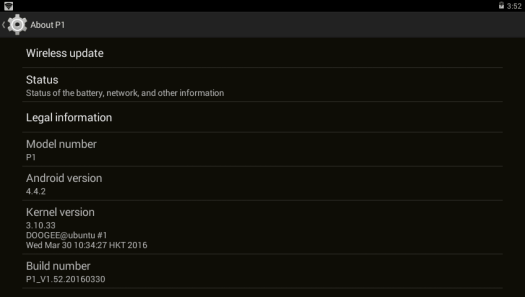 System update reported that the device was up-to-date, but Wireless update detected a new firmware. I should have done this earlier…, or rather a first time setup app should have made me go through it… Anyway, I clicked on Download to start the process.
The changelog only mentions "System optimizations" and "Fix errors". The update went through and did not delete any of my apps and settings. I tried to access Google Play, but the app would just exit. So I powered off the device (5 second press on the power button), and powered it on again, and I could access the Google Play Store, input my credential again, and install YouTube! Hooray!
Conclusion
I liked the DLP projector from the start with a bright and sharp image, and that's straightforward to focus. At first, I had troubles with the Google Play Store, which did not work at all, but luckily the projector supports OTA firmware updates, and after the update I could install apps from the Play Store, which makes Standalone mode a much user-friendly option. Controlling the projector with my Android smartphone worked well, although I would have like a touchpad area to control the mouse pointer. Miracast worked OK most of the time, but DLNA performance was really poor. However, since Doogee has implemented OTA firmware updates, I'm hopefully many of the issues will be fixed overtime. The projector is also small and cute.
I'd like to thank GearBest for providing the sample, and you could consider purchasing it for $168.99 including shipping (+$4 discount with GBP1 coupon). Only a few other shops list the device on Aliexpress.

Jean-Luc started CNX Software in 2010 as a part-time endeavor, before quitting his job as a software engineering manager, and starting to write daily news, and reviews full time later in 2011.