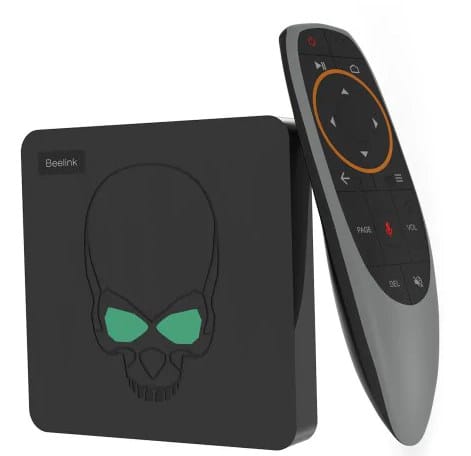 Rant
Karl here. I have been playing around with Android boxes for several years. Unfortunately, some fundamental issues from when I first started playing around with these boxes are still there. They have come a long way since the MK808 with Rockchip RK3066 processor. The MK808 was my first endeavor into Android on the TV in 2013.  I can't believe it's been nearly 6 years. In 2014 Google introduced Android TV and the Nexus Player. It was designed for a TV and controller. The first boxes/sticks adapted the stock Android experience to run on a TV, but without a touch interface the experience was/is not optimal. Sure you get thousands and thousands of apps but a lot of them don't work. Unfortunately, this hasn't changed much.
If these boxes came with Linux and Android I don't think I would complain as much. I would consider it a tinkering box. But these boxes are targeted at the average home user and praying on their ignorance. Don't get me started on the piracy aspect. In my opinion, these companies need to pony up and sell legitimate Android TV boxes. ATV comes with Chromecast functionality built-in… another value-add. All the apps will work in the play store and curated to work on the big screen without a touch interface. I've had the Nvidia Shield since it came out in 2015 and it has been one of the best technology investments I've made. I also have the less expensive Xiaomi Mi boxes in all the bedrooms. This might be in part Google's fault. I'm not sure what it takes for a company to become Android TV certified. I do think there needs to be a little more competition in this space. Maybe it's me I'm 40 now and certain things I just want to work.
Enough of a rant and on with the review. This is in no way directed towards Beelink, but the whole Android box experience in general.
Beelink GT-King Specs
SoC – Amlogic S922X hexa-core big.LITTLE processor with 4x Arm Cortex A73 cores @ up to 1.8 GHz, 2x Arm Cortex A53 cores @ 1.9 GHz, Arm Mali-G52MP4 GPU @ 846MHz; 12nm manufacturing process
System Memory – 4GB LPDDR4 RAM
Storage – 64GB eMMC flash, microSD card slot
Video Output – HDMI 2.1 up to 4K @ 75 Hz, AV port (composite)
Video – AVE-10 engine with 4K UHD H.265/VP9/AVS2 video decoding up to 60 fps, Dolby Vision, Advanced HDR10, HDR10+, HLG, and PRIME HDR high-dynamic range support
Audio – Digital audio via HDMI, stereo analog audio via 3.5mm AV jack, optical S/PDIF
Connectivity – Gigabit Ethernet, dual-band 802.11 b/g/n/ac 2×2 MIMO WiFi 5, Bluetooth 4.1
USB – 2x USB 3.0 ports, 1x USB 2.0 OTG port
Misc – Upgrade button, green LED
Power Supply – 12V DC / 1.5A power barrel jack
Dimensions – 108 x 108 x 15.3 mm
Photos
Unboxing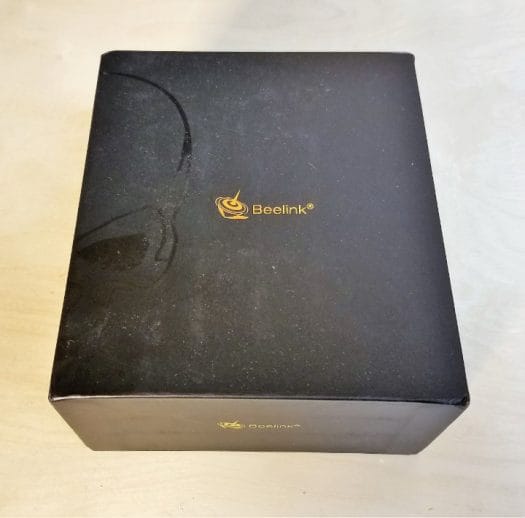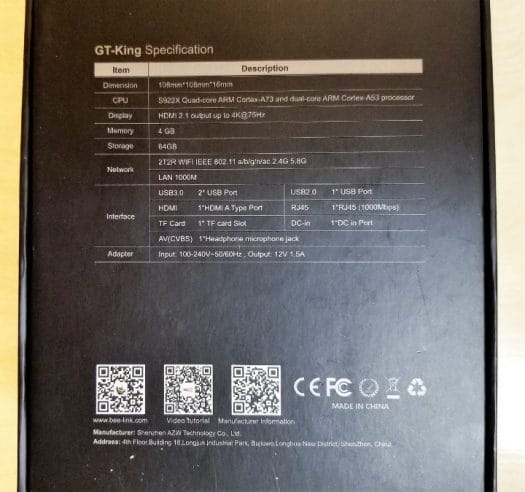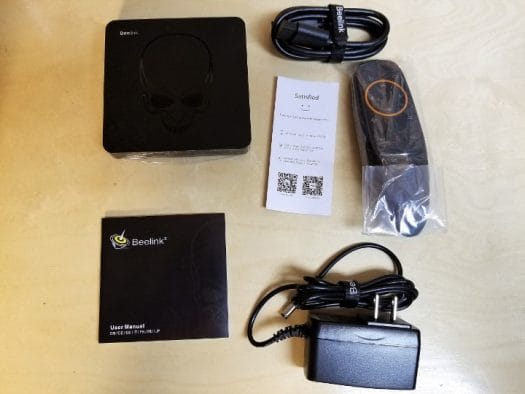 Teardown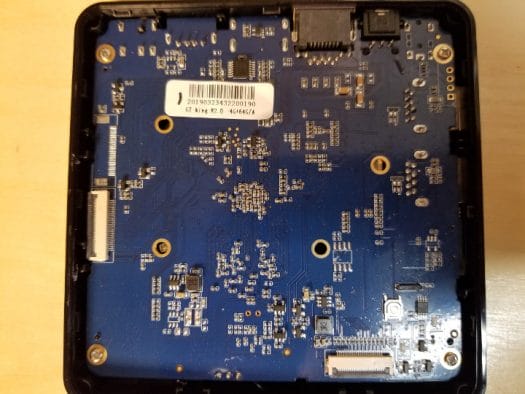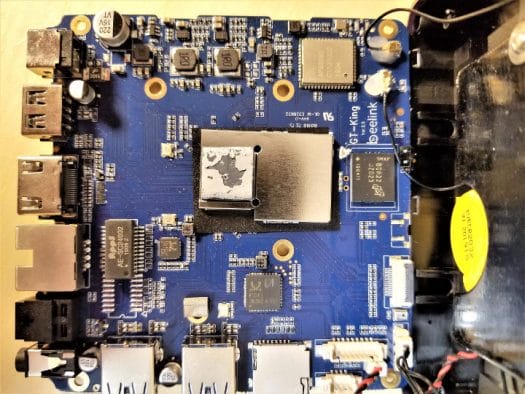 First Impressions
It's been a while since I used an Android box. I know I ranted but not all is bad. I did find things have improved. Right out the gate, I got the HDR logo during boot… I cannot confirm or deny that HDR is working. I only know that when I am on the shield HDR only pops up only when I play HDR content. The only service that I have that supports HDR is Amazon Prime Video.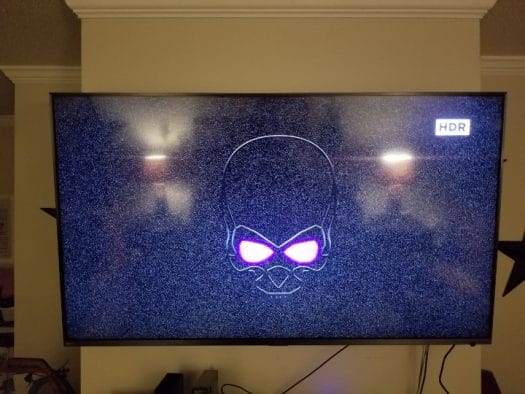 I received an OTA update. I don't remember ever getting an OTA update previously. I had the box for quite a while and only one update at the beginning. It was uneventful and successful.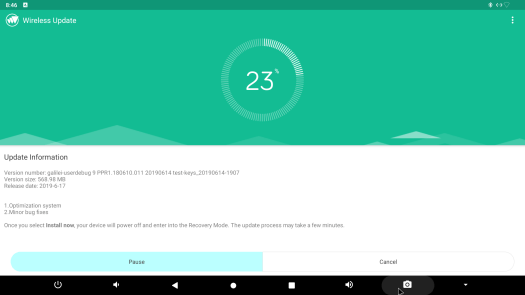 Home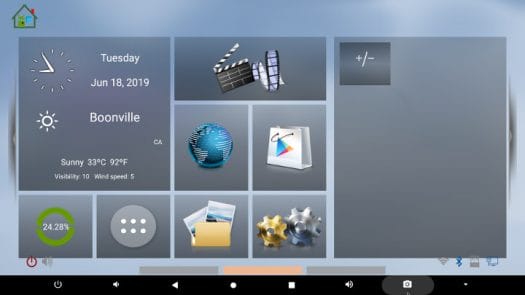 Boring home screen.
4K Youtube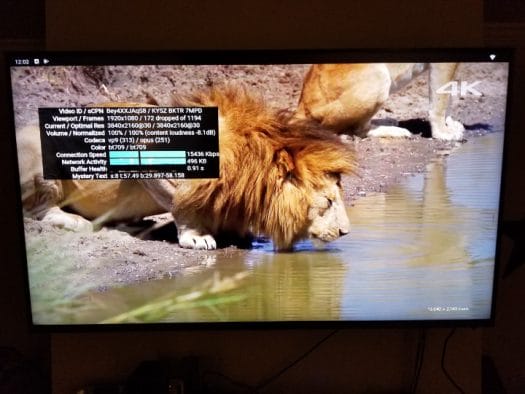 I had to do some digging when I got YouTube. Long story short looks like only displaying in 1080p. My beloved Nvidia Shield is the same way. Only the Roku YouTube app built into my TCL TV does any better and it's only 2k with HDR. The only difference I can see in the stats for nerds is that it supports VP9.2 and the GT King and Shield only support VP9. A few google searches later. VP9.2 stands for VP9 profile 2.
Netflix
Boooo not even 1080p.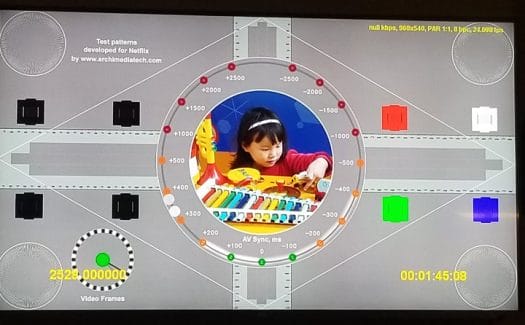 System Info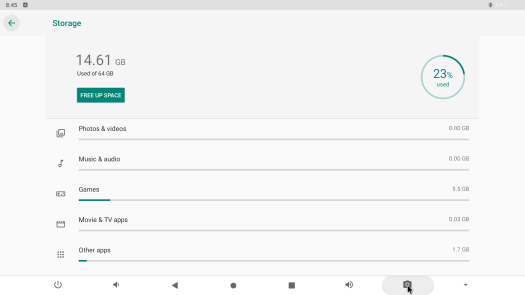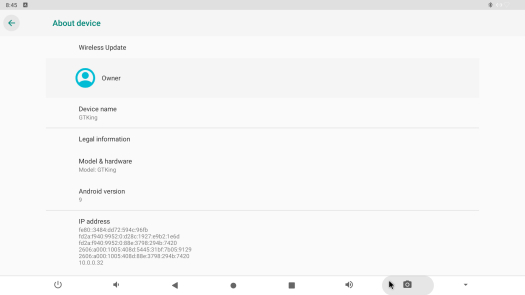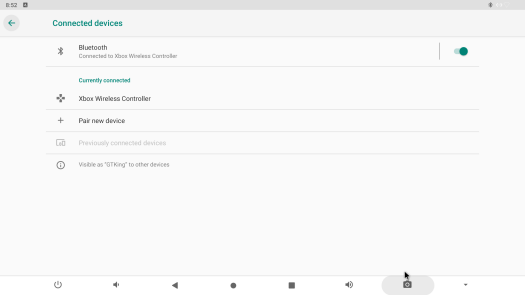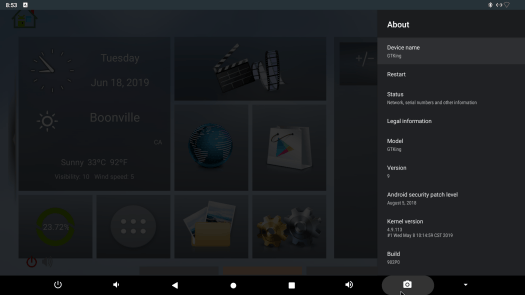 Note very old security level.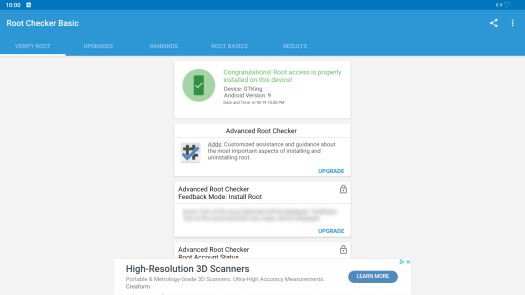 Root!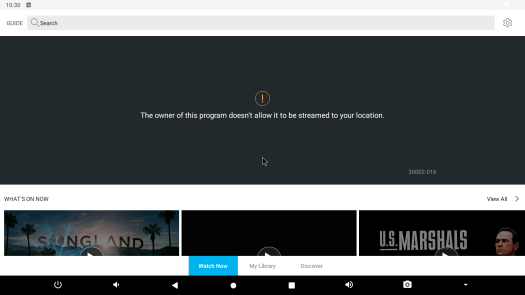 No DirecTV Now I tried all my old tricks.
Kodi on Beelink GT-King
I had some pretty good luck in Kodi.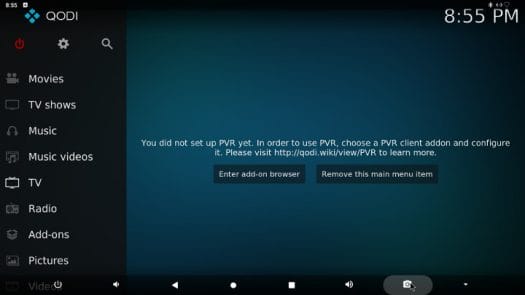 WTH is Qodi?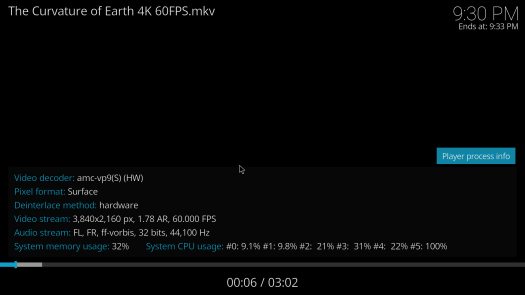 This 4K VP9 video (The Curvature of Earth 60FPS.mkv) played very well. The only other device that could play this was the Shield. Buttery smooth on GT-King.
Another win is audio in Kodi. Pass-through worked well with the hardware that I have. My configuration is GT-King to TV over HDMI and TV passes audio to my receiver over S/PDIF. My receiver is quite old and only supports DTS and DTS files worked once I setup Kodi. Other surround sound formats did not play audio.
Speaking of this setup and it may be normal that CEC seems like it is a mess when you have multiple devices using it. If I was setting it up permanently I would disable CEC on the TV.
Beelink GT_King Benchmarks and other Info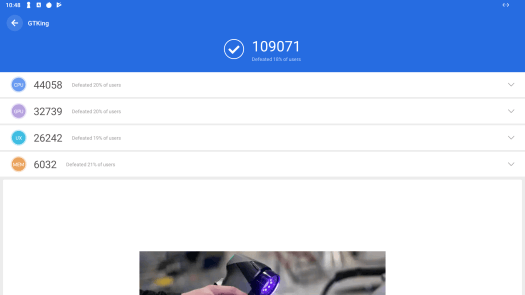 109,071 points in Antutu 7.2.x.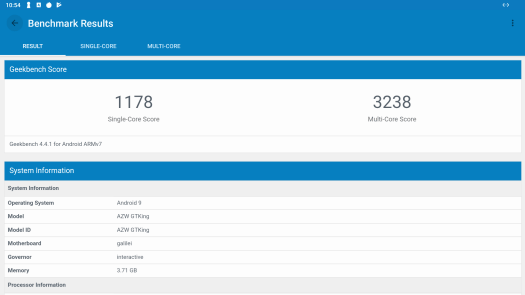 Geekbench single-core and multi-core scores.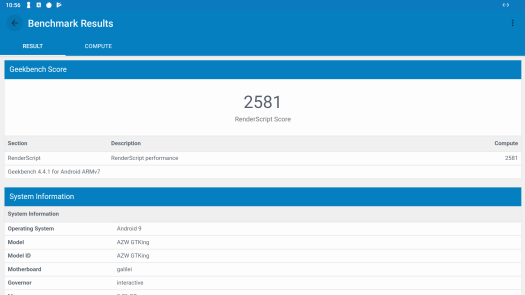 GeekBench Compute score.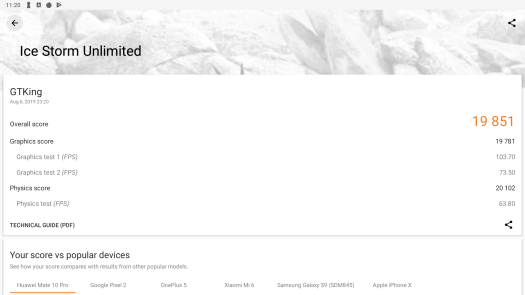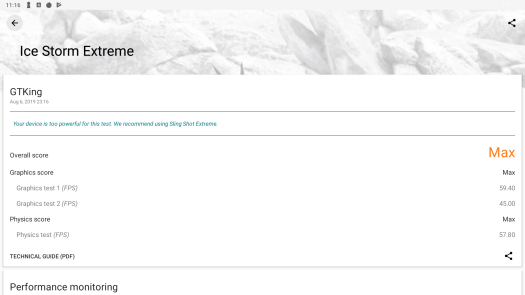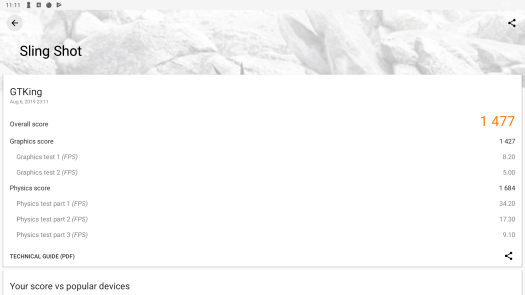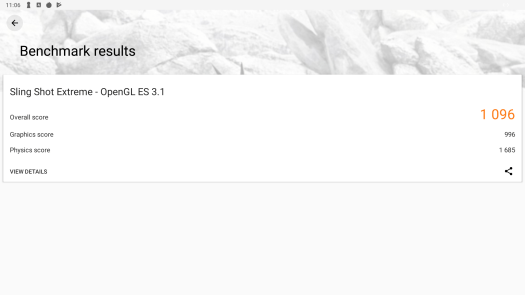 3Dmark results for Ice Storm Unlimited, Ice Storm Extreme, Sling Shot, and Sling Shot Extreme.

Google Widevine Level 1 DRM and ClearKey CDM are enabled. DRM info app, however, reports High Dynamic Range is not supported. It's unclear how reliable this information is.
Final thoughts
Ok. For final random thoughts. I think I want to set expectations and bullet things that are important to me.
A lot of apps do not work. Anything with multitouch is out.
Legitimate video sources are hit and miss.
Steam in-home streaming works and seems like a good use case. I only have one Xbox controller but I would imagine multiple could be used. I did have to button map the trigger buttons. Left and right were swapped. You might not have to get such an expensive box for this use.
Kodi works well
Plex works well
Controllers were a pain in the past. Pairing was uneventful.
Look into another launcher stock one is not great.
Notification bar is visible but unable to review them.
No security updates
I doubt any future updates.
The remote is a big upgrade over basic remotes in the past. I appreciate the air mouse.
Thanks for coming along for the ride. I would like to thank Beelink to send the unit over for review. Beelink GT-King (aka Beelink GT1-K) can be found for about $110 around the interwebs on websites such as Amazon, GearBest, Aliexpress, or GeekBuying. You may also check out the product page on Beelink website if you are interested in purchasing in quantities.

Karl is a technology enthusiast that contributes reviews of TV boxes, 3D printers, and other gadgets for makers.