Nordic Semiconductor launched the Nordic Thingy:52 back in mid-2017 in the hopes of bringing app and web developers into the hardware ecosystem as fast and easy as possible. The Nordic Thingy:52 was a Bluetooth 5 IoT sensor development kit based on the company's nRF52832 WiSoC.
Although the Nordic Thingy:52 kit is still very much available for purchase and support always available, Nordic Semiconductor has gone further launching a new development kit called the Nordic Thingy:91 targeting cellular IoT applications.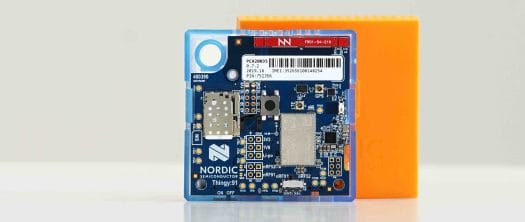 The Nordic Thingy:91 is a cellular IoT prototyping platform with support for LTE-M, NB-IoT plus GPS option. Even though IoT connectivity standards like LoRaWAN, BLE, WiFi, ZigBee, and others are very much growing and expanding, Nordic Semi is fully backing cellular technology, something that has very much been available and most likely will still keep been available, and the adoption of 5G is another testimony to that. Cellular is here, and it is not going away anytime soon.
The Nordic Thingy:91 is excellent for building quick Proof-of-Concept (PoC), demos, mock-ups, and even initial prototypes for your IoT projects. The kit comes preloaded with a sophisticated asset tracking application to get started.
Simplified development of cellular IoT prototypes is now possible in just a few days with the launch of Nordic Thingy:91
At the heart of the Nordic Thingy:91 is the Nordic nRF9160 system-in-package (SiP) that combines a global multimode LTE-M / NB-IoT modem, an Arm Cortex-M33 core, Arm TrustZone security solution, assisted GPS, and flash memory into a 16x10x1.2 mm package. The Nordic Thingy:91 gives an avenue to quickly prototype on the nRF9160 SiP module, before proceeding in deploying the module alone.

The prototyping platform is multi-sensor in nature, as it comes equipped with about 16 sensors comprising of motion, impact, air quality sensors, color, light, plus environment sensors for measuring temperature, humidity, air quality, and air pressure and much more. Not only that, Nordic Thingy:91 comes with a roaming nano (4FF) eSIM card from iBasis that has been preloaded with 10MB of data that can be used for cellular LTE-M and NB-IoT connectivity.
Nordic Thingy:91 Key Features
Battery-operated prototyping platform for the nRF9160 SiP.
700-960 MHz + 1710-2200 MHz LTE band support.
Certifications: CE, FCC.
nRF52840 board controller.
LTE-M/NB-IoT/GPS, Bluetooth LE, and NFC antennas.
Nano/4FF SIM card slot.
User-programmable button and RGB LEDs.
Environmental sensors for temperature, humidity, air quality, and air pressure.
Color and light sensor.
Low-power accelerometer and high-g accelerometer.
Buzzer.
4 x N-MOS transistors for external DC motors or LEDs.
Rechargeable Li-Po battery with 1,440 mAh capacity.
To complement the cellular connectivity, It also features the multi-protocol System-on-Chip (SoC) nRF52840 for a full range of complementary short-range wireless technologies such as Bluetooth 5, Thread, Zigbee, and ANT.
The Nordic Thingy:91 is housed in a 6 x 6-cm plastic and rubber case which includes a USB connector to charge the device's 1,440 mAh rechargeable Li-ion battery.
The Nordic Thingy:91 is available for purchase via several vendors on the purchase page. The starting price is from $119 and goes as high as $189.18 depending on your ordering location. The Nordic Thing:91 is designed to be programmed using Nordic's dedicated cellular IoT 'nRF Connect SDK' with integrated Zephyr RTOS.
More information about the product is available on the product page and a 44 minutes webinar about the Nordic Thingy:91 is uploaded to YouTube.


I enjoy writing about the latest news in the areas of embedded systems with a special focus on AI on edge, fog computing, and IoT. When not writing, I am working on some cool embedded projects or data science projects. Got a tip, freebies, launch, idea, gig, bear, hackathon (I love those), or leak? Contact me.